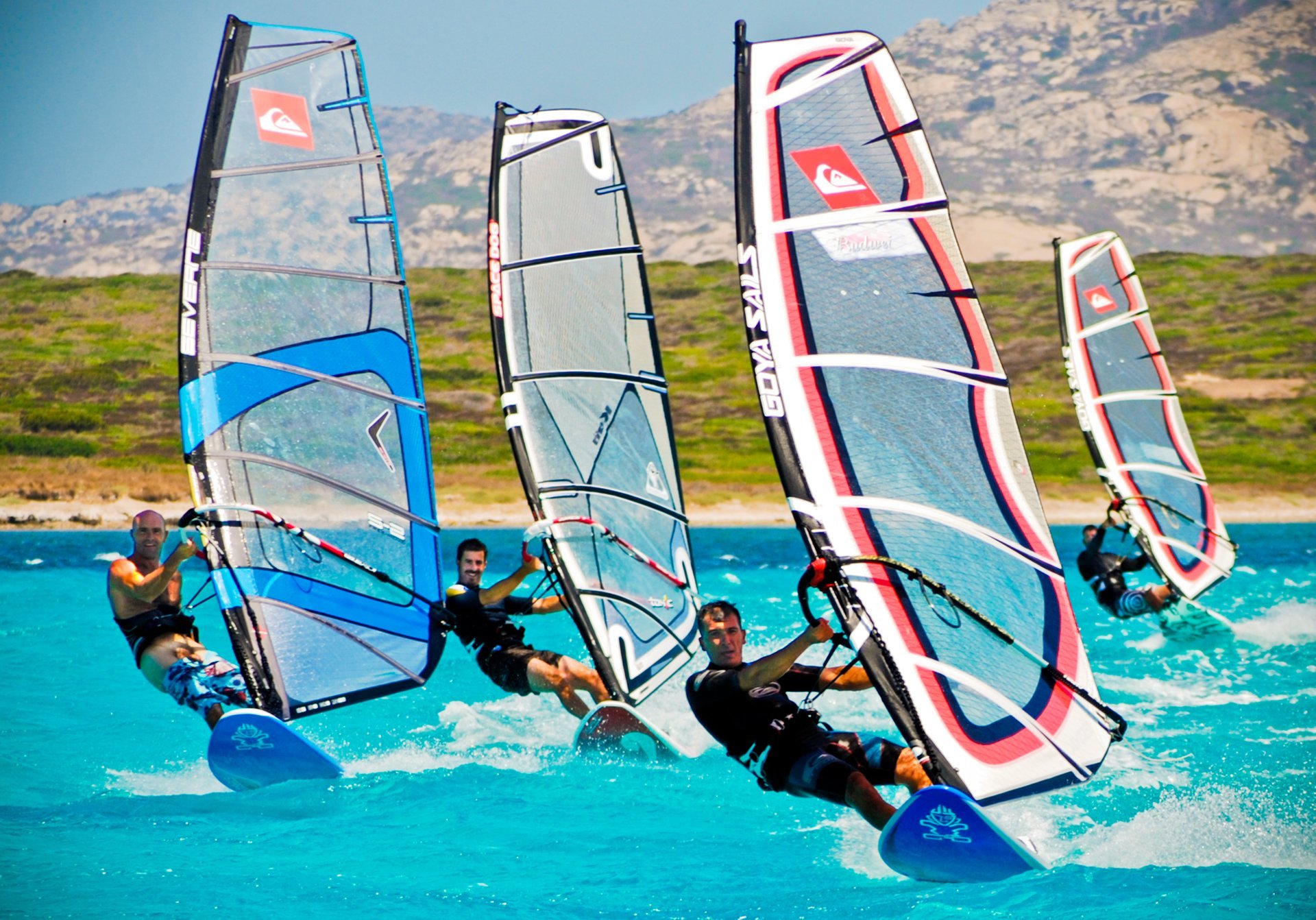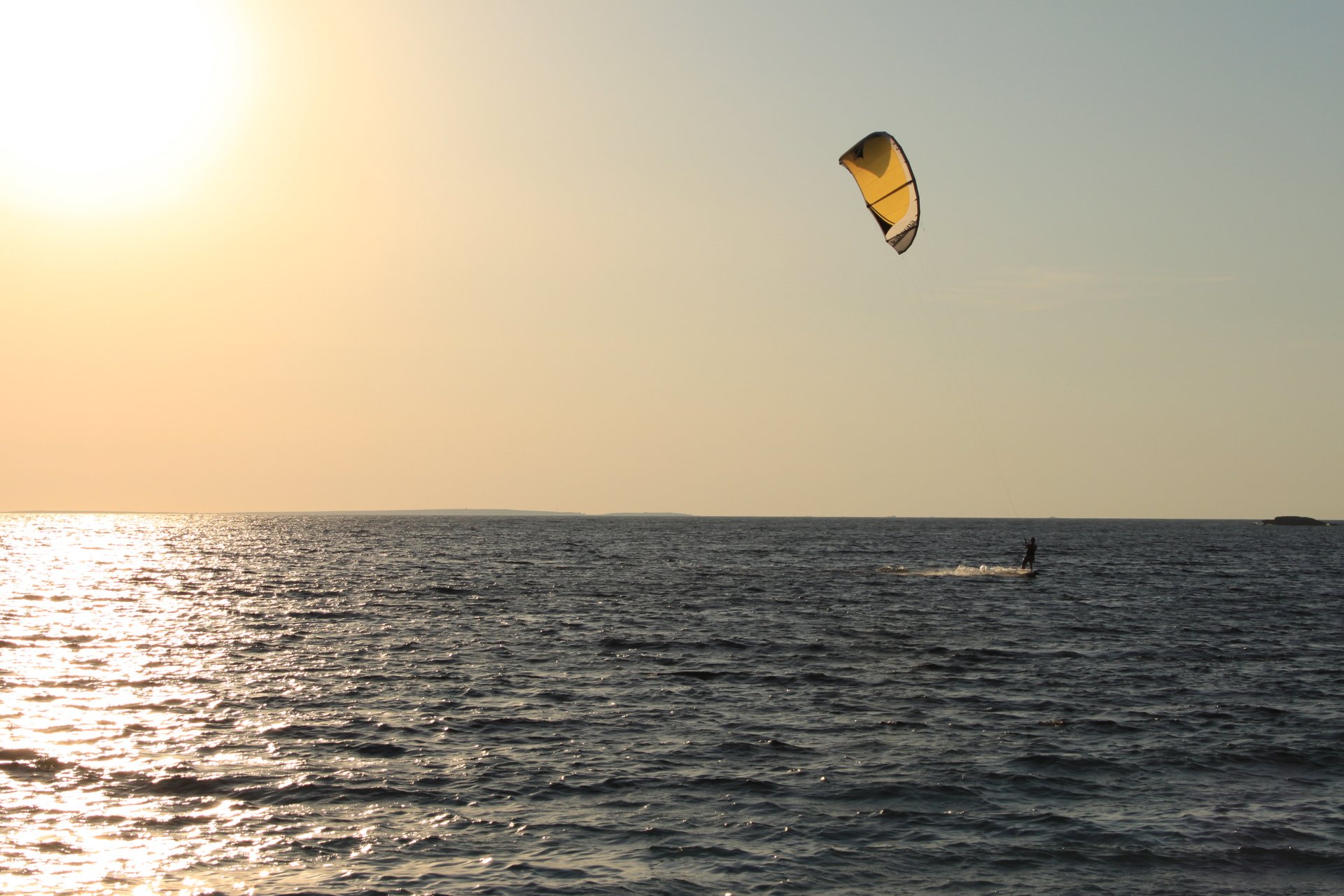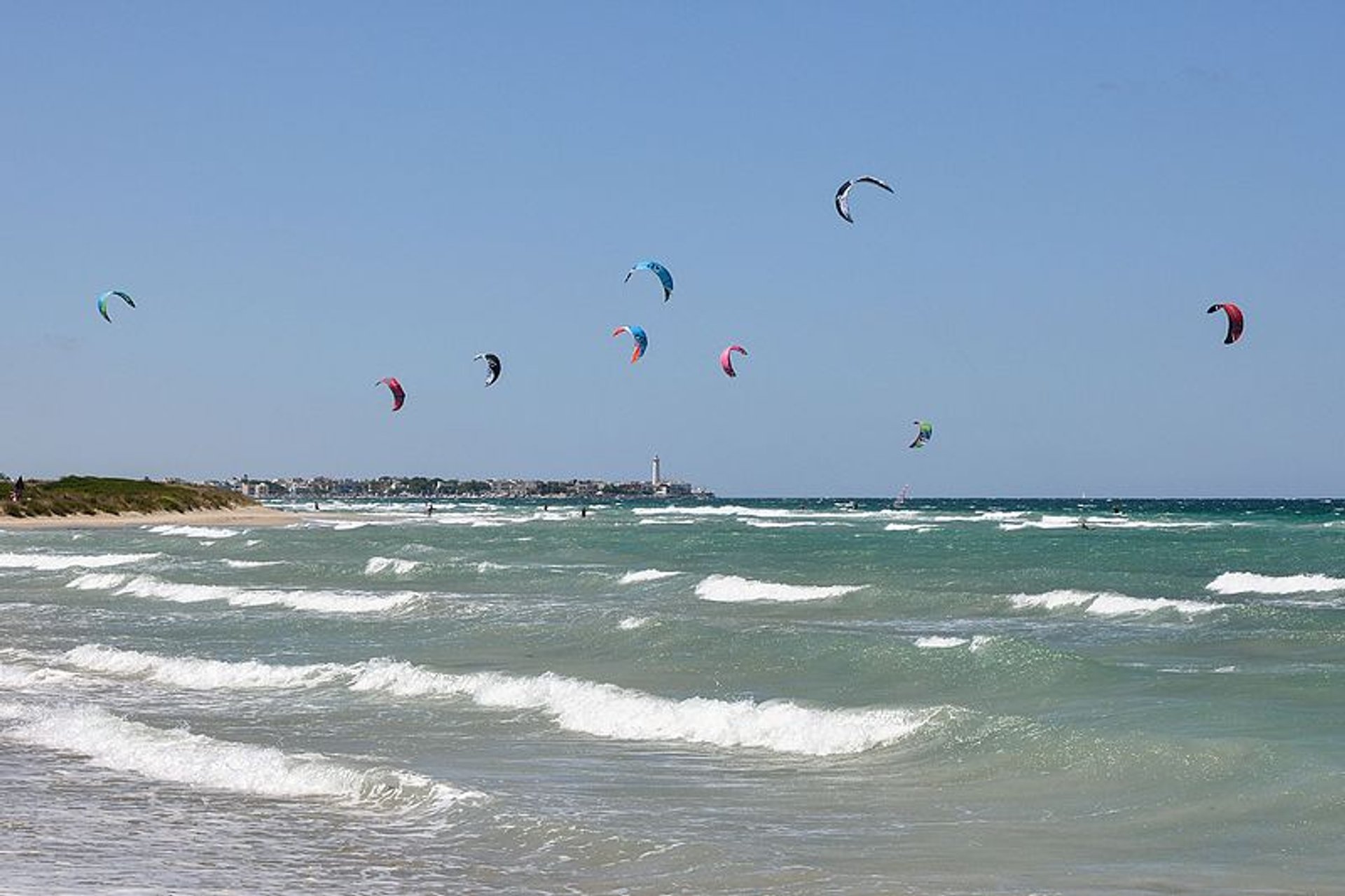 ©
Bruno Trentini | Sardinia
See accommodations nearby
Italy boasts over 7,500 km (4,660 mi) of beautiful coastline. With plenty of schools and rentals, it is also one of the best countries to learn kiteboarding or windsurfing. With its diverse landscape, Italy will never be boring. You can launch your kite on the backdrop of snow-capped Alps or by the rocky Mediterranean coast. Summer thermal winds are very consistent in Italy, ensuring plenty of riding days during your vacation. The best months to kitesurf in Italy are March-October. The only obstacle is the high tourist season that makes some beaches too crowded. Water temperature is 13˚C (55°F) in the winter and 24˚C (75°F) in the summer.
Gizzeria Lido, located in the province of Catanzaro in the Calabria region, has dawn many top European kiteboarders. Hangloose Beach, the biggest on Calabria's Tyrrhenian coast, offers plenty of space to launch. Flat to choppy water is suitable for beginners and advanced riders. In the summer, there is a steady 11-20 knots wind. The shoulder season is the best to kite here.
Sicily is a primary kitesurfer destination of the Mediterranean. Lo Stagnone, with its large flat water lagoon, is the kitesurfing capital of Italy. There are also many less famous spots along Sicily coast and the Egadi Islands that are worth checking out.
Tuscany hosts some lovely beaches for kites in Talamone, Vada, and Grosseto. Fiumara Beach in Marina di Grosseto is a good spot due to regular afternoon thermal wind. Calambrone near Pisa is a vast sandy beach with dunes.
Porto Pollo, in Sardinia, with its clear blue water, consistent wind, and white sandy beaches, is a real paradise for water sports. There are large flat lagoons and beautiful waves in the sea.
Puglia by the Adriatic Sea has many sandy beaches suitable for kitesurfing in Frassanito, namely Alimini Beach. This southernmost town is located on the heel of "Italian boot". During winter there is north "Tramontana" wind, with kiting along Adriatic coast from San Foca to Otranto. For summer "Scirocco" wind, go to Gallipoli, Baia Verde, and Padula Bianca. Porto Cesareo clear and shallow waters are suitable for beginners.
Lakes Garda and Como in Lombardy are the dream destinations for any kiter. Located in the heart of the Italian Alps these lakes attract many celebrities due to its natural beauty and unique climate. The consistent wind blows here all year round, and kitesurfers recommend to launch from the middle of the lake.
Windsurfing is very popular in Italy, and there are plenty of rentals and schools at any Italian resort. The most unique experience in Italy is windsurfing on Lake Garda that can be done from the town of Torbole. It is home for many European and world windsurfing events and championships. The Alpine Lake receives steady thermal winds Vento and Ora.
The best sea windsurfing is available on Sicily. Puzziteddu is its windsurfing capital with good winds for at least 280 days of the year. Summer thermals here reach 25 knots. The Island of Sardinia is another windsurfing heaven. Porto Pollo, Chia, and Capo Mannu have sands, perfect combinations of flat water and small waves. The strongest winds blow here in the fall.
Even near Rome, one can find a few decent windsurfing spots. Western wind makes Latina Bay an excellent windsurfing destination. The Livorno Bay in Toscana receives Scirocco desert wind from Africa in the summer. The Gargano peninsula in Puglia in the south of Italy has right windy conditions in Santa Maria di Leuca and Porto Cesareo with plenty of flat water.
Find hotels and airbnbs near Kitesurfing & Windsurfing (Map)