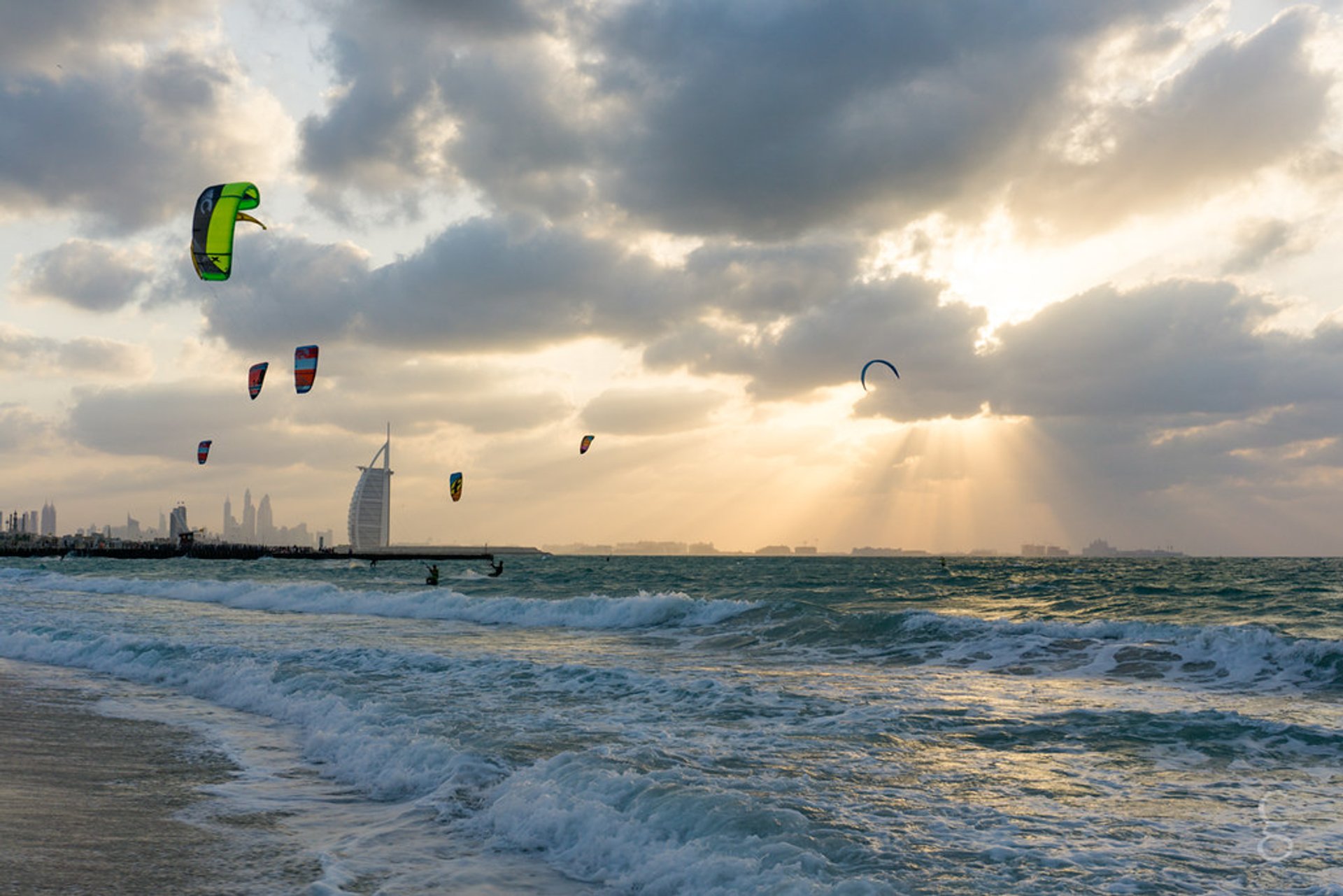 See accommodations nearby
Dubai, with its luxurious beaches, is a perfect location for water sports. Kitesurfing and windsurfing are getting more and more popular, and the resident population of riders is continually growing. In winter, Dubai is lucky to have pleasant temperatures, warm sea, and occasional strong winds at about 20 knots. The best time of the day to surf with a kite or a sail is between 2:30 p.m. and 5 p.m. In summer, the wind is rather light in Dubai. For that reason, the island of Al Masirah off the coast of Oman, which is about 10 hours away from Dubai and receives a share of the strong Indian monsoon winds, becomes the only destination suitable for windsurfers or kitesurfers.
Kitesurfing spots in Dubai
Due to the lack of strong winds, it's better to have a big kite (11-17 m/36-56 ft) when kitesurfing in Dubai in winter. Water sports are prohibited on some of the beaches. However, there are two designated beaches for kitesurfers. Dubai Kite Beach or Fazza beach is located just a few kilometers from the famous Burj Al Arab, the Jumeirah Beach Hotel, and Wollongong University. Kitesurfing is allowed everywhere at this beach. It is also suitable for windsurfing. Dubai Kite N Surf Beach or Nessnass beach is located close to Sunset Mall. It offers a quiet bay, kitesurfing lessons and is suitable for beginners. Kite rental in Dubai is possible only if you buy a license.
Windsurfing in Dubai
Windsurfers in Dubai take advantage of northwesterly winds in the late afternoon, blowing the strongest at around 4-5 p.m. In addition to Kite Beach and Kite N Surf Beach, popular spots include Jebel Ali Beach near Jebel Ali Hotel, Sheraton Hotel Beach, Meridien Hotel Beach, Black Palace Beach near Jumeriah Beach, and Sunset Beach. Waters off Palm Jumeirah are suitable for beginners as it's safe and sheltered here—an ideal place for children.
Across Dubai, you can find plenty of water sports schools and various operators that offer windsurfing packages from the beginner to advanced level. Windsurfing lessons be an experienced professional can be purchased individually or in groups of five or ten. You can rent various boards on an hourly basis.
Find hotels and airbnbs near Kitesurfing and Windsurfing (Map)