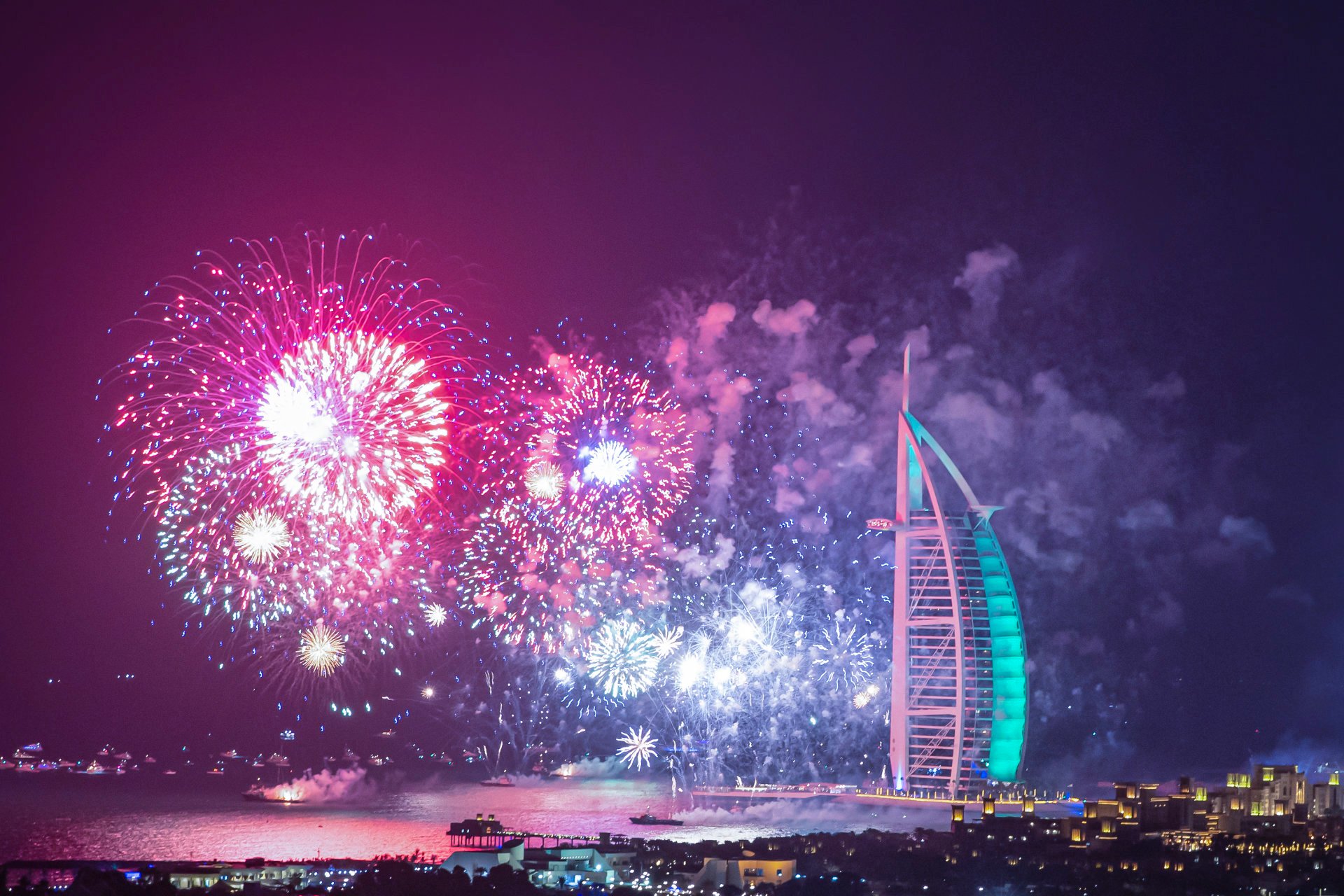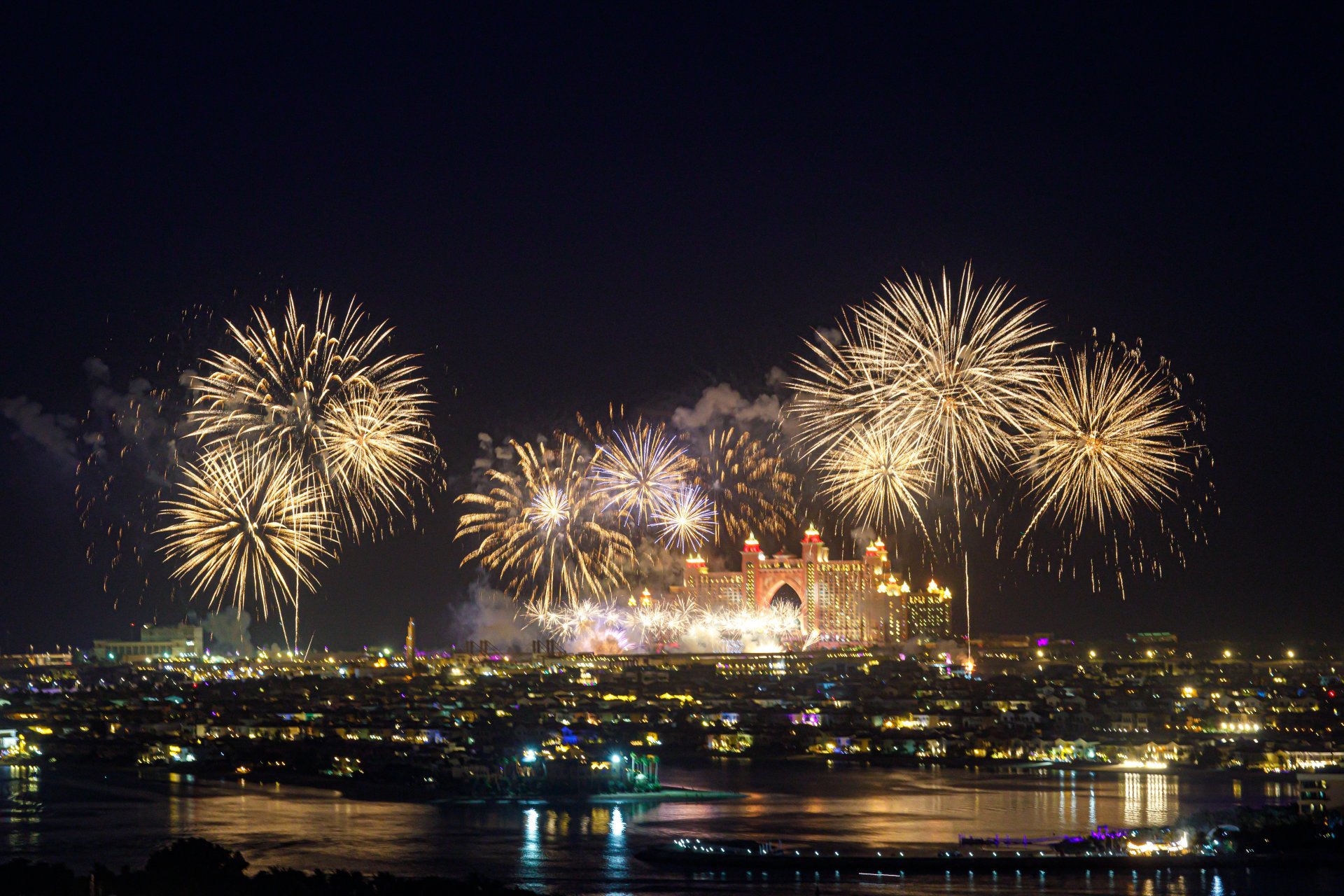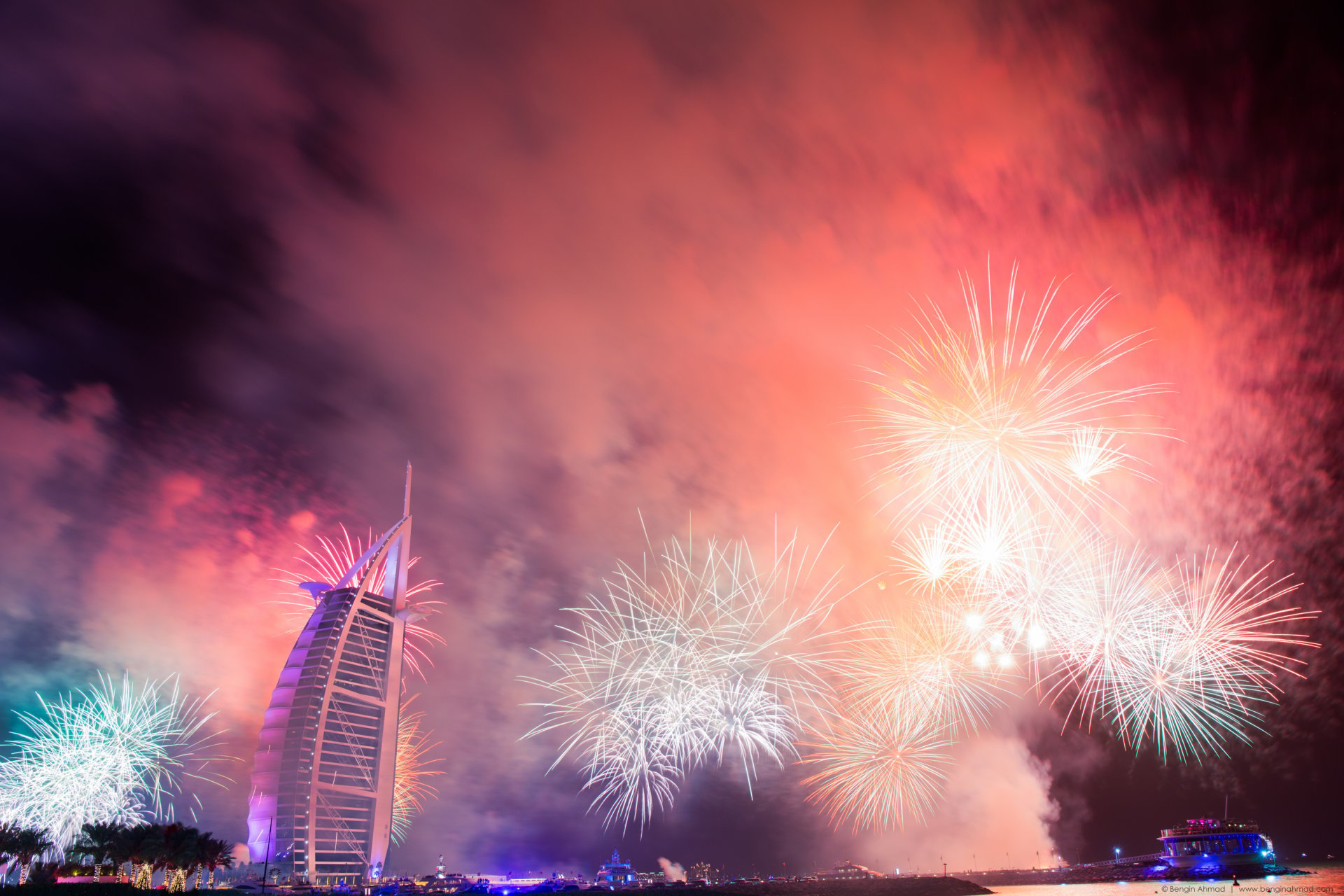 New Year fireworks near Burj Al Arab in Dubai
Dubai is glamourous year-round; however, during New Year's Eve the city goes over the top with extravagant celebrations. Dazzling fireworks displays over Burj Khalifa and Burj Arab, the world's tallest skyscrapers, are among the most amazing on the planet. Decorated with magical lights, the architectural marvels of Dubai are definitely worth seeing to ring in the New Year in style.
Burj Khalifa
Burj Khalifa is a top tourist attraction in Dubai due to its record-breaking height of 2,717 ft (828 m). The spectacular light and pyrotechnic show over Burj Khalifa starts at 8:30 pm on December 31 for everyone in the city to enjoy. You can get a ticket and watch the show from Burj Khalifa itself or see it from a distance. Dubai Mall, the Jumeira Beach, The Dubai Fountain, Burj Park, Souk al Bahar, and Mohammed bin Rashid Boulevard are the best locations to see the epic fireworks.
Burj Al Arab
Burj Al Arab is one of the most luxurious places in the world to ring in New Year. On December 31, the iconic hotel offers an exclusive fireworks display as well as a musical show, a vibrant dance floor, and a gala dinner at Terrace. Al Mahara in Burj Al Arab could be the most impressive New Year's Eve gala dinner in your life!
Atlantis the Palm
The New Year celebration at the magical ocean-themed resort Atlantis the Palm is among the most popular events in Dubai. Guests can enjoy live music, dance, and various performances. The culmination comes at midnight with an amazing fireworks show, which is considered to be one of the best in the world.
Souk Madinat Jumeirah
Souk Madinat Jumeirah is a beautiful shopping and entertainment complex next to Bourj Al Arab with the atmosphere of the old Arabic market. It's also famous for its New Year Fireworks at midnight. Visitors can enjoy a special dinner at one of Souk Madinat restaurants before ringing in New Year in a gorgeous atmospheric setting.
Dubai boasts near-perfect weather throughout December, so it's also possible to welcome the New Year on the beach, renting one of the beautiful beach cabins. A luxury dinner cruise is another option, which will let you see the most amazing fireworks reflecting in the water surrounding the boat. Whatever you decide to do on New Year's Eve in Dubai, make sure to make a reservation and get there early. Traffic jams and large crowds are the flip sides of Dubai's huge popularity during New Year celebrations.
Find hotels and airbnbs near Dubai New Year's Eve (Map)