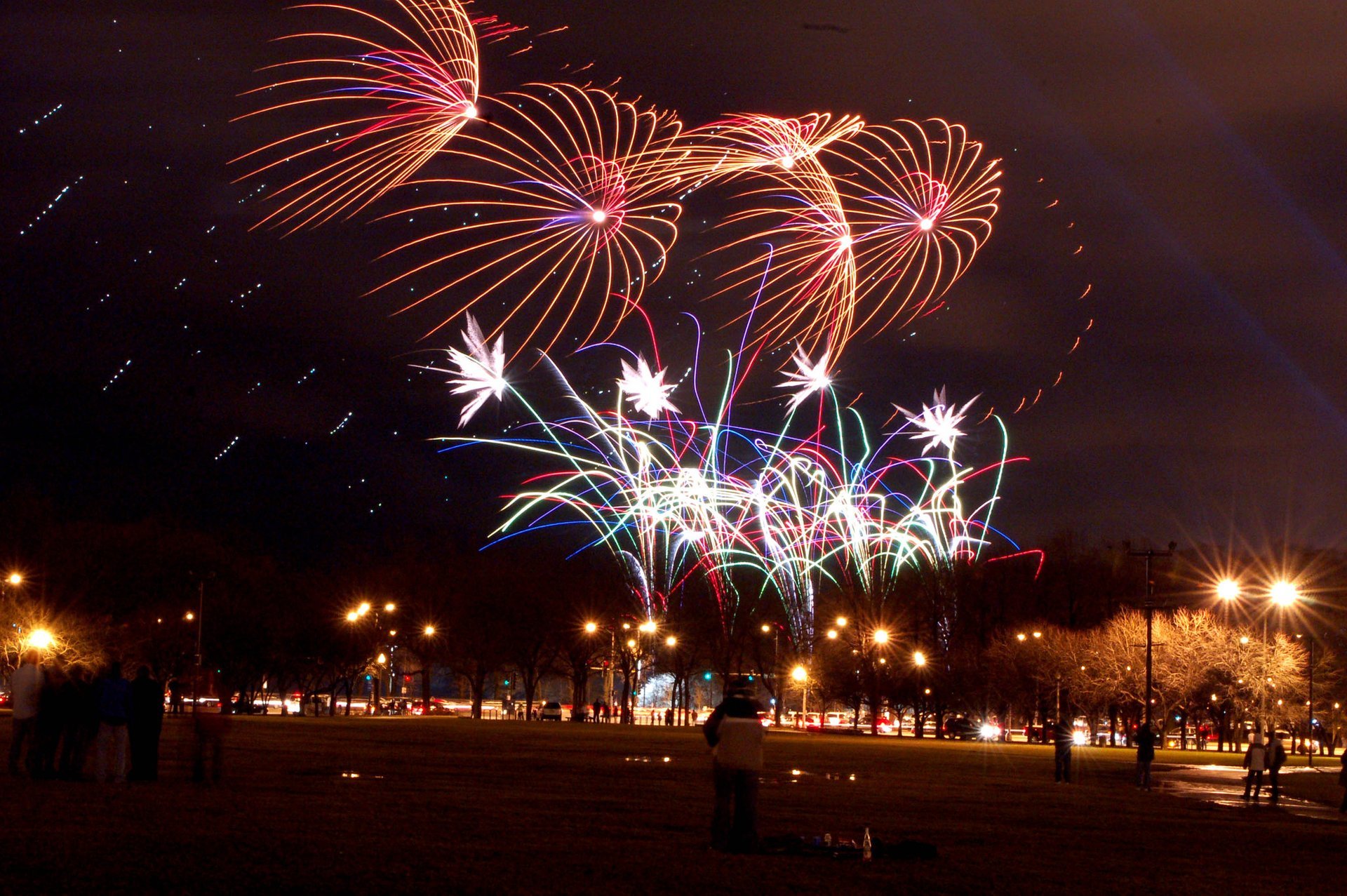 New Year fireworks over Grant Park and the Loop
See accommodations nearby
Festive Chicago will surely leave plenty of fantastic holiday memories. On New Year's Eve, there's a lot going on in the city. Hop on one of the luxurious dinner cruises to watch the midnight fireworks or opt for a hotel gala with champagne and live music. Chicago has some of the best nightclubs in the country, and most of them host New Year's Eve parties. There is always an option to simply welcome New Year on the streets, where cheerful crowds gather to watch dazzling pyrotechnic shows, greet each other, and share joy.
Chicago's New Year's Eve Blast!
The annual Chicago's New Year's Eve Blast, a free fireworks display over the Chicago River, happens at midnight on December 31. A mile-long trail of dazzling blasts is set off from barges and bridges in downtown Chicago. So, hotels and restaurants overlooking the Chicago River are among the best places to enjoy the fireworks. Alternatively, you can simply take a stroll on Chicago Riverwalk or hop on a river cruise boat. New Year's Eve cruises usually offer DJ music and serve champagne. Some cruises last through the whole night with an open bar and dancing.
Light Up The Lake at Navy Pier
One of the favorite spots to usher in the New Year in Chicago is Navy Pier, hosting a reimagined Light Up The Lake festival, formerly known as Winterfest. The festivities typically span from late November through the New Year's Eve. The highlights include Centennial Wheel rides, ice skating, and fireworks.
Chicago's New Year's Eve Party at Congress Plaza Hotel
Another lucrative place to dance the night away is surely Chicago's New Year's Eve Party, drawing about 2,500 party animals to the historic Congress Plaza Hotel. If you wish to celebrate in style and don't mind splashing out, take a go. The bash starts at 8 pm for the VIP ticket holders and at 9 pm for the rest of the guests. The revelry reaches its peak at midnight, when a massive balloon drop takes place. Yet, entertainment continues till the wee hours.
Stay tuned for the up-to-date information on the events' official websites. Please find the links attached in the Esternal Resources below.
Find hotels and airbnbs near New Year's Eve in Chicago (Map)