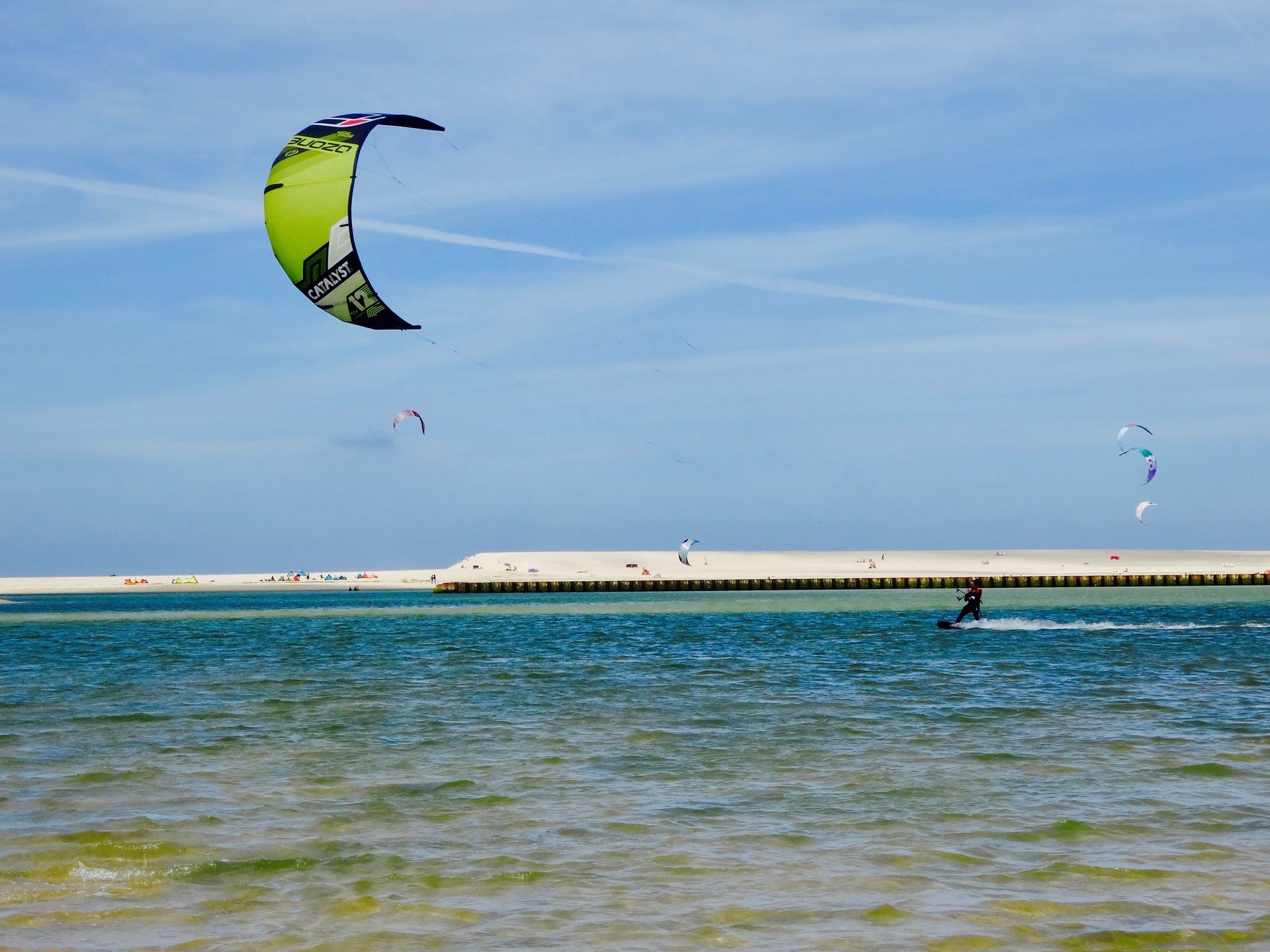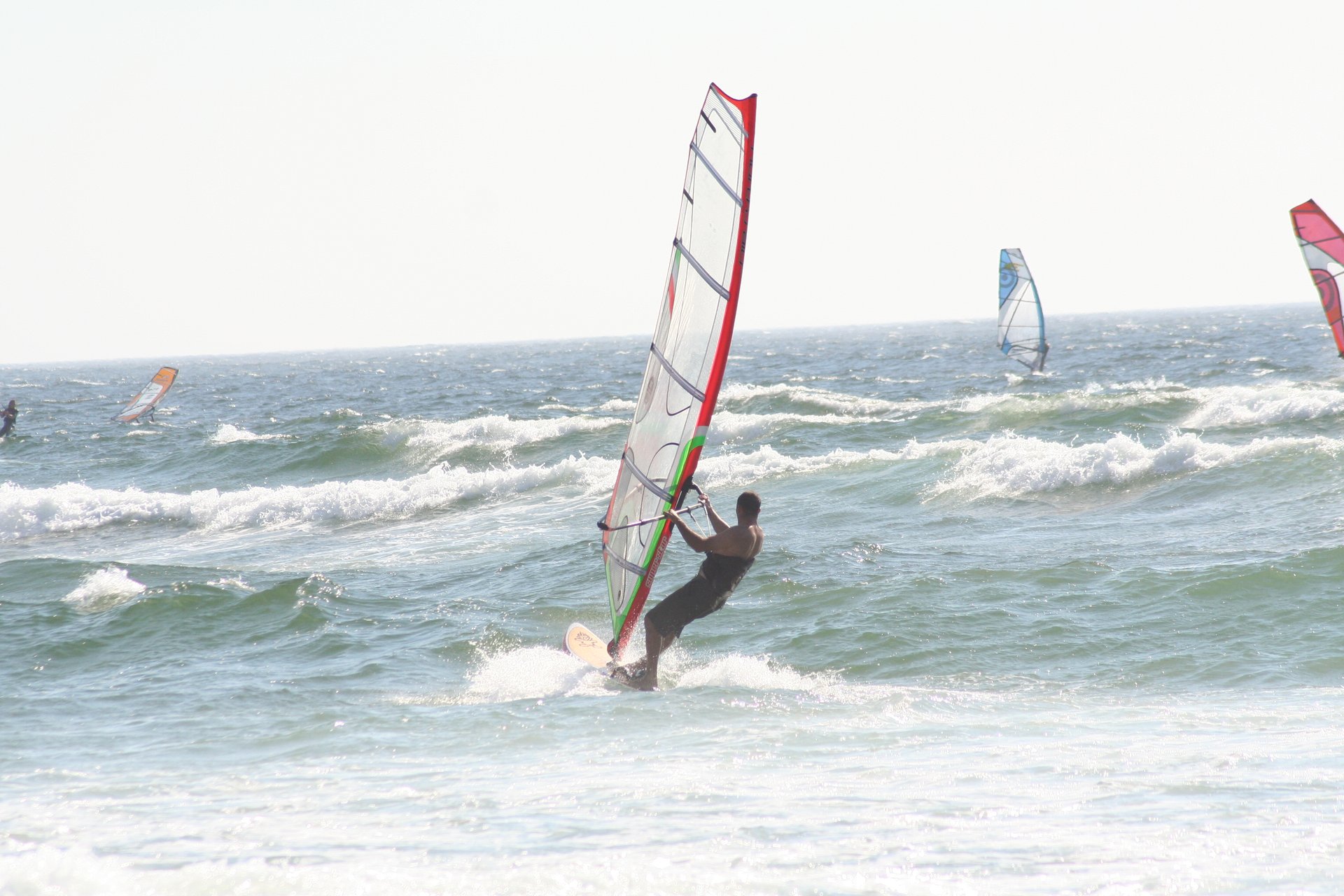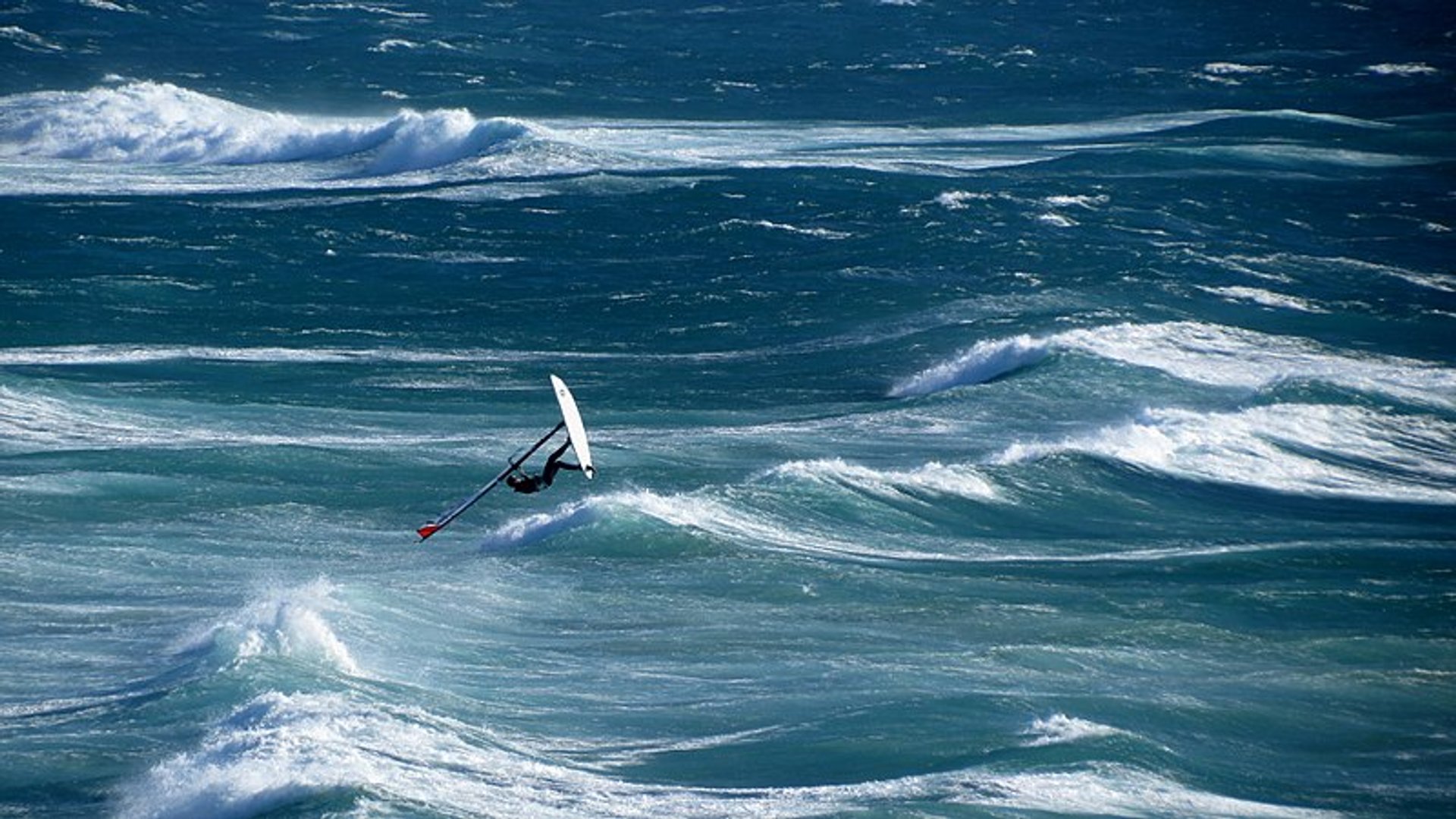 See accommodations nearby
A great swell of the Atlantic, the beautiful Portuguese coast 1,794-km (1,115-mi) long coastline, and strong, steady winds guarantee plenty of excellent kitesurfing and windsurfing spots in Portugal. Adrenaline-seekers can explore Alvor lagoon, Algarve scenic beaches, the wall of water in Nazare and other fantastic locations. The kite- and windsurfing season lasts from March through October. The waves are quite small in the early summer, which creates a perfect environment for beginners. Towards the end of the summer, waves get bigger, peaking in the fall. In the summer, Portugal receives strong winds from the north and northwest. It is called "Nortada" or "The Strong North Wind." Water temperature rises to 20-23°C (65-70°F) throughout the summer.
Kitesurfing and windsurfing near Lisbon
If you are based in Lisbon, you can explore central Portugal locations within about a 1.5-hour drive from the city. Guincho in Cascais has the reputation of the best windsurfing spot in Portugal. It hosts many national championships and international competitions over the summer months. It also offers kite rentals and equipment. Kitesurfing is more recent in this area, though; it attracts many kite enthusiasts to Guincho and Praia de Carcavelos (Carcavelos Beach), which is also on the Cascais coastline, but a bit closer to Lisbon.
North of Lisbon, there are other unmissable kitesurfing and windsurfing places such as Praia do Baleal near Peniche and Lagoa de Óbidos near Aveiro. Beginners can head to Obidos, the largest saltwater lagoon in Portugal, ideal for learning both wind- and kitesurfing.
Kitesurfing and windsurfing near Porto
Those based in Porto can hit the waves on the northern coast of Portugal. Esposende boasts a flat-water lagoon, river mouth, and access to the ocean. The shallow lagoon is suitable for beginners, and it can get exciting with strong swells, especially in spring and fall. The scenic area of Cabedelo Beach is becoming more and more popular for its perfect conditions for learning to kitesurf. Thanks to large breakwaters at the entrance to the Viana do Castelo port, flat-water conditions along the beach make it beginner-friendly.
Kitesurfing and windsurfing in Algarve
Algarve in the south of Portugal enjoys the warmest water and the strong Nortada breeze of over 25 knots. Carrapateira beach is popular with advanced kitesurfers looking for open-ocean access. The waves reaching 5 meters may be too rough for beginners. They should opt for a safer Alvor Lagoon instead.
Meia Praia in Lagos is the most popular spot for windsurfers in Algarve, offering conditions for all levels and learning space for beginners. The Windsurf Centre Meia Praia Beach offers lessons.
Find hotels and airbnbs near Kitesurfing and Windsurfing (Map)