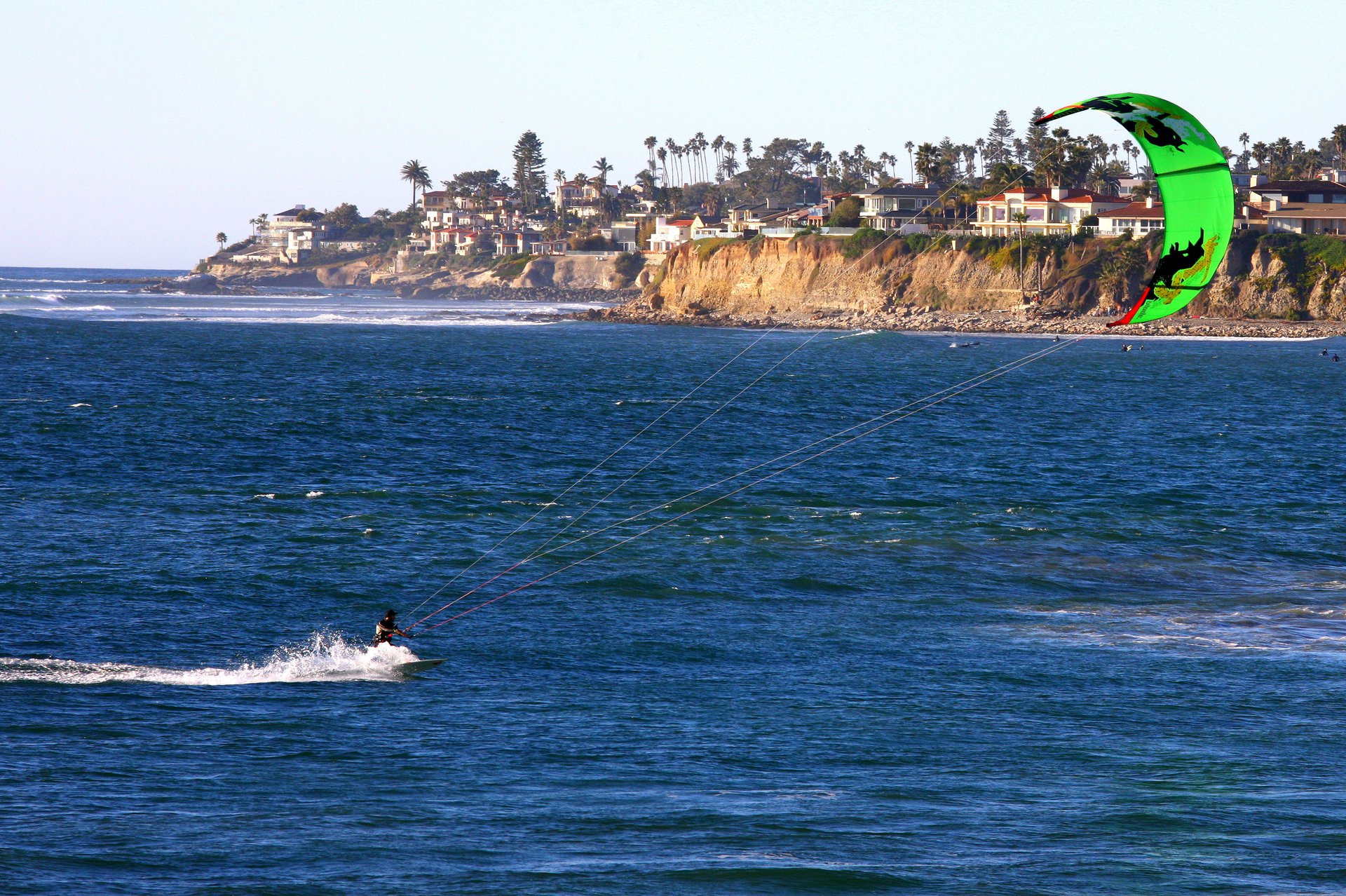 San Diego has a lot to offer for a kitesurfer or windsurfer. With miles of vast beaches, calm bays, year-round warm water, and sweet Southern California breezes, San Diego is a paradise for surfers of all kinds. Small gentle waves and swells, let advanced riders practice jumps, loops, and turns. The wind season in San Diego generally runs from March to October with peak times in the spring and fall. Northwest wind has a strength of 12-16 knots. Occasional south wind can reach 24 knots. June and July can be rather breathless in San Diego.
There are many kitesurfing schools and rentals in San Diego, which makes it easy for a beginner. They are concentrated in the popular kitesurf spots such as Silver Strand State Beach, along San Diego Bay, and Mission Bay Park. The latter has 27 mi (43 km) of shoreline, in particular, South Mission Beach, Dog Beach, Sail Bay, Enchanted Cove, and a dedicated Mission Bay Park's Kite Beach. Another popular spot is Pacific Beach. Tourmaline Surfing Park at North Pacific Beach's northern end offers many amenities for kite- and windsurfers. Fiesta Island (Mission Bay Park) and Coronado Shores (San Diego Bay) also fly kites during the windy days.
The bays of San Diego often get covered with sails. The local windsurfer community is huge and includes freestylers and wave riders. The bays of Oceanside Harbor, Mission Bay Park, and San Diego Harbor offer dozens of rentals schools. Tourmaline Surfing Park is an excellent place to start due to its gentle slow waves.
Find hotels and airbnbs near Kitesurfing and Windsurfing (Map)