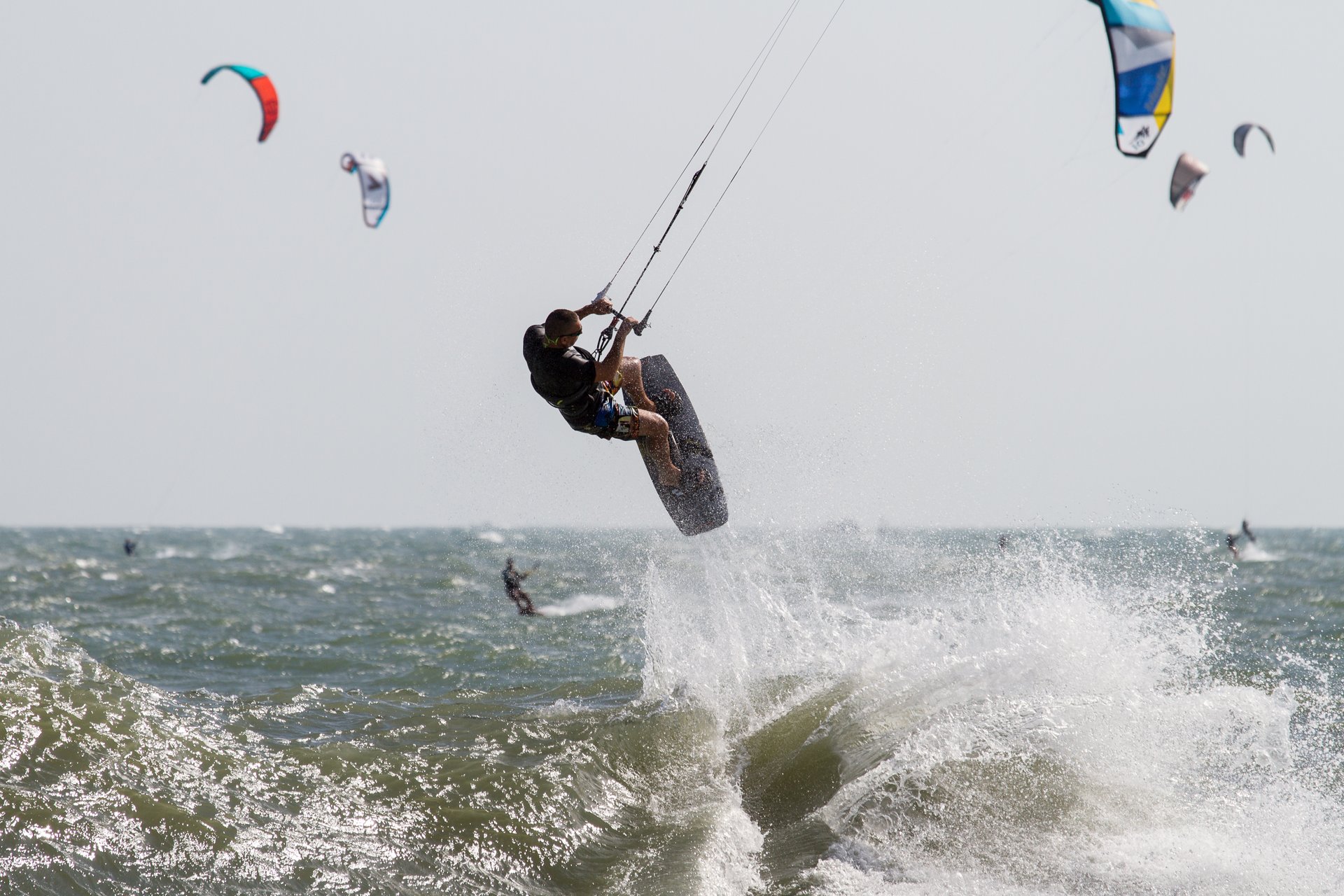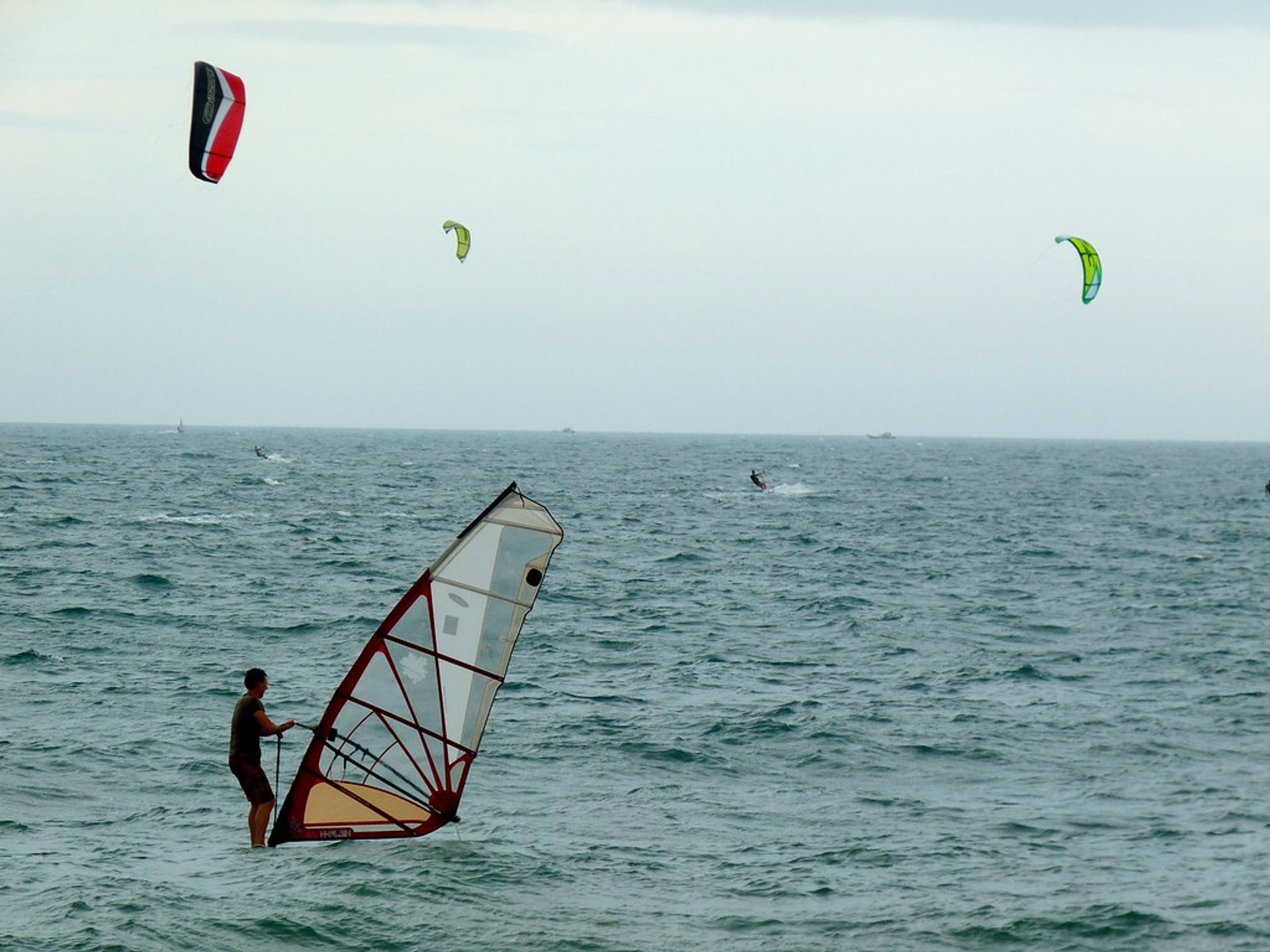 See accommodations nearby
Kitesurfing and windsurfing in Mũi Né
Whether you are a beginner or have some experience in kitesurfing or windsurfing, Vietnam can be a good vacation spot with a few excellent sailing spots. One of the top 10 kitesurfing destinations in Asia, Mũi Né is located by the South China Sea in the southeast of Vietnam. Since it is not that far from Ho Chi Minh, the resort attracts many local kiters and windsurfers at the weekends. In the summer months, winds in Mũi Né are rather weak; besides, it's also the rainy season. Thus, the colder and drier period from October through April is the best to enjoy the sports that rely on a sea breeze.
The Bay of Phan Thiet, where Mũi Né is located, enjoys side/side-onshore wind of over 12 knots and up to 30 knots when it blows from the northeast. Waves are best from early fall to winter, roughly from September to December. The southern part of the Bay features a 10-km stretch with beachfront hotels, clubs, and palm-lined beaches.
Kitesurfing and windsurfing in Phan Rang
If you prefer to avoid crowds and are looking for a quieter place, Vietnam has a few other windsurfing and kitesurfing locations. Kitesurfing in Phan Rang, which is also favored by surfers, offers an advantage of flat water inside the reef and a steady wind of 20 knots during winter. Sorrento Beach Club, Phan Rang Kite Center, and Phi Kite School offer rentals for equipment. Some 60 km (35 mi) north from Phan Rang, you can enjoy a few hours in Cam Ranh that boasts a calm lagoon for beginner windsurfers.
Water sports in Nha Trang
Moving a bit more northward, you can also check out the city of Nha Trang and Bai Dai Beach, some 20 km south from the city. Nha Trang boasts a six-kilometer stretch of scenic coastline with sandy beaches and clear waters. Engaging in water sports like windsurfing, kitesurfing or wakeboarding in such a beautiful place with turquoise waters dotted with tropical isles might be one of your best memories from Vietnam.
Kitesurfing in Da Nang
Central Vietnam also has a few kite- and windsurfing spots. Thanks to a solid infrastructure, Da Nang and Hoi An popular seaside destinations, and they also offer some water sports. In Da Nang, the beach and offshore waters tend to be less crowded than on southerly kitesurfing places. This also means that the water sports infrastructure might be not as well developed as in Mui Ne. Here, the winds are not as strong, but the good news is that during the Vietnam coast "low-wind" season (April–October) it's possible to kitesurf here with southwesterly winds of about 12-18 knots.
Find hotels and airbnbs near Kitesurfing and Windsurfing (Map)