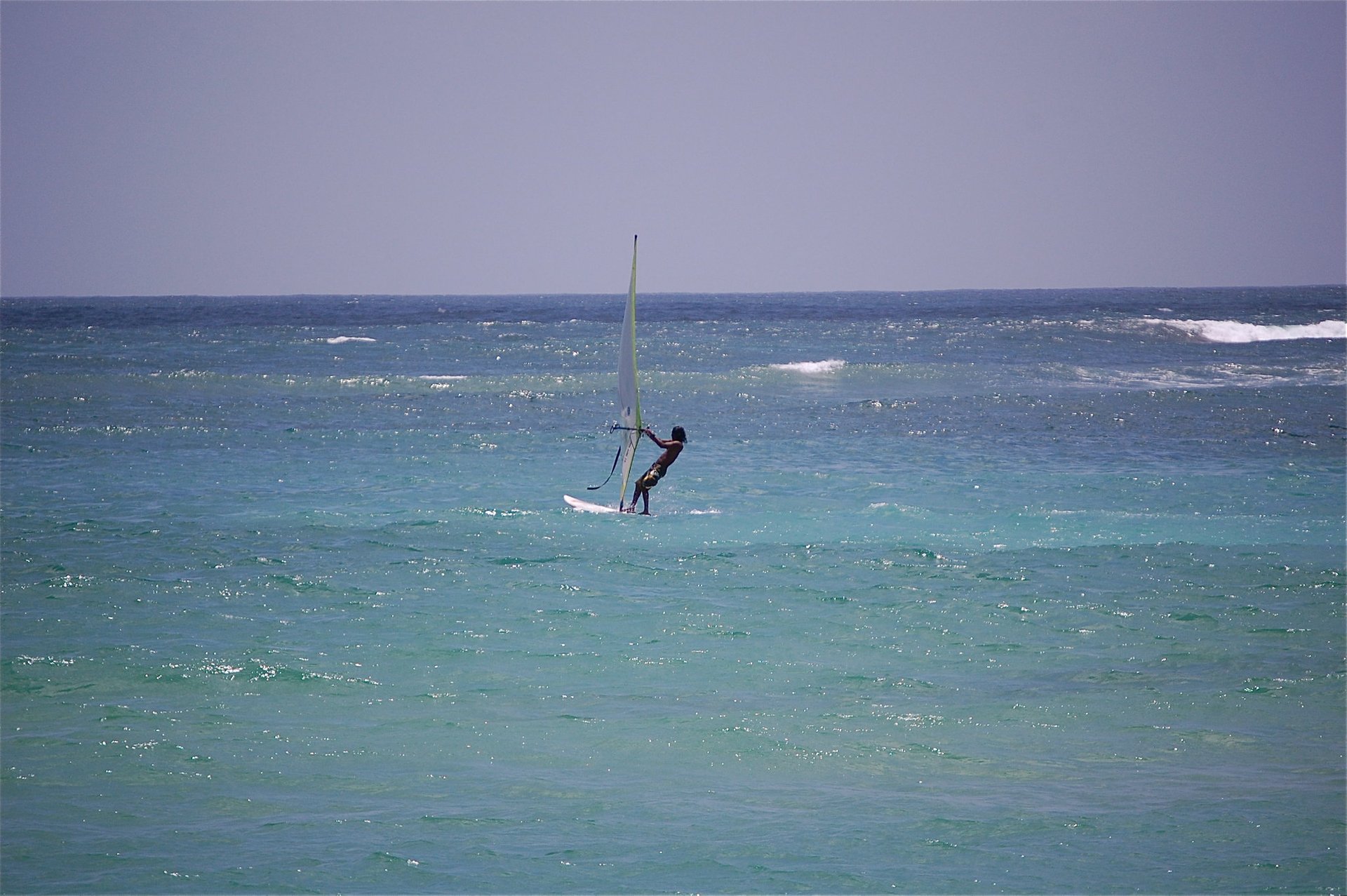 See accommodations nearby
Sri Lanka, with its vast 1300-km (800-mile) coast, is a perfect place to surf under a sail or a kite. Both coasts offer great wind and weather conditions ideal for windsurfing and kitesurfing, offering various rental equipment and lessons for beginners.
Kitesurfing on the West Coast (May–September)
The west coast of Sri Lanka boasts numerous kitesurfing spots, even though it's a relatively new sport over here. Negombo attracts kitesurfer crowds thanks to the abundance of rentals by various water sports providers in Sri Lanka. Best kitesurfing in Negombo for beginners is available from January through March. Advanced and professional kiters rush to the west coast of Sri Lanka from May to September when the southwest winds bring high shore breaks and high sea. Consistent 24/7 winds promise extended hours of kitesurfing off the Kalpitiya peninsula. During the summer season, Kappalady beach and lagoon are some of the windiest kite spots in Sri Lanka with excellent kitesurfing conditions. There are no rocks or hazardous corals so that if you get washed, you will get blown to the shore.
Windsurfing on the West Coast (November–April)
For prime windsurfing, the most popular location is the southwest coast, particularly Bentota. Calm waters of Bentota are most suitable for beginners. Generally, the windsurfing season in the south and southwest of Sri Lanka lasts from November to April before the start of monsoon that brings sea turbulence. Hikkaduwa, Midigama, Polhena, and Tangalle Beaches are also popular locations with lagoons and high winds. Further north along the west coast, Negombo is one of the most popular windsurfing spots during the season from December to April. Besides windsurfing, Negombo also offers a range of water sports like surfing, water-skiing, snorkeling, and scuba diving.
Windsurfing on the East Coast (April–September)
When the windsurfing season in southwest Sri Lanka is over, windsurfers can move to the east coast, where the season runs roughly from April through September. Arugam Bay is the most popular water sports destination in this part of the country and an international surfing competition venue. It features consistent winds that blow from 11 a.m. to 5 p.m. The right spot for beginners is Elephant Rock, located 4 km south of Arugam Bay. Further north of Trincomalee, on the east coast of Sri Lanka, the sea off Nilaveli and Uppuveli beaches provides an excellent alternative. Generally, eastern coastal belt isn't yet developed comparing to the southwestern and southern coastal belts; thus, accommodation options and water sports facilities somewhat limited.
Find hotels and airbnbs near Windsurfing and Kitesurfing (Map)