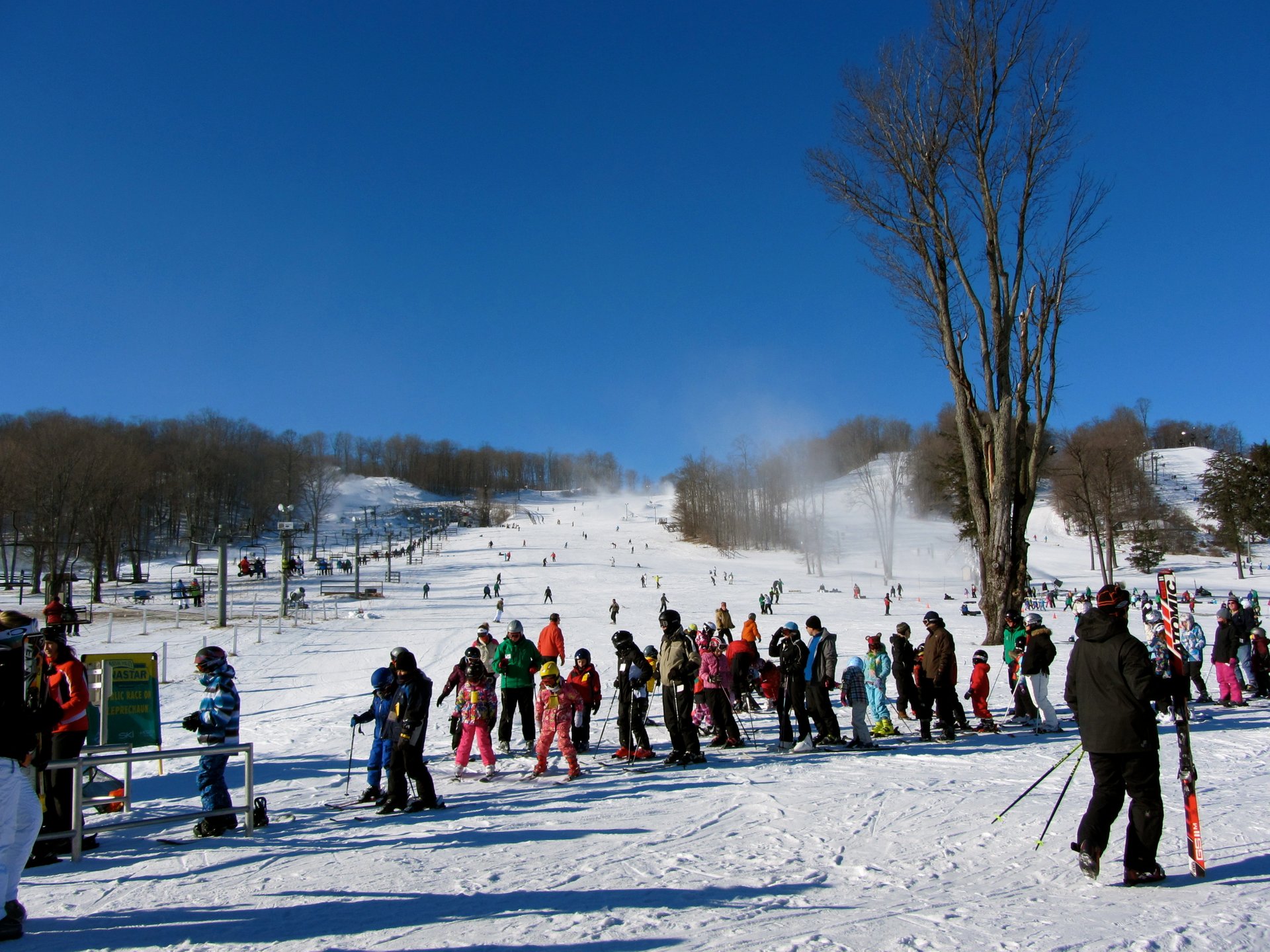 See accommodations nearby
With tons of snow and pristine slopes, Michigan has the second largest number of ski areas in the US. Even though the mountains in Michigan are not that tall, the state boasts 47 ski areas and 50 terrain parks with about 1,000 runs altogether, providing plenty of diversity for any winter sports enthusiast. Michigan ski resorts are usually opening in late November and close in mid-April. However, the snow is the deepest in February, which makes it the best month for skiing and snowboarding in the state.
Upper Penisula: Powderhorn and Brule
It starts snowing in the U.P. quite early, so by Thanksgiving, all of its nine ski resorts, located in western and central parts of the U.P., are usually ready to open. The largest is Big Powderhorn, which features 253 ac (102 ha) of slopes and 45 runs as well as three terrain parks. Big Powderhorn is also known as one of the best destinations for cross-country skiing due to a wide network of trails going through picturesque spots. After skiing and snowboarding, riders can relax at the Bavarian village. There're plenty of lodging options in Wakefield, which include chalets and hotels. Ski Brule, located in Iron River, is the highest ski resort in Michigan, featuring a 500-ft (152-m) vertical drop, 150 skiable ac (61 ha) of slopes, and 17 ski runs. Polished terrain is accompanied by beautiful views and family-friendly entertainment like sleigh rides through the Ski Brule Village. Cross-country skiing trails are also available at Ski Brule. The resort offers chalets for rent which is the best lodging option in the area.
Northern Michigan: Boyne Highlands, Crystal Mountain
Boyne Highlands is the largest ski area in the state, located in Harbor Springs, Northern Michigan. It features 16 mi (26 km) of slopes and eight lifts that take riders to an elevation of 1,338 ft (408 m). 55 groomed runs and several terrain parks are suited to riders and skiers of all levels. In addition to downhill skiing, there is tubing, snowshoeing, and plenty of entertainment. Crystal Mountain is one of the most scenic destinations of Northern Michigan. The ski resort, located in Thompsonville, offers 3 mi (5 km) of slopes and seven lifts that take guests to elevations up to 1,181 ft (360 m). The resort also has trails for cross-country skiing.
Southern Michigan: Alpine Valley
Alpine Valley is the largest and most beautiful ski resort in southern Michigan and only some 42 mi (68 km) northwest of downtown Detroit. The ski area located in White Lake, Michigan, features nine chairlifts and 25 slopes. There are four terrain parks, a ski lodge, and Hornet's Nest Lounge with après-ski dancing and entertainment.
Find hotels and airbnbs near Skiing and Snowboarding (Map)