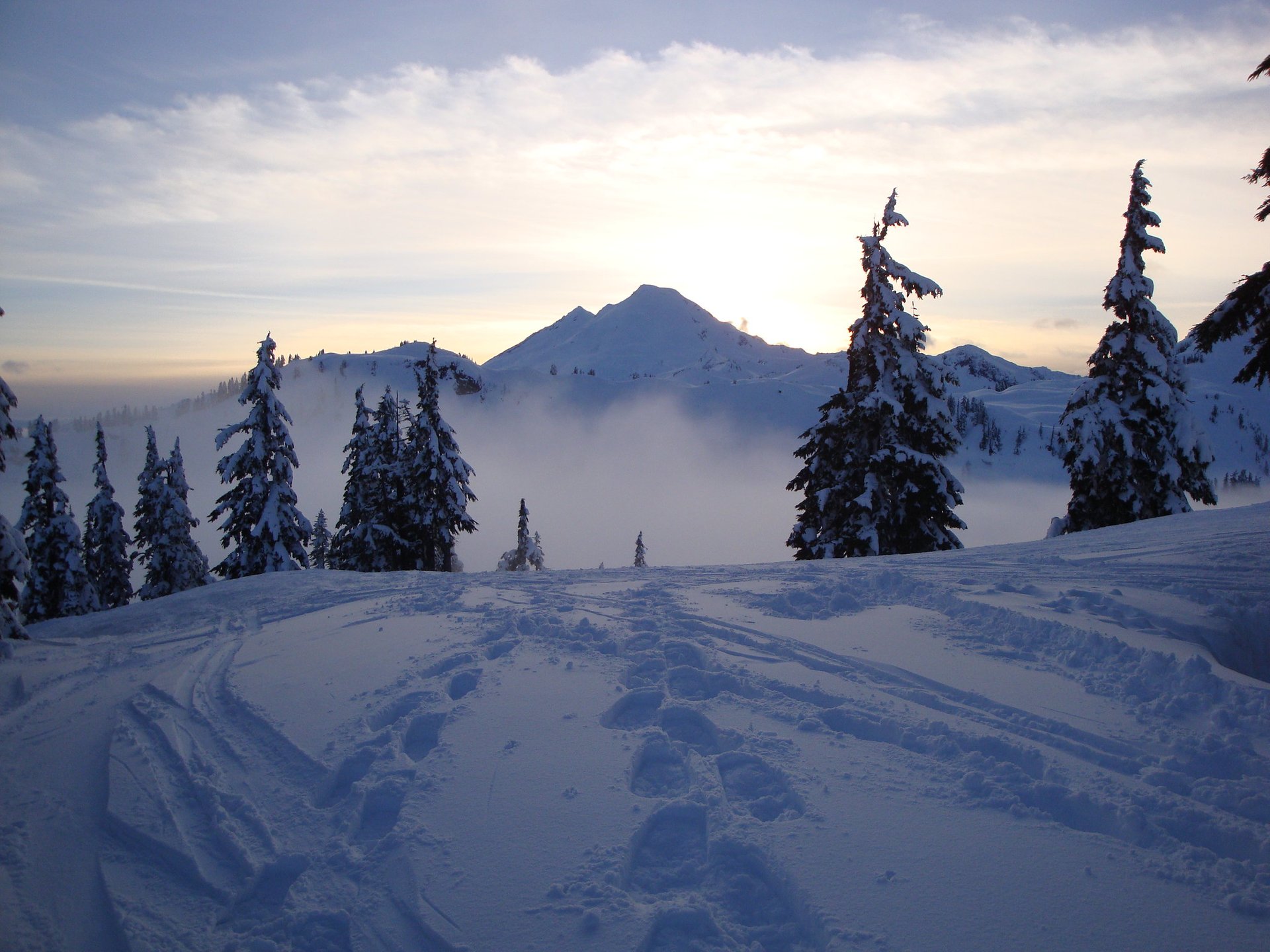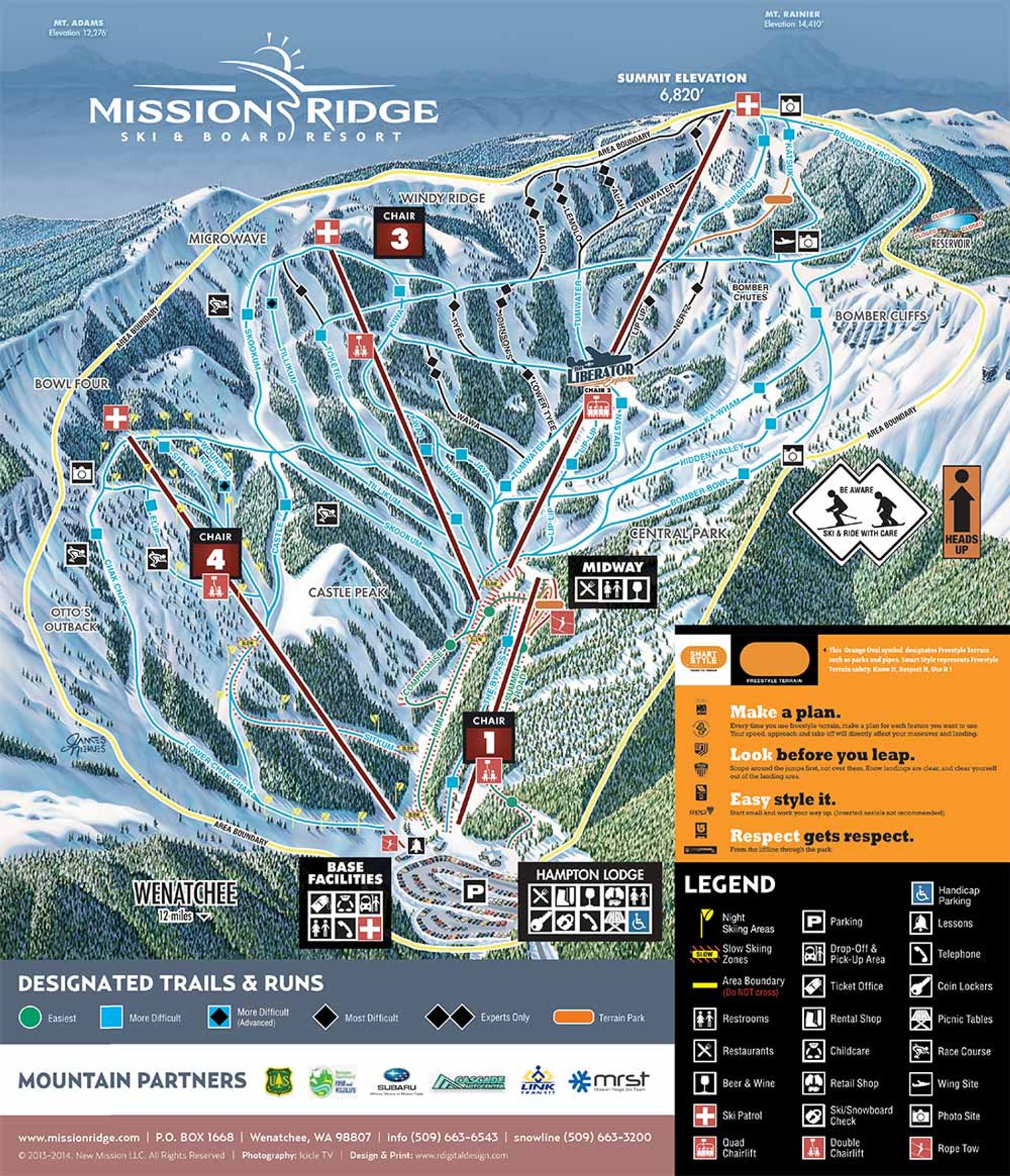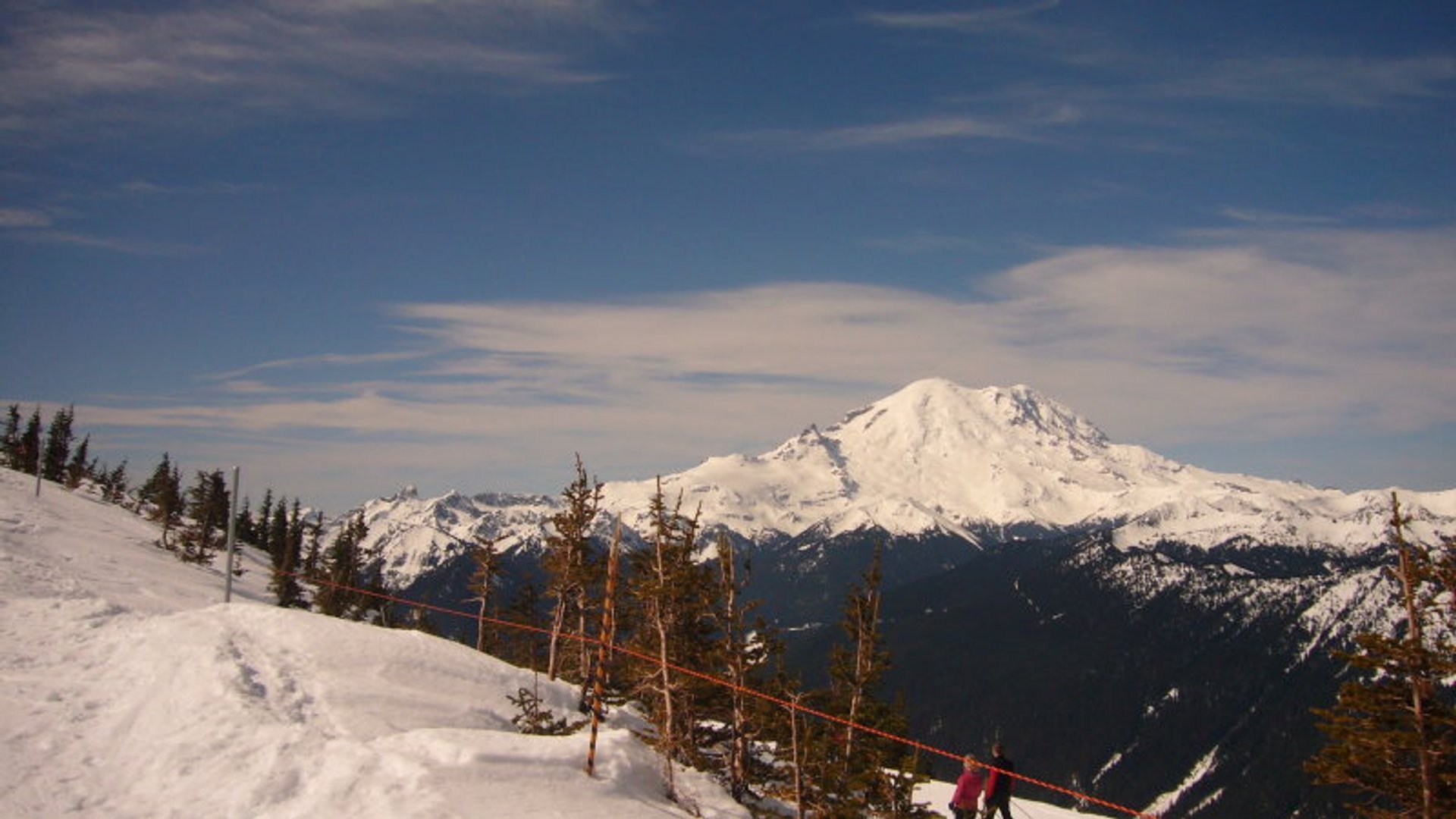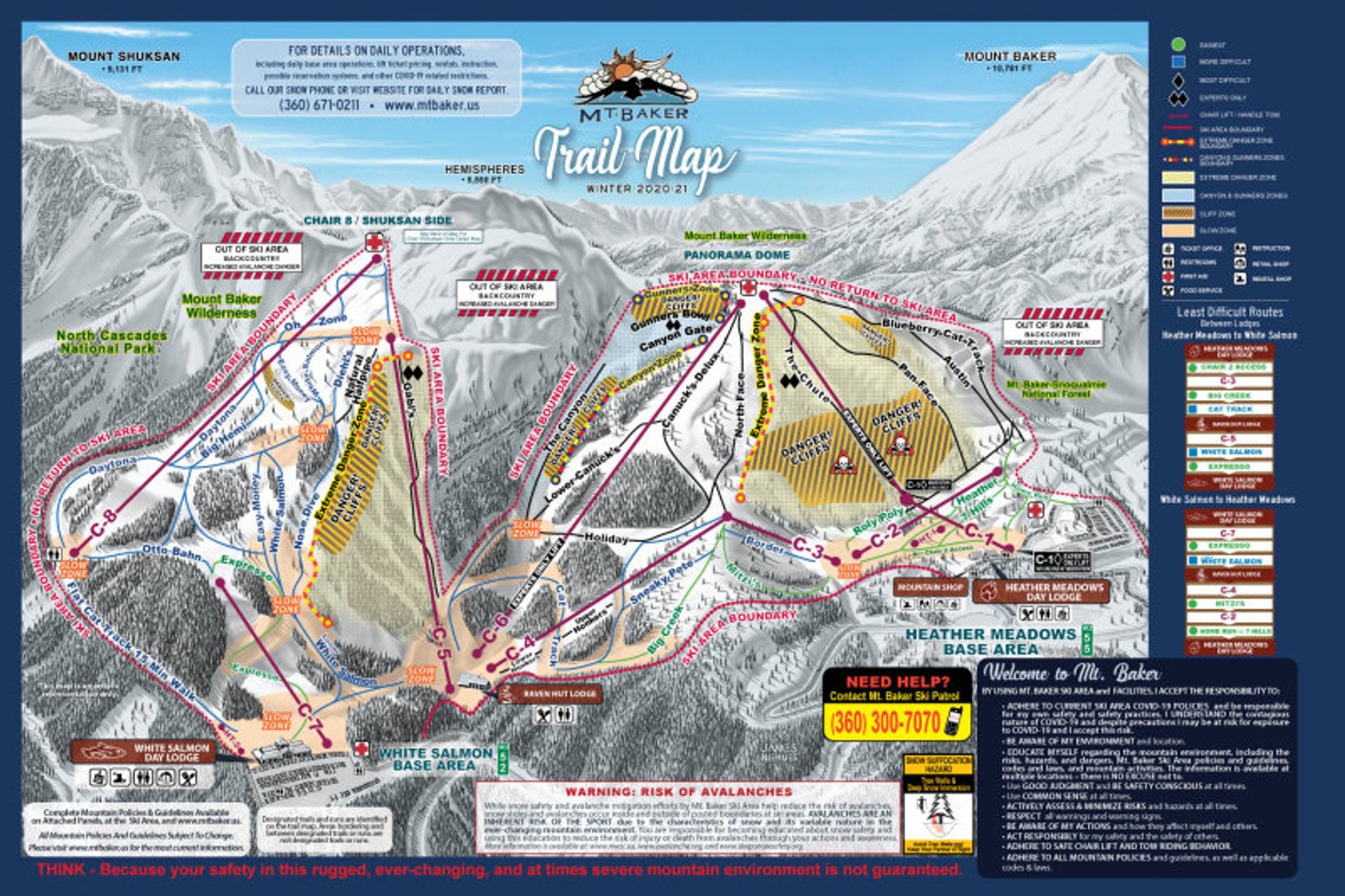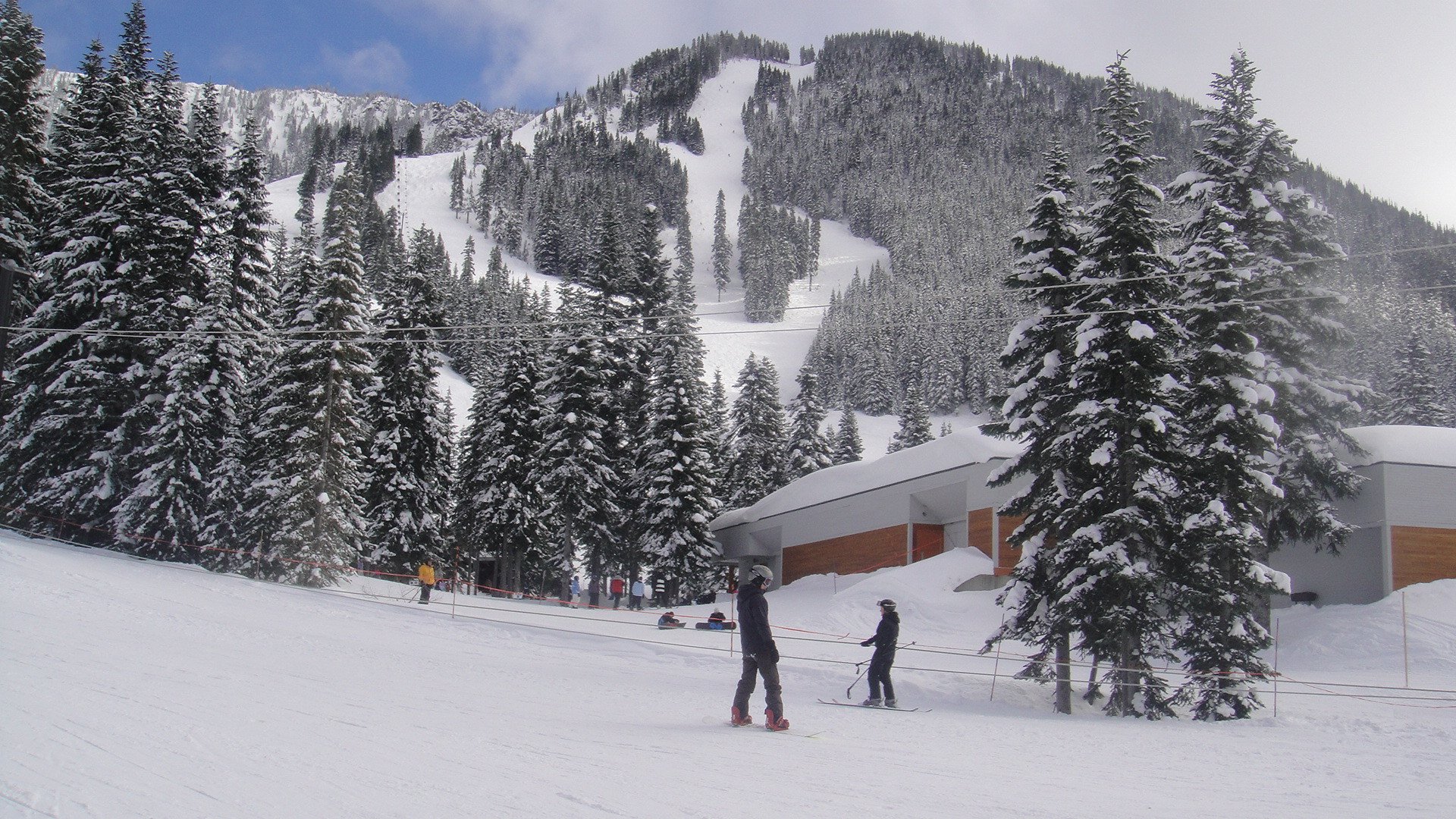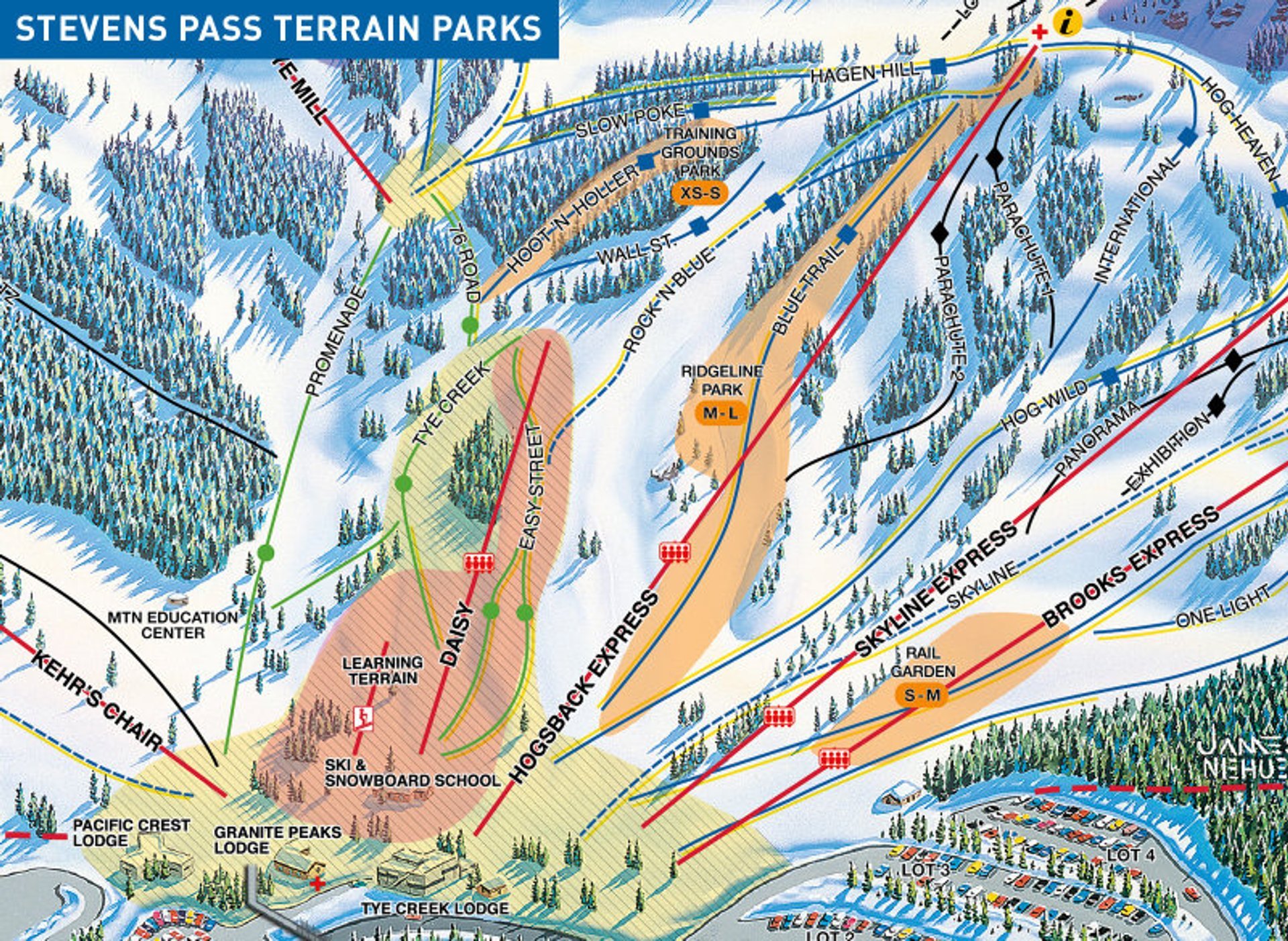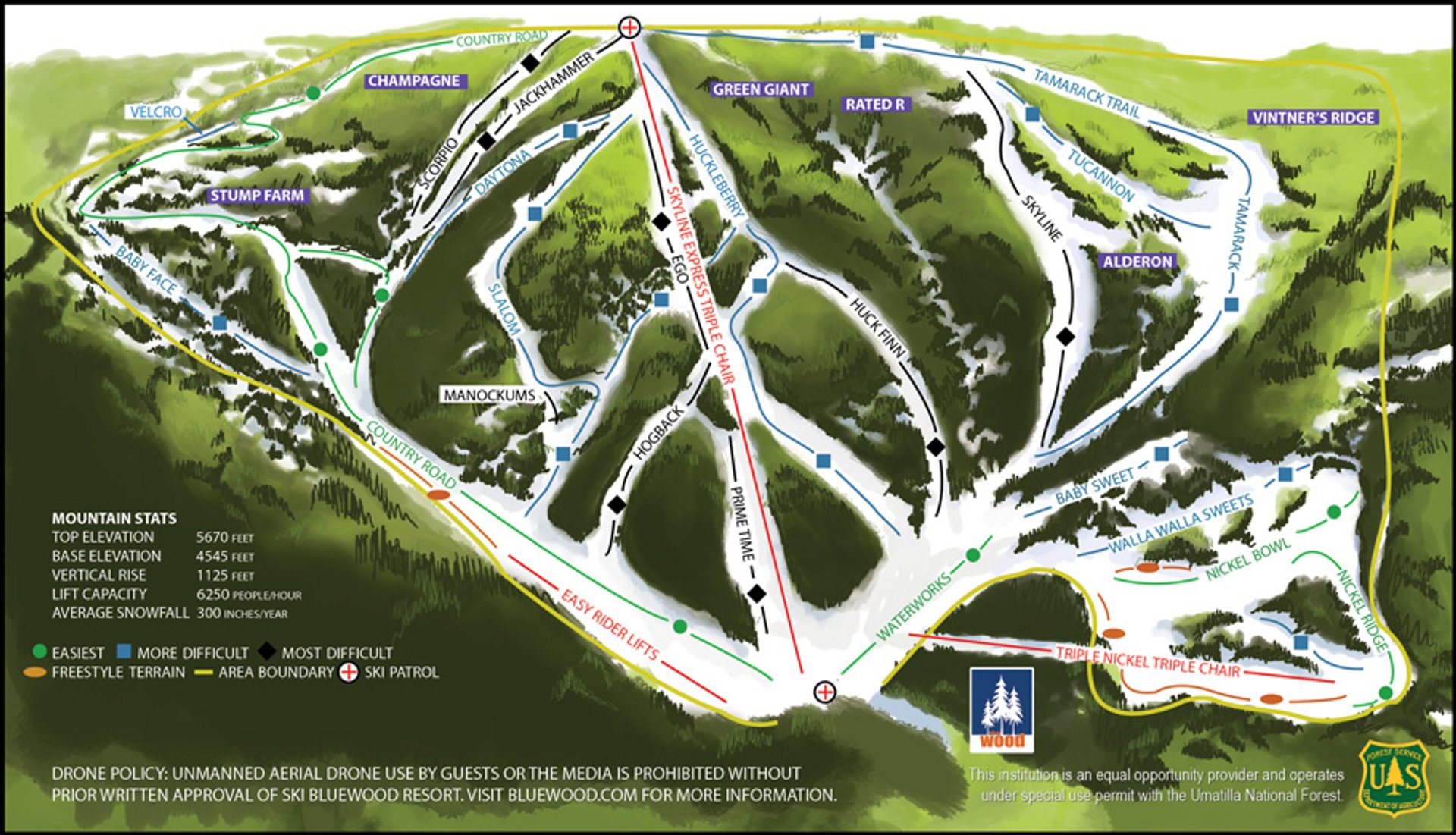 Top of Mt. Baker ski area
See accommodations nearby
Washington receives the most snow in the United States. Mt. Rainier alone gets a record 646 inches (1,640 cm) of winter precipitation, which makes Washington ski resorts so desirable to snowboarders and skiers from all over the US. Start your winter adventure at the pristine slopes of the Cascades range, check out the isolated Olympic Peninsula, and discover the Blue Mountains located on the border with Oregon and Idaho. The ski season at some Washington resorts starts as early as Thanksgiving, however, in the last few years many have delayed openings till December due to warm autumns. Skiing and snowboarding are possible till mid-April. At a few high-altitude resorts you can ski even in early May. The snow conditions are the best in February.
East Cascades: Wenatchee–Mission Ridge
Mission Ridge is one of the largest ski resorts in Washington. It offers over 2,000 skiable acres (800 ha) to conquer. The resort is known for its combination of powder and sun: 200 inches (510 cm) of snow per year and more than 300 sunny days. Night skiing is available on Saturdays. Here you can find the most fantastic backcountry skiing and a laid back atmosphere.
vertical: 2,250 feet (686 m) area: 2,000 acres (800 ha) runs: 36 (easiest: 10%, more difficult: 60%, difficult: 30%) lifts: 4 chairlifts, 2 tows season: late November to early April
Crystal Mountain, Mount Rainier National Park
Crystal Mountain is the biggest ski resort in Washington. Its main attraction is the stunning view of Mt. Rainier, which is so perfect, you'll want to stop skiing and just sit for hours at the Summit House, the highest restaurant in the state. The famous 2,400-foot (731-m) Mount Rainier Gondola ride is also memorable for everyone in your family. Crystal Mountain Resort also gets points for variety due to over 2,600 acres (1,050 ha) of groomed trails. Lodging options include three hotels in close proximity to the resort.
vertical: 3,100 feet (945 m) area: 2,600 acres (1,050 ha) runs: 80 (easiest: 11%, more difficult: 54%, most difficult: 35%) lifts: 11 season: mid-December to mid-April
North Cascades: Mount Baker Ski Area
Mount Baker Ski Area is worth visiting because it is one of the snowiest resorts in Washington. If you are looking for tons of powder, you won't be disappointed here. Backcountry rides and stunning views at Mt. Baker are great. However, you have to pick your timing carefully, because the mountain is not that high, and that results in less than perfect snow conditions. The most reliable time to ski at Mount Baker is mid-February. Another advantage is affordability and thinner crowds than other larger Northwest ski resorts.
vertical: 1,589 feet (484 m) area: 1,000 acres (400 ha) runs: 31 (easiest: 24%, medium: 45%, difficult: 31%) lifts: 8 chairs, 2 handle tows season: mid-December to May
Leavenworth and Stevens Pass
Stevens Pass is famous for its dry powder over the Cascade Crest. The resort also offers night skiing, terrain parks, and beautiful views of over 1,000 skiable acres (400 ha). A ski trip to Stevens Pass can be combined with a visit to the nearby Bavarian village of Leavenworth and snowshoeing or snow tubing for the whole family.
vertical: 1,800 feet (548 m) area: 1,125 acres (455 ha) runs: 52 (beginner: 11%, intermediate: 54%, advanced: 35%) lifts: 10 season: early December to early April
Blue Mountains: Bluewood Ski Area
If you are not from the Northwest, you probably didn't hear of the Blue Mountains, located on the border between Washington, Oregon, and Idaho. That's why Ski Bluewood boasts thinner crowds and affordability. The resort is located in southeastern Washington and is an excellent option for families and beginners. It's known for beautiful trees and dry fluffy snow.
vertical: 1,125 feet (342 m) area: 400 acres (160 ha) runs: 24 (beginner: 25%, intermediate: 45%, advanced: 30%) lifts: 4 season: early December to early April
Find hotels and airbnbs near Skiing and Snowboarding (Map)