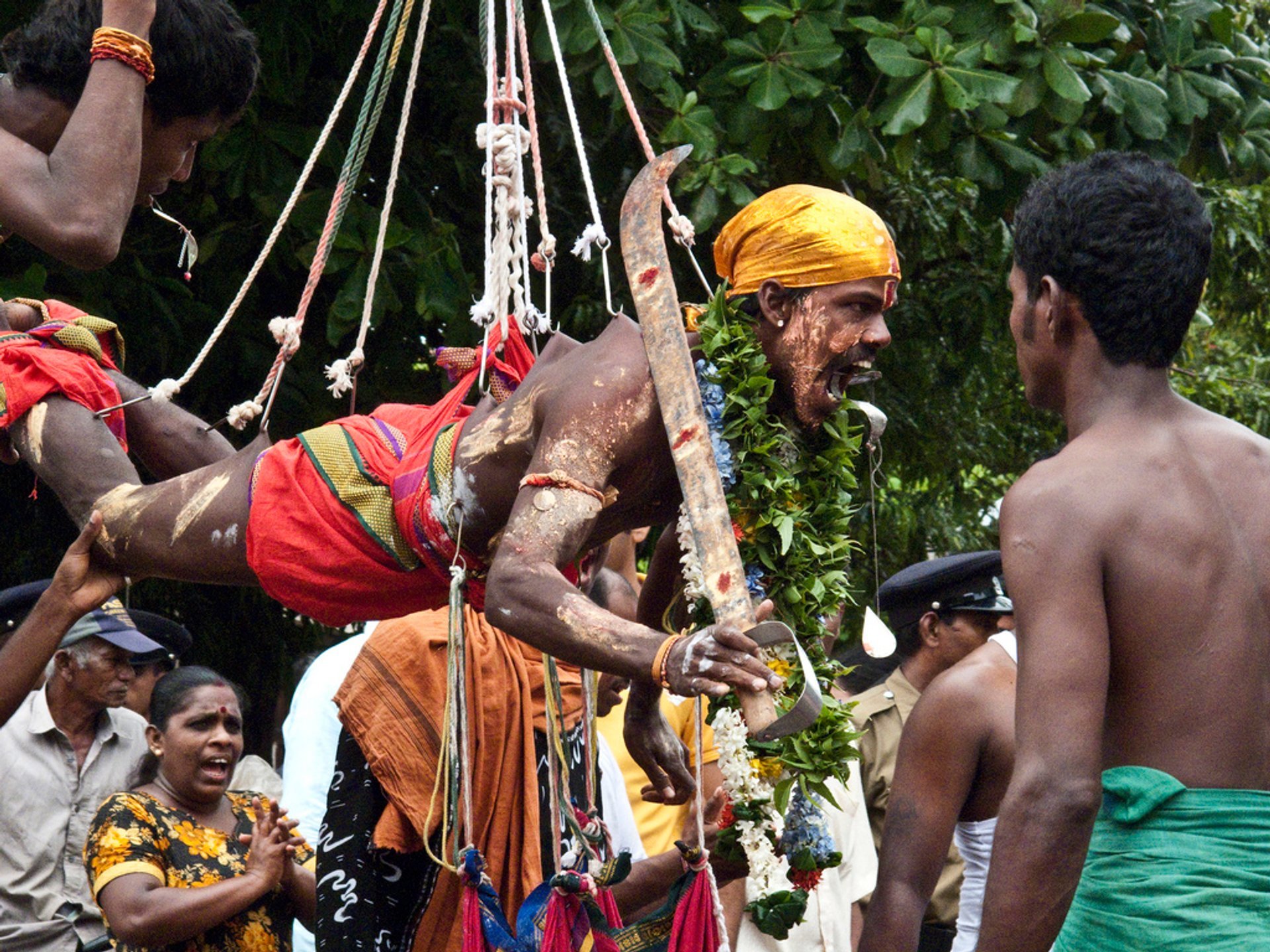 The Vel Festival is one of the most important festivals of Sri Lanka's Tamil community. It celebrates the Hindu war god Skanda, also known as Lord Muruga. Colombo festivities usually take place during the last week of July. The Aadi Vel Festival has been held in the city for over 140 years. Devotees in bright clothes take to the streets to hold chariot parades, traditional singing, tinkling bells, and Kavadi—a ceremonial offering dance. During the festival, they often perform rituals by piercing their cheeks and other body parts.
One of the most important festivals of Colombo, the Aadi Vel Festival, dates back to 1874. Since then the celebration hasn't changed much - chariot processions are held, coconuts are mashed, people worship with camphor and flame, dance the Kavadi dance and much more.
The Skanda or Kataragama god has a huge following not only in Sri Lanka but also in India. According to the legend, Skanda is the younger warrior son of Shiva and Parvati. No wonder Colombo receives thousands of pilgrims from all over Sri Lanka during the Vel Festival.
The highlight of the festival is the perahera—a procession where a statue is carried in a silver plated chariot drawn by a pair of white bulls. It ends at the Bambalapitiya temple.
A Beautifully decorated cart leads the colourful procession which parades through the streets. Musicians are playing traditional music as the colourful procession passes Pettah and goes through York Street, Echelon Square and Galle Road to Bambalapitiya.
The idols of Lord Muruga and his two spouses - Goddess Valli Ammai and Goddess Theivayānai - are placed in the cart to give their blessing to devotees on the way. The Bambalapitiya temple is decorated and illuminated with lights and beautiful flower garlands. Devotees arrive in large numbers to worship the gods and enjoy the traditional music.
Find hotels and airbnbs near Colombo Aadi Vel Festival (Map)