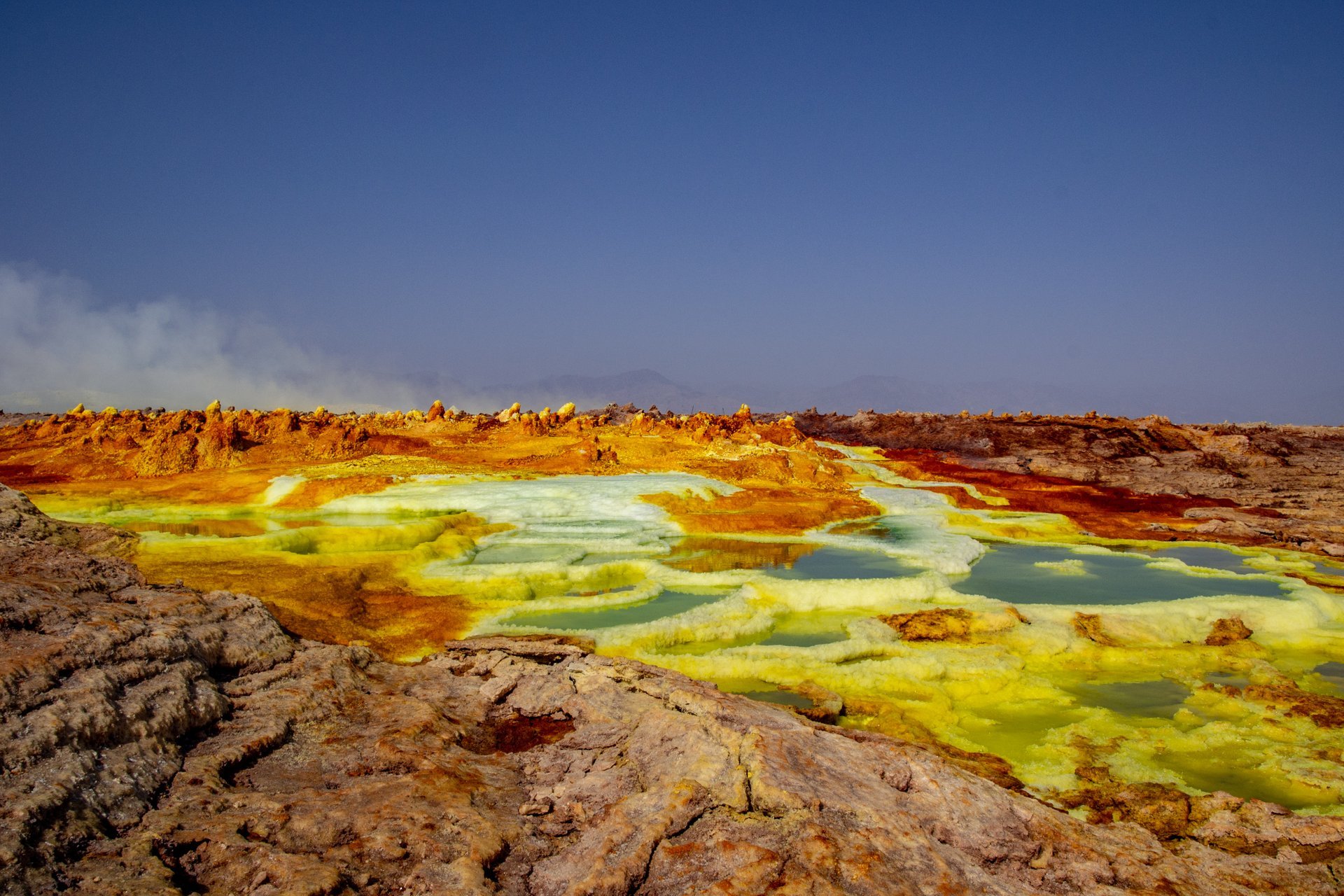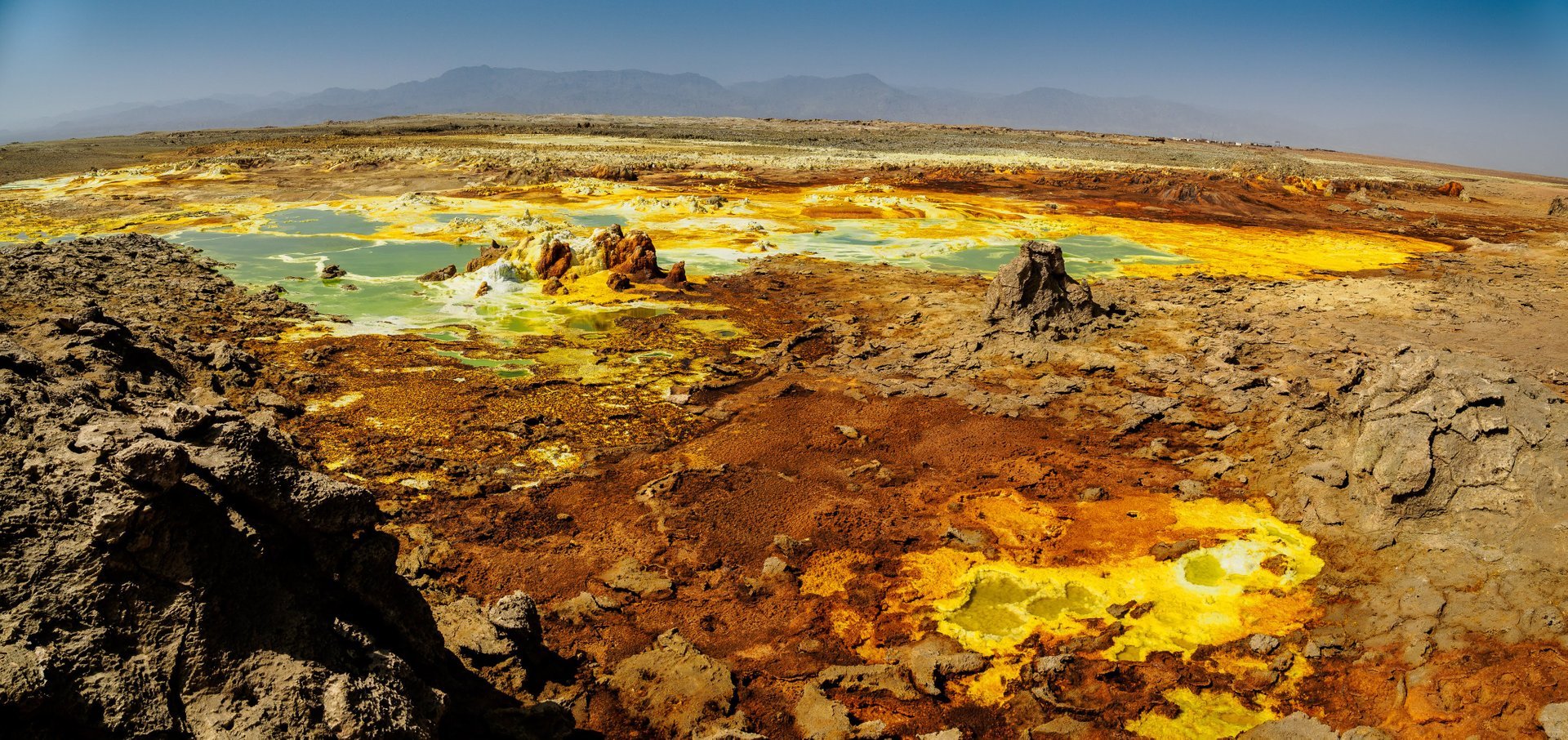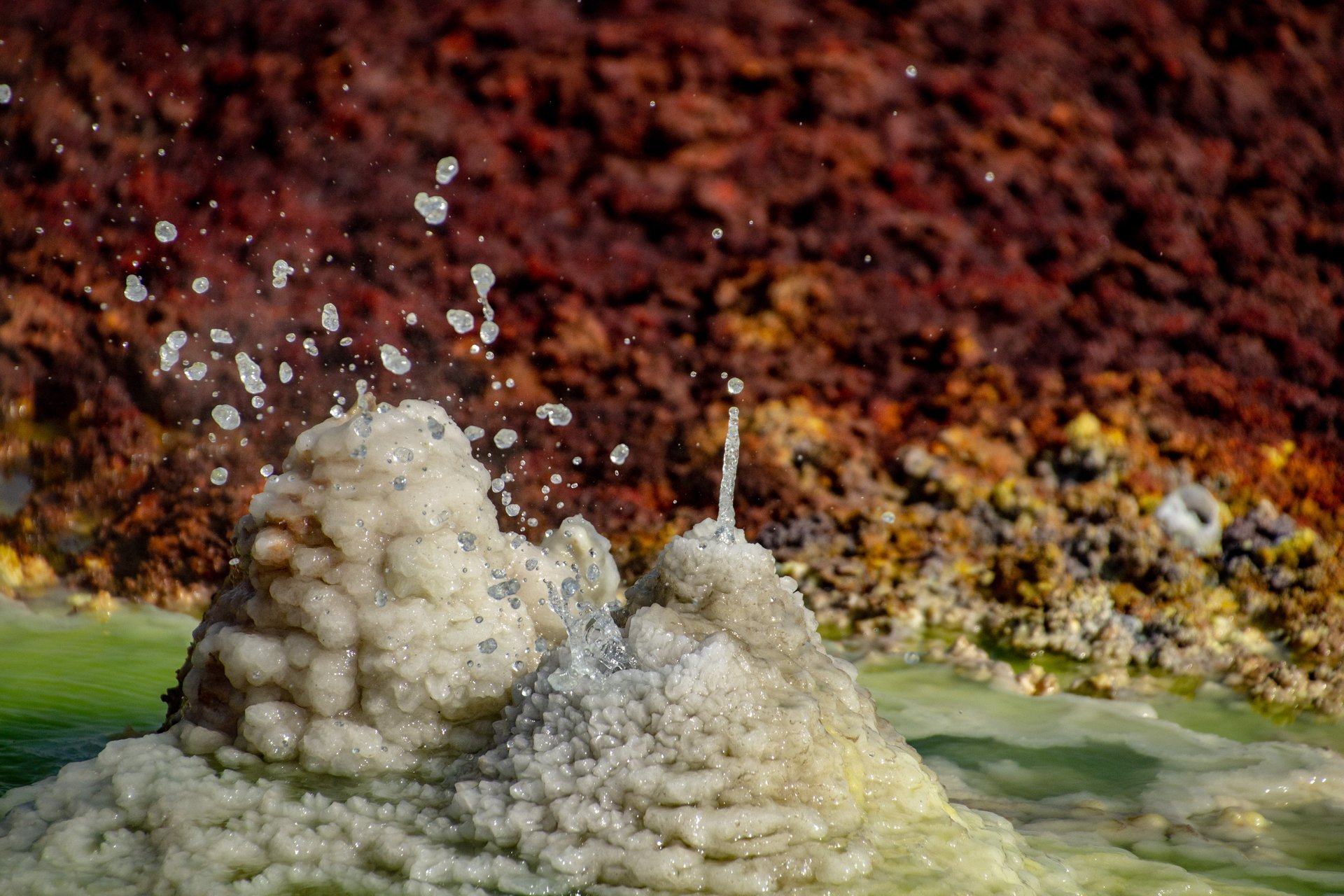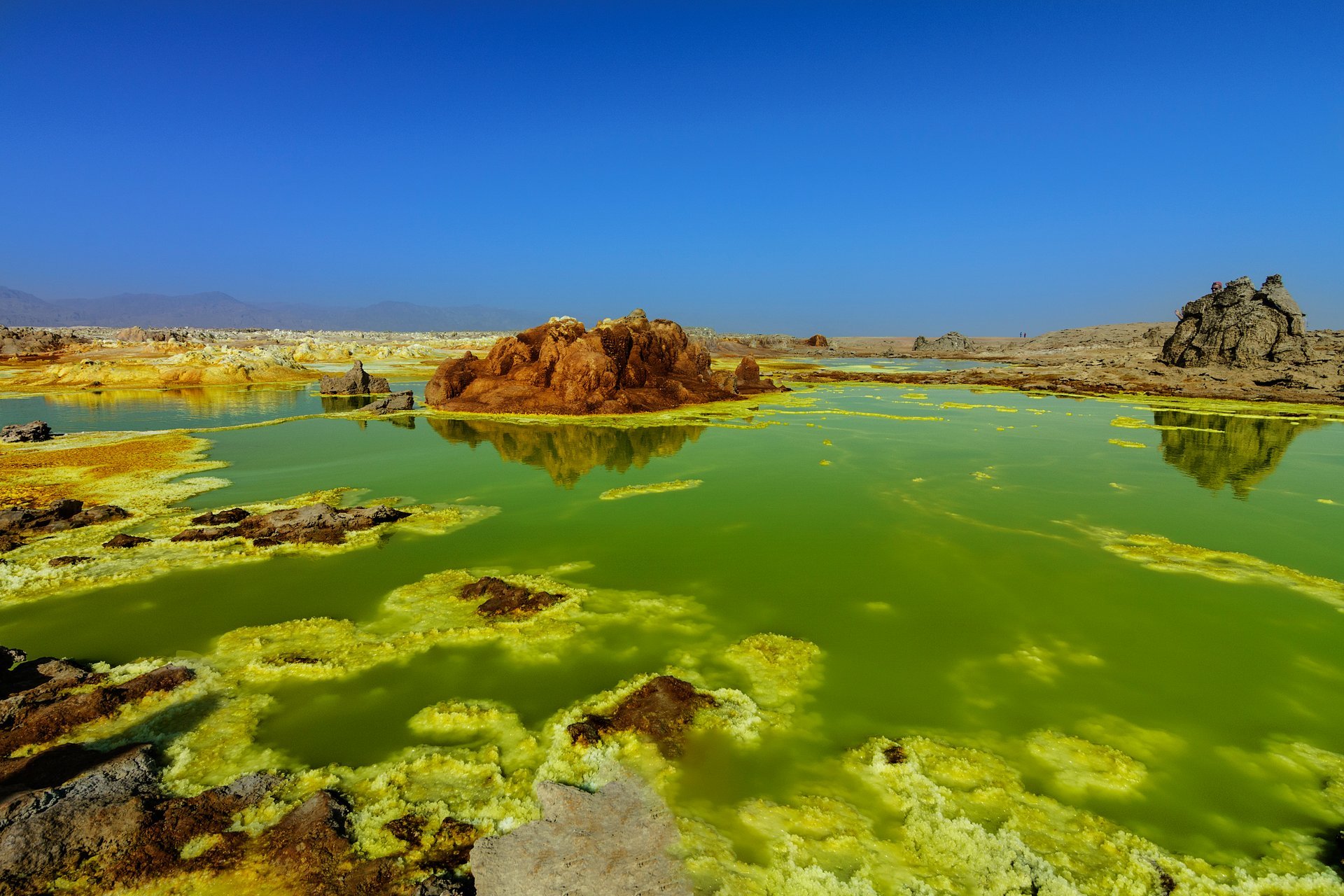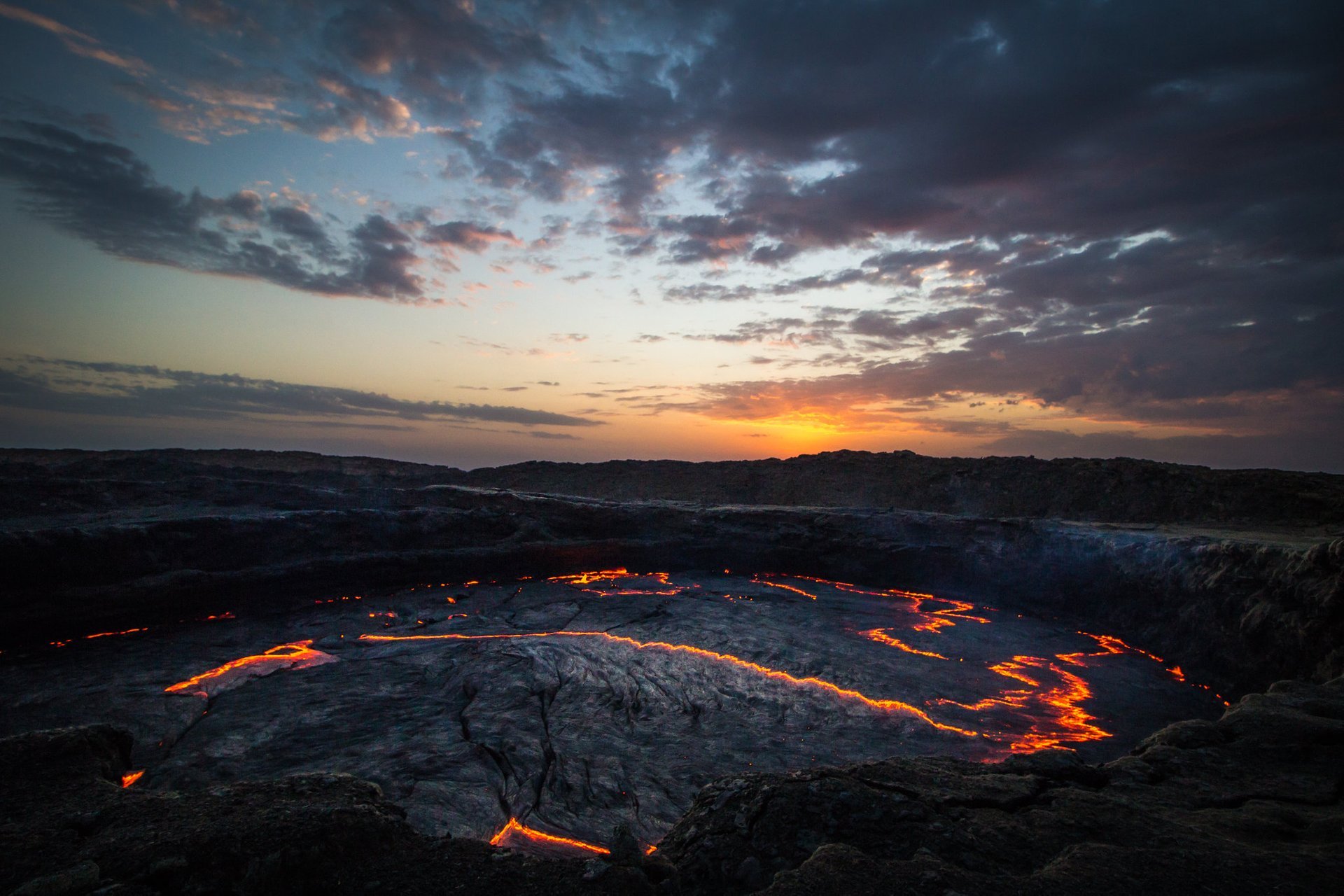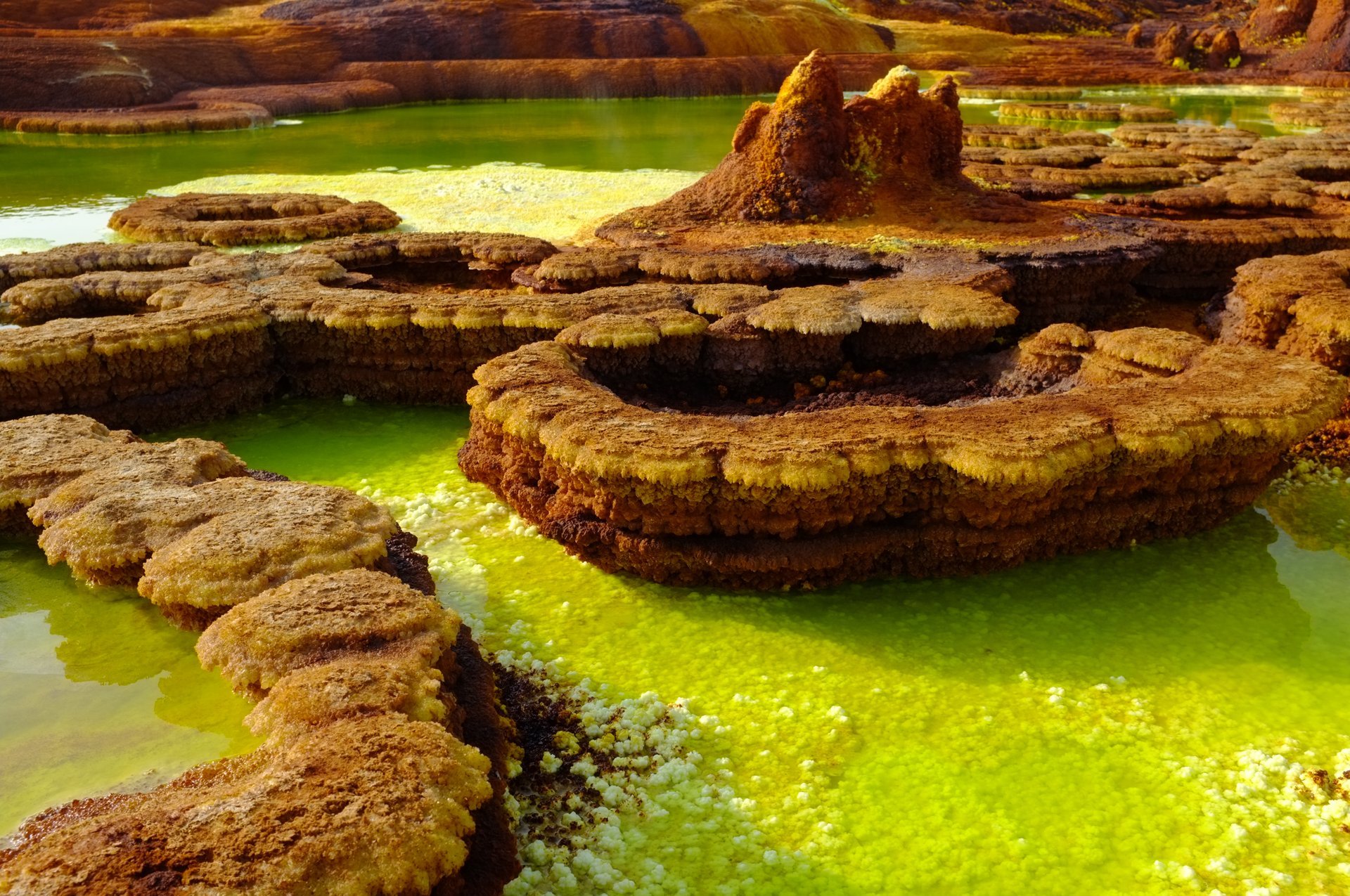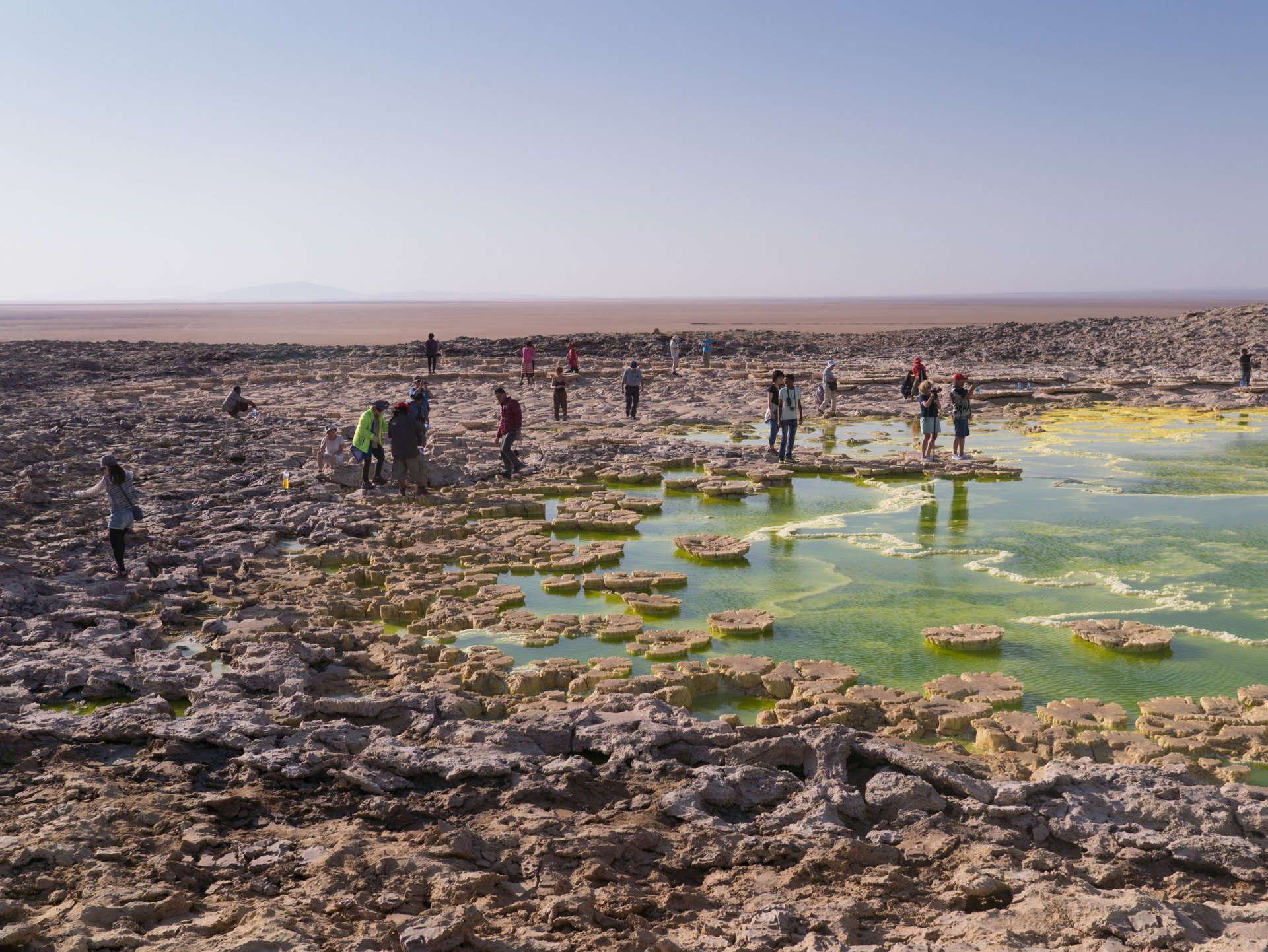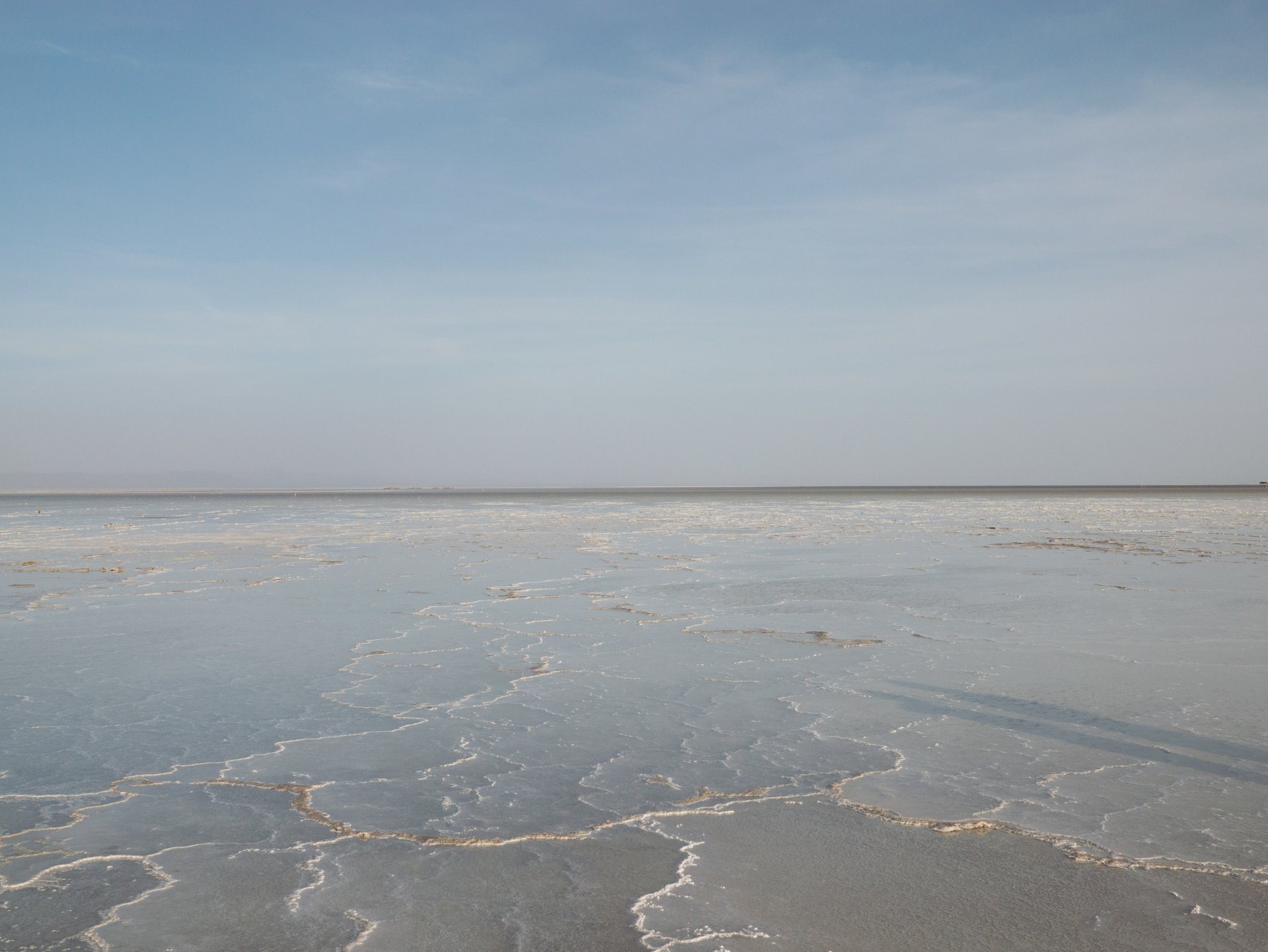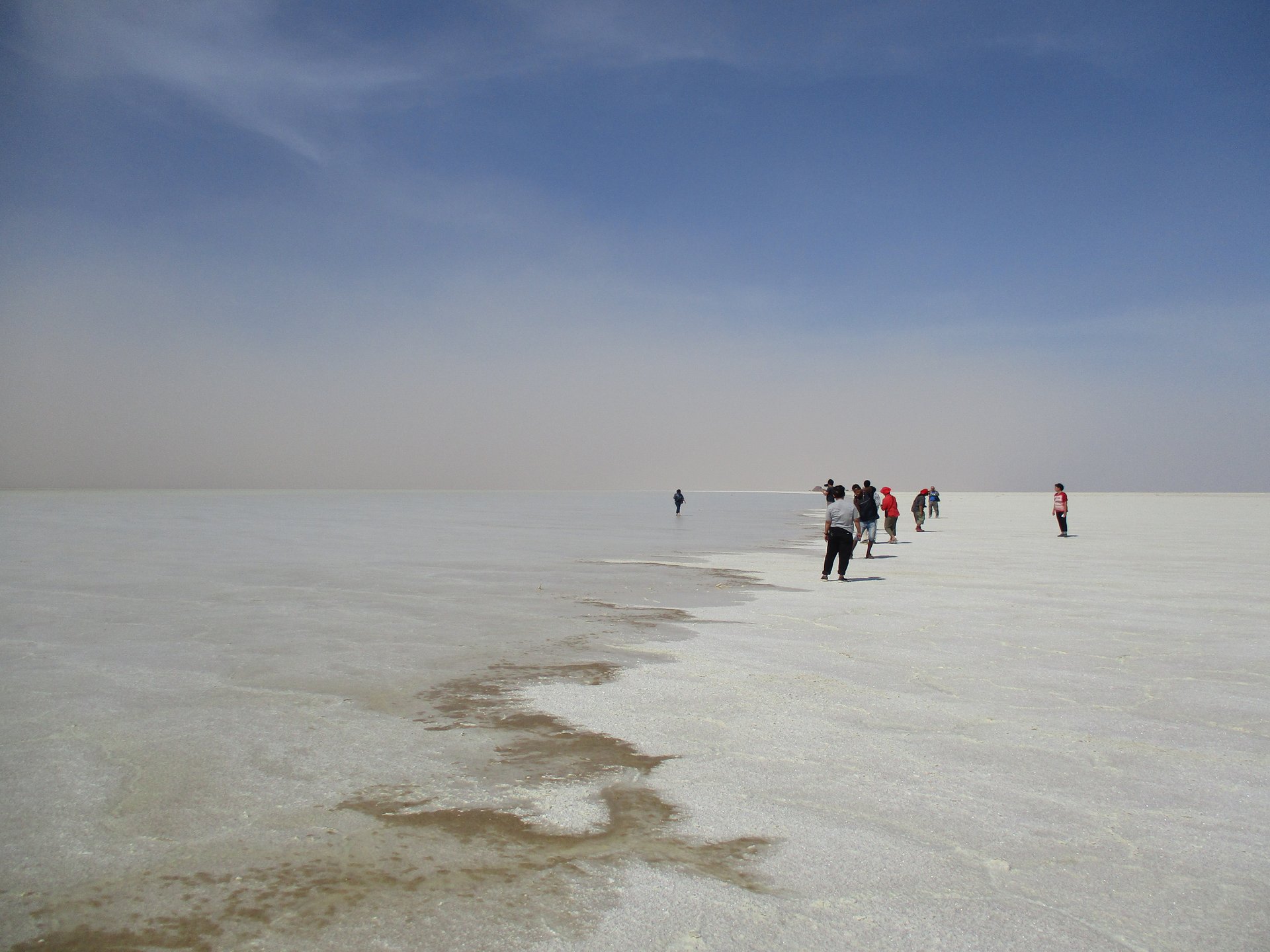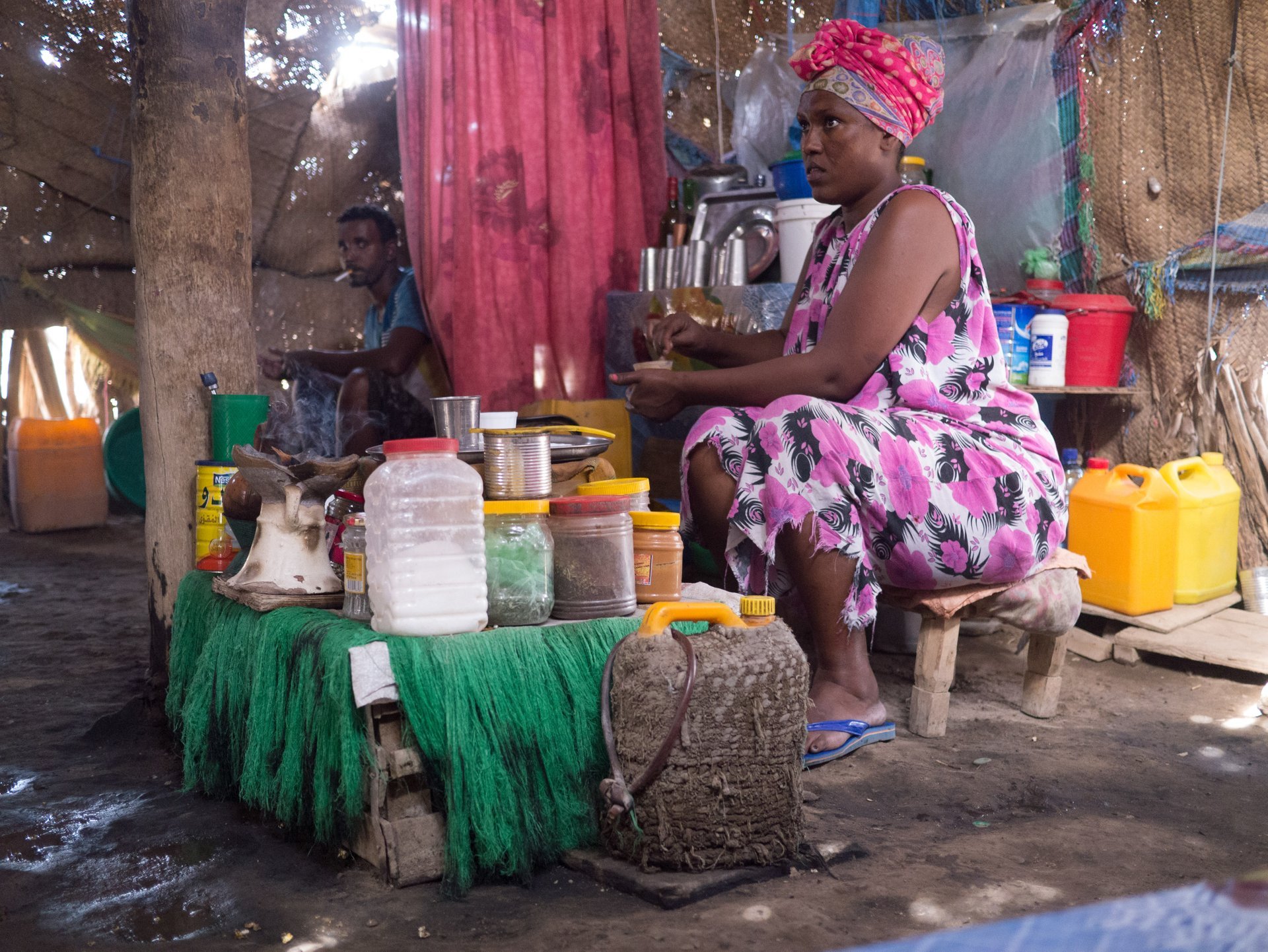 The hottest place on Earth by year-round temperature, the Danakil Depression is beautiful in an other-worldly way. If you endure its heat and dryness, the amazing plains and colorful rock formations surrounding hot springs will leave you in awe.
The Danakil Depression was created by the separation of three tectonic plates in the Horn of Africa. It's nestled between the Afar Region, the Ethiopian Plateau, and the Danakil Alps region and occupies an area of 200 by 50 km (124 by 31 mi). The best time to visit the Danakil area is from November to February when temperatures are mild, and it's not too dry.
Visitors often come to see the fantastic Dallol cinder cone volcano and the Yellow Lake, located northeast of the Erta Ale Range. The place that resembles Yellowstone National Park features dozens of hot springs filled with brine and acidic liquids. The Dallol crater is one of the lowest known volcanic vents in the world, located at 48 m below sea level. Mountains of sulfur, pillars of salt, rising up to 40 m, small gas geysers, and pools of acid isolated by salt ridges make the place visually striking.
The volcano last erupted in 1926 and remained effectively unknown to most of the world until recently. At the edge of the crater, there is the village of Dallol. It's become abandoned, but it used to be a busy area for mining potash, sylvite, and salt.
Very few plants can survive in Danakil due to the average temperature of 34 °C year round (about 50°C in summer). This area receives about 100 millimetres (4 inches) of rain per year. The plain lying at 125 m (410 ft) below sea level is one of the lowest places on the planet. It has become a Mecca for geologists and paleoanthropologists since 1974 when the 3-million-year-old remains of Australopithecus called Lucy were found here.
The Danakil Depression is home for Afar ethnic group. Their primary income is extracting salt and selling it at the market. Salt merchants travel to Dallol to collect minerals which are later transported by camels to Ethiopian highlands and on to Sudan. The salt fields produce almost 100 % of Ethiopia's salt. Nomadic tribesmen are known for their hostility to strangers. Not surprisingly, the area got the name of "the Gateway to Hell." Despite these obstacles, the dazzling colors seen at the site (white yellow, green and red ocher, due to the strong presence of sulfur, iron oxide, salt and other minerals) are hard to resist and a few hundred adventurous people head there each year in an organized expedition by operators.
Find hotels and airbnbs near Danakil Depression (Map)