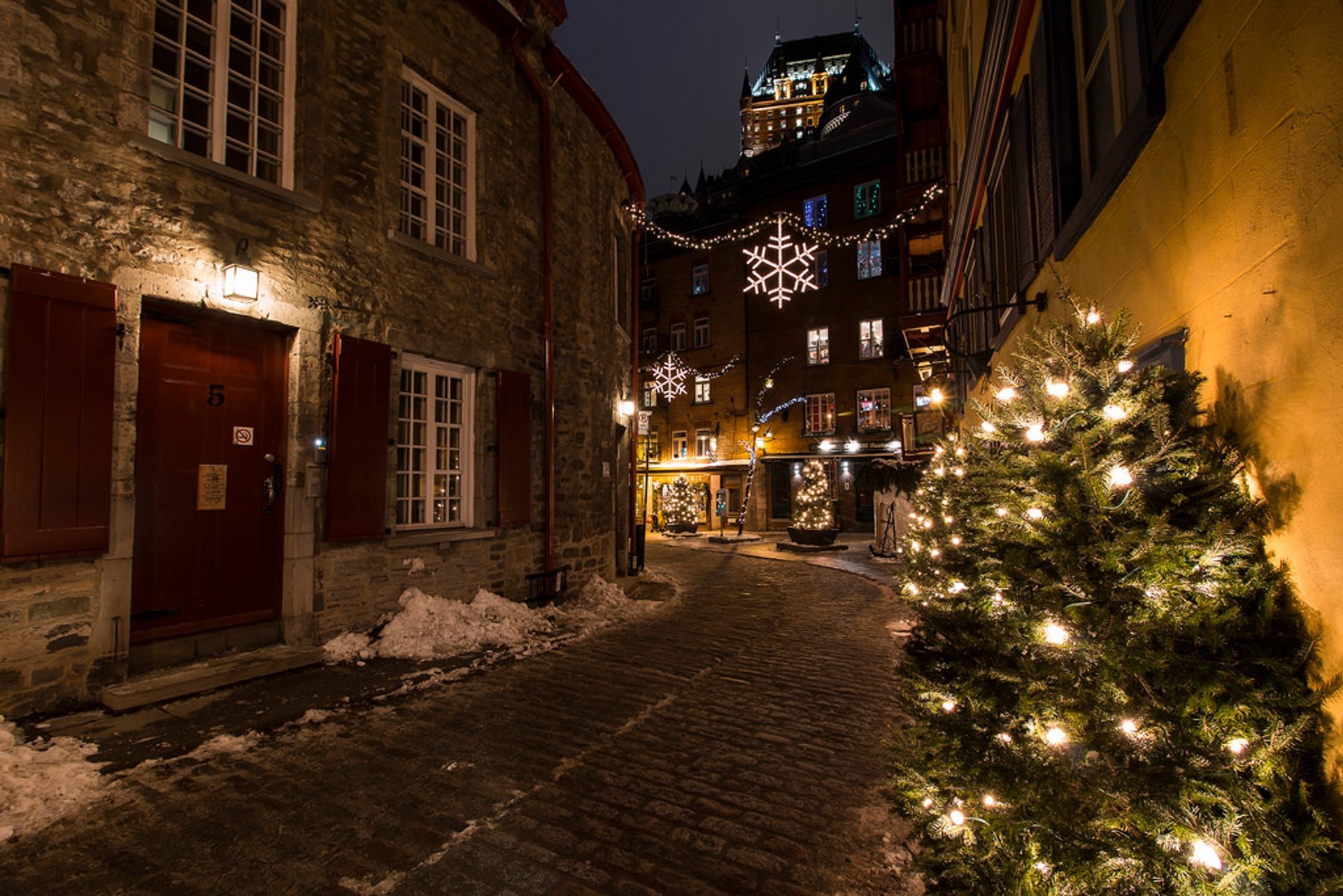 See accommodations nearby
When the winter holidays arrive, Quebec City turns into a winter wonderland. The German markets, cozy cafes with hot beverages, narrow tiny streets, and ancient squares covered with snow enchant visitors. Let's be honest here, winter is the best time to visit Quebec City and dive deeper into its magical atmosphere.
German Christmas Market (November 24–December 23, 2022)
The German Christmas Market recreates the atmosphere of the big European Christmas markets while offering you an unforgettable winter experience. There, you can treat yourself to succulent German delicacies, such as gingerbread, bratwurst, and mulled wine. Additionally, you can buy amazing Christmas gifts, enjoy indoor and outdoor performances, and visit the long-awaited Lufthansa Group WinterBar. The market is open all day long, so you can go there anytime.
Château Frontenac and Place de l'Hôtel-de-Ville
Make sure you visit Château Frontenac, the most photographed hotel in the world, which looks especially magical during the holidays. While taking a walk around Old Quebec, you can't avoid the scent of mulled wine and crepes, so don't miss a chance to try them here. Another amazing spot is called Place de l'Hôtel-de-Ville. With City Hall on one side and magnificent Notre-Dame de Québec Basilica-Cathedral on the other, this area tops the charts for the holiday atmosphere.
Christmas in Quebec City neighborhoods
The neighborhood of Petit Champlain bursts with lots of Christmas trees, colorful decorations, and lights hanging from the balconies. Also, you can take a walk along Rue Saint-Jean through Faubourg Saint-Jean-Baptiste, which is one of Québec City's signature neighborhoods.
Practical info
What to do in Quebec City during Christmas?
You can visit German Christmas Market, Château Frontenac, and Place de l'Hôtel-de-Ville. Also, take a stroll along Petit Champlain and Faubourg Saint-Jean-Baptiste. Show more
Where to stay in Quebec City at Christmas?
You can check the map below suggesting the best accommodation nearby. Show more
Ask a question
Find hotels and airbnbs near Christmas in Quebec City (Map)