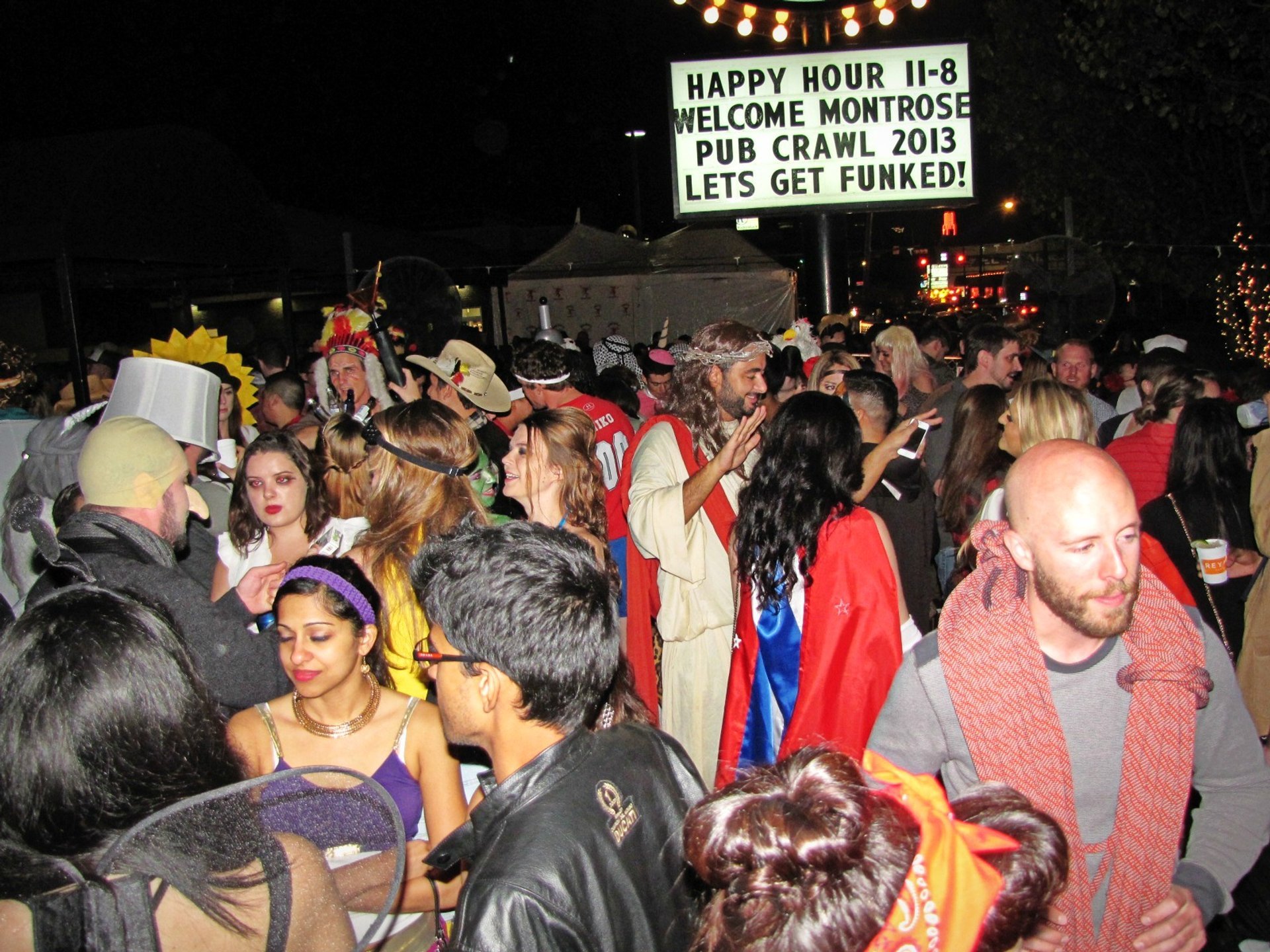 October is a great time to visit Texas not just because of the moderate temperature, but also due to tons of fun things to do. Kids go pumpkin picking and carving, trick-or-treating and hay-riding. Scary decorations and jack-o'lanterns are everywhere. Theme parks, haunted houses and zoos also offer special programs. And due to strong Mexican influence, Texas also has a vibrant Day of the Dead celebration.
Halloween on Sixth Street in Austin (October 31, 2023)
On Halloween Night, thousands flock to Sixth Street, the heart of Austin's bar and club scene. As the darkness falls on the city, be prepared to meet large crowds in the most outrageous costumes. Every year, there are more and more partygoers. Over 100,000 costumed people might show up to hop from bar to bar on the scariest night of the year!
San Antonio Zoo Boo (September 16–October 31, 2023)
Zoo Boo at San Antonio Zoo is a family-friendly, not-so-scary Halloween celebration for all ages. The daytime event runs from 9 am to 6 pm featuring such fun activities as Hay Maze and Slide, Dance Parties, Monster Mash, Pumpkin Painting, Costume Contest, and exclusive Halloween games. San Antonio Zoo completely transforms for the holidays featuring trick-or-treat stations, pumpkin painting stations, and decorations everywhere. Visitors can ride the Zoo Boo! Express. Children are encouraged to wear non-scary, family-friendly costumes.
Halloween Spook-track-ula, Texas Transportation Museum (October 21, 22, 28, & 29, 2023)
Halloween Spook-track-ula is a seasonal three-day family-friendly Halloween Show taking place in San Antonio every October. A non-scary "Halloween Spook-track-ula" at the Texas Transportation Museum offers a large decorated site designed with younger children in mind. It is exciting, but not frightening. Kids can ride on the "Transylvania Express," check-out the "Ghost Train," and see the whole museum in Halloween spooky decorations.
Freaky Deaky Festival, Houston Raceway (October 28–29, 2023)
Freaky Deaky Festival is one of the best annual electronic dance music events in Texas. Held at Houston Raceway in Baytown, not far from Houston, every October, Freaky Deaky Texas combines a big-name lineup and a costumed party. With artists like Armin van Buuren, Steve Aoki, Martin Garrix, and Rezz, this Halloween-themed festival is indeed one of a kind. Freaky Deaky is hosted annually by Houston, Detroit, Milwaukee, and Chicago. Houston Freaky Deaky is the largest two-day festival of the four.
Halloween Pub Crawls, Houston & Dallas (October 28, 2023)
Houston Halloween Weekend Pub Crawl and Dallas Halloween Bar Crawl are excellent occasions to enjoy a costumed outing and embrace your inner kid. With vibrant nightlife and bar scene Houston is also one of the best cities for a bar crawl. You can join the best party crowds in Texas hopping from bar to bar sipping on the best-priced drink cocktails and specials. The Halloween madness on the streets of Midtown and Downtown Houston attracts thousands of party-goers. Some of the best participating venues included: The Dogwood, Saint Danes, Little Woodrows, Christian's Tailgate, Howl at the Moon, Komodus Pub, Mongoose versus Cobra, and more. Dallas Halloween Bar Crawl features the best locations and party spots in Dallas. There are dance parties, DJs, live bands, spooky cocktails, and lots of entertainment at dozens of venues.
San Antonio Zombie Walk (unconfirmed in 2023)
The San Antonio Zombie Walk has become the city's signature Halloween tradition. Just once a year you can see the dead walking the streets of downtown San Antonio. Participants have to wear appropriate worn-out clothes and wear special zombie make up. The meeting point for all zombies is at The Tower of the Americas in downtown San Antonio. The walk starts once it gets dark, filling the city with fun and excitement.
For the tickets and latest updates, please check with the official websites (see External Resources below.) Also, take a look at the map suggesting the best accommodations nearby.
Find hotels and airbnbs near Halloween (Map)