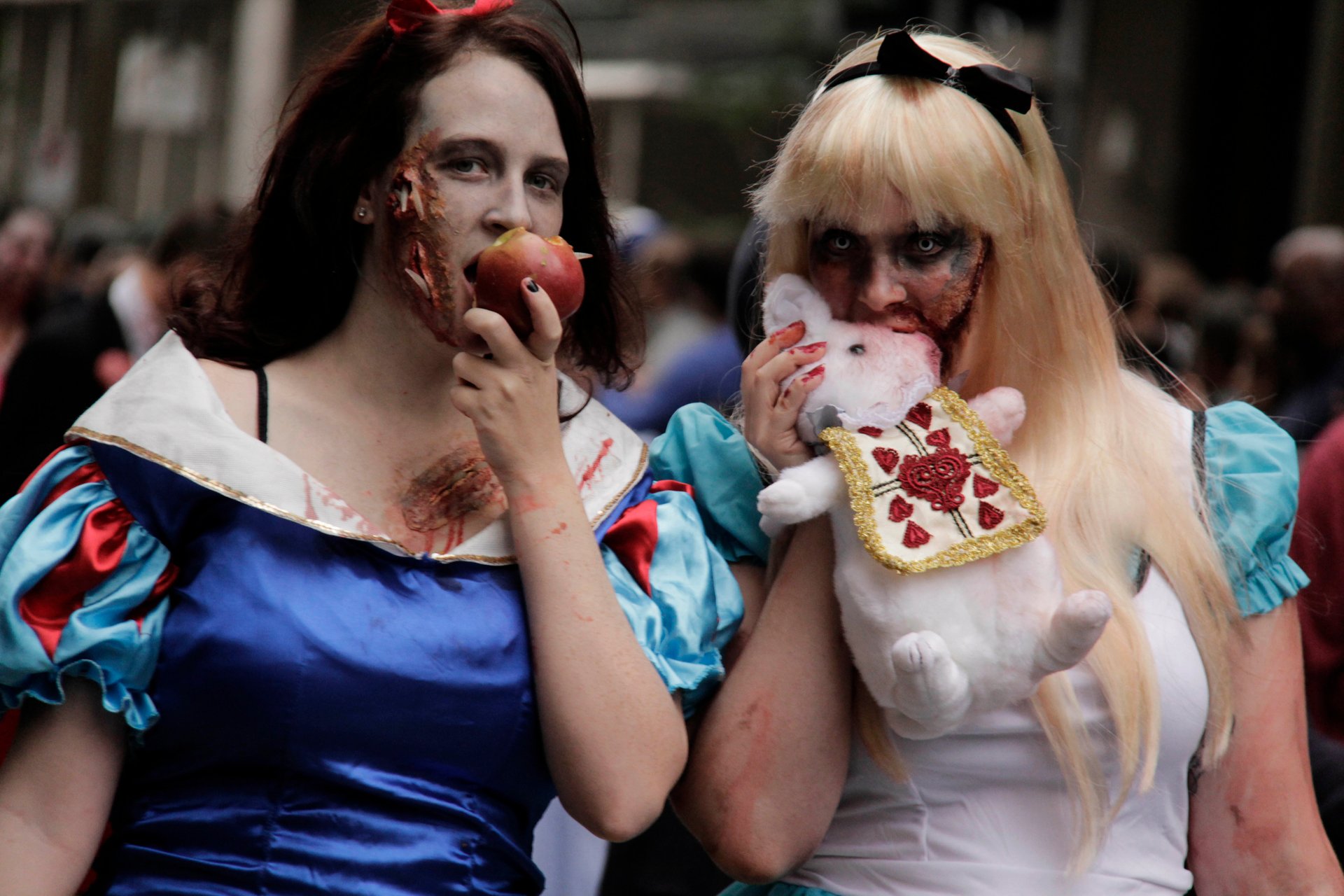 Halloween is one of the most loved holidays in Montreal. Kids like it, of course, because they get a lot of candy and get to wear a costume. Grown-ups appreciate beautiful autumn foliage and scare their friends and family with hilarious pranks.
Fright Fest at La Ronde (October 5–27, 2019)
Fright Fest at La Ronde is a popular seasonal attraction. Montreal's largest amusement park is taken over by zombies and ghouls. Families can enjoy thrills and exciting activities during the day, while nights might be truly frightening. Fright Fest features several haunted houses and a few scare zones. After dark, ghouls lurk around every corner, busy with their daily hunting rituals.
Pumpkinferno in Upper Canada Village (September 27–October 27, 2019)
Pumpkinferno in Upper Canada Village is an amazing attraction for the whole family. The glowing installation of 7,000 pumpkins is a not-to-be-missed exhibit. Pumpkin walk is a one-kilometre path set in a picturesque 19th-century setting. Upper Canada Village is awaiting its pumpkin fans on selected days in late September and October.
Rocky Horror Picture Show Halloween Ball (October 31, November 1–2, 2019)
The annual Rocky Horror Picture Show Halloween Ball at Cinéma Impérial is a favourite Halloween tradition for movie-goers. In addition to the retro movie screening—The Rocky Horror Picture Show—it offers a full-theatrical light show extravaganza with all possible special effects you can imagine. Guests are strongly encouraged to dress up, dance, scream and throw things in the screening room. The fantastic Rocky Horror experience is a great treat for every Halloween!
La Voûte Halloween (October 31, 2019)
Every year, Club La Voûte invites hundreds of guests to its famous Halloween Ball. The event is inspired by Heidi Klum's legendary parties and is held in the vaults of the former Banque Royale. Visitors will be impressed by colourful costumes and heart-stopping entertainment. Don't miss the ultimate Halloween Ball, always enchanting and terrifying!
Festival SPASM (October 17–26, 2019)
SPASM Festival is the annual short film event that offers original content and exciting cinema experience. During ten days movie fans can enjoy unusual cinema genres and exclusive entertainment. The opening night starts with a Kabaret event followed by eight short films from Quebec directors, all of them handpicked premieres. Horror, science fiction, and merely strange and out of the ordinary films in French, English and Spanish will make sure you'll stay in the Halloween spirit. The SPASM runs in various venues across Montreal like Threatre Plaza and Club Soda. The festival ends with a massive Halloween party.
Malefycia (October 11–November 2, 2019)
Malefycia is one of the genuinely terrifying Montreal Halloween experiences. Part haunted house, part interactive theatre, Malefycia uses custom-built scenarios with professional actors and settings. Actors interact with the audience. Face your worst nightmares for one hour that you'll definitely remember for a long time. Guests have to sign a waiver to access the horror site. Guests also wear thematic clothes to not dirty their own. The 2019 edition (Malefycia Verset 5) is held in the former Drugstore at 1366 Sainte-Catherine Street East, Montreal.
Marche des Zombies de Montréal / Zombie Walk (not happening in 2019)
One of the signature events in Montreal is the Zombie Walk, Marche des Zombies de Montréal in French. A large gathering of good undead people lets them show off their creativity every year. Thousands of participants parade through downtown Montreal on a Saturday in late October wearing their best zombie make-up and dress. Zombies usually gather at the Place du Canada, near the Bonaventure metro station. They march from noon to 3 p.m. on Sainte-Catherine Street West, between Peel and Jeanne-Mance Streets. The walk draws about 10,000 zombies and dozens of floats, including amazing mariachi zombies, dismembered human marionettes, and a zombie marching band. The trail ends with music and dance show at Place des Festivals. In 2019, Montreal Zombie Walks takes a break.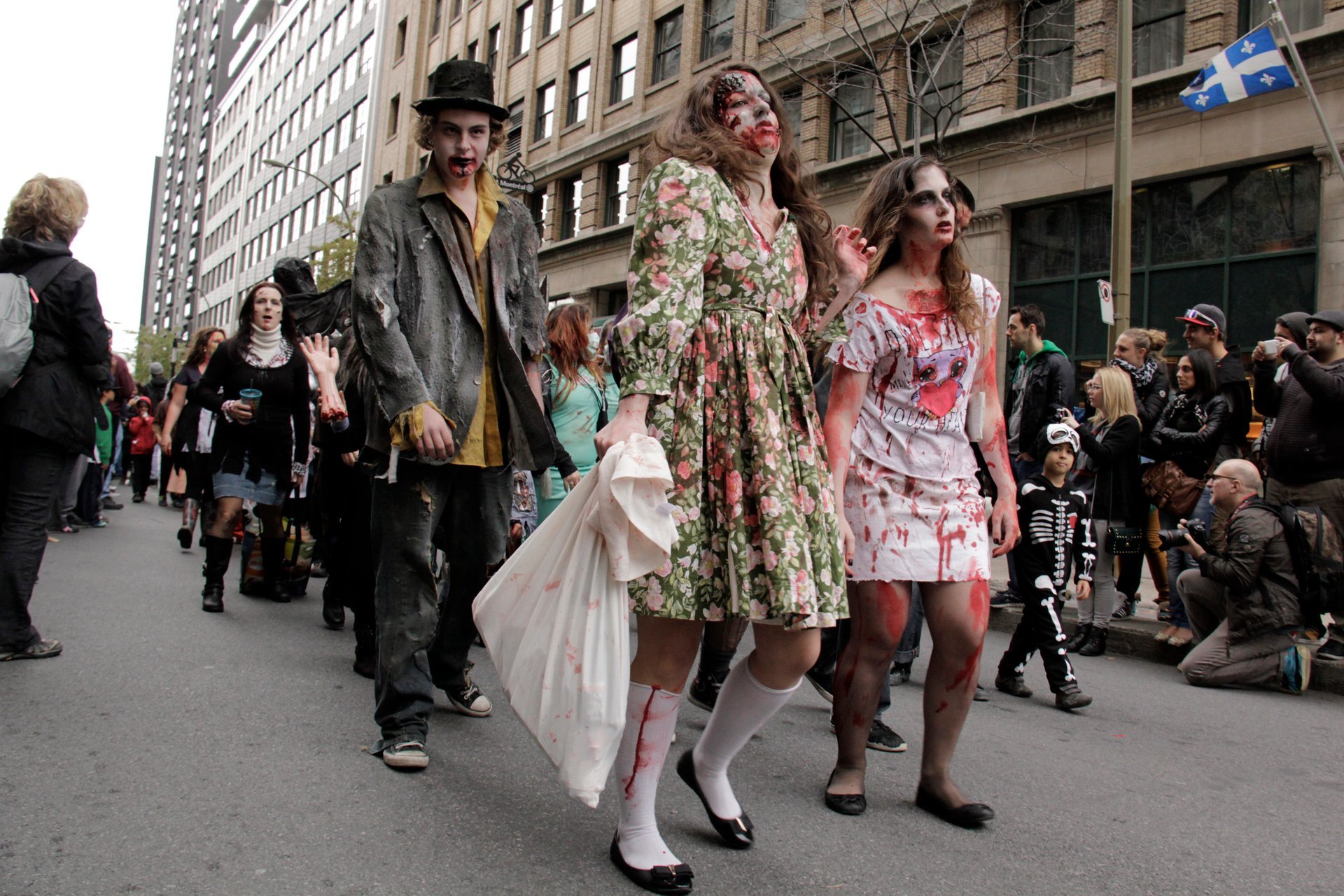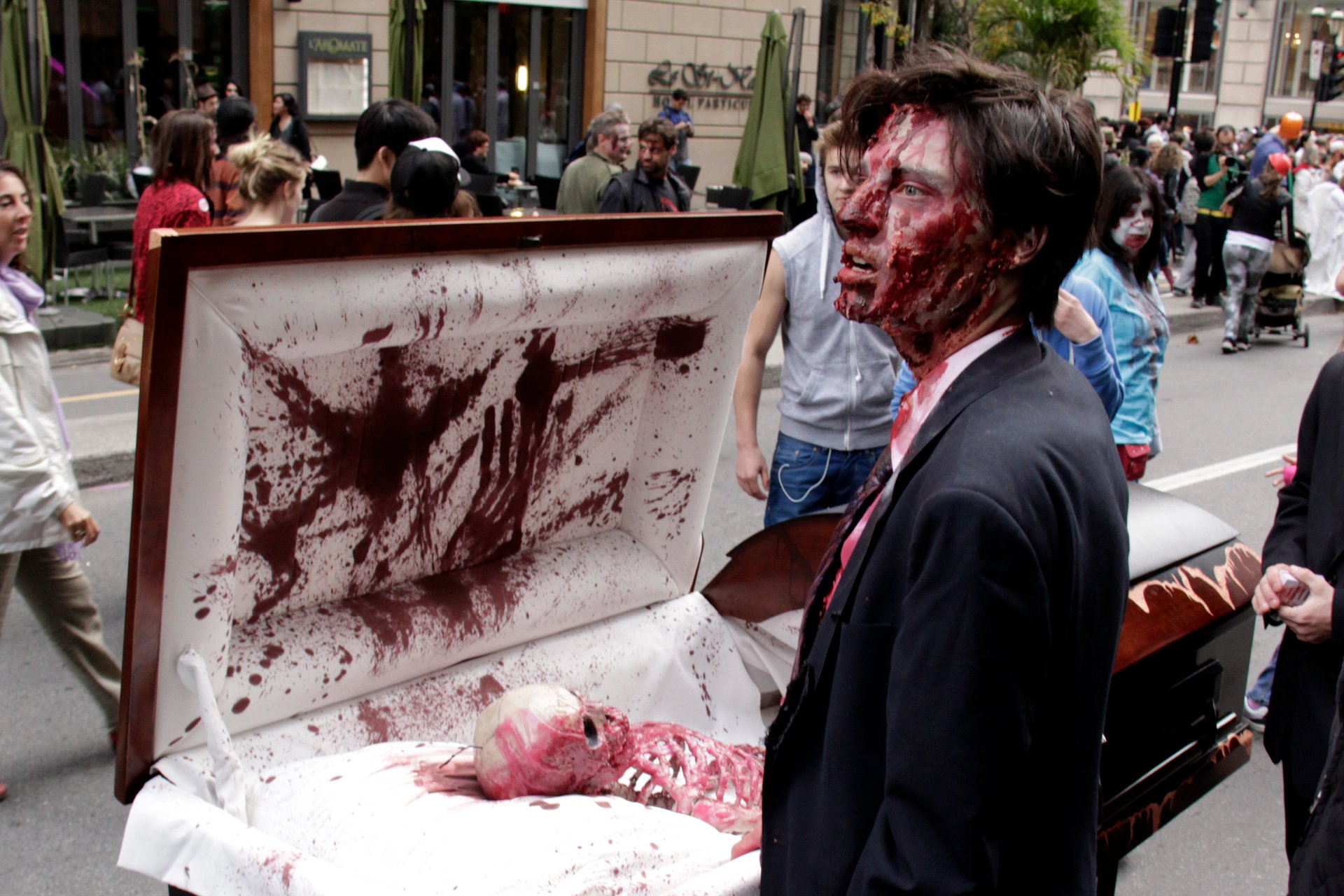 Halloween Featured in