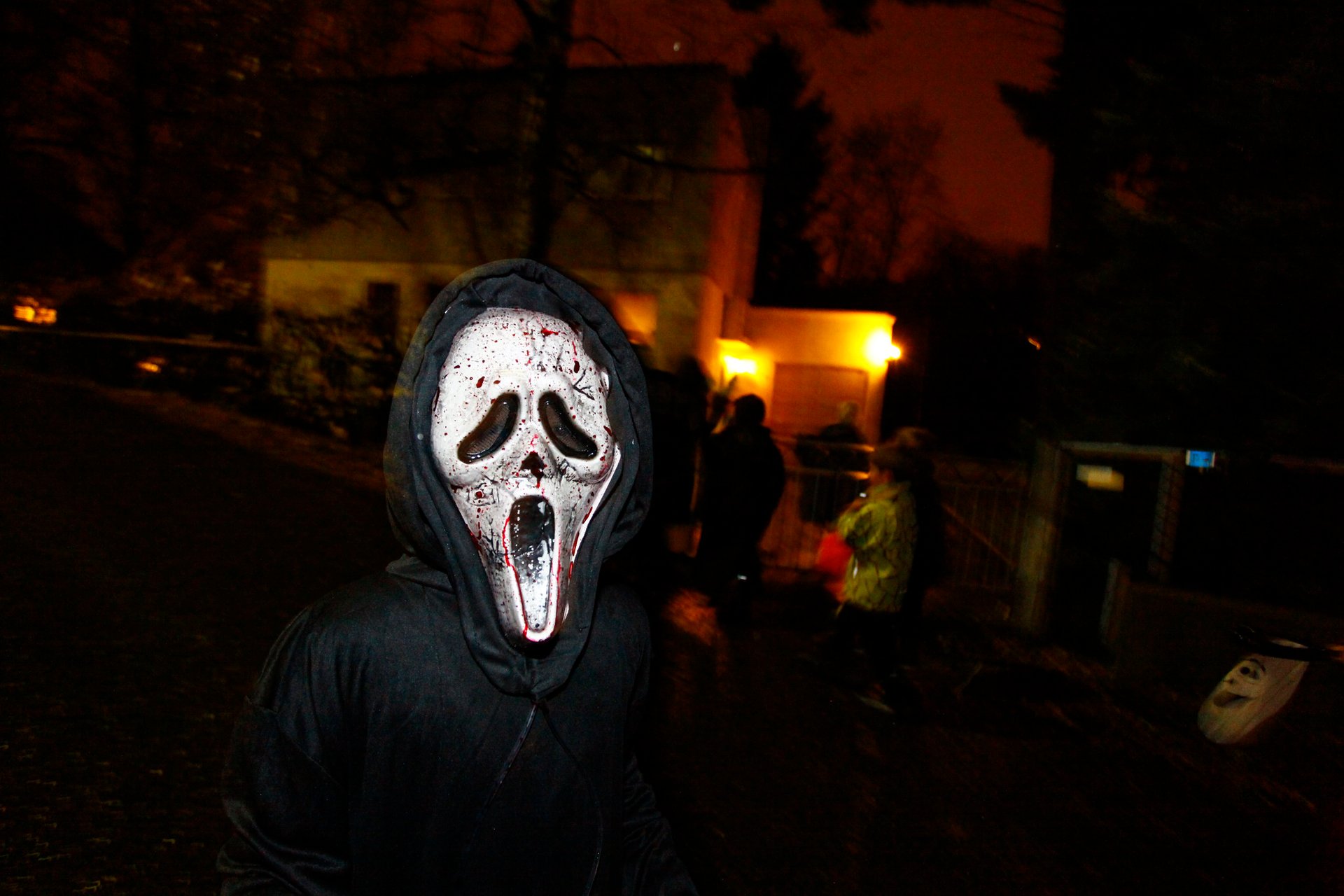 Halloween has become popular in Oslo since the early 2000s. Now there are many themed parties in Oslo nightclubs. Trick-or-treating called knask eller knep is also quite popular among local children that reminds of a Norwegian tradition of 'lommelykt' or treasure hunts. During Halloween, many adults take walks on Ekeberg Hill, the site where Edvard Munch painted his famous "Scream" to get into the holiday spirit. Several Oslo theatres, including Folketeateret, run Halloween-themed musicals.
Halloween in TusenFryd (September 30–October 29, 2023, on selected dates)
One of the best places to celebrate Halloween is Norway's largest amusement park TusenFryd, located at Vinterbro, 20 km (12 mi) south of Oslo. During several days before Halloween, visitors can encounter zombies, vampires, witches, and other creepy characters. Many rides have Halloween themes, and some unique Halloween attractions run just during the holiday. Teenage kids will undoubtedly enjoy The Zombie Laboratory, where a deadly virus turned everyone nearby into zombies. The Curse is a fun maze where you can get lost for hours. The Monsters Escape features many scary creatures on the loose. Most of these attractions are available for children over 12 (accompanied by an adult).
Oslo Ghost Walks (27 September–31 October, 2023, on selected dates)
Ghost Walk is a perfect Halloween-themed tour that will let you learn about Oslo's 1000-year history, its darkest legends, and spookiest secrets. Discover the weird shadows on the walls of the old building or find out why ghosts are crying near Akershus fortress. The tour starts at Kristiania Torv, next to Kafe Celsius. The thrilling journey through the old quarters of Christiania and Akershus fortress lasts for about 2 hours so wear something warm and comfortable for a walk.
For the tickets and latest updates, please check with the official websites (see External Resources below.) Also, take a look at the map suggesting the best accommodations nearby.
Find hotels and airbnbs near Halloween (Map)