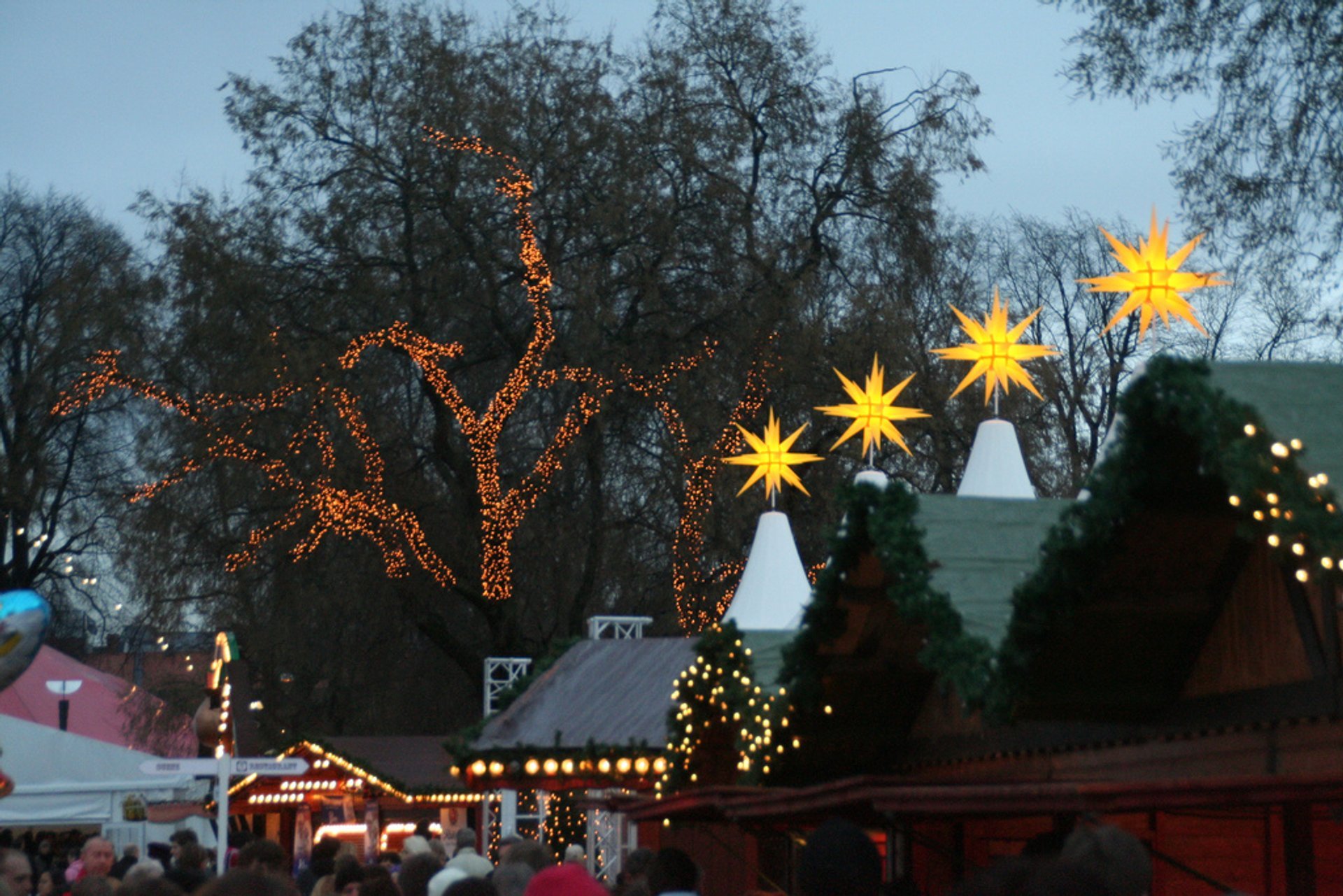 Christmas is a special time in Oslo, where there is lots of snow and ideal Christmas weather in December. The days are shorter, but the festive lights, a cup of hot gløgg and some holiday shopping, can really lift people's spirits.
Christmas in Winterland (Jul i Vinterland) in Spikersuppa (November 12, 2022–January 1, 2023)
Christmas in Winterland (Jul i Vinterland) is the main Christmas market in Oslo, located in Spikersuppa, alongside Karl Johan street. The cozy wooden stalls sell handicrafts, food, and hot drinks. Shoppers can buy cured meats and warm Norwegian sweaters. Kids are entertained with gingerbread workshops, Santa's residence, and handmade presents. There is also a large Ferris wheel and an ice rink that add to the festive atmosphere.
Julemarked på Youngstorget (mid-November–late December 2022, unconfirmed)
If the weather is not being friendly, visitors can move to an indoor Christmas market at Youngstorget (Julemarked på Youngstorget). The market is held in heated traditional lavvu tents. The stalls sell lots of Christmas decorations and handmade souvenirs. Over 1,000 sq m offer not only gift shopping, but lots of tasty food options.
Norsk Folkemuseum's Christmas Fair (December 3–4; 10–11, 2022)
The annual Norsk Folkemuseum's Christmas Fair features over 100 Christmas stalls, pony rides, farm animals, Santa's workshops, a candle factory, and exhibits about Norwegian Christmas traditions.
Christmas Market at Hadeland Glassverk (late October–late December 2022)
If you don't mind driving about one hour from Oslo, go to Christmas market at Hadeland Glassverk. This plate is excellent for Christmas gift shopping and experiencing Norwegian holiday coziness. About ten shops, several restaurants, and an art gallery are a beautiful extension to the largest indoor Christmas market in Norway. The magic doesn't end just there. Here, you can blow your own Christmas ball, go for a sleigh ride through the Christmas-theme decorated glassworks village, or skate on an indoor ice rink in Gallery 2.
For the tickets and latest updates, please check with the official websites (see External Resources below.) Also, take a look at the map suggesting the best accommodations nearby.
Find hotels and airbnbs near Oslo Christmas Markets (Map)