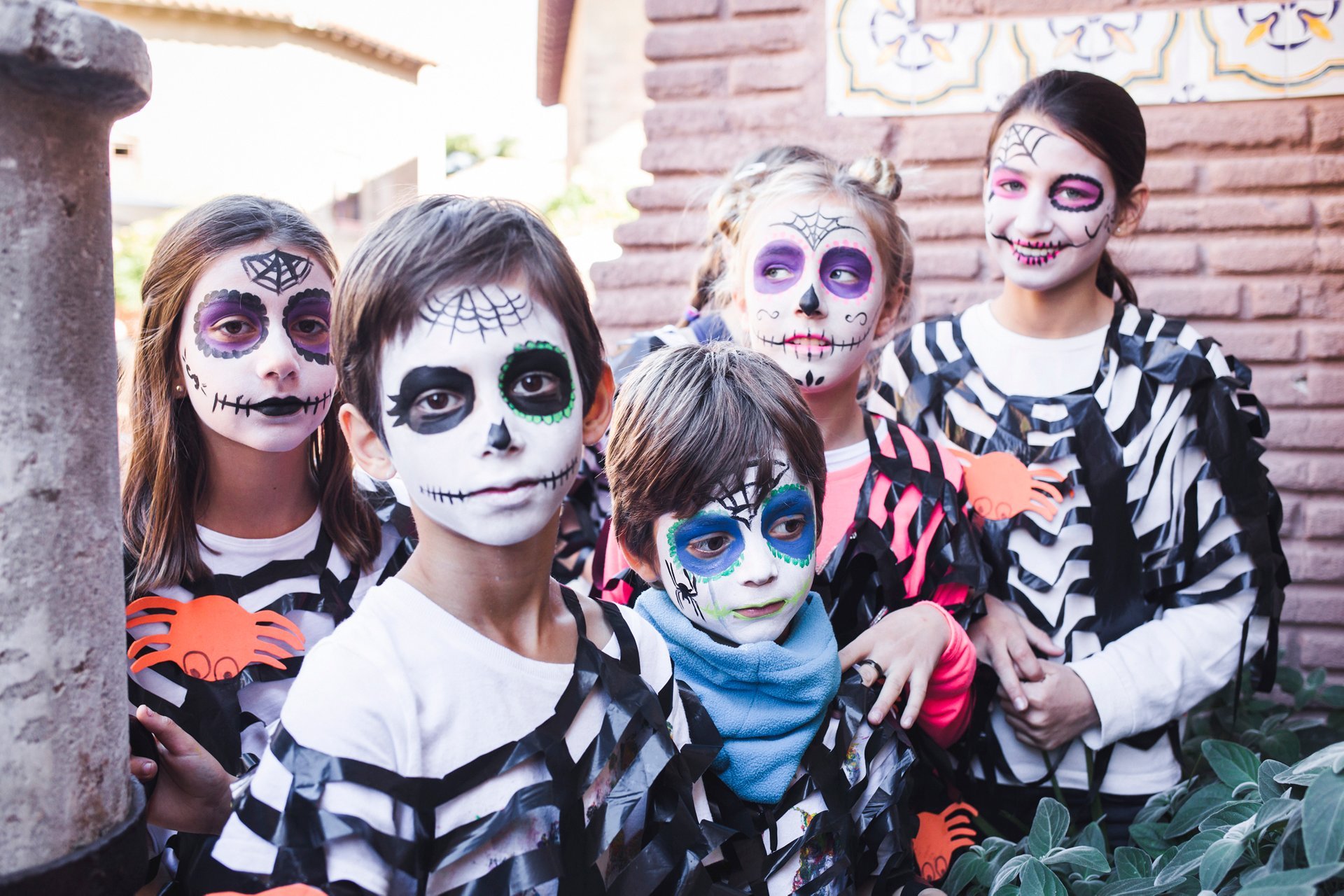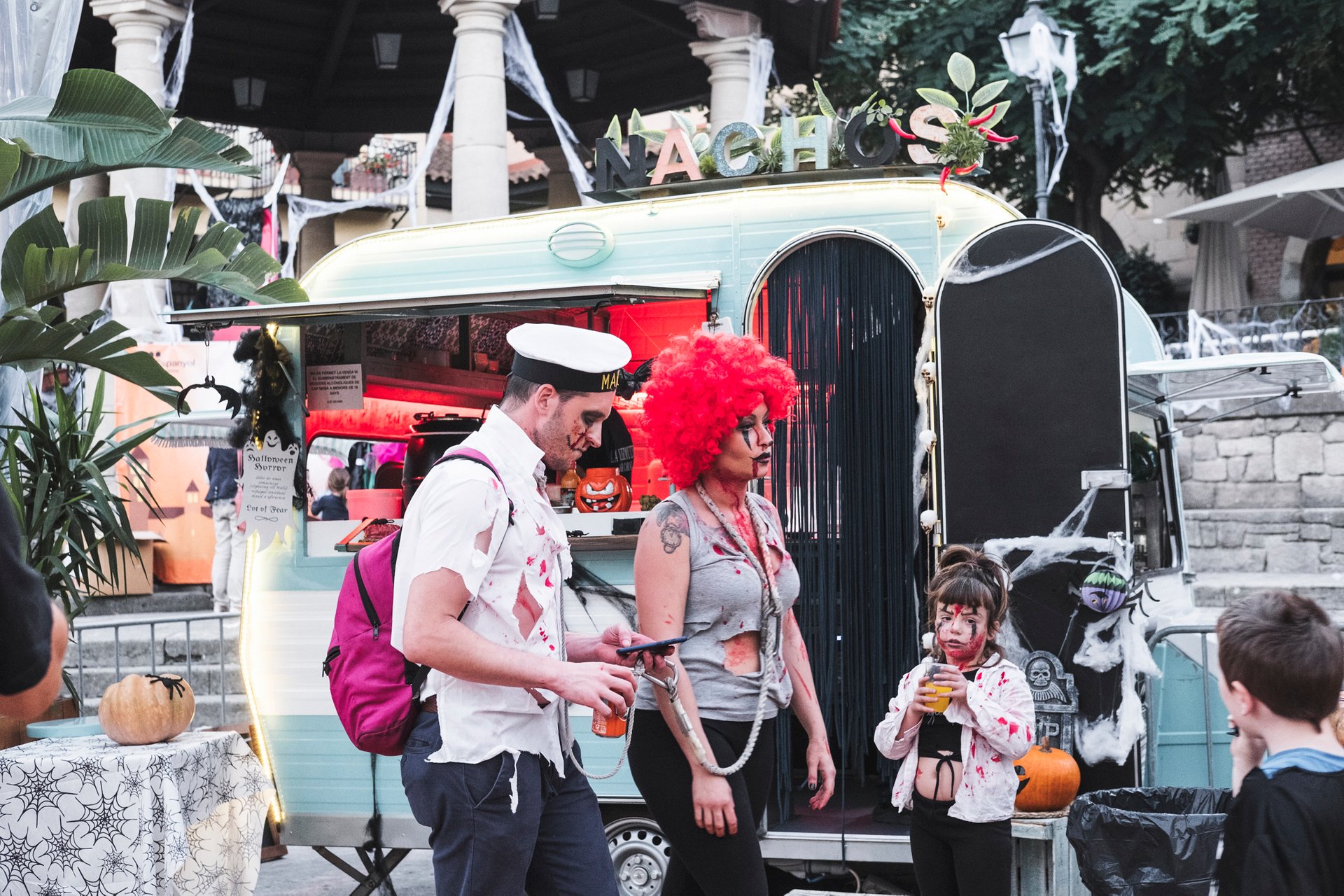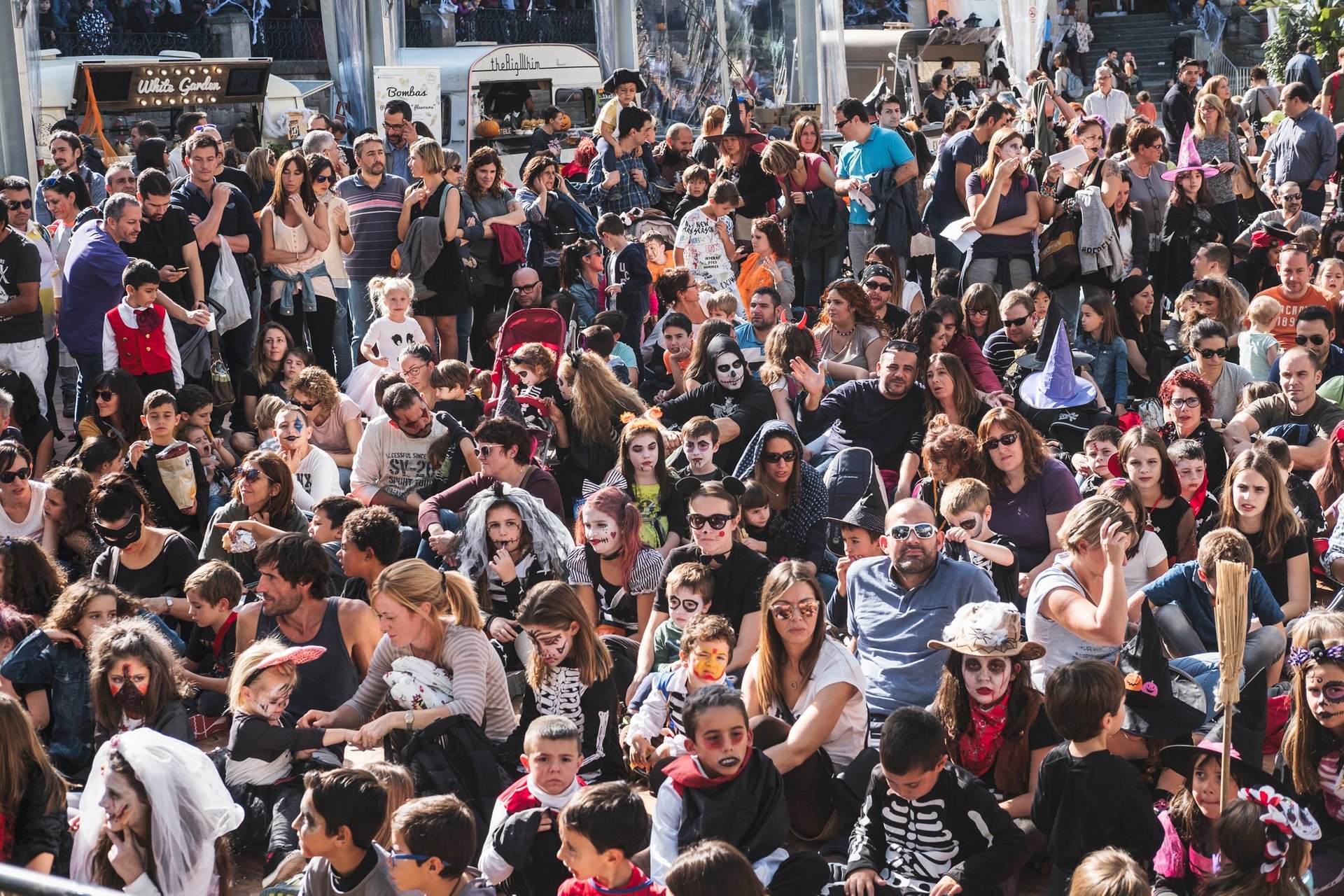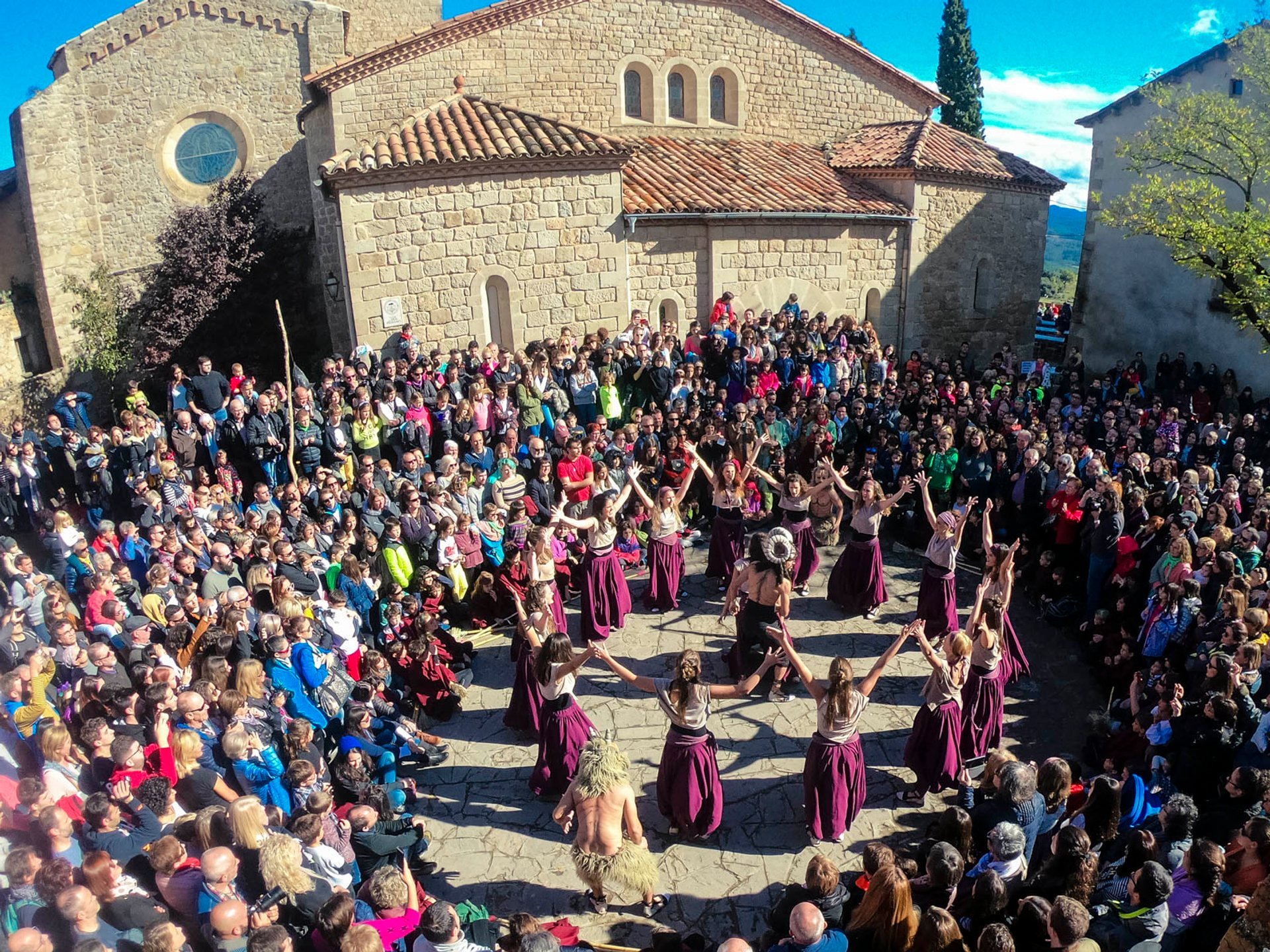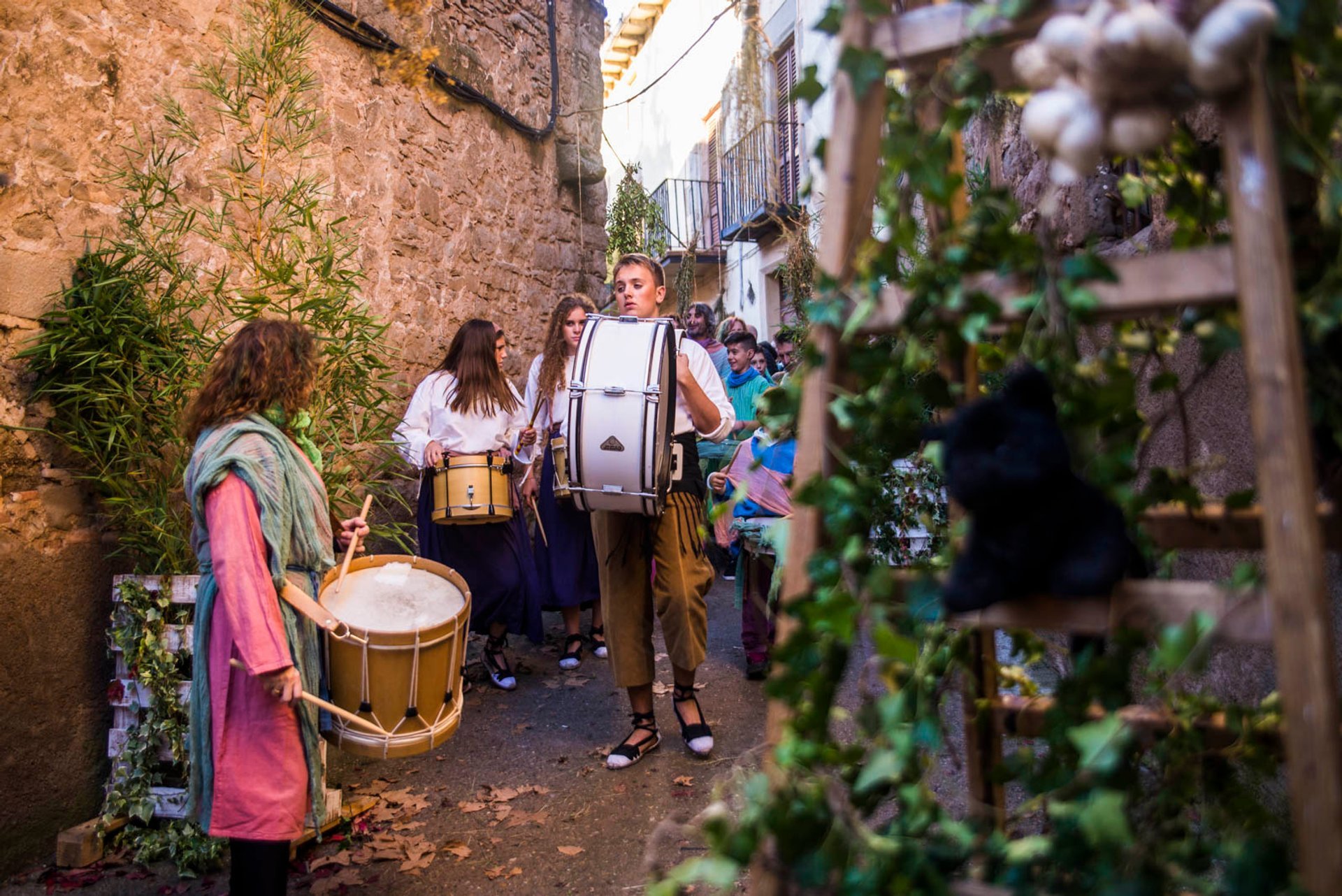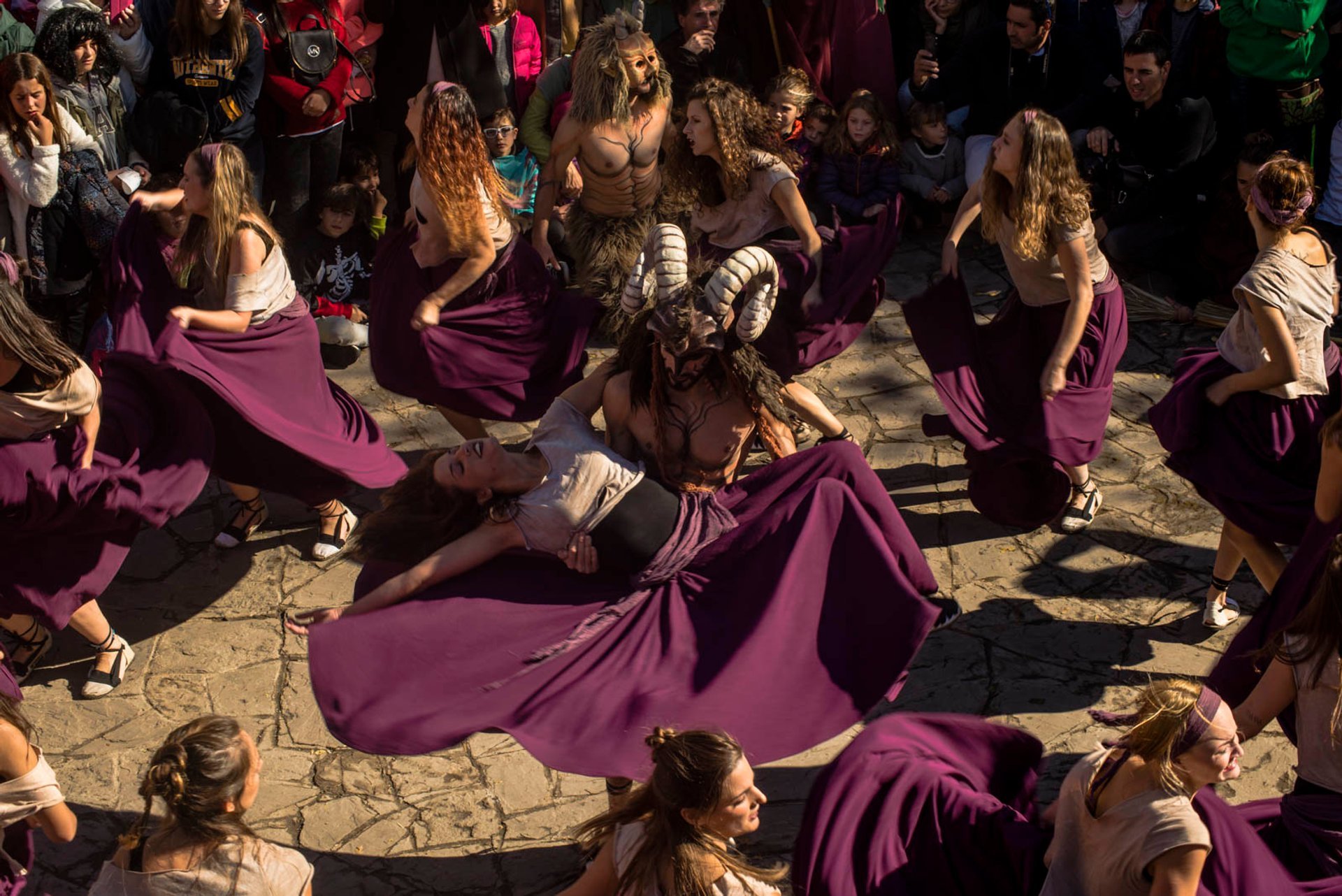 In Barcelona, Halloween is mostly known as All Saints Day, celebrated on November 1. On this day, people attend mass or cemeteries bringing flowers and candles to honor the dead. Catalans also celebrate La Castanyada, which makes late October in Barcelona so unique. Modern American-style Halloween traditions also include costumes and fancy dress parties, and various activities for entertaining kids.
La Castanyada (October 28, 2022)
When you visit Barcelona in late October, you can feel the smells of the roasting chestnuts in the air. Eating roasted chestnuts and sweet bread rolls known as panallets is part of the All Saints Day tradition in Catalonia. La Castanyada is celebrated in Barcelona on October 29, 30, 31 or November 1. People roast chestnuts at home or buy them from street vendors.
Fira de les Bruixes or Sant Feliu Sasserra Witch Fest (November 1, 2022)
Witch Fest is a Catalan cultural tradition that combines street theatre, history, and the art fair showcasing traditional crafts of Sant Feliu Sasserra, a small town in Lluçanès, a 1.5-hours drive from Barcelona. In the early 17th century, Sant Feliu Sasserra witnessed a series of processes of witchcraft. In Catalonia alone, 400 witches were hanged. On November 1, Sant Feliu Sasserra remembers the persecuted women. The festival begins on the night of October 31. Fes-ta Witch features a party with live music, circus, speed painting, and many more surprises. On the next day, the Witches Fair is held during the whole day. Visitors can shop for artisan products and local commerce. The fair culminates with theatrical performances retelling scary witch hunt stories.
Halloween at Poble Espanyol (unconfirmed in 2022)
Poble Espanyol holds a children's Halloween party, usually taking place from November 1 to November 3. An open-air architectural museum is located near Fountains of Montjuïc. During Halloween, Poble Espanyol features incredible scary decorations and offers several fun activities: a treasure hunt with monstrous challenges, a fantastic terror tunnel, and frightening storytelling. And, of course, there is a scary costume contest. Also, enjoy delicious food offered by food trucks at the Plaza. More info on the official website.
Halloween Parties
October 31st is one of the liveliest nights in Barcelona, and you should definitely join in the fun. Many famous clubs in the city including Opium Mar, Shoko, Sala Apolo, and Monasterio, usually have decent Halloween celebrations. Disco Inferno at La Terrazza is often the closing party of the season. Pacha Barcelona, Xceed HQ, and INPUT High Fidelity Dance Club also offer Halloween events.
Ghost Tours
Mystical Barcelona has many dark legends to share. Tours of Barcelona's most famous cemeteries, such as Montjuïc cemetery and Poblenou, are offered year-round. Also, you can take a Ghost Walking Tour to learn local secrets and see the city from an unusual perspective. The night-time tours through quarters of Barcelona are based on the book "Fantasmes de Barcelona" and other spooky stories.
Spooky Scavenger Hunts
Ghost Hunt is one of the best Halloween activities in Barcelona. So put on your scariest costume and discover the dark secrets of the city joining dozens of other restless souls wandering the darkened streets. This is a unique way to explore and learn about the history of your favorite city. Stoke's Halloween Barcelona Ghost Hunt includes a swag bag filled with Scavenger Ghost Hunt clues, a map and a swag. There are prizes for the winners and best costume. If you feel like adding extra creepy to your outfit, there will be face-painting available. The hunt ends with a Thriller-style Halloween Party.
For the tickets and latest updates, please check with the official websites (see External Resources below.) Also, take a look at the map suggesting the best accommodations nearby.
Find hotels and airbnbs near Halloween (Map)