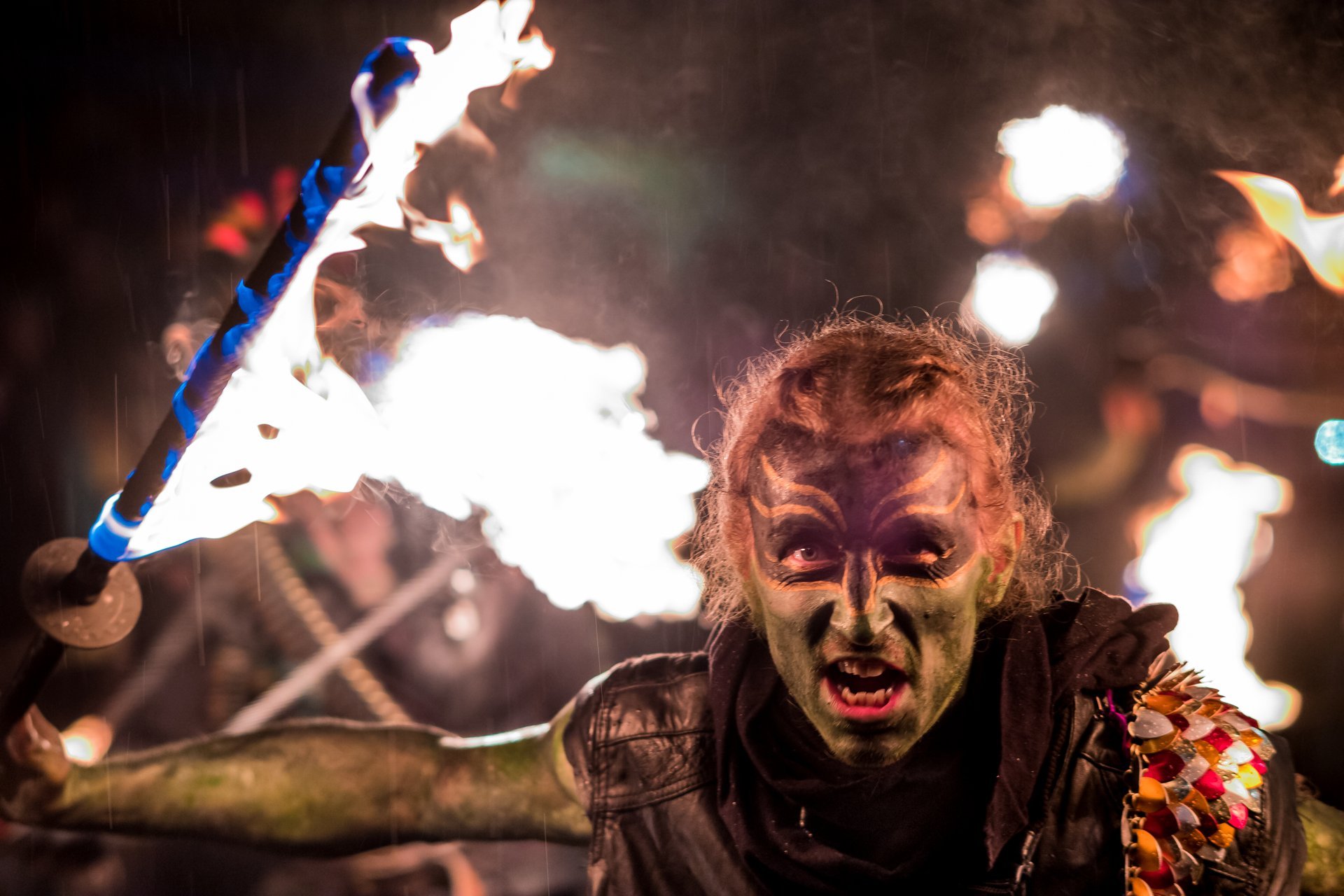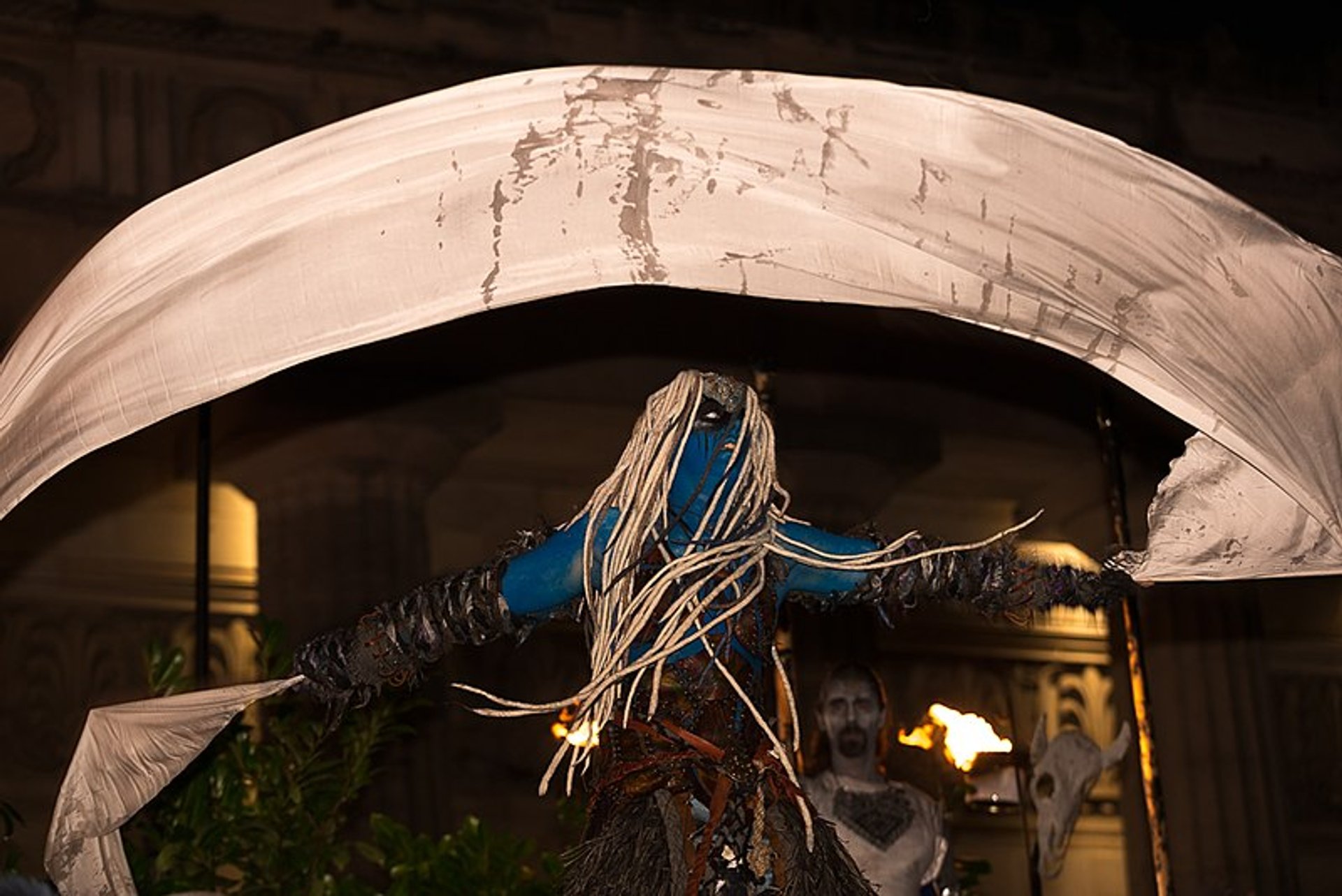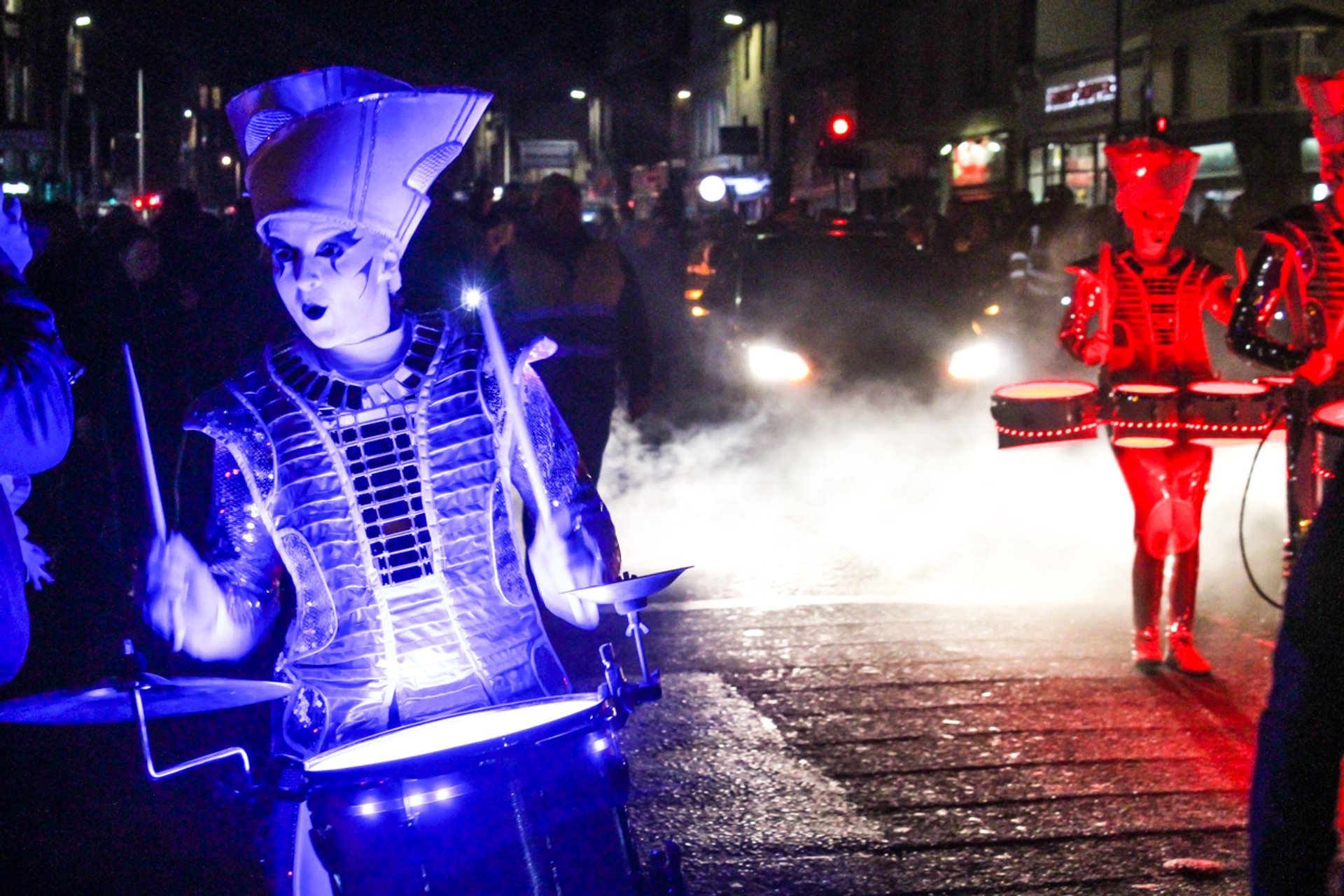 There is a belief that Halloween originated from an ancient Celtic harvest festival. The holiday is taken seriously in Scotland that inherited many ancient traditions and superstitions. Atmospheric Scottish cities have plenty of haunted houses, ghost walks, scary film screenings, and pagan fire festivals.
Samhuinn Fire Festival at Calton Hill, Edinburgh (October 31, 2023)
Samhuinn Fire Festival is the annual event held every October on Hallowe'en night at Calton Hill in central Edinburgh. This traditional Celtic festival, organized by the Beltane Fire Society is a sister event of Beltane Fire Festival, a real feast for the eyes. It features incredibly colorful costumes of Celtic folklore characters, vibrant musical and street theatre performances, and the incredible fire show. Samhuinn (or Samhain) used to be a pagan festival at the end of the harvest season. Traditionally, it consists of fireplay, drumming, and dance performances dedicated to a dramatic interaction between the Summer and Winter Kings.
Paisley Halloween Festival, Paisley (October 26–28, 2023)
Paisley Halloween Festival is the annual carnival parade and show held in Paisley town centre. One of the most famous Halloween events in Scotland immerses visitors in the weird and wonderful world of Dark Circus. The two-day outdoor festival offers a combination of street theatre, circus and breathtaking aerial performances. The major highlight of the festival is Saturday carnival-style Dark Circus parade with more than 300 participants led by a sinister Svengali ringleader. It is choreographed by the famous Cirque Bijou. Dozens of spectacular floats, giant puppets, fire performers, voodoo acrobats, and weird creatures walk the streets accompanied by chilling live music. The grounds of the iconic Paisley Abbey host a haunted carousel, LED drummers, street theatre, film screenings, a Halloween Fun Fair, and many other attractions.
Other Halloween Activities
Many cities and towns offer Halloween tours and attractions during the scariest time of the year. In Edinburgh, Mercat Tours are famous for their seasonal excursions to the graveyards and haunted Blair Street Underground Vault, where visitors can hear stories about murders and torture.
In Linlithgow, visit the famous Linlithgow Palace and St Michael's Parish Church that gets special Halloween illumination at night. You can also meet some unexpected characters along the way.
In Glasgow, Glasgow Horror Fest offers lots of entertainment—horror films, talks, dancing, a burlesque show and horror-market.
For the tickets and latest updates, please check with the official websites (see External Resources below.) Also, take a look at the map suggesting the best accommodations nearby.
Find hotels and airbnbs near Halloween (Map)