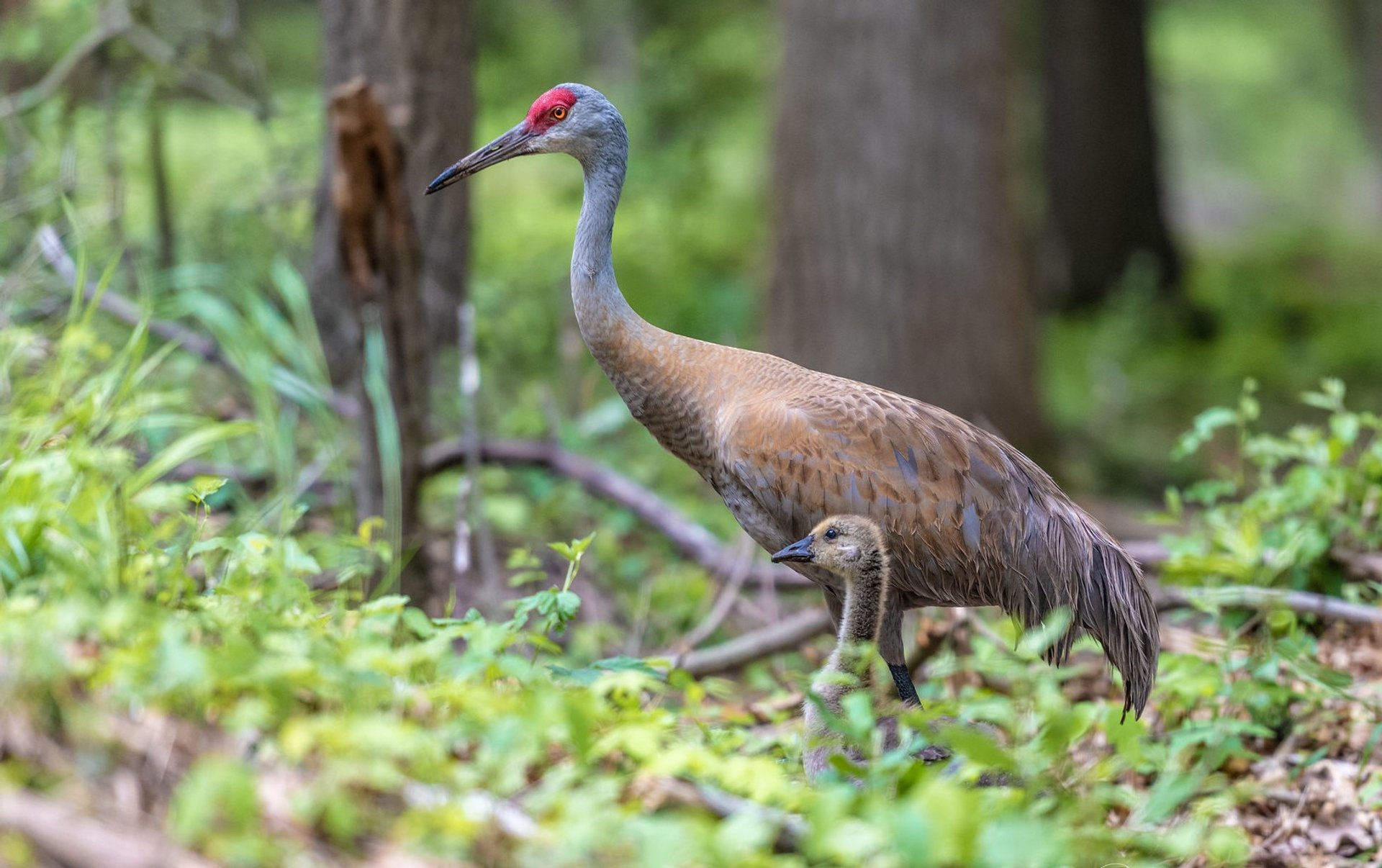 A Sandhill crane and an adopted Canada gosling in Kensington Metropark, Michigan
See accommodations nearby
Sandhill Cranes are one of the oldest bird species on the planet. It's also one of the largest birds in Michigan, being 3-4 ft (1.2 m) tall and having a 6 ft (1.8 m) wingspan. Cranes start to arrive in Michigan from their wintering grounds in March. In April and May, they lay eggs in the marshes and wetlands, and it's best not to disturb cranes during their nesting season. The greatest chance to spot these gorgeous birds comes during their annual fall migration when thousands of cranes with their grown-up colts congregate before they head to the southern states such as Georgia, Florida, or Texas. Cranes can be easily spotted all over Michigan's Lower Peninsula, especially near marshlands. You can see them flying overhead or on stopovers in parks and bird sanctuaries. The peak time to observe Sandhill Cranes in southern Michigan is from October through November.
The Phyllis Haehnle Memorial Sanctuary near Jackson, Michigan, is the largest roosting area for sandhill cranes in the state. Spanning 1,000 ac (404 ha) of protected wetlands, it's the ideal environment for birds. The sanctuary always hosts large congregations of birds during the fall migration as well as nearby Waterloo Recreation Area.
The vast Kensington Metropark that surrounds Kent Lake is one of the most popular crane-spotting locations in Michigan, thanks to its proximity to Detroit. The Bernard W. Baker Sanctuary near Bellevue, Michigan, offers the best view of crane groups as they are feeding and roosting at the fields and wetlands. Every fall, Michigan Audubon Society holds the annual CraneFest at the Kiwanis Youth Conservation Area in Bellevue during the second weekend in October.
Find hotels and airbnbs near Sandhill Crane Migration (Map)