See all
Chicago is one of the not many cities (if any) where you don't have to wait until the 4th of July to watch a fireworks display. In fact, they take place at the Navy Pier quite regularly throughout the entire summer season. The colourful firework shows burst over the centre of Michigan Lake twice a week. You are welcome to watch a 15-minute eye-pleasing spectacle, that's completely free. The fireworks are perfectly accompanied by music, a truly awesome experience.
To enjoy the fabulous lit up skies and cityscape head to Navy Pier every Wednesday at 9 pm and Saturday at 10:15 pm! Besides the Navy Pier itself, you may take in the spectacle walking north or south along the shoreline near the pier. Also, Chicago beaches and harbours are excellent viewing locations, as well as the city's downtown rooftop bars. Fireworks Cruises are offered for an especially romantic experience.
See also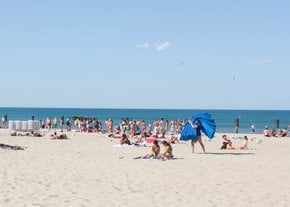 Beach Season
Chicago, July–August
The season lasts from the Memorial Day to the Labor Day, so the first firework show takes place as early as late May, and the last one is scheduled in early September.
For the tickets and latest updates, please check with the official website (see External Resources below).
Find hotels and airbnbs near Summer Fireworks at Navy Pier (Map)