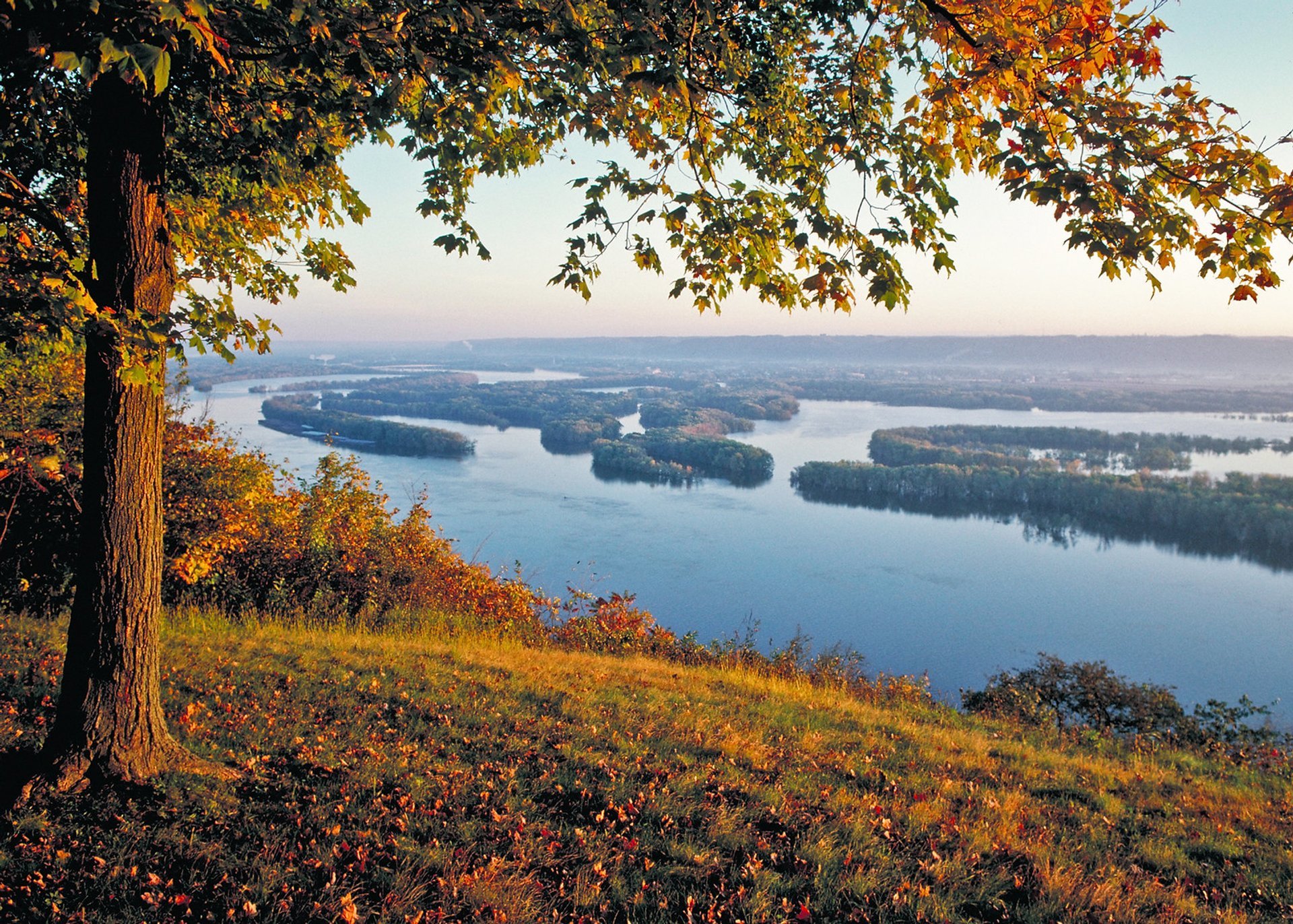 Fall colors of Pikes Peak State, Park Clayton County, Iowa
U.S. Department of Agriculture
Every year, thousands of Iowans and visitors head to the countryside to see nature's colorful display of yellow, orange, red, and purple leaves. Ash trees, elms, hickory, bur oak, and soft maples bring the hues of yellow to the palette; while hard maple adds some flame-red brush strokes to the autumn canvas; and white oaks expose a more subdued tone of purple and brown.
Best time for fall colors in Iowa
On average, fall color peaks in Northeast Iowa in the first week of October. The central and southern areas of Iowa see peak fall color later in the month. The color change timing varies from year to year, depending on weather conditions. Aim for mid-October for the highest chance of viewing the vibrant fall colors of Iowa; yet, make sure to check local fall foliage reports and forecast for the latest updates.
Best fall foliage drives in Iowa
Iowa boasts over 70 state parks and lots of scenic roads where you can experience fall colors in their full beauty. We hand-picked a few ideas of where to enjoy fall leaf-peeping in Iowa.
Western Skies Scenic Byway
Western Skies Scenic Byway parallels I-80 and is one of the first state-designated scenic byways of Iowa. This 142 mi (230 km) route travels from Harrison County Historical Village and Logan to Stuart through Harrison, Shelby, Audubon, and Guthrie Counties. The drive rolls through rural Iowa communities across the scenic hills with working farmsteads and small towns.
River Bluffs Scenic Byway
River Bluffs Scenic Byway in Northeast Iowa boasts breathtaking bluffs, winding roads, forested hills, and meandering rivers. Off the route, you can hike at Effigy Mounds National Monument and explore the prehistoric American Indian mounds in the shapes of bears and birds. For city lovers, there are lots of heritage sites, charming antique shops, and down-home restaurants to be experienced along central streets in St. Olaf, Clermont, West Union, Fayette, Volga, and Elkader. On its eastern ends, River Bluffs Scenic Byway connects to Great River Road in Marquette and Guttenberg.
Great River Road National Scenic Byway
Great River Road National Scenic Byway is part of the ten-state Great River Road, which runs from Minneapolis, Minnesota to New Orleans, Louisiana, along the route of the Mississippi River. There are several road entry points along Iowa's segment, which are marked with a pilot wheel sign. The river towns like Lansing, Guttenberg, Balltown, Dubuque, Bellevue, Clinton, Bettendorf, Burlington, Fort Madison, and Keokuk boast rich architecture, a series of locks and dams, cozy inns, restaurants, antique shops, access to wildlife refuges, and panoramic views of the Old Man River and autumnal trees. In Balltown, you will find Breitbach's Country Dining, Iowa's oldest bar and restaurant.
Best places to see fall colors in Iowa, near Des Moines
Jester Park in Grange
Jester Park in Grange, just a half-hour drive from Des Moines, offers some 1,675 ac (678 ha) of scenic nature on the shores of Saylorville Lake. On weekends, you can head to the park's Equestrian Center for a one-hour walking horse ride. The park offers almost 170 campsites along Saylorville lakeshore and scattered on the wooded hills overlooking the lake. Besides viewing fall foliage, you can watch local wildlife from the observation deck of the Elk and Bison Educational Plaza, where you can also find educational displays, spotting scopes, and a picnic area. If you want to go hiking, try the Stagecoach Trail, a two-mile moderate path with views of Saylorville Lake, and Hickory Ridge Trail, a less-than-a-mile path through a wooded ravine with a narrow stream.
Big Creek State Park in Polk City
Across Saylorville Lake, you can visit Big Creek State Park in Polk City, which is also a 30-minute drive from Des Moines. The 26mi (42 km) paved multi-use Neal Smith Trail allows pedestrians and cyclists to travel from Des Moines through the Saylorville Lake area to Big Creek State Park. The 3,550 ac (1437 ha) park boasts excellent boating and fishing activities on Big Creek Lake. The year-round fishing promises a catch of crappie, largemouth bass, bluegill, walleye, muskie, and channel catfish. If you are a boating enthusiast, you can choose between pontoon boats, kayaks, and paddleboards. Camping is not permitted at Big Creek State Park, but you can check out a few large federal and county camping areas several miles away on Saylorville Lake.
Walnut Woods State Park in West Des Moines
Walnut Woods State Park in West Des Moines is an excellent picnic spot with grills and tables close to the Racoon River. The park encompasses 260 ac (105 ha) of wooded bottomland along the river, where a big surviving natural stand of black walnut trees resides. The Racoon River offers great canoeing and fishing opportunities. Nature lovers can enjoy birdwatching, as over 90 bird species have been identified along the park's trails and the river. You can also go on a horse ride along the equestrian trail in the park. There is a shady campground with full hookups and electric hookups, modern restrooms, and an RV dump station.
Iowa fall colors map
Lastly, when you've made up your mind as to go leaf-peeping in Iowa, make sure to plan the trip out in advance. For your convenience, consider booking accommodations in the vicinity. Iowa fall colors map will assist at this task.
Find hotels and airbnbs near Fall Colors in Iowa (Map)