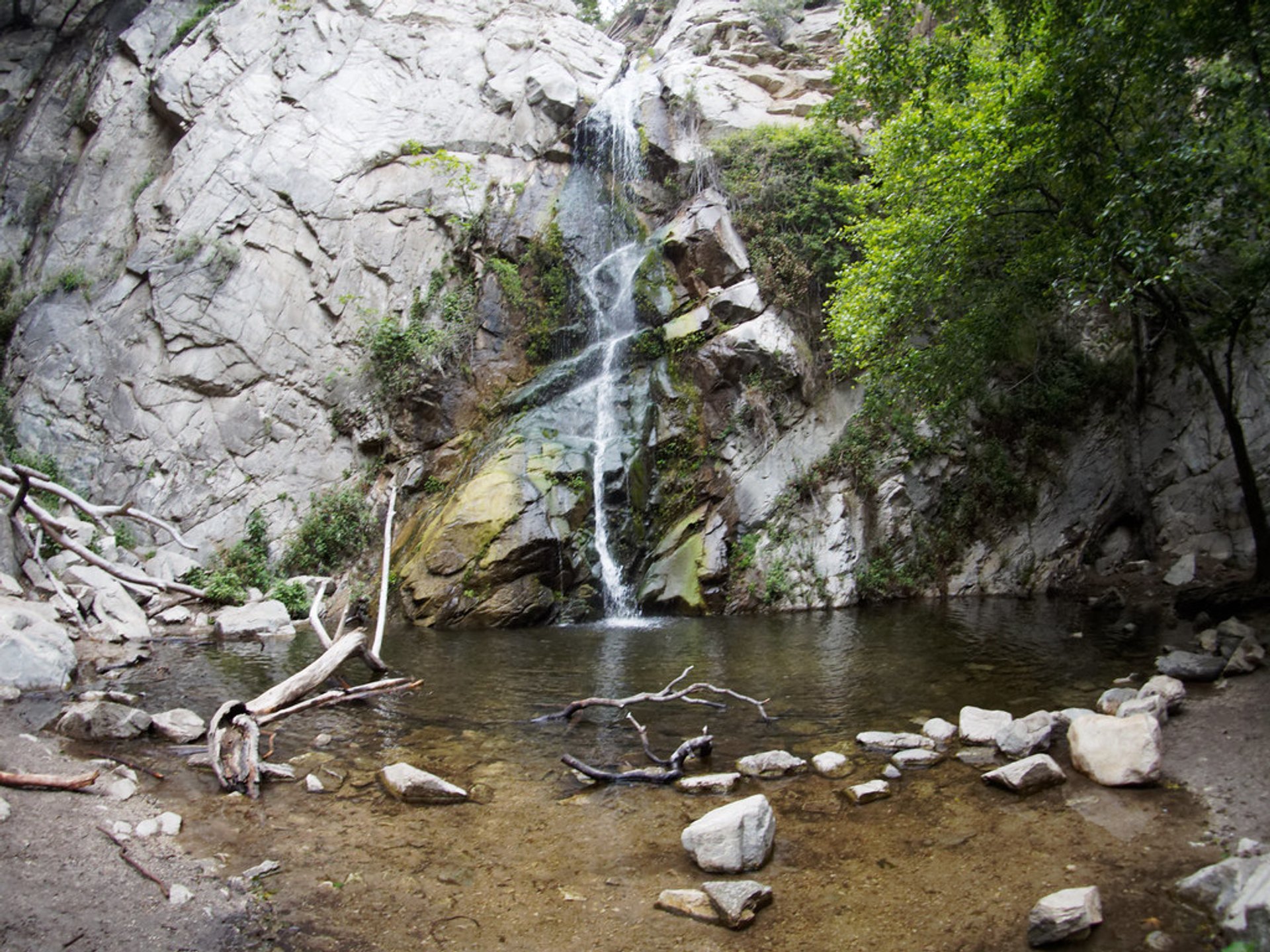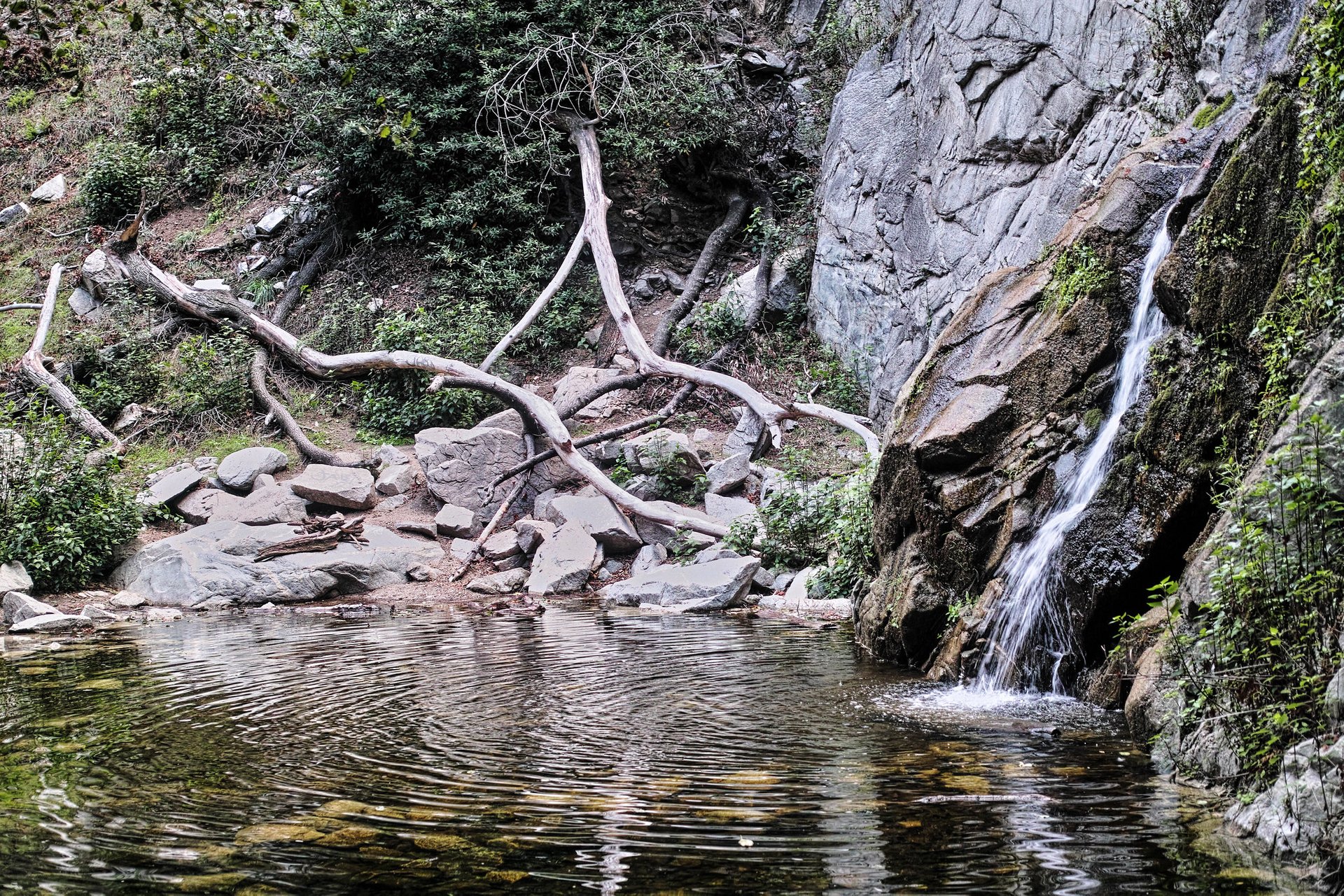 Sturtevant Falls (after an almost-normal rainy season)
See accommodations nearby
A 50-foot (80.5-m) high Sturtevant Falls is located at the end of one of the easiest hikes you can do near Los Angeles. The waterfall trail is around 3.6 miles (5.8 km) round trip. It lies in Big Santa Anita Canyon in the San Gabriels Mountains, which is only around 10-15 minutes off Freeway 210. The hike does have a steep decline during the first half-mile (0.8 km) and turns into an abrupt incline for the last half-mile (0.8 km) when you are hiking back. The course is suitable for most people.
The best time to visit Sturtevant Falls
The waterfall flows nearly year-round, with the best time to visit after the spring's first several rainstorms. During the summer, you'd better start your hike before 8:30 am due to flocks of tourists coming to witness the gorgeous waterfall. The rest of the year, the area isn't that busy. However, the fall may not be that impressive during the dry seasons.
Sturtevant Falls facts
The condition of the Sturtevant Falls trail is excellent. This route is well-maintained and well-traveled, with a bunch of clear trail signs. Canyon areas boast plenty of oak, alder, bay, and maple trees. You will also pass a picturesque bridge and some small debris check dams.
Things to do at Sturtevant Falls
Angeles National Forest is a vast territory with unbelievable nature. If you are up to discovering another beautiful waterfall, Hermit Falls is that one to arouse your interest. Staying at Hoegee's Trail Camp also has its benefits, with Mount Zion at arm's length.
How to get to Sturtevant Falls
Take the 210 Freeway to Arcadia and use Exit 32 for Santa Anita Avenue. Head north at the end of the offramp. Drive 5 miles (8 km) up Santa Anita Avenue, going into the mountains. The road ends at Chantry Flats. From Chantry Flats, head down the tiled road towards Roberts Camp, a pack of cabins surrounded by ivy-covered bays and oaks. The hike kicks off with 0.6 miles (1 km) of steep pavement as you descend to Gabrielino Trail and Roberts Camp. This hike might seem confusing with all the "upper and lower" versions of trails, but a map in your hands and the knowledge of where you are going will definitely help you find your way.
Where to stay at Sturtevant Falls
In the area, you can always count on Spruce Grove Campground and Hoegee's Trail Camp. There are also sites inside the privately-owned Sturtevant's Camp.
Tips for visiting Sturtevant Falls
The Forest Service and local management agencies are thinking of closing access to many of such sensitive locations, such as Sturtevant Falls, due to large amounts of garbage, glass bottles and cans, toilet paper, and human waste left behind. So if you want to continue enjoying these spots, pack out all garbage and dispose of it properly, use vault toilets when provided, and stay on the beaten paths.
Find hotels and airbnbs near Sturtevant Falls (Map)