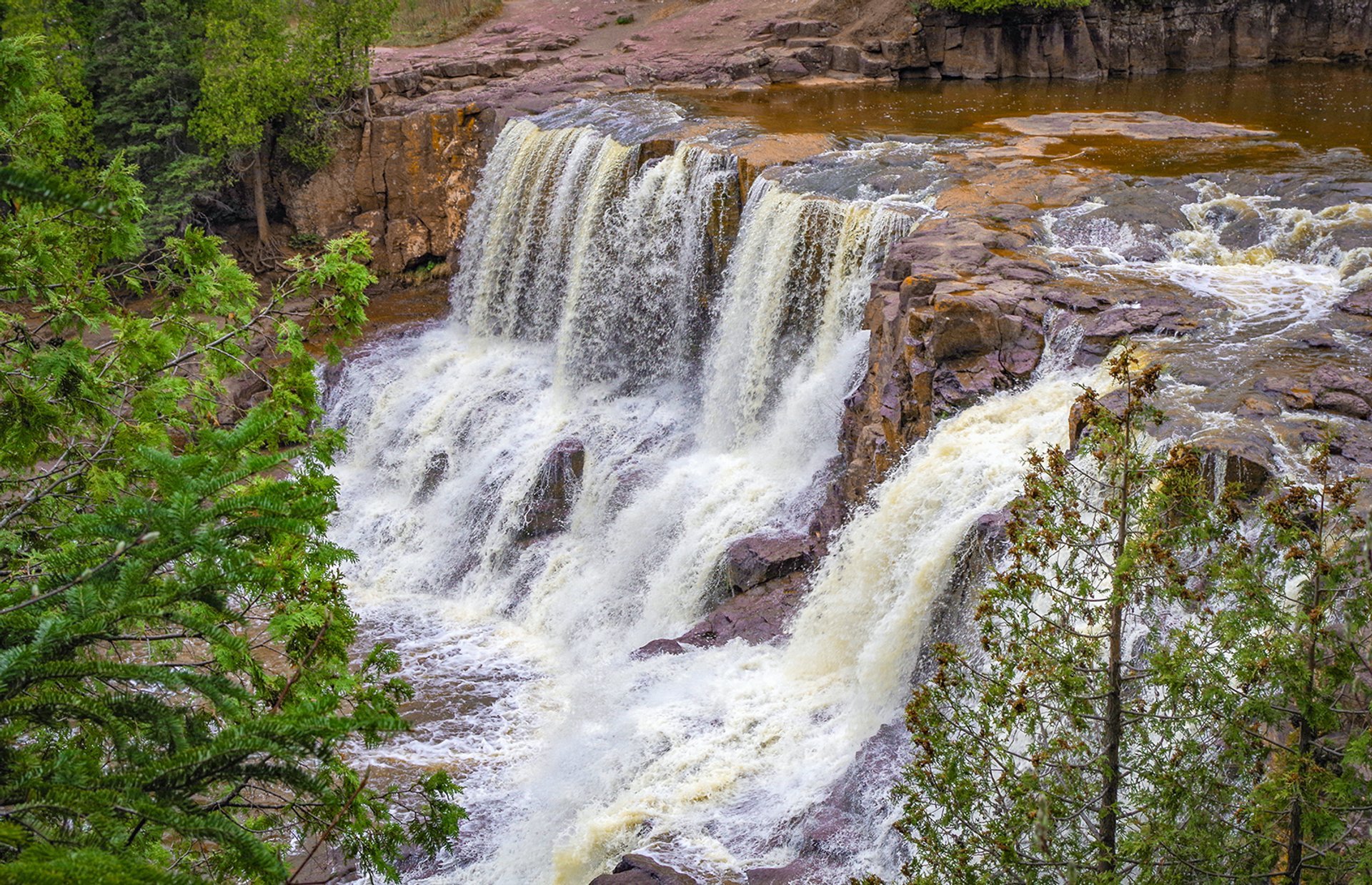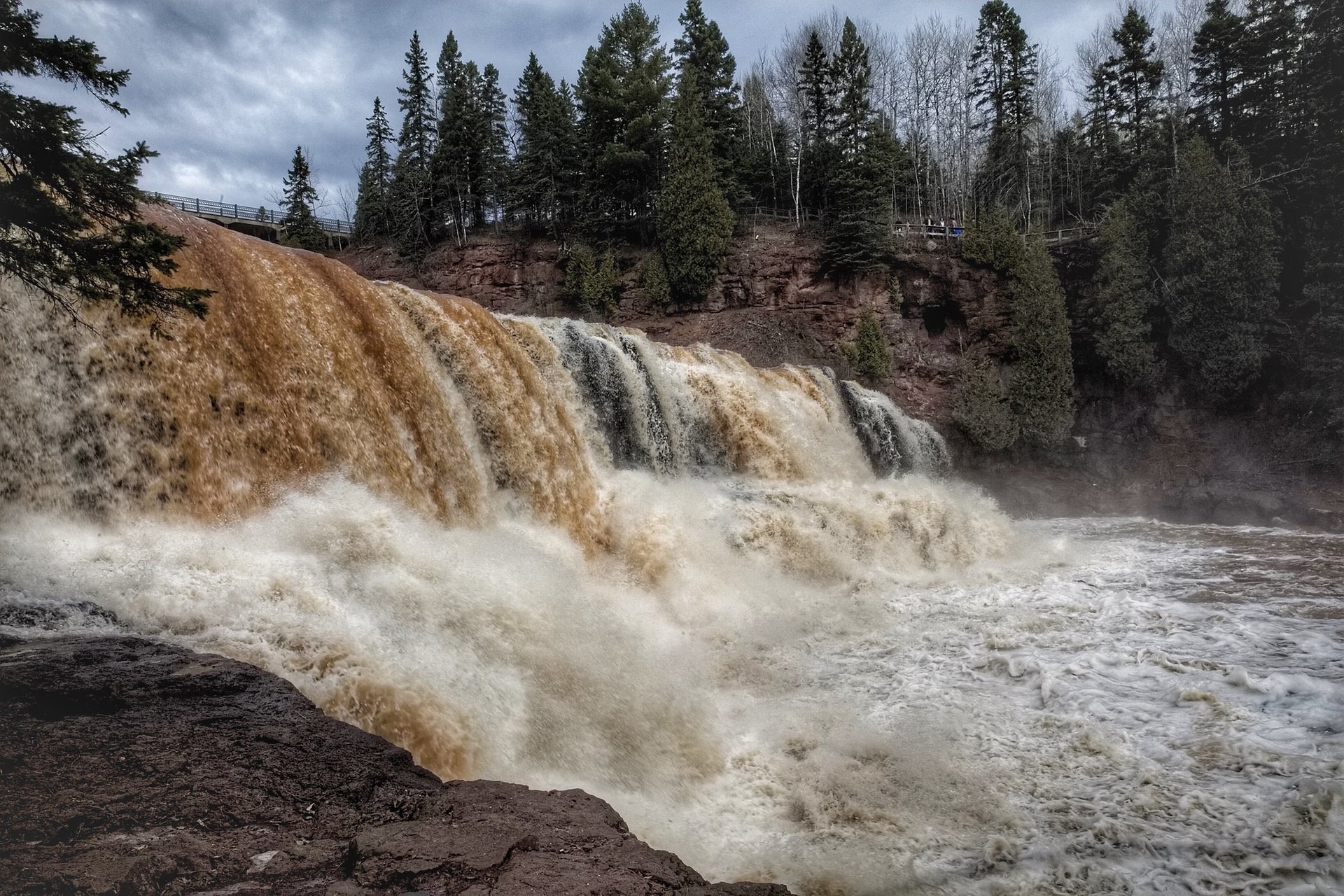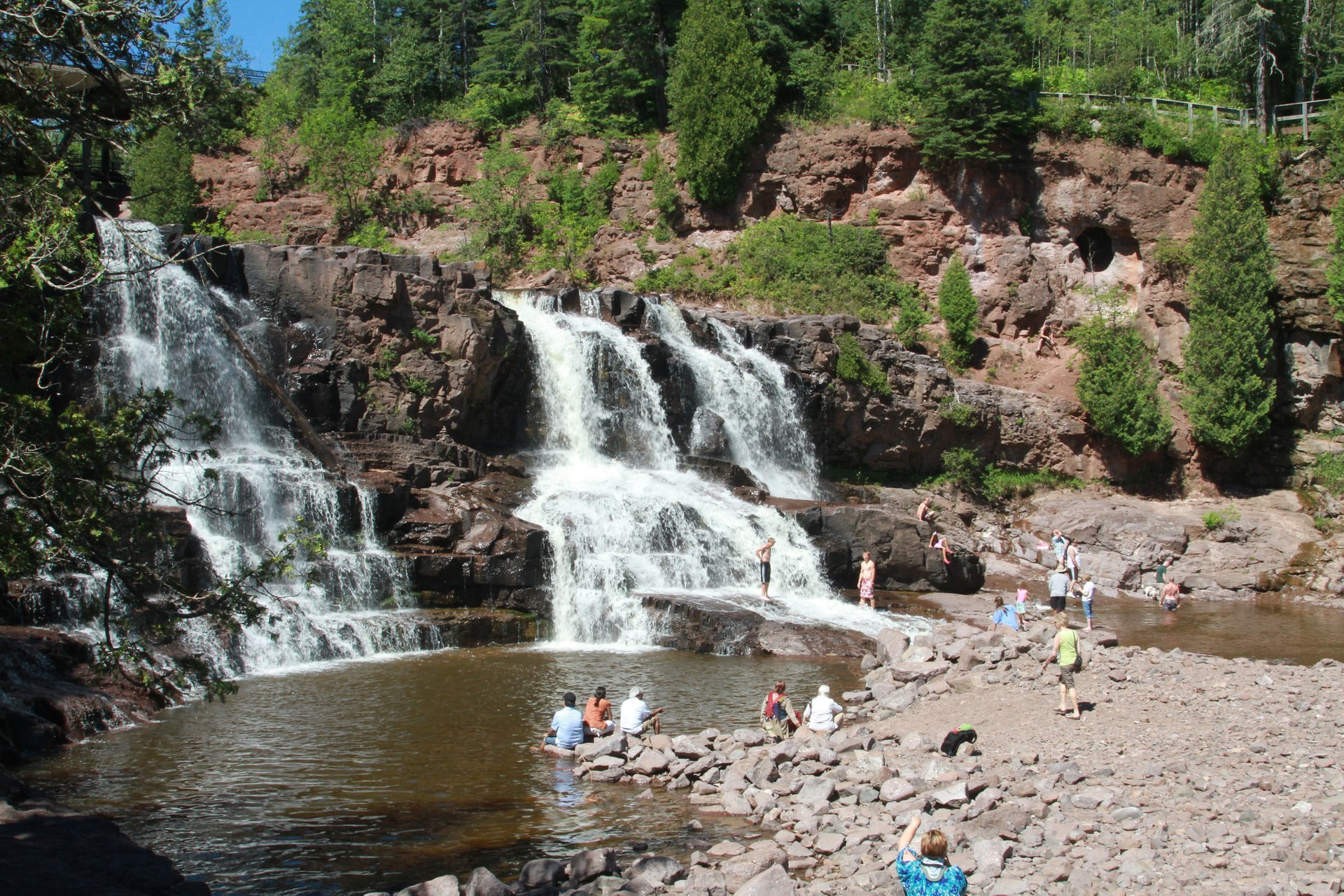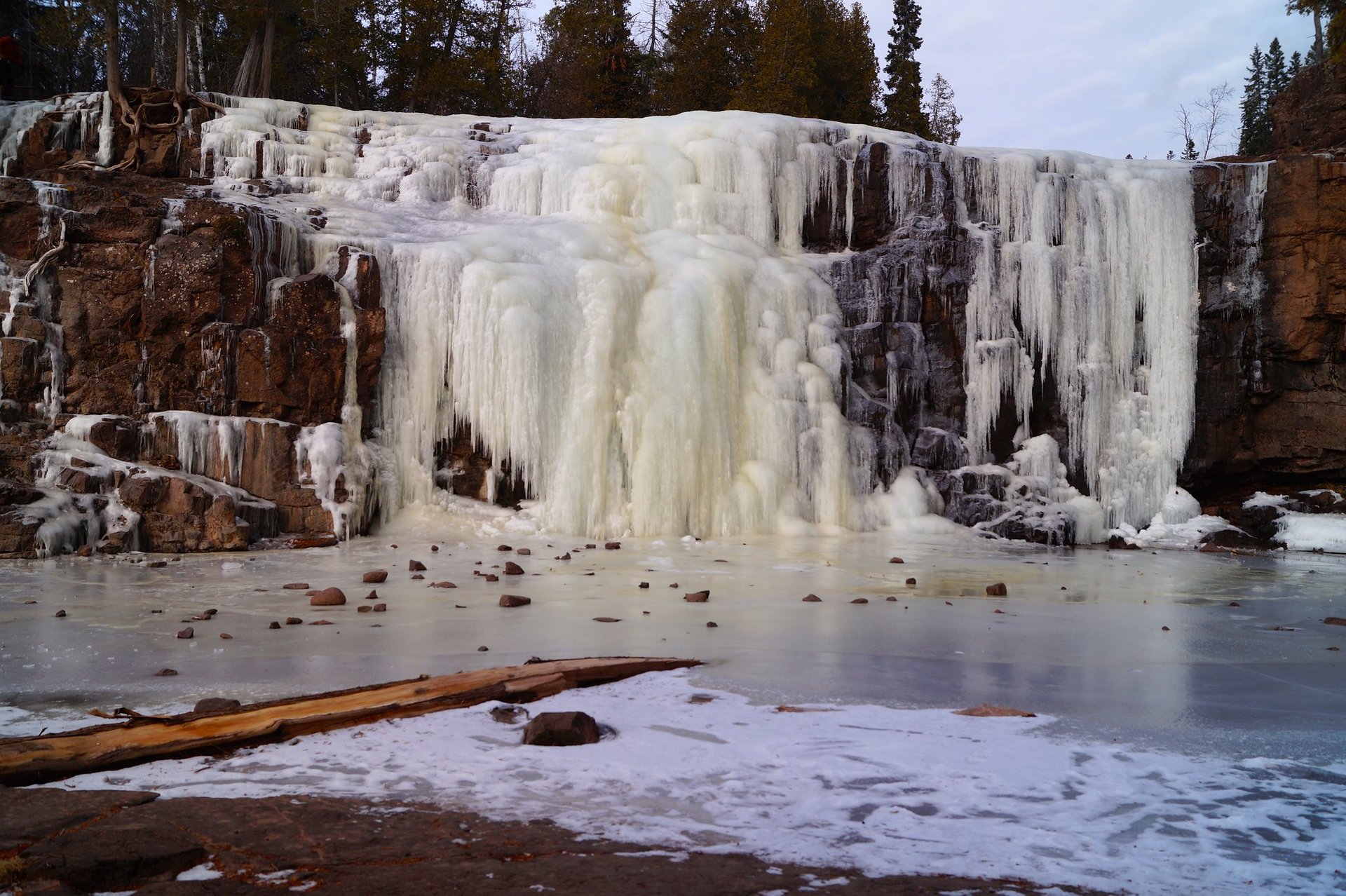 Middle Falls at Gooseberry Falls State Park from the River View Trail.
See accommodations nearby
Gooseberry Falls resides in the eponymous state park near Two Harbors in Lake County, Minnesota. It encompasses three impressive drops named Upper, Middle, and Lower falls, each being considerably wide yet modestly-tall. Anyways, the falls enjoy immense popularity year-round, comparing to other waterfalls on the North Shore of Lake Superior. So do not expect solitude during your visit here, be ready to share the beauty with others.
When is the best time to visit Gooseberry Falls?
The best time of year to visit Gooseberry Falls depends on how you want to see it—these waterfalls are definitely not a single-season destination. Some people are attracted by spring runoff. However, the gushing flow may also occur in summer or fall after torrents. In the summer, you can swim in the pools at the bottoms of the falls when the flow is low. Note that in June and August, the park tends to be packed too. Fall foliage season is absolutely grandiose. Still, many favor winter for the wondrous frozen waterfalls along with skiing and snowshoeing options. Gooseberry Falls State Park is open daily from 9 am to 4 pm, with extended evening hours in summer. So the final decision on when to go is up to you.
Gooseberry Falls facts
The Upper Falls nestled just north (upstream) of the Hwy 61 Road Bridge plunges 30 feet (9 m) into the Gooseberry River. The Middle and Lower Falls sit downstream of the bridge and measure 60 feet (18 m) together. The river advances down through the lovely piece of Minnesota's forests, draining into splendid Lake Superior. The earliest documented mentions of Gooseberry Falls and River date back to 1670. A French explorer Grosseilliers could have had named the river after himself, for "grosseilliers" is French for "gooseberries." Another version has it that the native peoples attributed the name to the river.
How to get to Gooseberry Falls?
You can explore three waterfalls from different vantage points by trying multiple hiking options. Take Waterfalls Walk to see the Middle and Upper Falls in 30–40 minutes. Or opt for the Falls View Loop to cover all three waterfalls, but allow 45–90 minutes for this hike. Also, check out River View Trail for a different view. The ease of accessibility is one of the reasons for Gooseberry Falls's high ranking. That said, be careful on the trails and don't get too close to the river during the high flow. Also, if you are up to driving to the lakeshore or Picnic Flow, you'll need a vehicle permit, which can be purchased at the park.
Things to do at Gooseberry Falls
To make the most of your visit, consider pairing your waterfall experience with other exciting things to do. Explore the network of hikes, go camping, and get a glimpse of local wildlife. Check out some seasonal highlights: spot hummingbird migration in summer, chase northern lights at the Silver Bay, or take in the Duluth fall colors. Winter is likewise rich in offers: you can go skiing, look for some knife-sharp ice shards on Lake Superior, or head to the annual Ely Winter Festival, just north of Duluth.
Where to stay at Gooseberry Falls?
Gooseberry Falls State Park Campground is one of the best options to stay close to Gooseberry Falls. It operates all year, providing 70 single-family campsites, three group sites, and a camping site for kayakers. Restrooms and showers are available too. Alternatively, examine various hotels in the area nearby (see map below or on the right) and choose what suits you most.
When you make up your mind to visit Gooseberry Falls State Park, plan ahead. Make sure to buy your vehicle permit or ski passes in advance. Also, pack according to the weather. And feel free to check up for the latest updates with the Gooseberry Falls State Park.
Find hotels and airbnbs near Gooseberry Falls (Map)