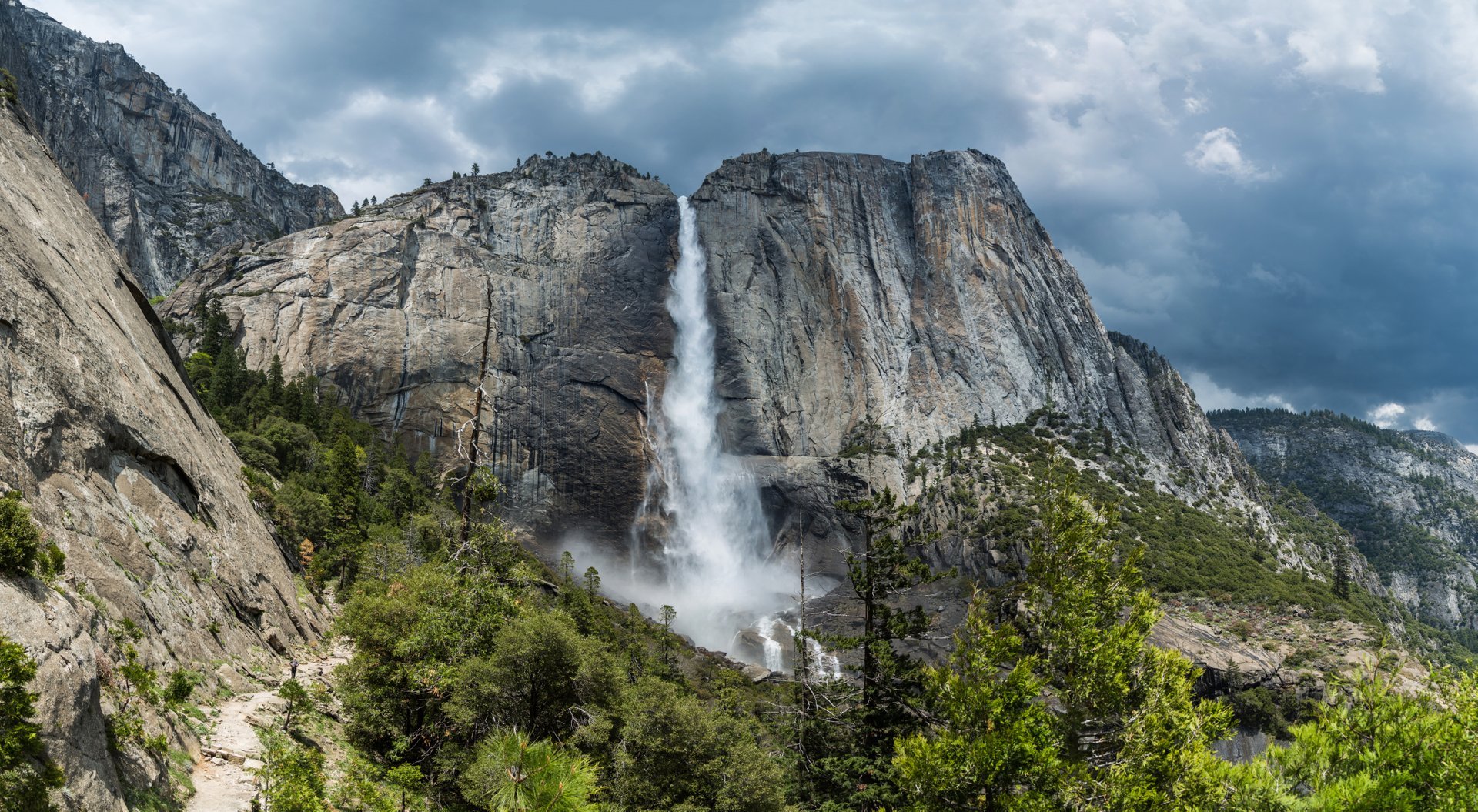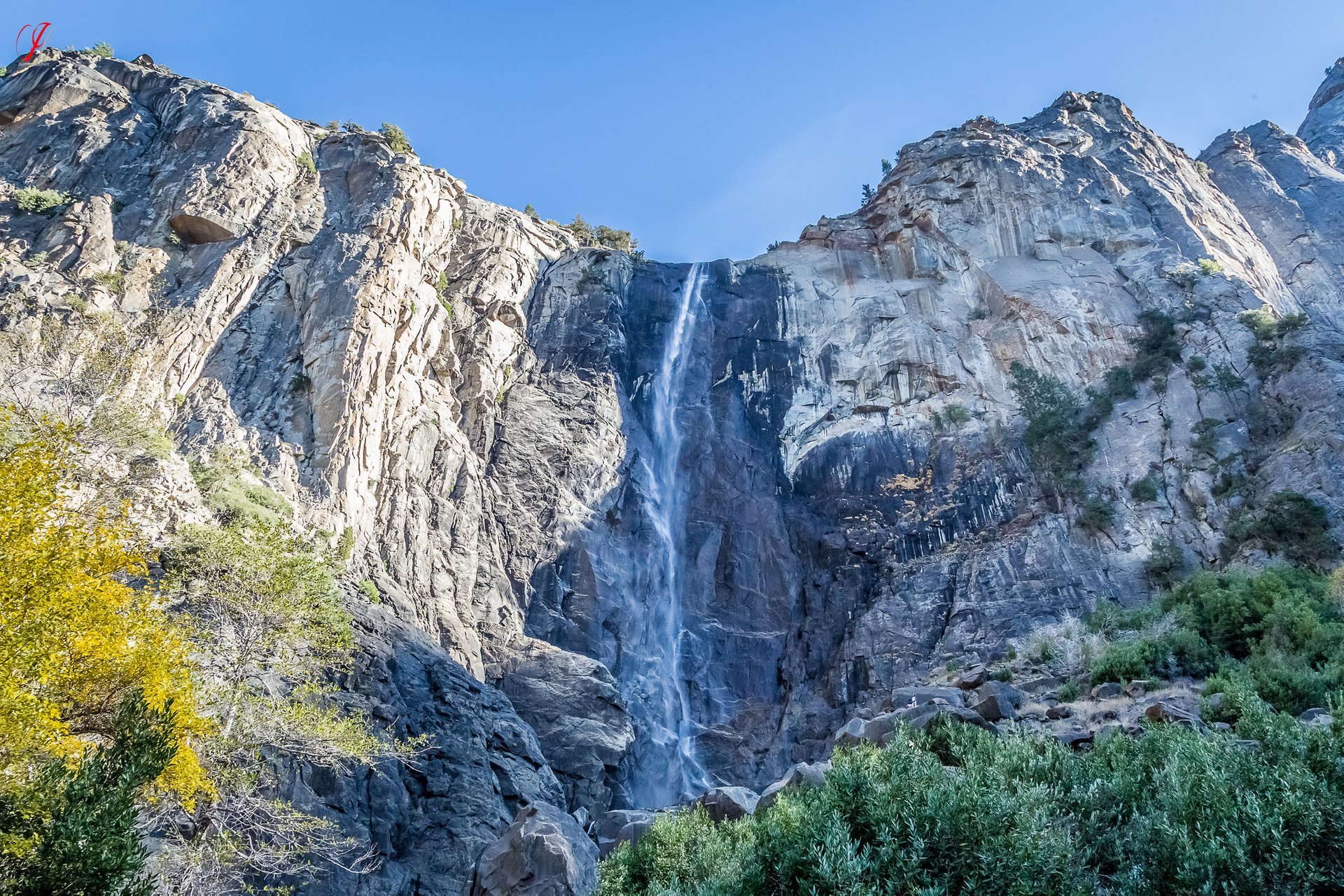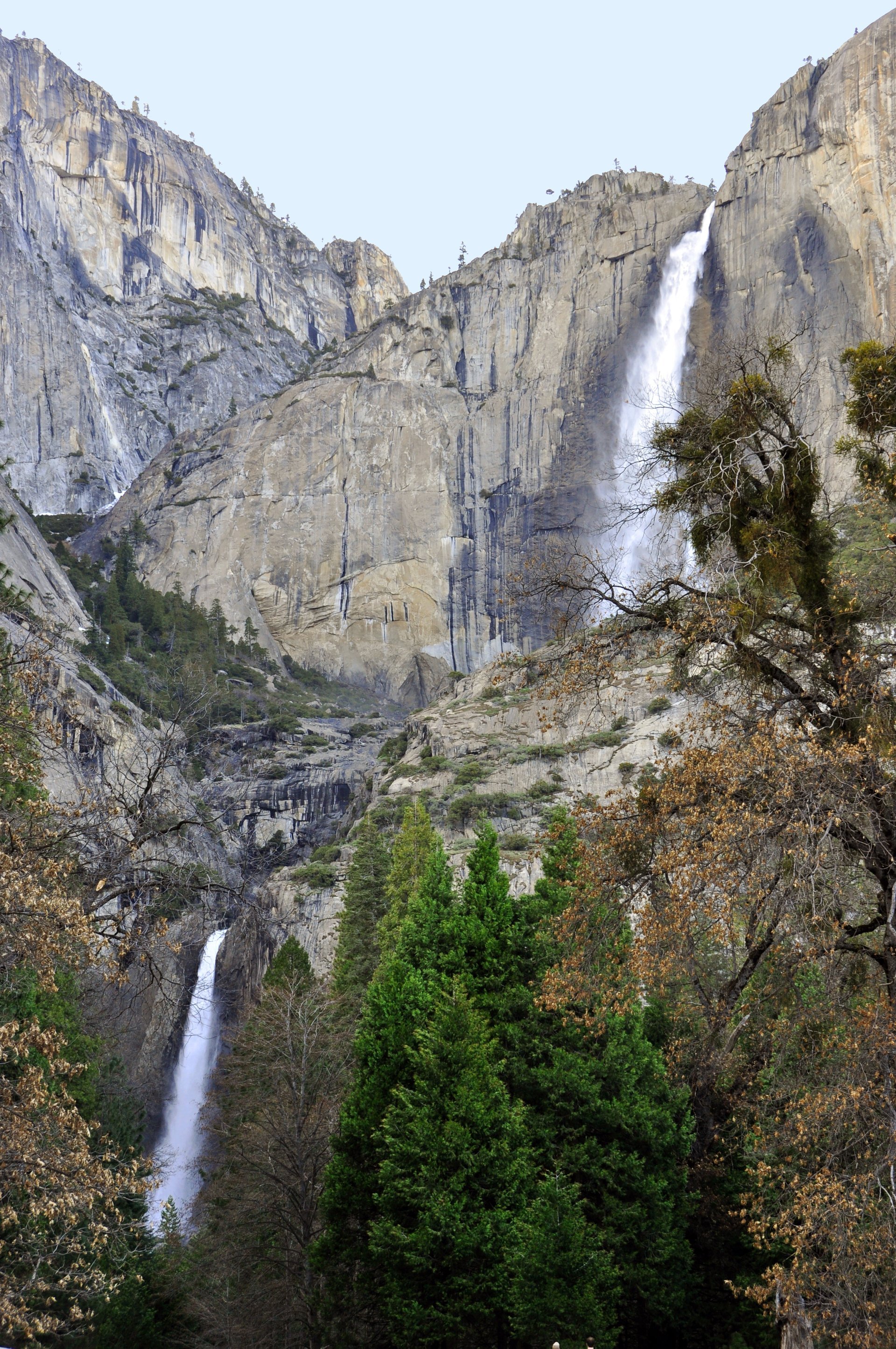 Upper Yosemite Falls viewed from the trail leading to the top of the falls
See accommodations nearby
The most dramatic waterfall in Yosemite National Park (and the whole of North America) boasts a neck-craning drop of 2,425 feet (739 m) from the top of the Upper Fall to the base of the Lower Fall. Famous for its colorful rainbows that occasionally form in the mist rising from the foaming water, the towering mountainside waterfall is on the bucket list of all photographers and summons adventurers from all over the world.
Best time to visit Yosemite Falls
Even though Yosemite Falls flows from November to July, the best time to see the thundering water is from April to June when snowmelt accounts for the greatest volume of water flowing. The April–June period is also the moonbow season at Yosemite Falls. May gets the credit for the most impressive runoff. The price of watching the falls at this time of the year is running into crowds of people, which are usually at their peak attendance during this time of the year too. By late August, Yosemite Falls may only trickle or dry out completely.
Yosemite Falls facts
Yosemite Creek encompasses three sections: Upper Falls (1,430 feet or 435 m), Middle Cascades (675 feet or 205 m), and Lower Falls (320 feet or 100 m), which rush into the Merced River. The total height of 2,425 feet (739 m) is twice the height of Niagara Falls, straddling the border of the USA and Canada! However, in terms of width, Yosemite waterfall is somewhat behind Iguazu Falls in Argentina and Brazil.
Things to do at Yosemite Falls
While the waterfall is the main highlight of Yosemite National Park, the area offers plenty of exciting activities, such as rock climbing and rafting along the Merced River in summer or cross-country skiing and snowshoeing in winter. You can also opt for more leisure, but there are equally exciting things to do like stargazing, birdwatching, and leaf-peeping.
How to get to Yosemite Falls
The top of Yosemite Falls requires a 6–8-hour out-and-back hike to reach. A strenuous Yosemite Falls Trail starts at Camp 4 area, which is near shuttle stop #7 and El Capitan Shuttle stop #E2). The hike covers a distance of 7.2 miles (11.6 km). It's open year-round with different seasonal conditions. There are also a few trails that provide impressive views of the falls, namely Lower Yosemite Falls Trail and the Four-Mile Trail. You can see Yosemite Falls from numerous vantage points in the park, such as Glacier Point, Taft Point, and Yosemite Falls Overlook.
Where to stay at Yosemite Falls
The area is packed with campgrounds. Among the most pop picks are Upper Pines Campground and North Pines Campground, nestled next to the waterfall. Also, consider secluded Porcupine Flat Campground or Yosemite Creek Campground. If you prefer staying at a hotel, have a look at the Yosemite Falls map below and choose the most convenient option.
Find hotels and airbnbs near Yosemite Falls (Map)