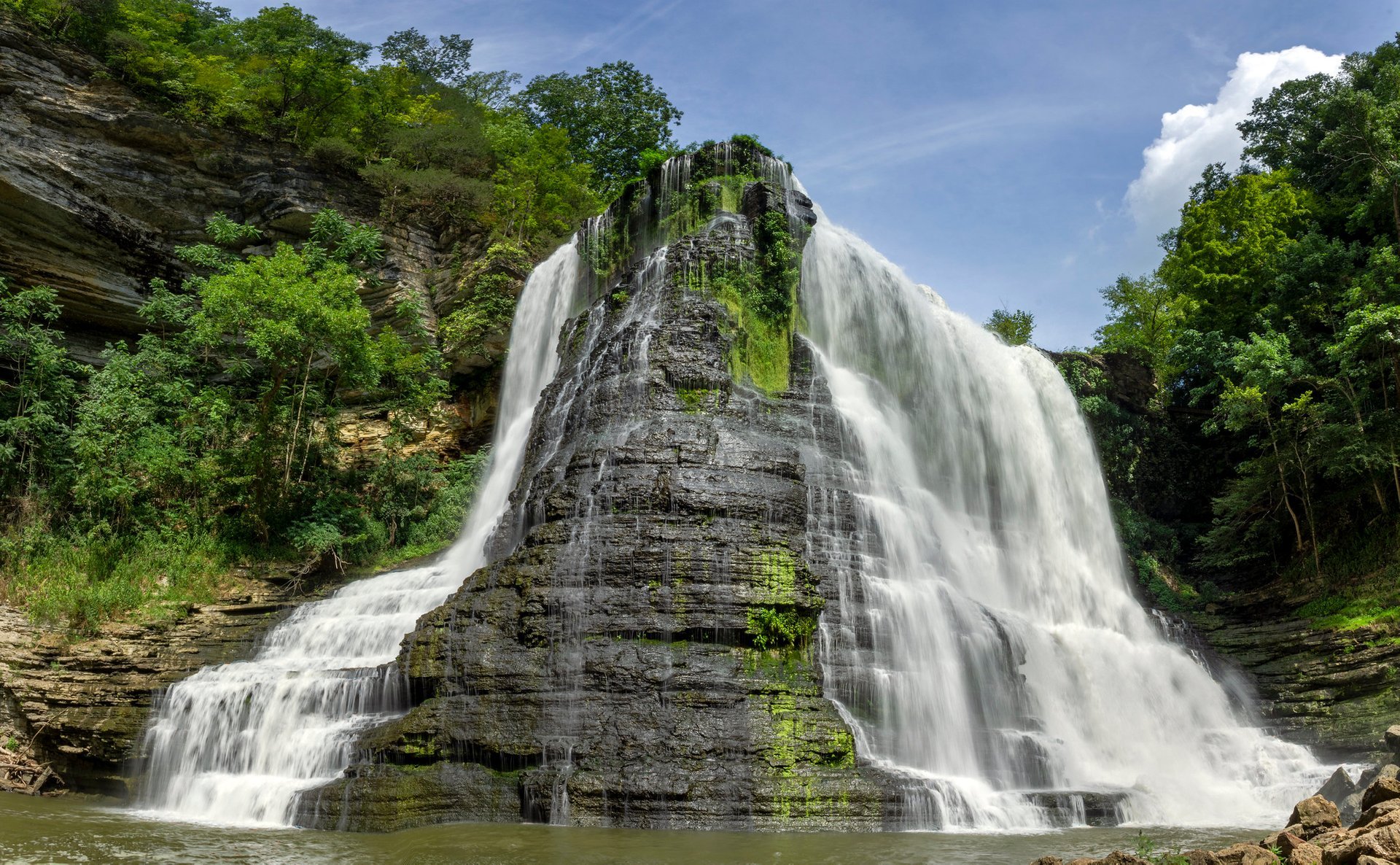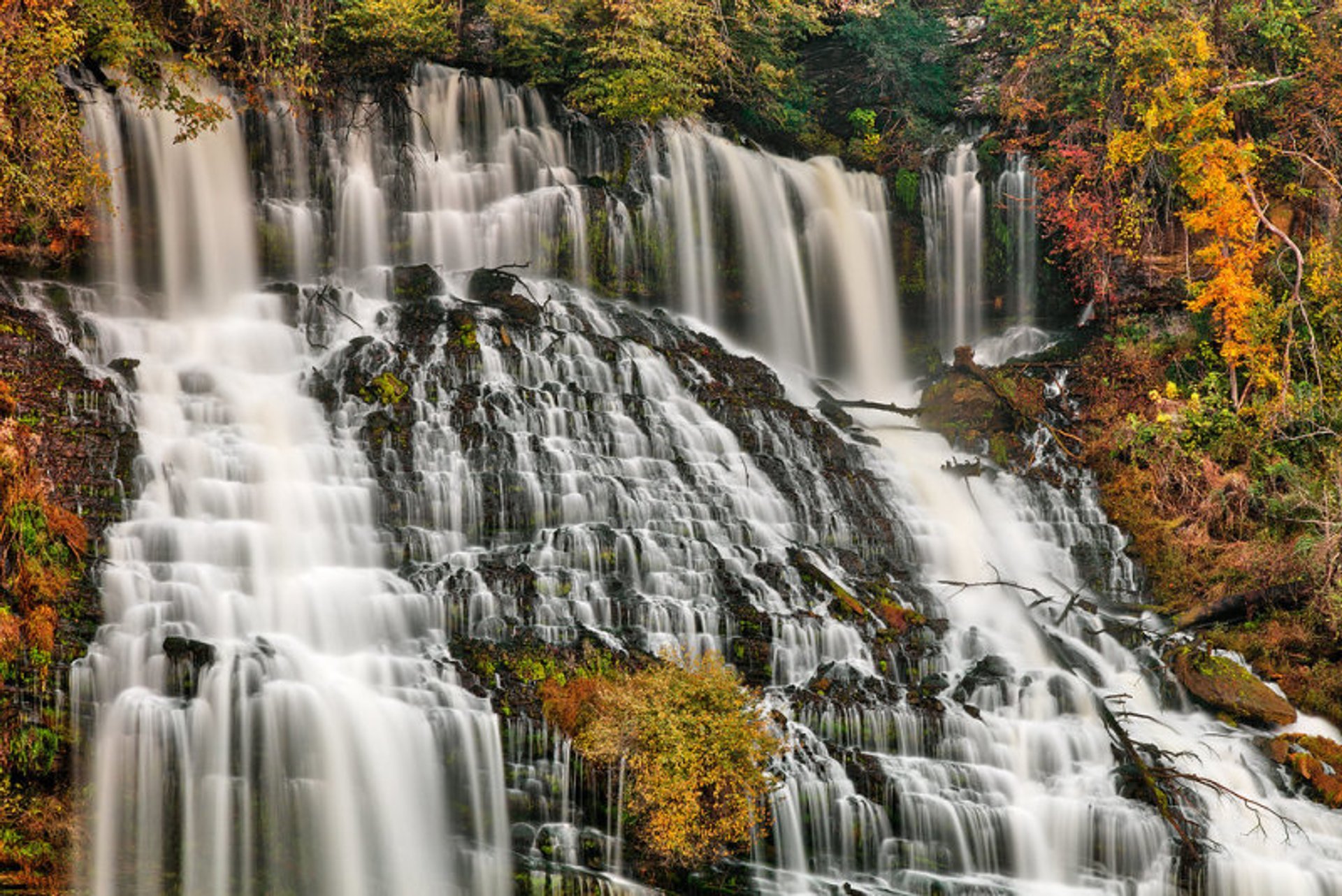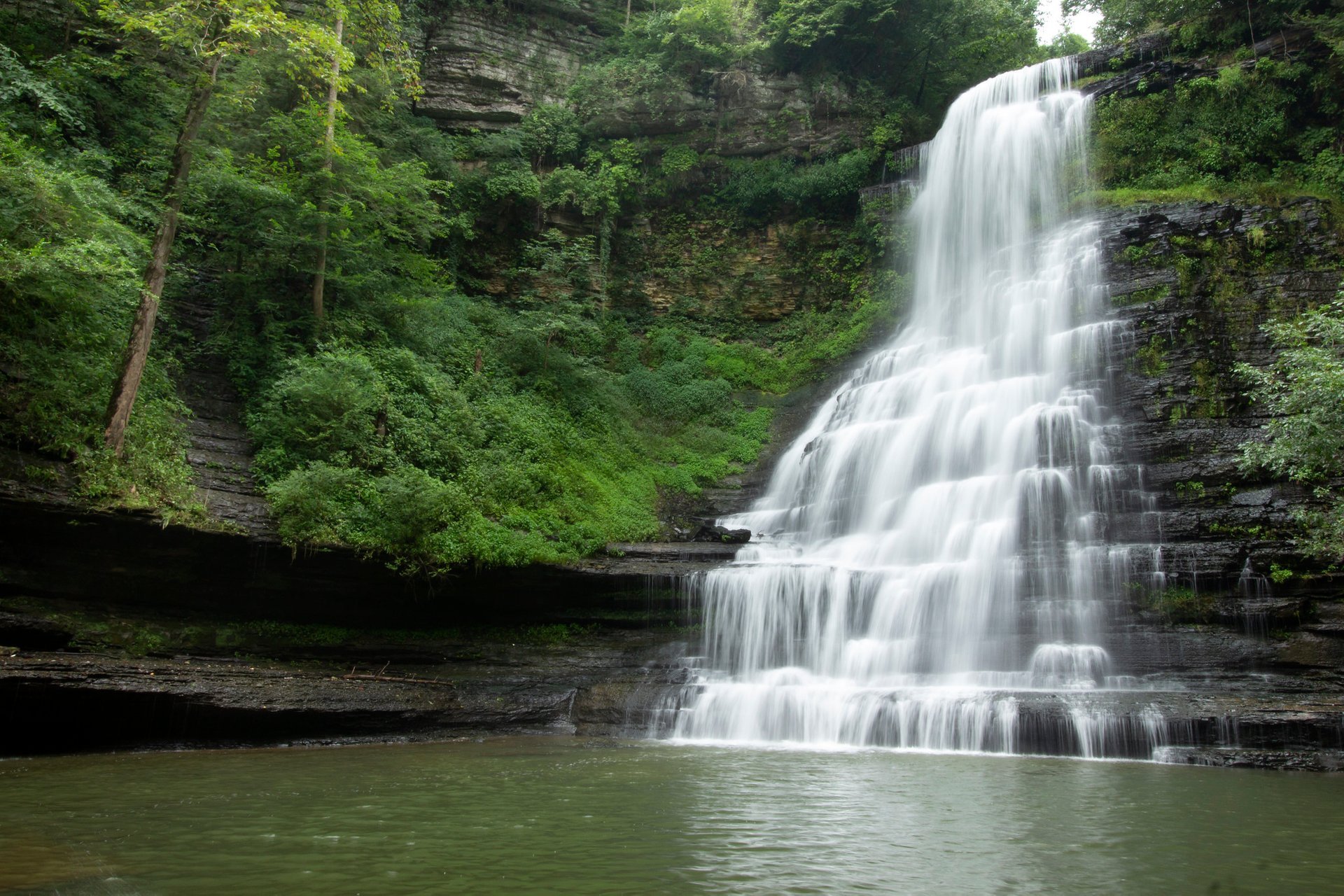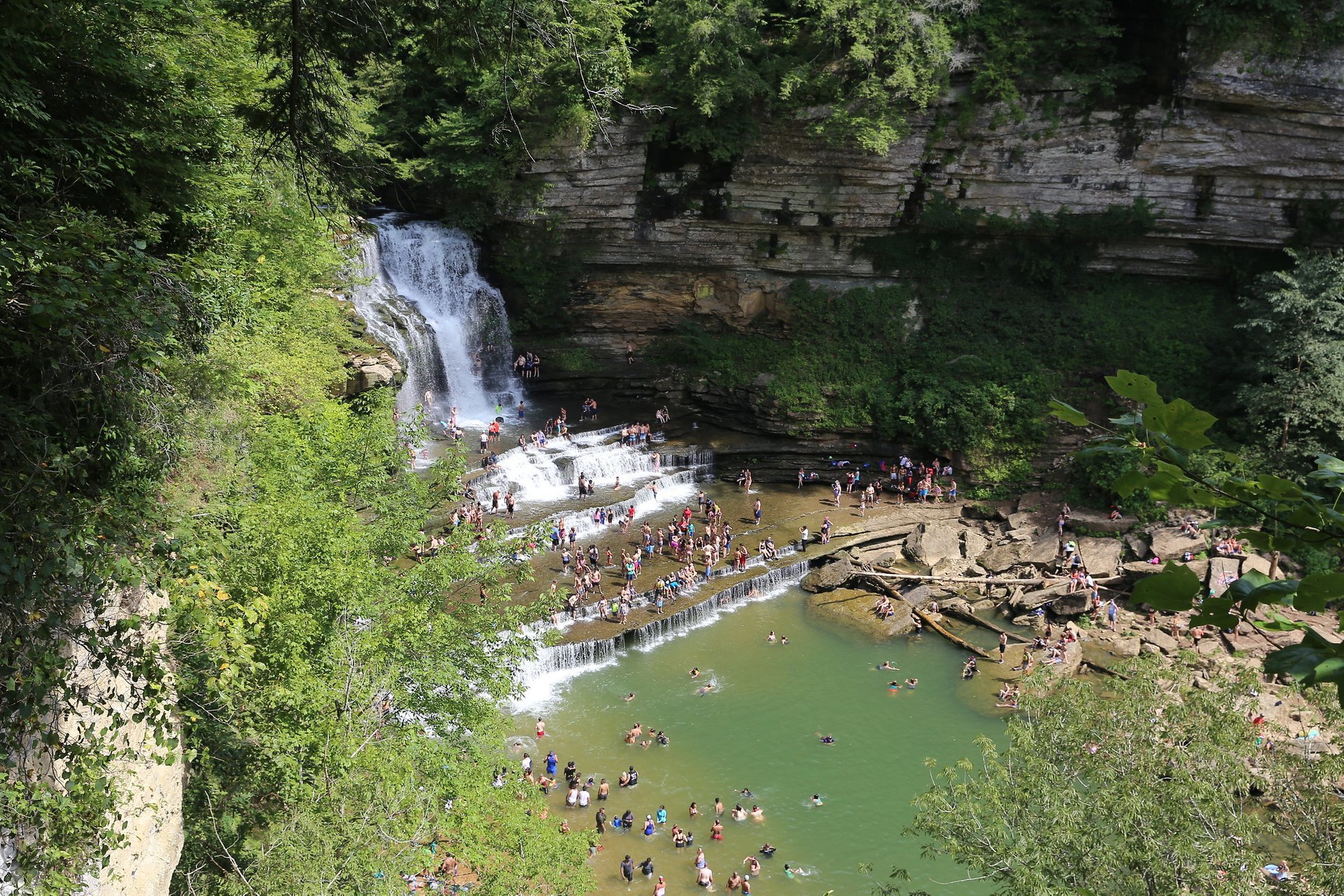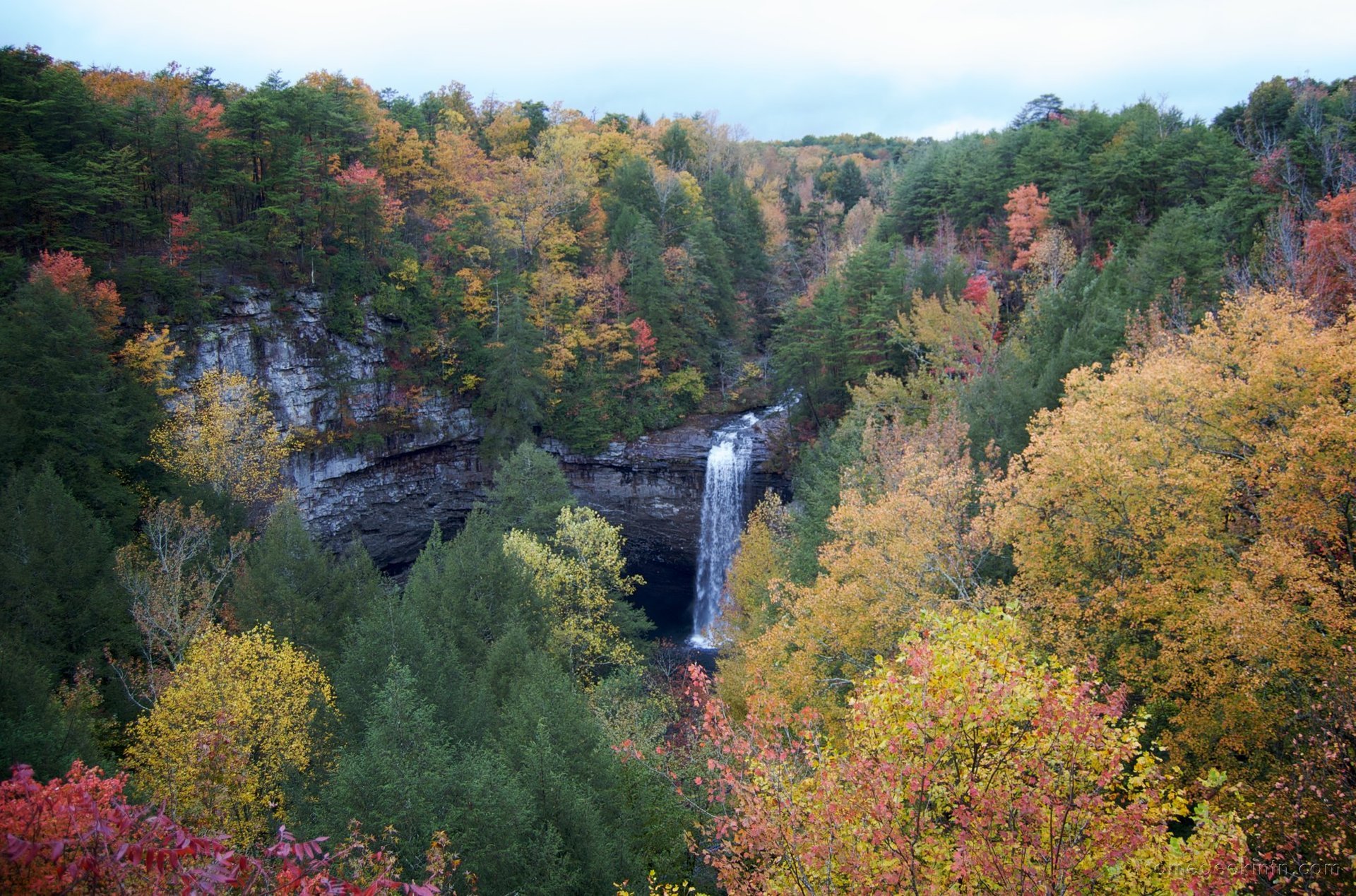 Burgess Falls
©
Photo by Chuck Sutherland
See accommodations nearby
Tennessee's unique topography with plentiful rivers and streams makes for a top-notch waterfall destination. About 500 waterfalls are scattered all across the state. You'll find countless jaw-dropping spots in middle and east Tennessee, mostly within state parks, that offer free access. There are various easy to arduous hiking trails with waterfalls and dozens of falls with swimming pools below.
When Tennessee waterfalls are at their best?
March to November is the best time to enjoy waterfalls in Tennessee. Backpackers often opt for spring to observe rushing waterfalls fed by snowmelt and seasonal showers. However, if swimming is your priority, then the best season is the sunny summertime. Fall is famous for its vibrant foliage backdrops. Winter is a less popular option, but if you're a big fan of frosty weather and snowy sceneries, go for it and get a glimpse of some frozen falls.
Best waterfalls in Tennessee
Choosing the best ones out of hundreds of Tennessee waterfalls might be tough, so we've collected a list of the top six falls to make your life easier.
Burgess Falls, Burgess Falls State Park
Burgess Falls is the most spectacular of four waterfalls located on the Falling Water River in Burgess Falls State Park. Some people find the site reminiscent of Niagara Falls's smaller version. Burgess plunges 136 feet (41 m) into a gorge that is reachable by kayak. You can also view all four waterfalls on a moderately strenuous 1.5-mile (2.4-km) River Trail on Service Road Loop. Be careful if you decide to take a steep hike from the main overlook to the falls' bottom, as the path is treacherous.
Fall Creek Falls, Fall Creek Falls State Park
Fall Creek Falls State Park close to Spencer is home to its namesake waterfall, Fall Creek Falls. The waterfall drops 256 feet (78 m), making it Tennessee's largest waterfall and one of the highest single-vertical torrents east of the Rockies. The way to Fall Creek lies via a 2.4-mile (3.9-km) heavily trafficked loop, with easier and more strenuous sections. While visiting, you might also like to do some extra hiking around the park and discover other smaller falls nearby.
Twin Falls, Rock Island State Park
Another fave is Twin Falls, the largest of Rock Island State Park's waterfalls. It pours out of a gorge 80 feet (24 m) above the Caney Fork River and is named after two main water streams. To get there, you'll have to navigate the stairs down to an easy mile-long one-way trail, defined by low elevations and pleasant terrain. Due to a mild climate, the hike is open all year through. Also, the park boasts many other spectacular waterfalls, accessible via trails or viewed from the overlooks.
Greeter Falls, South Cumberland State Park
If you're up to backcountry trekking, pick the Savage Gulf area at South Cumberland State Park and check out its main gem—Greeter Falls. The waterfall cascades 15 feet (5 m) upper ledge and then 50 feet (15 m) more. You can take a 0.8-mile (1.3-km) Greeter Falls Loop Trail and view Upper Greeter Falls, Lower Greeter Falls, and Boardtree Falls. The gorge to the lower falls is so steep that the only secure way to descend is via a man- made spiral staircase.
Carmac Falls, Evins Mill Resort near Smithville
A 90-foot (27-m) Carmac Falls located on the property Evins Mill Resort near Smithville is an excellent option for a picnic or family outing. However, to get access, you'll have to contact the resort. Visitors can either reserve the picnic-and-hike package for $25 or stay in one of the Evins Mill's creekside accommodations. The easy walk to the waterfall is one mile.
Machine Falls, Short Springs Natural Area
Lastly, a lucrative and secluded spot to check out is Machine Falls, tucked in Short Springs Natural Area just outside of Tullahoma. This waterfall drapes 60 feet (18 m) down the rock walls, blanketed with lichen. A 1.6-mile (2.6-km) loop will take you to the site and back. The trail is not arduous, yet some parts might be slippery. You can also cross the bridge and take a longer hike to see the falls from the other side.
Waterfalls in Tennessee where you can swim
Even though some thrill-seekers might swim in any waterfall at their own risk, the better idea would be to take some precautions. Below you'll find the top five Tennessee waterfalls offering swimming options.
Cane Creek Cascades
Discover lovely Cane Creek Cascades situated in Fall Creek Falls State Park. With a drop of fewer than 20 feet (6 m), wide cascades pour into a shallow pool filled with boulders. Compared to Fall Creek Falls, Cane Creek is less impressive in sheer height. However, the cascades possess some exceptional ambiance and serenity and can be accessed via a more leisurely hike.
Stillhouse Hollow Falls
Stillhouse Hollow Falls recreational state natural area provides another swimming spot. The same-name waterfall sits amidst steep slopes, 75 feet (23 m) high. Wet weather and humidity bear lush verdant landscapes, especially in springtime when the deep hollow is dotted with trillium, wild geranium, spiderwort, phlox, and other wildflowers.
Cummins Falls
Cummins Falls State Park near Cookeville boasts some of the top swimming holes in the US. Cummins Falls encompasses two drops of 50 and 25 feet (15 and 8 m), each landing in a separate pool. People come to marvel at the waterfall at different times of the year. Yet, in summer, the site entices the largest crowds. Swimmers at the falls are encouraged to wear a PFD (personal flotation device). Also, bring appropriate shoes if you're into hiking the rugged area.
Rutledge Falls
Your next option is Rutledge Falls, set close to the Machine Falls around Manchester, TN, and open year-round. This privately-owned natural area is apt to swimming in an ice-cold waterfall, as well as hiking and picnicking. The access is free. However, note that there's no camping.
Foster Falls
And the final stop in this Tennessee swimming waterfalls tour is 60-foot (18-m) Foster Falls, nestled in South Cumberland State Park, just 2 miles (3 km) from the parking lot. A moderate loop hike weaves from Foster Falls Visitor Center in Sequatchie. You can take a refreshing swim at the bottom of the falls and feel the power of the water tumbling beside you. Additionally, the park offers rock climbing and camping experience.
When you make up your mind to visit some of the above-listed sites, take your time to explore the Tennessee waterfalls map (on the right and below). The map below will come in handy when you want to book accommodations close to your destination.
Find hotels and airbnbs near Waterfalls (Map)