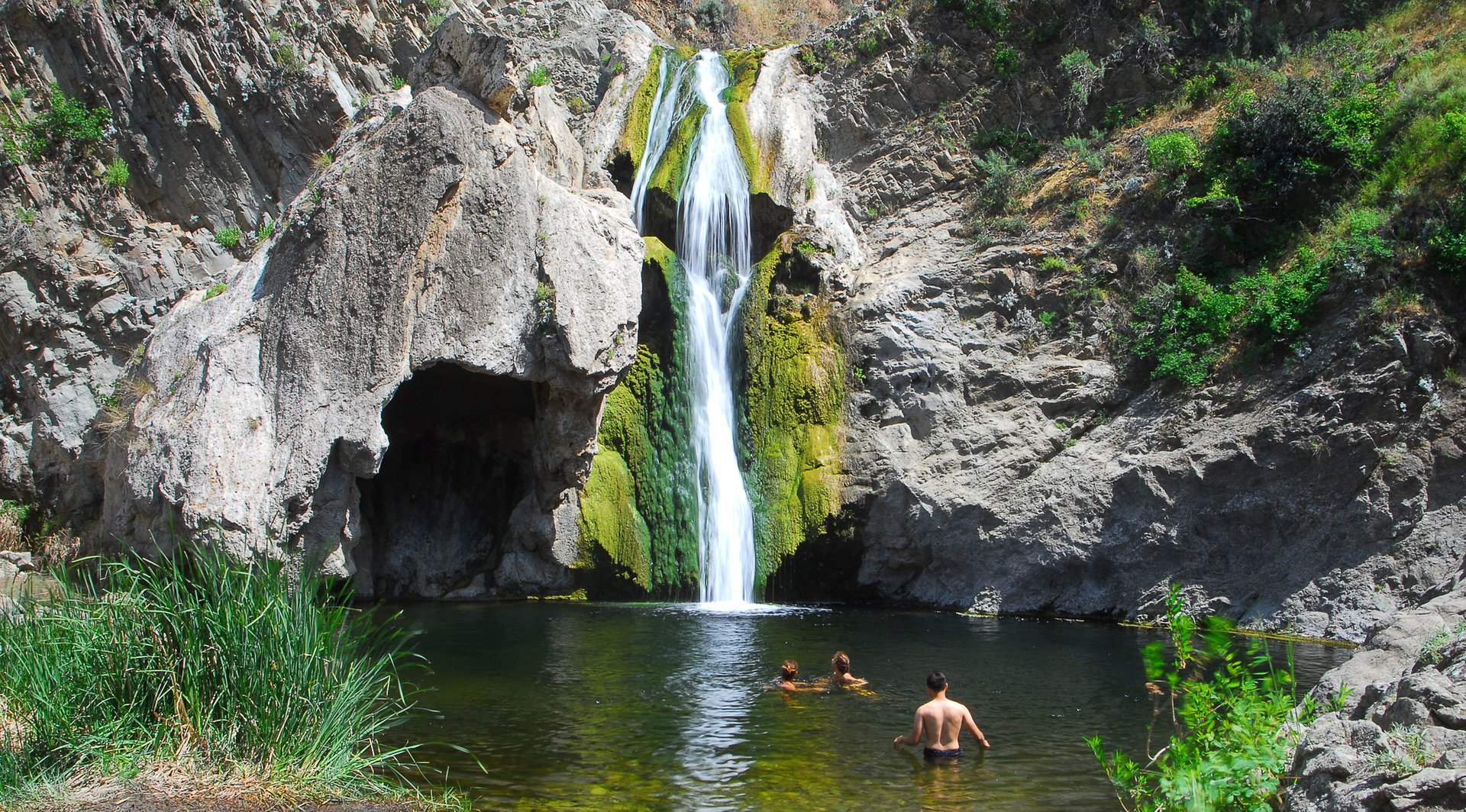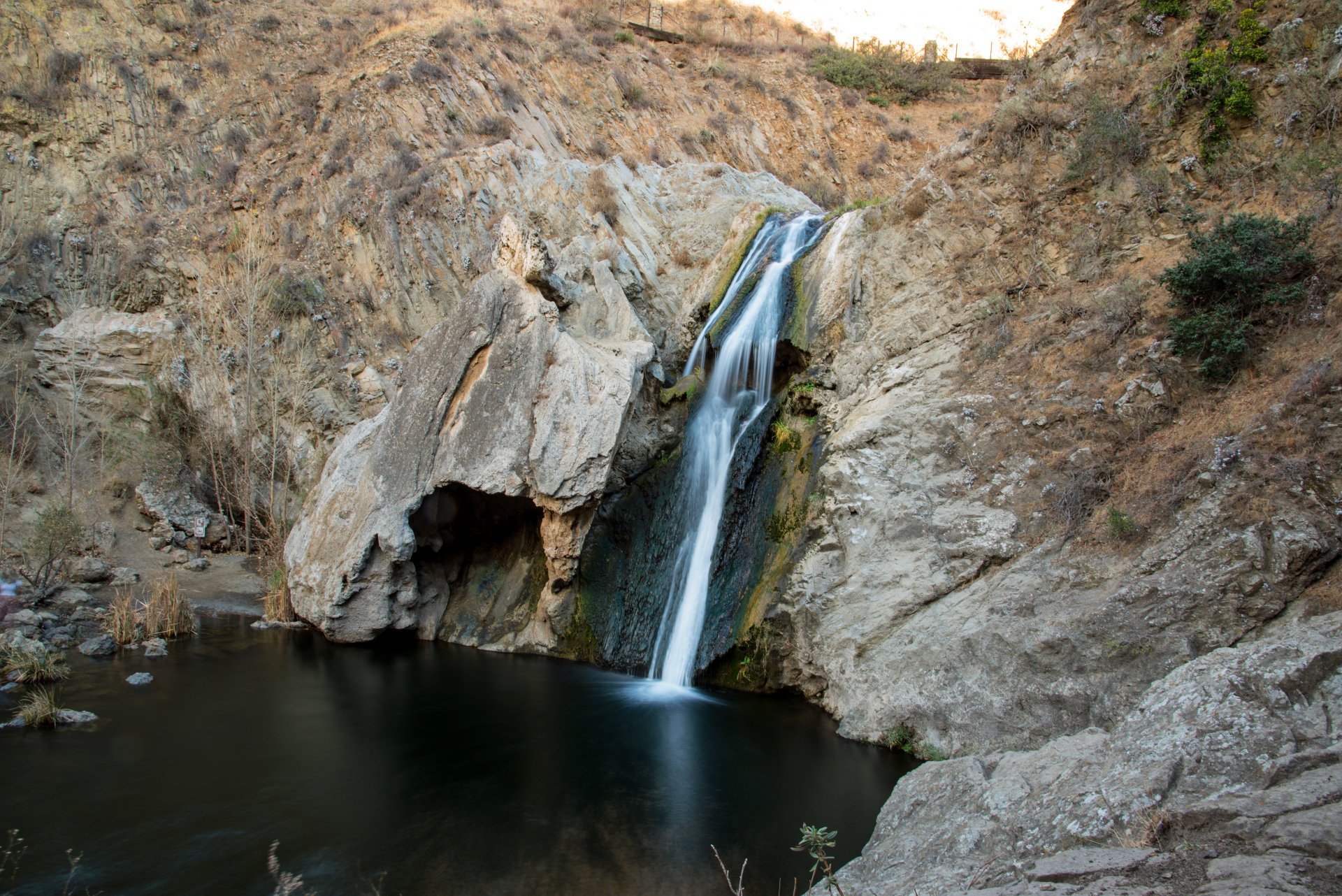 Paradise Falls, Thousand Oaks, California
See accommodations nearby
Paradise Falls
Featured in
Paradise Falls cascades 40 feet (12 m) down the steep canyon into a huge pool in Wildwood Regional Park, hence its second name of Wildwood Falls. The year-round flow makes it one of the rarest waterfalls that manages to get on well with the dry and hot climate of Thousand Oaks in the greater Los Angeles area. What's more, Paradise Falls is renowned among the top perennial falls within Southern California.
When is the best time to visit Paradise Falls?
The waterfall promises to impress regardless of the season, but we suggest that the best time of year to visit is September through May, excluding the sweltering summer months. Anyway, the temperature hovers around 70–80 °F (21–27 °C) in June and August and rarely plunges below 60 °F (16 °C) in winter. Note that the drop would be the most spectacular after rain. So keeping an eye on the weather forecast is also a great idea. Wildwood Park is open daily from 7:30 am until sunset. No matter what season you pick, make sure you bring along plenty of water.
Things to do at Paradise Falls
Unfortunately, swimming is not recommended in the deep creek beneath the waterfall, as the seemingly clear water is polluted with street runoff. However, you'll find other things to do around. Take your time to enjoy surrounding beauty while having a snack at one of the available picnic areas. Also, check out other Wildwood Park's attractions, including the famous Lizard Rock and Indian Cave. Or discover more waterfall hikes nearby, such as Escondido Falls.
How to get to Paradise Falls?
Paradise Falls is located in relatively close proximity to numerous cities, including Los Angeles (roughly 50-minute drive), Santa Barbara (an hour), Long Beach (1 h 10 min), Huntington Beach (1 h 30 min), and Palm Springs (2 h 20 min). As you reach the main parking lot, the easy to moderate trails network is there for you to navigate. The shortest hike to Paradise Falls is 1.5 miles (2.4 km) one way. Paradise Falls Trail is family-friendly and dog-friendly, with an elevation gain of around 300 feet (90 m). Take your hike easy from the start as you'll be walking downhill towards Paradise Falls. Save your energy for the return journey uphill. Many also choose to get to the waterfall by Mesa, North Teepee, and Moonridge Trail. This loop requires to walk about 2.7 miles (4.3 km) and its elevation gain is about 495 feet (151 m).
Where to stay at Paradise Falls?
Look at the Paradise Falls map below, choose from multiple lodging options, and book the one that suits you best in terms of location and price.
For any additional information regarding Paradise Falls, please contact California State Parks.
Find hotels and airbnbs near Paradise Falls (Map)
Paradise Falls
Featured in