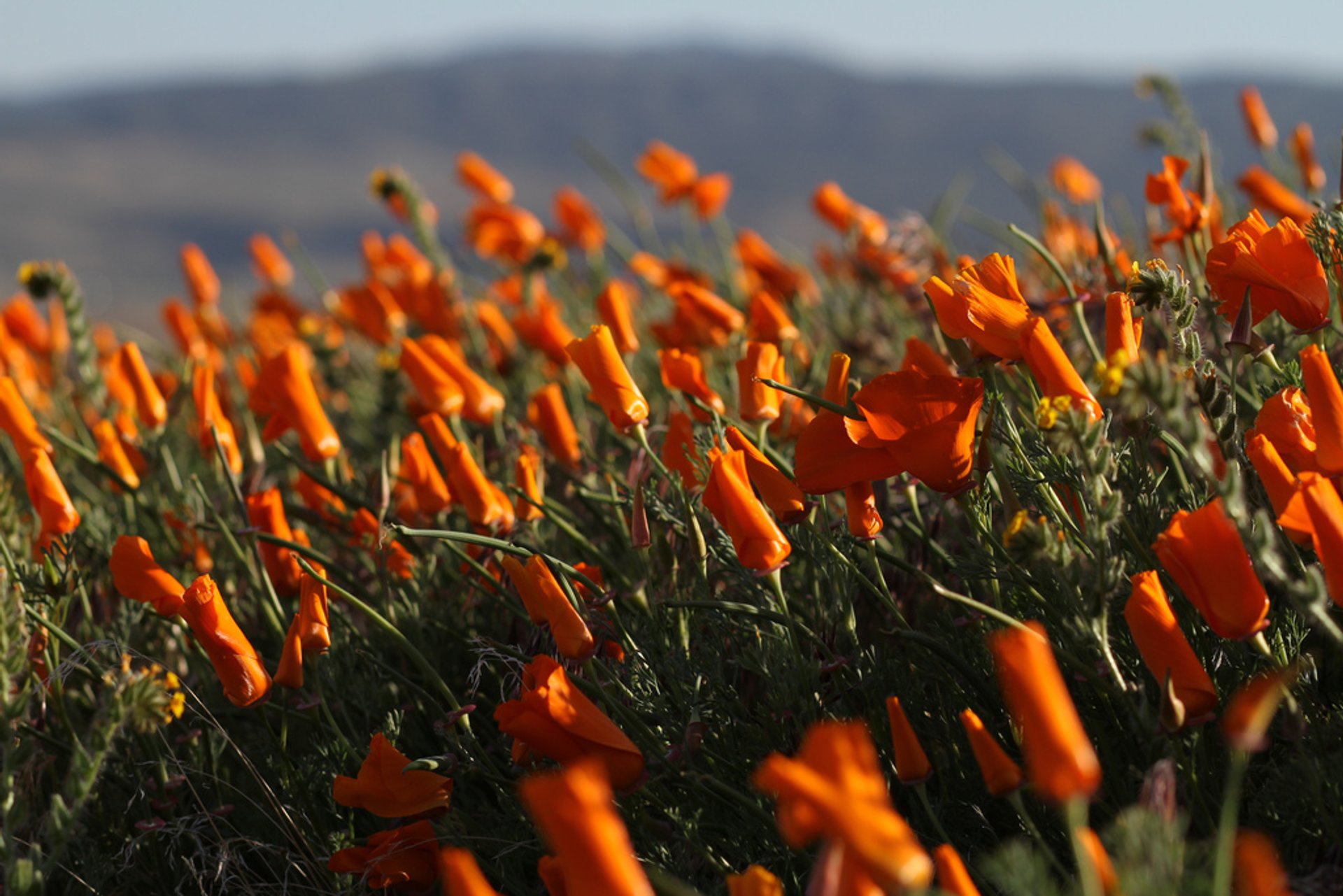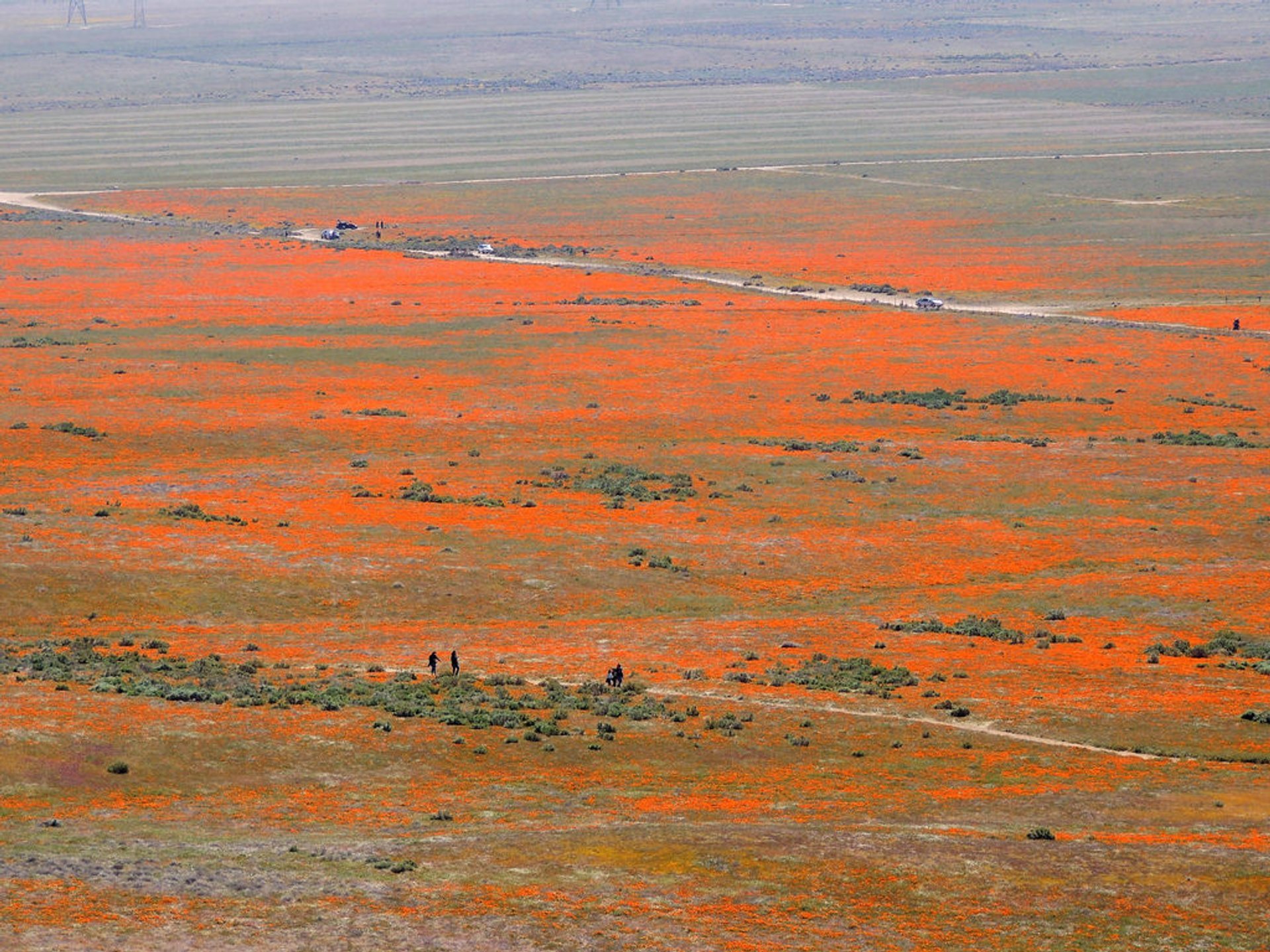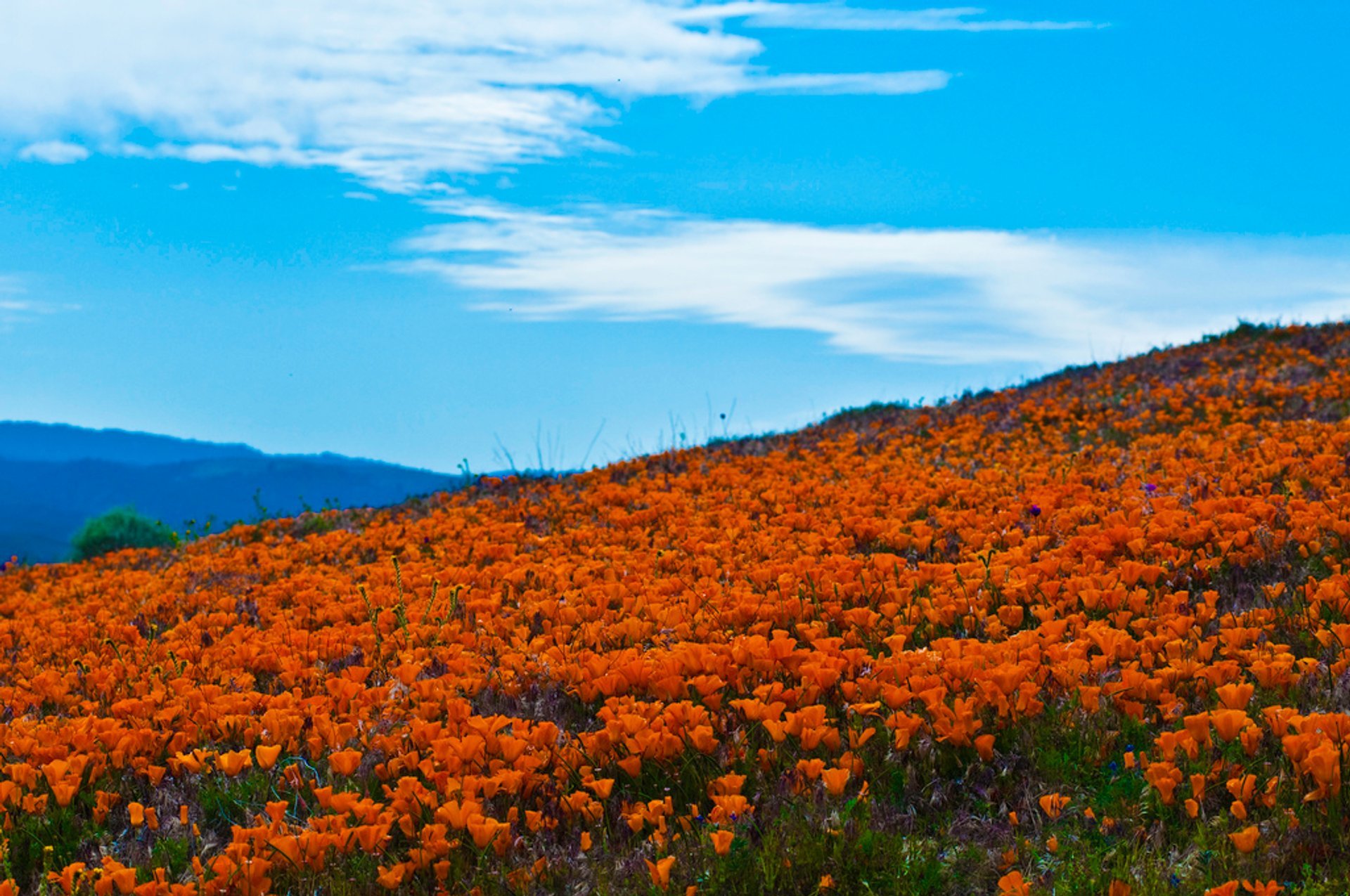 Poppy Season in the Antelope Valley
Featured in
Having received enough water from winter rains, dry grasslands west of Lancaster come alive with a vibrant flowering season every spring. Wildflower season usually starts at Antelope Valley California Poppy Reserve in late February and continues with new blooms every day through early May. Billions of poppies make for the most breathtaking sceneries of nothing but vast technicolor orange. The state national reserve is only 67 mi (107 km) north of Los Angeles.
When do poppies bloom in California?
Antelope Valley poppy season varies from year to year, with the first flowers popping up in late February and the peak bloom falling between mid-March and mid-April. The safest bet would be late March, as in April, tender blossoms might be swiped away by slashing spring winds.
Tips for viewing Antelope Valley poppies
Wear layers and carry adequate water
Antelope Valley Poppy Reserve is located in the western Mojave Desert at 2,624 to 2,925 ft (800 to 900 m), so get ready for a high desert environment. Besides wicked winds, the air temperatures may range largely during a day, thus, layered clothing will be useful. Besides, you'll need more water than you imagine, so better take extra supplies.
Be respectful
It goes without saying that poppies are not allowed to be collected. Anyway, they would wilt at once, and the seeds necessary for the next crop would be wasted. In fact, as this is a state reserve, everything within its territory is protected, including every grass blade and tiniest stone. Also, make sure that your vehicle doesn't go off the main road. And note that dogs and other pets aren't allowed in the reserve. If you see any, it must be one of the local staff's trained dogs.
Watch out for rattlesnakes
Rattlesnakes are also protected for they regulate the local rodent population, that would otherwise have eaten all the poppies. These snakes aren't aggressive, but they dislike being bothered. They rattle their tails to warn you about their presence, but you should be cautious yourselves. So walk slowly across the fields and be careful where you step.
California poppy fields east of Los Angeles
Even though Antelope Valley Reserve harbors the most consistent poppy bloom, you can find a few more places worth visiting in terms of poppy viewing. Should you be in the LA area in March, definitely check out such scenic areas as Chino Hills State Park, 35 mi (56 km) east of the City of Angels. Continue driving further south-east to behold Walker Canyon poppies, 63 mi (101 km) off LA.
Find hotels and airbnbs near Poppy Season in the Antelope Valley (Map)
Poppy Season in the Antelope Valley
Featured in