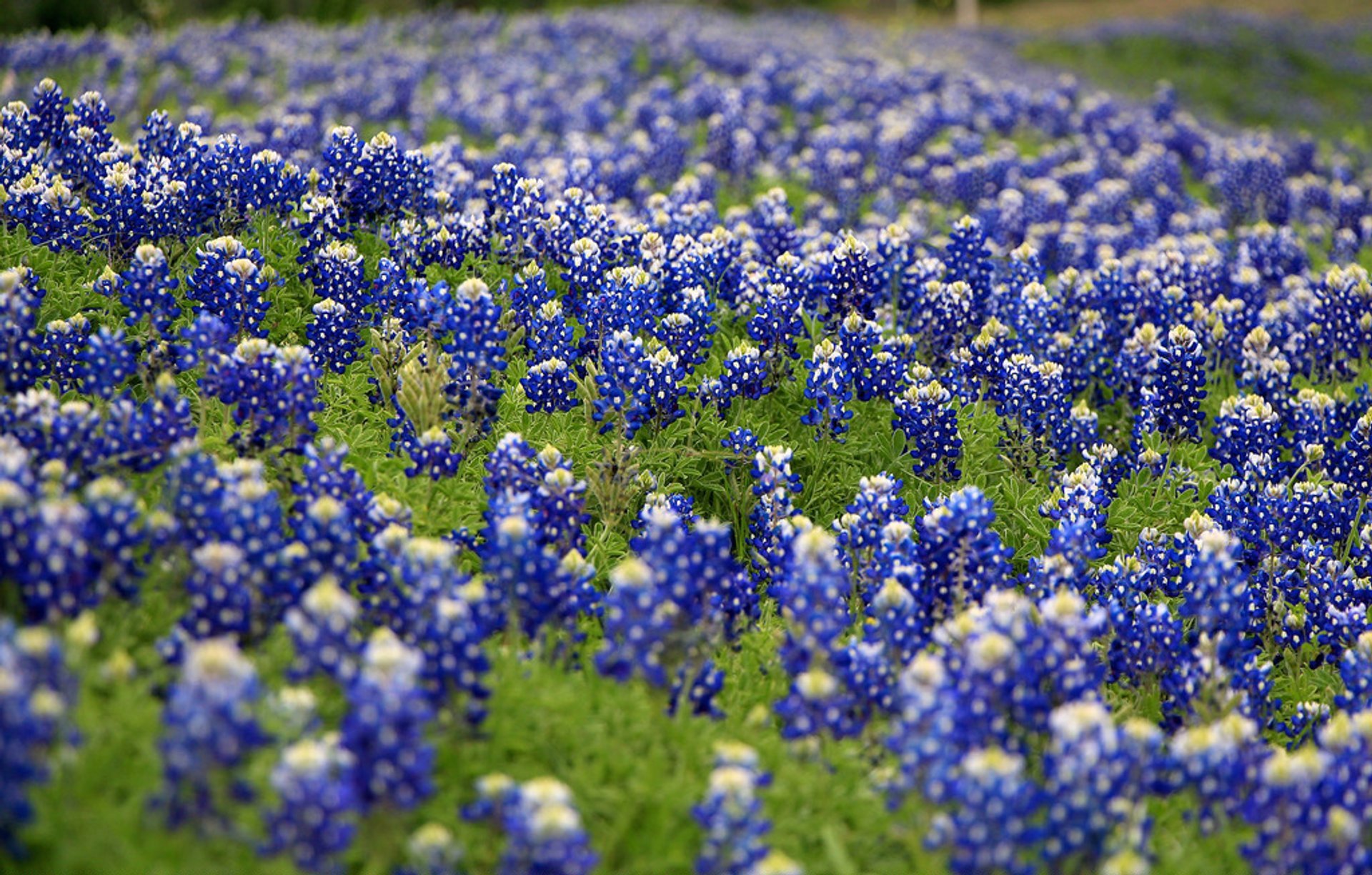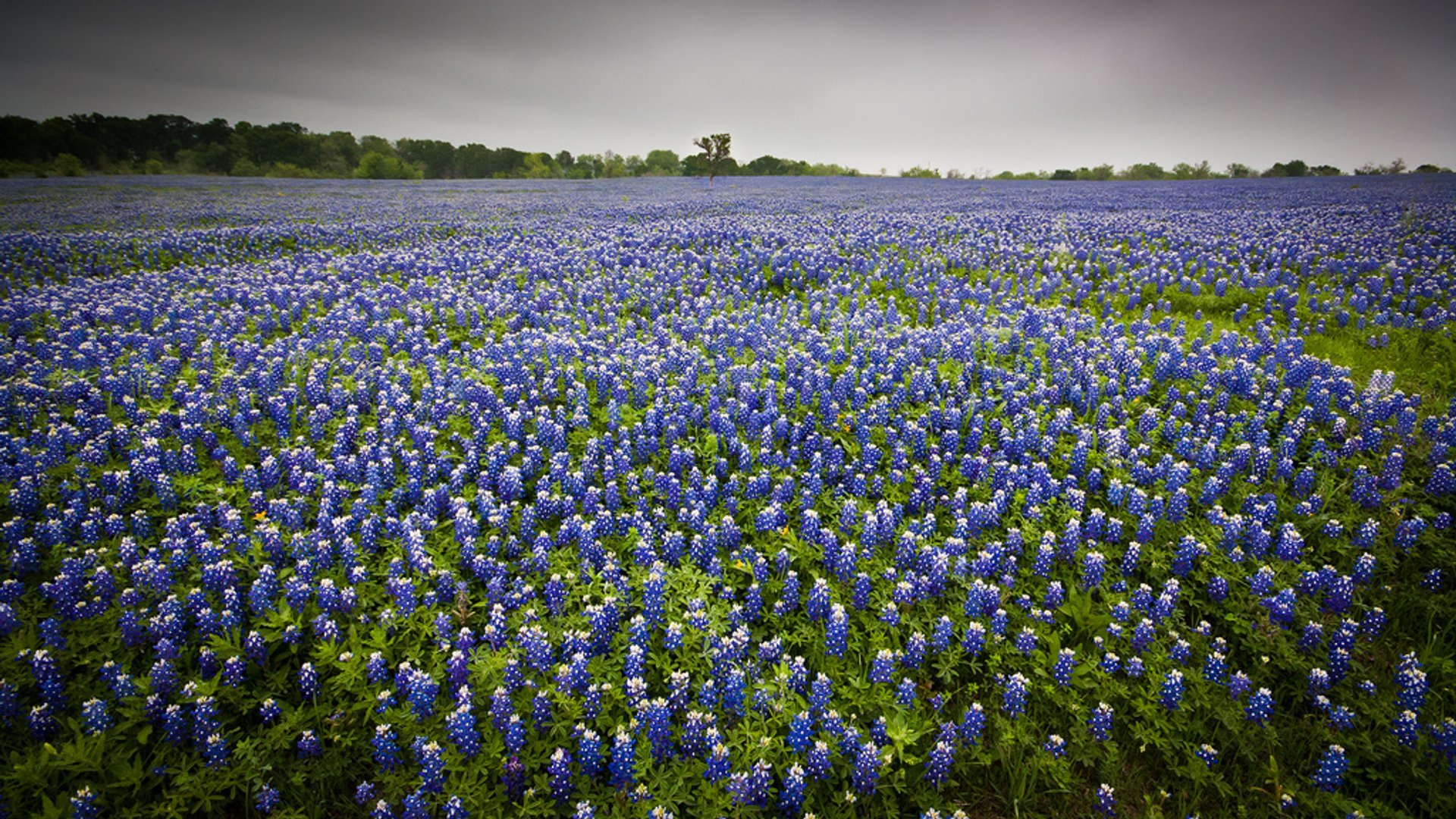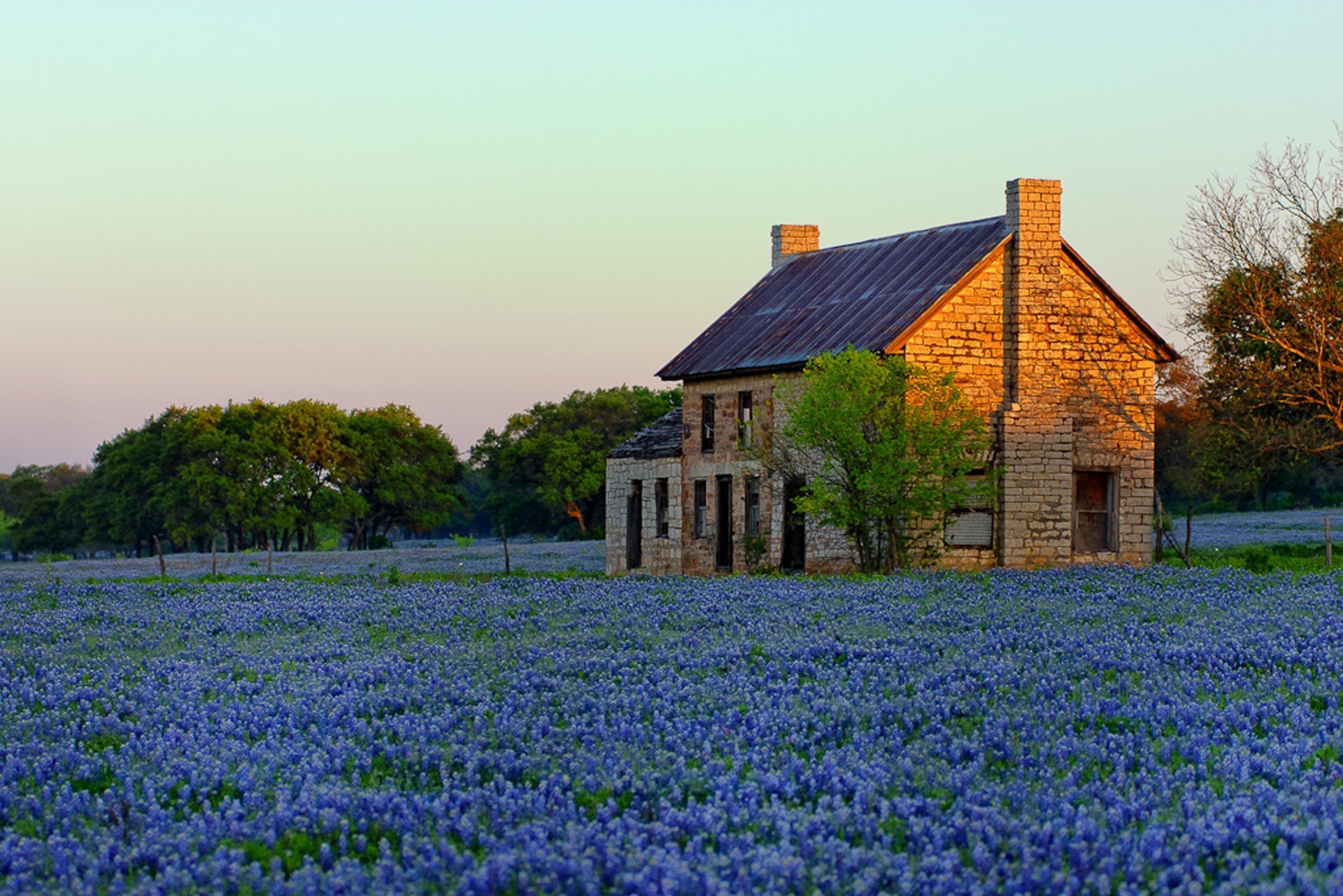 Texas bluebonnet (Texas lupine or Lupinus texensis) blooms between late February and April, but the season differs each year. When spring comes to the Lone Star State, these beautiful wildflowers blanket the hills and valleys around Dallas, Austin, Houston, and practically every corner of the state. The plant is also famous as one of the state symbols.
When do bluebonnets bloom in Texas
Generally, the fields bloom for about six weeks, roughly from late February or March through mid- or late April. The start of the season depends on many factors such as winter weather or soil quality and might differ depending on the area. Mild winters result in early bluebonnet season. The peak bloom usually falls in early-to-mid April. Also, on April 24th, a number of towns and cities in Texas celebrate State Wildflower Day.
Where to see bluebonnets in Texas
Three best spots to see a huge amount of beautiful Texas bluebonnets include Ennis near Dallas, the Texas Hill Country west of Austin, and also the Houston area. However, you'll discover many more fruitful locations if you simply travel across the state during the bluebonnet flowering season.
Ennis, Dallas area
One of the top locations is Ennis, which was designated as the home of the "Official Texas Bluebonnet Trail" and the "Official Bluebonnet City of Texas." Annually in April, it showcases over 40 mi (64 km) of mapped driving Bluebonnet Trails. Tens of thousands of visitors come here to observe the beauty of nature during Ennis Bluebonnet Trails Festival. The city of Ennis sits 35 mi (56 km) south of Dallas. However, there're more bluebonnet places to discover nearby. You can find them here.
Texas Hill Country, Austin area
Texas bluebonnet loves residing in the Hill Country. The perfect idea would be to go on a road trip and cover some of the most brilliant locations across the region. You can set off from Fredericksburg, continue to Marble Falls, then optionally check out the lesser-known Burnet and Llano. Some of the most impressive bluebonnet landscapes unveil on Willow City Loop and Highway 16 between Fredericksburg and Llano. Also, reserve some time for the scenic Highland Lakes Bluebonnet Trail which spans multiple cities, including Burnet, Llano, and Marble Falls. Additionally, each of the spots listed above boasts its own highlight. While visiting Fredericksburg, stop by Wildseed Farms, the largest working wildflower farm in the US with beautiful bluebonnet displays. When in Marble Falls, visit Turkey Bend Recreation Area, take a perfect shot against the famous Bluebonnet House, and pay a visit to the Blue Bonnet Cafe. The city of Burnet is the glorious Bluebonnet Capital of Texas, where you may find lots of bluebonnet trails and attend a bluebonnet festival. Lastly, the main advantage of the small town Llano is the lack of popularity, which allows you to enjoy bluebonnets without crowds.
Houston area
You'll also discover tons of awesome bluebonnet sites in and around Houston. Some of the top spots include Buffalo Bayou, Terry Hershey Park, and Blessington Farms. If you're visiting in early April, head to the Chappell Hill Bluebonnet Festival, situated in an hour-drive north-west of the city. The small town of Chappell Hill celebrates the season with live music, vendors, as well as historical and bluebonnets tours.
Tips for enjoying Texas bluebonnets
Contrary to a pop rumor, plucking the flowers is not illegal. However, you're kindly asked not to pick bluebonnets. Also, be courteous to landowners and make sure you're visiting public land. When visiting Texas specifically for bluebonnets, check the current situation and make sure you go in season. If you like to plan well ahead, early April will be your safe bet. Also, book your accommodations in advance. And last, but not least—bring bug spray and wear closed-toe shoes for extra safety.
Find hotels and airbnbs near Bluebonnets (Map)