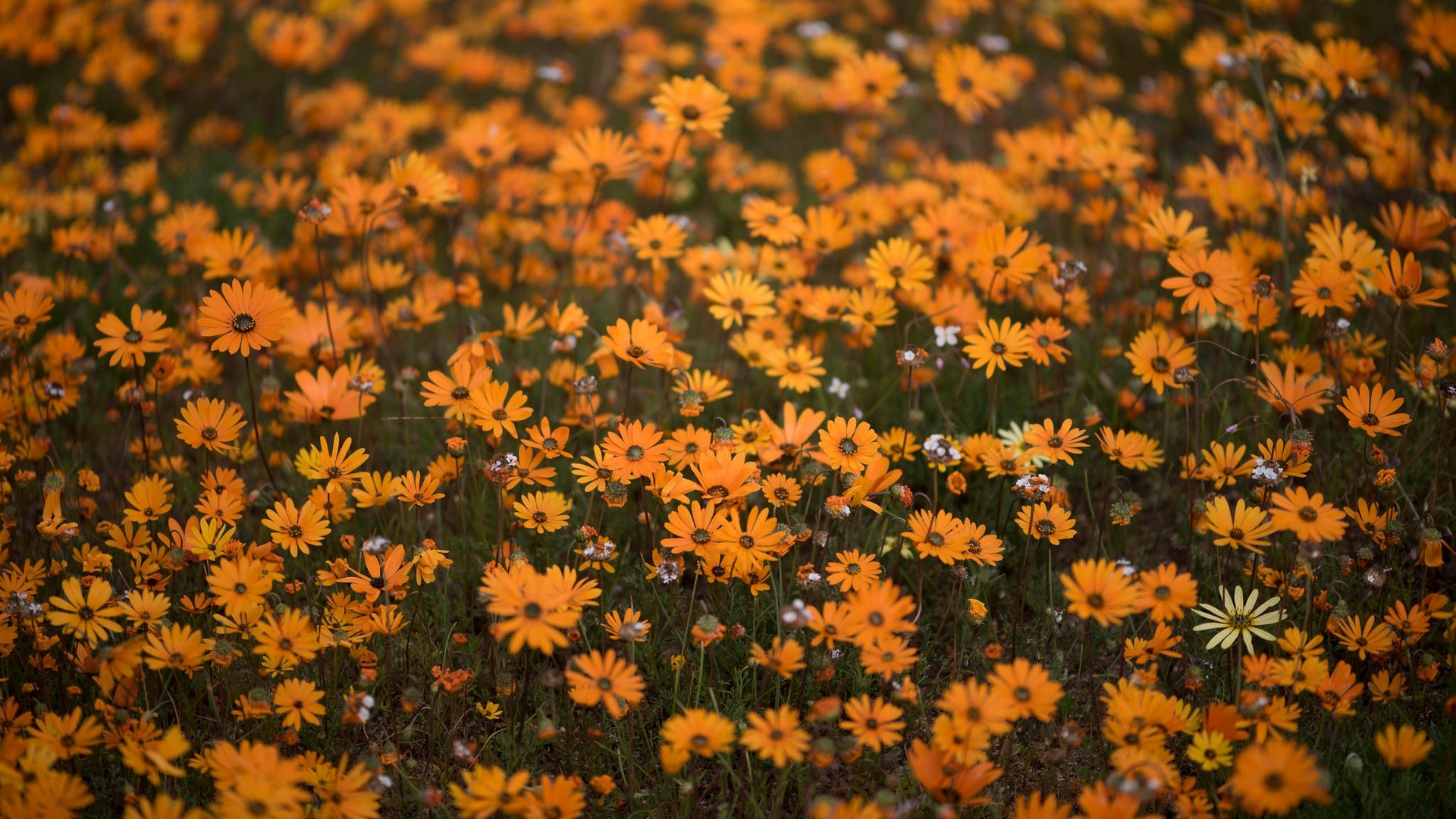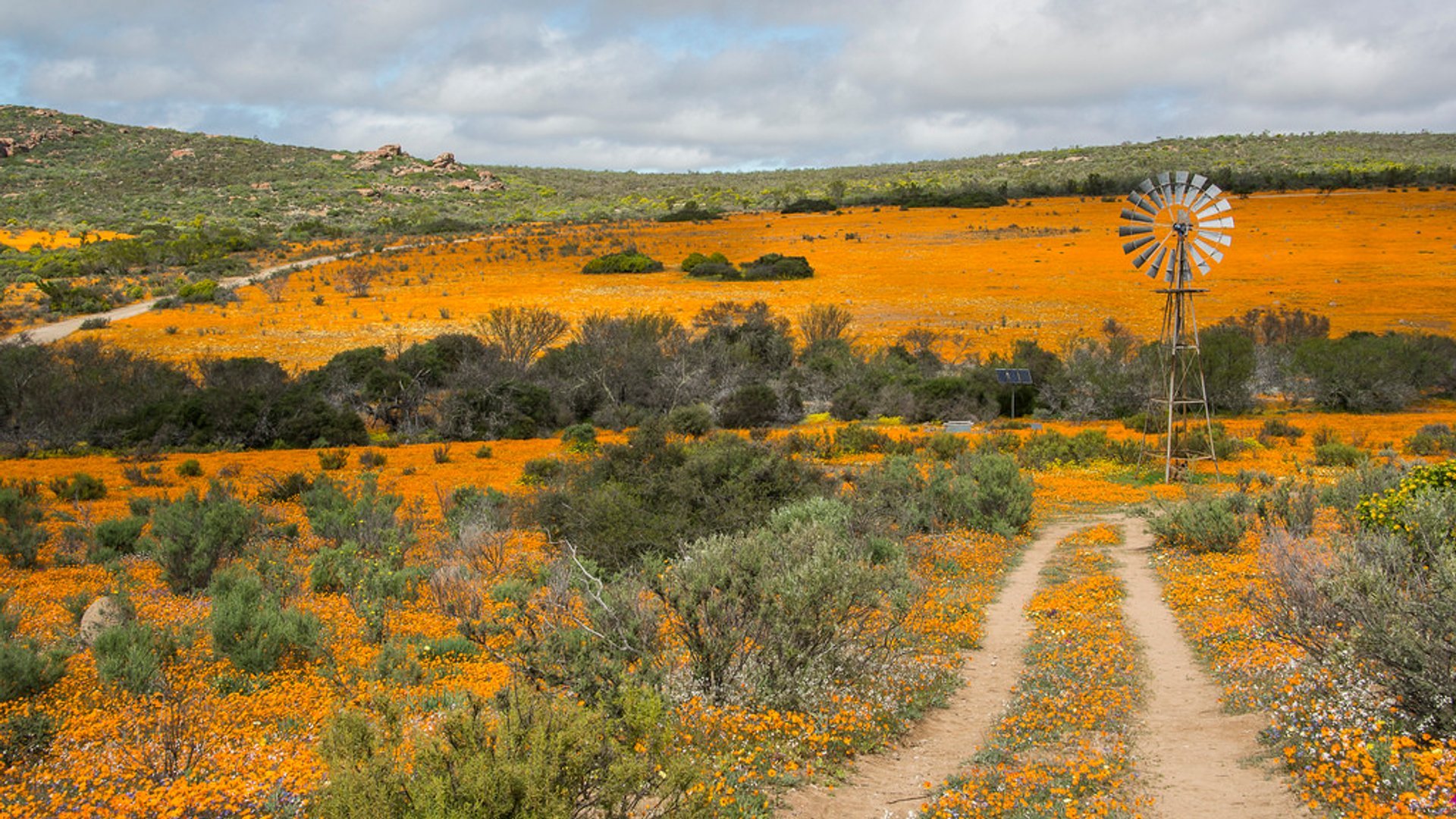 Namaqualand daisies never cease to delight residents and visitors of the region. Normally, it's a rare occasion to find a desert abloom. Arid areas transform into a flowering garden only once in quite a long while. But not in Namaqualand (or Namakwaland in Afrikaans),—it's the world's only exception that flourishes every spring. With just 150 mm of rain per year this large arid area turns into a lush flowering field. At a distant look, one might presume these are the same orange daisies all over, but when you take a close-up look, you'll discover an endless variety of flowers. Not only daisies themselves occur in various shapes and shades of orange, but also other rare flowers pop out among evidently prevailing daisies: lilies, aloes, and perennial herbs.
Owing to such a unique natural phenomenon, the area has been protected as the Namaqua National Park. Locals actually make a living from tourism based on the flowering desert. Hence, it's often mistakenly assumed that the keepers plant the flowers themselves in order to draw tourists and maintain business. But in fact, it's all attributed to bees and other insects that perfectly perform their pollinating duties. In fact, every year the area seems to bear different flowers, and it's always a sort of intrigue and surprise for the keepers themselves.
Best time to view Namaqualand flowers
The Namaqualand flower season is relatively short: it usually begins in the second week of August and is over by the second week of September, yet it varies from year to year, depending on the amount of rain and temperatures. Also, flower season depends on the location: the further north, the earlier the blooming starts. The flowers open up in the morning and close in the afternoon, at about 4 pm. So you have to get up early not to miss the orange nature show. Generally, local tour operators suggest arriving with an attitude of acceptance as the flowers are elusive and might not be as abundant as one expects.
Namaqualand tours
One of the most popular options is a car rental combined with local tour operator recommendations and accommodation reservation. The flexibility and freedom to move at your own pace are worth the effort. Another option is a private flower tour for about five days. These tours usually gather small groups of like-minded enthusiasts led by a knowledgeable guide. It takes some stress off from the planning and gives a chance to find the best flower-viewing spots.
Namaqualand Flower Route
The Namaqualand Flower Route is a stretch of about 500 mi (800 km) that connects cities and national parks, taking visitors through South Africa's most impressive wildflower displays. The Namaqualand Flower Route runs some five hours north of Cape Town. The top flower areas are scattered around the towns of Garies, Springbok, and Port Nolloth, along the N7 route.
Visitor tips
Check the weather forecast in advance to make sure you are at the peak blooming season in Namaqualand. Make sure to book early as lots of people want to witness the beauty of the Namaqualand flowers, and most official tours are booked a few months in advance. When planning a road trip, start your journey up north and then make your way to Cape Town. In case you missed the peak blooming in Namaqualand in mid-August, you might consider heading to Cederberg in late August or West Coast in early September.
Namaqualand accommodation
After a long day of driving and hiking along the Namaqualand Flower Route, you can stay in any of the towns along the route. One of the best places to stay overnight is Port Nolloth. From there, you may explore Richtersveld National Park at the Namibian border with its rich fauna and flora. Namaqualand region offers lots of country lodge options. Self-catering cottages on the beach, guesthouses with patios and terraces offering ocean views, beach houses—the list is endless. Staying overnight at Namaqua Flower Beach Camp or Skilpad Flower Camp promises a vast landscape dotted with wildflowers and starry skies. Browse the Namaqualand accommodation map below and book your lodging in advance as the best rooms get booked up early.
Find hotels and airbnbs near Namaqualand Flowers (Map)