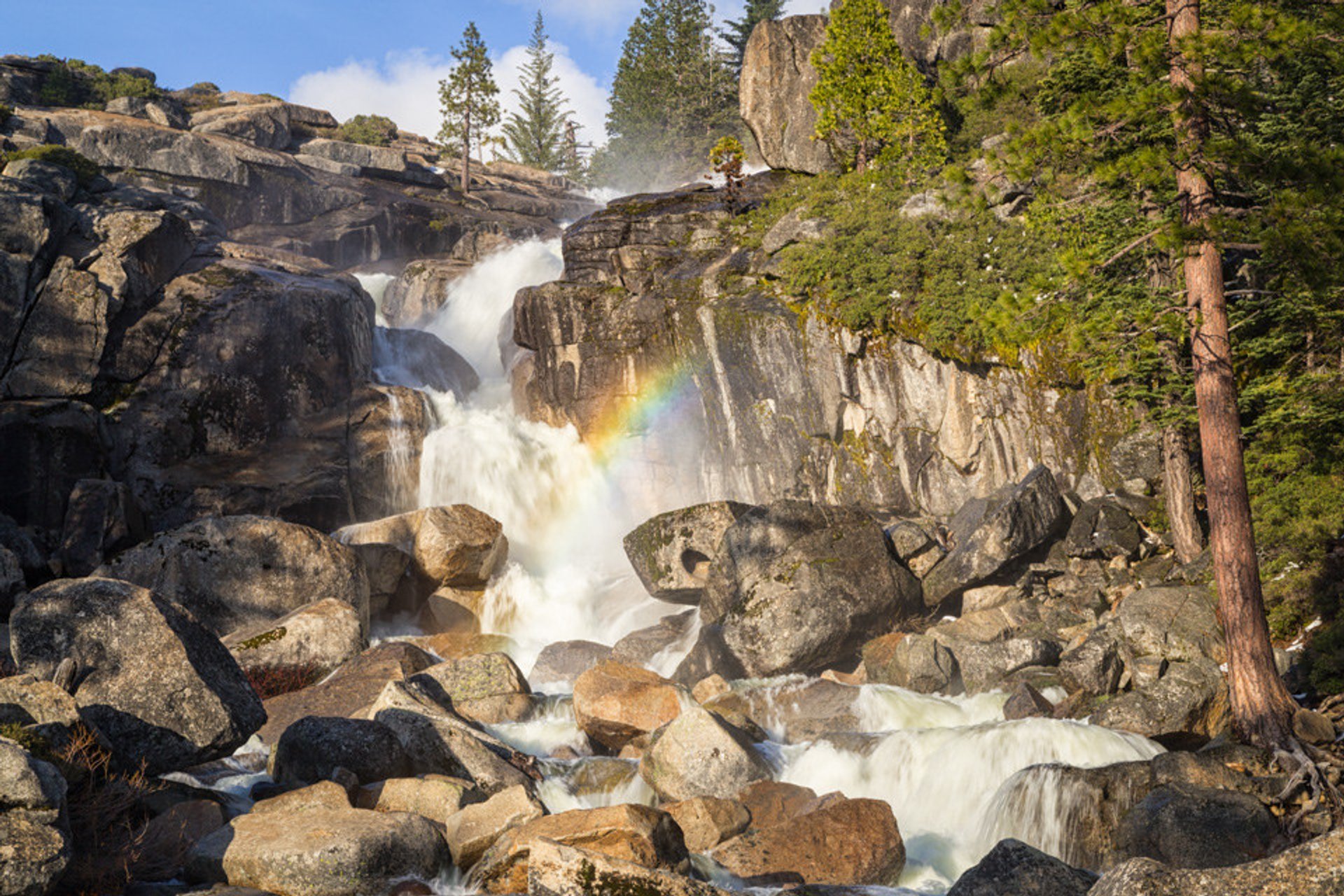 ©
Optimal Focus PHOTOGRAPHY
See accommodations nearby
Bassi Falls is a scenic waterfall in the Sierra Nevada mountain range, located to the west of Lake Tahoe in the Crystal Basin area of the El Dorado National Forest. Being 109 ft (33 m) tall and nestled between large boulders and towering pines, Bassi Falls can be reached via a 1.2-mile (0.74 km) trail with an elevation gain of 250 ft (76.2 m). The hike takes only about 10-15 min. Bassi Falls trailhead is located at the end of a rural dirt road, suitable for all-wheel-drive vehicles.
When is the best time to visit Bassi Falls
The best time to visit Bassi Falls is during the snow run-off, which is from late April into May. At that time, the waterfall has its peak flow, displaying serious power and force. Usually, there is not much to see in the summer as Bassi Creek tends to get dry. However, due to exceptionally wet winters since 2017, the season might soon expand, so the falls are expected to be impressive well into the summer and beyond.
Things to do at Bassi Falls
The plunge pool of Bassi Falls is quite small, but it can fit a few people. Also, there are a few swimming holes on Bassi Creek that are perfect for relaxation after an intense hike. Another good idea is to explore El Dorado National Forest a bit more. Caples Creek Trail, Granite Lake Trail, and Thunder Mountain are some of the most popular hikes. There are over 250 developed rock-climbing routes, mountain biking trails, and fishing lakes.
Where to stay at Bassi Falls
Camping is not permitted along the Bassi Falls trail. However, you can spend the night in just minutes from the trailhead, at Wench Creek Campground located on the northeast side of Union Valley Reservoir in the Crystal Basin area of the Eldorado National Forest.
Find hotels and airbnbs near Bassi Falls (Map)