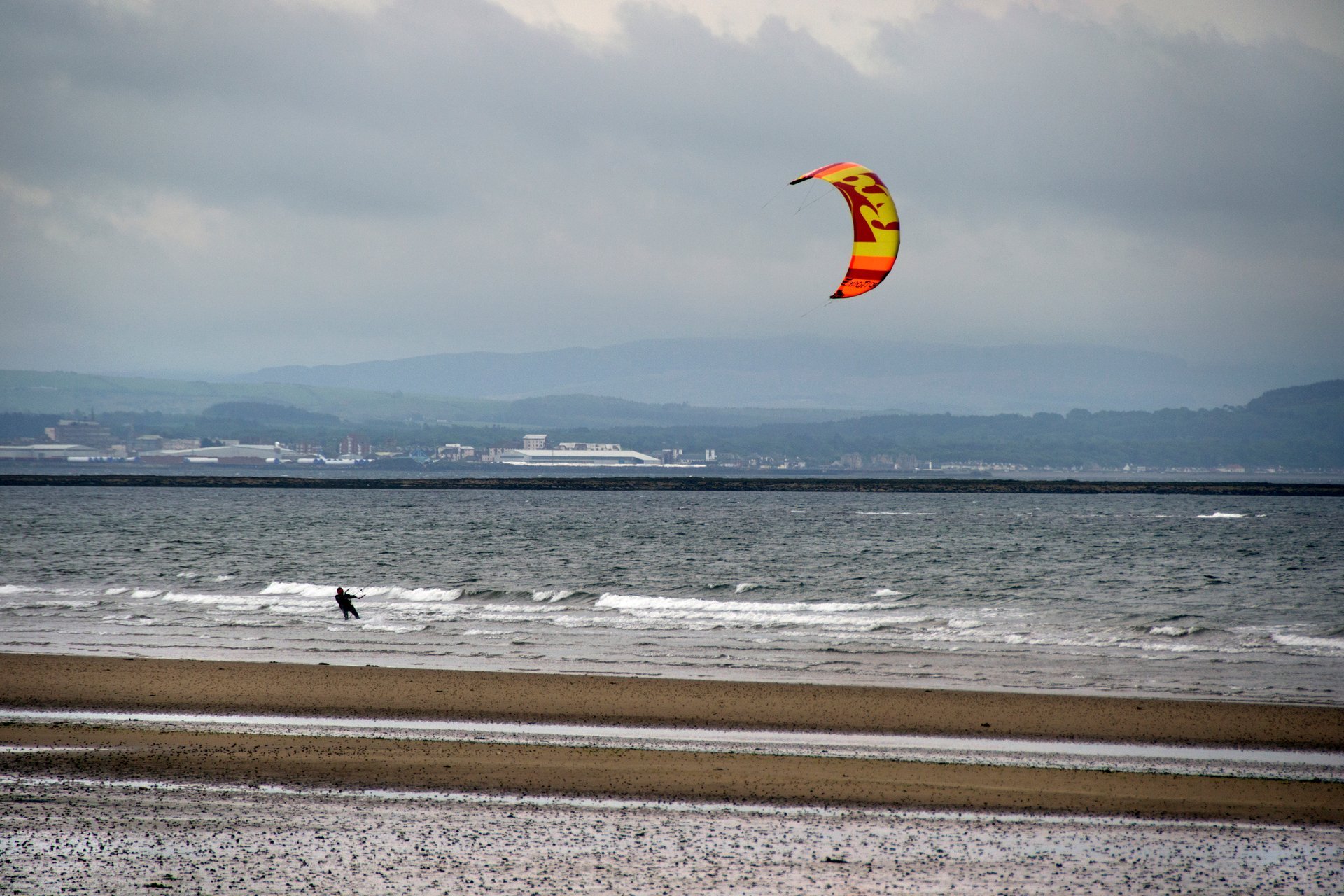 Kitesurfing is on the rise in the UK, which is not surprising considering that the country has some of the best beaches in the world for kiters. The climate, of course, is not tropical though, so you will need a full wetsuit at all times. Spring and warm summer months are generally considered to be the best season for kitesurfing or windsurfing. But it's still a year-round activity in the UK.
St Ives Bay and Gwithian Beach in Cornwall are among the best kiting spots in the country, attracting top UK athletes such as British Kitesurfing Wave Champion Lee Pasty. It's famous for wave sailing, but flat-water places are also available. It features high swells from the Atlantic.
The south coast of England is not only beautiful. It also features many excellent windsurfer spots. Poole Harbour in Dorset attracts kitesurfers of all levels. Harbour shallow water offers excellent conditions for beginners, while the open sea has some exciting waves and winds. There are at least five kitesurfing schools and rentals in the area. Weymouth Harbour is another suitable Dorset location that hosts the Weymouth Speed Week for windsurfing and kiting every fall.
East and West Sussex also have many kitesurf spots. West Wittering in West Sussex is suitable for beginner and intermediate levels due to protection from the sandbanks. Lancing Beach is a favorite kite destination there. The coast between Hove and Brighton features Lagoon Water Sports Center offering windsurfing lessons in a shallow protected lagoon. Brighton is not only a big entertainment center but also home to the Brighton Kitesurf and SUP Academy. Camber Sands nearby is another safe location for beginners. A sizeable coastal lake gets consistent sea breezes.
Other signature windsurfing destinations in the UK include Dale in Pembrokeshire, Wales. The Pembrokeshire Coast National Park is known as the sunniest place in Wales. It also has superb wind conditions and plenty of the schools to help you practice your windsurfing skills. Rhosneigr in Anglesey attracts the UK's best windsurfers. It also hosted British National Wave Championships.
The Island of Tiree off the west coast of Scotland north of Glasgow offers spectacular waves and wind from the Atlantic. It also happens to be the sunniest place in the UK. It also attracts many windsurfers. The Tiree Wave Classic is held here every October.
Find hotels and airbnbs near Kitesurfing & Windsurfing (Map)