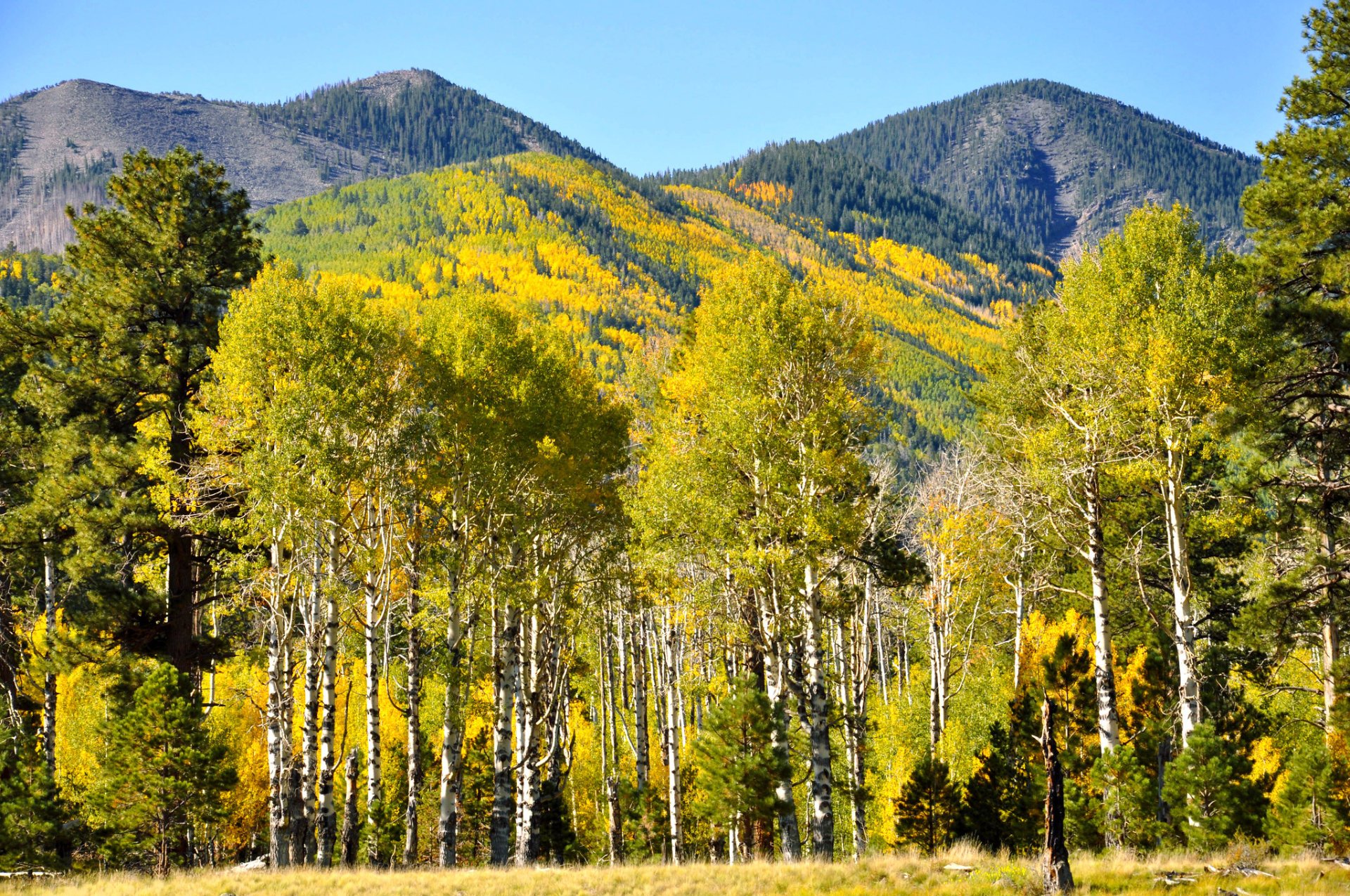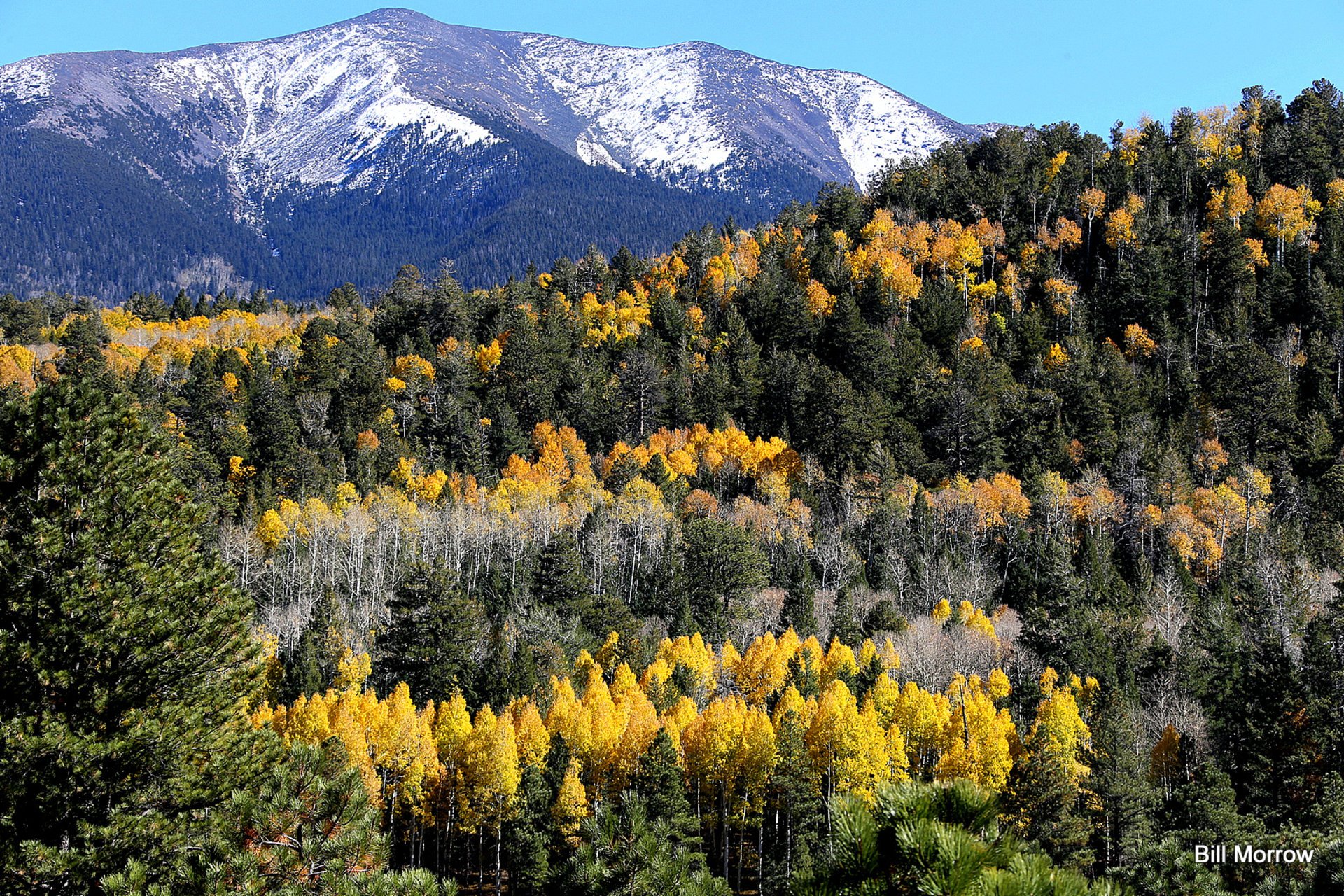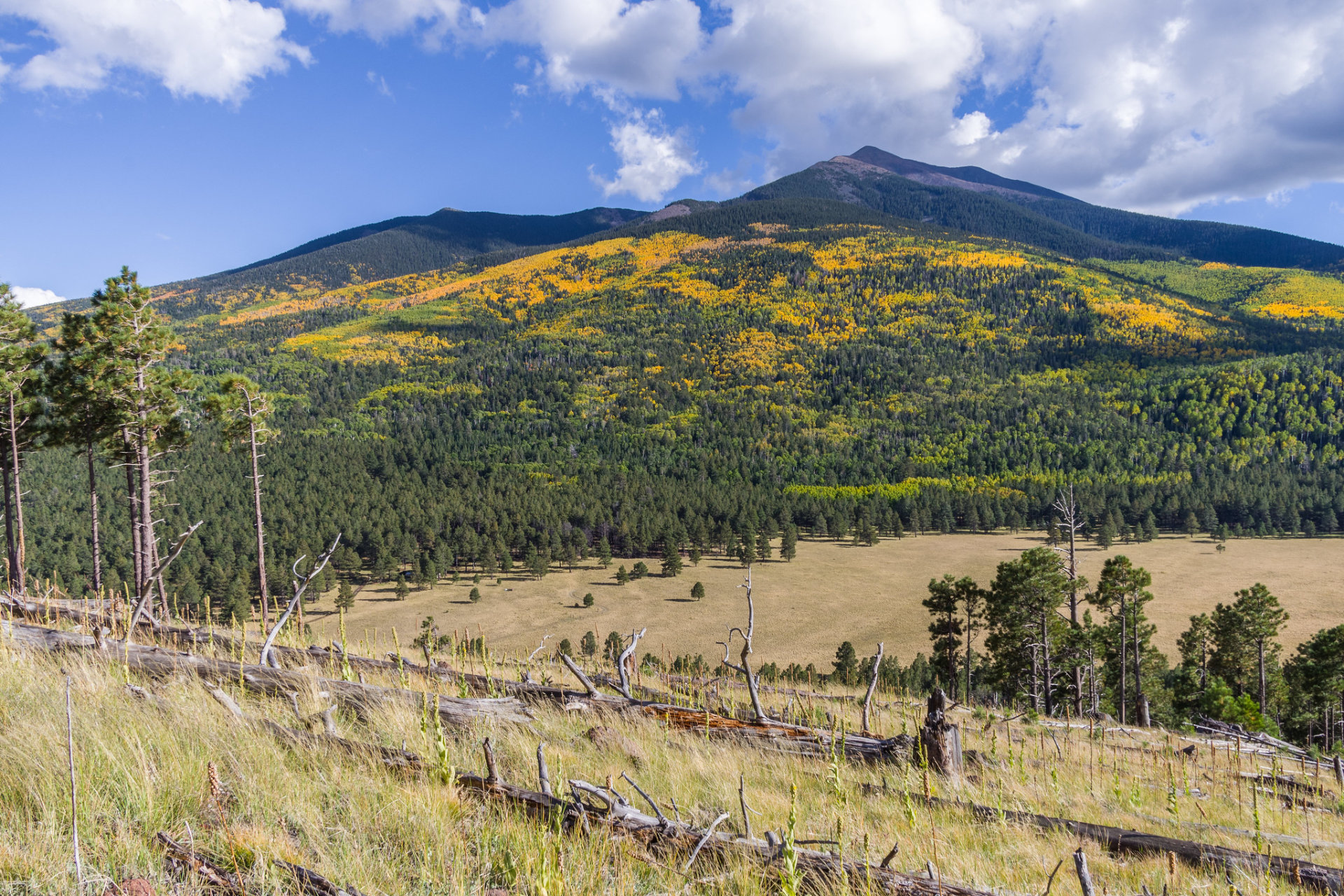 Lockett Meadow, north of Flagstaff
Coconino National Forest/Brienne Magee
Flagstaff is a paradise for any hiker or outdoor enthusiast. With gorgeous San Francisco Peaks towering over the city, Flagstaff is just minutes away from Humphreys, Arizona's tallest mountain, and the famous Arizona Snowbowl ski resort. The mountains, covered by picturesque forests and aspen groves, look the best in the fall months, colored with different shades of yellow, red, and bronze. A great variety of trees can be seen in the city too, especially in the downtown area where maples and oaks line the historic streets with some buildings dating back to the 1890s.
When is the best time to see fall colors in Flagstaff
Flagstaff fall foliage season usually starts in late September and lasts throughout October. In some years, you can still catch a glimpse of spectacular foliage in the first half of November, especially, south of the city, closer to Sedona. However, October will be your best bet to see the peak color-change in the area. Generally, in Arizona, fall foliage season can stretch through November and even into December.
Best places to see fall foliage
Arizona Snowbowl
Because of the stunning views of the San Francisco Peaks, covered with yellow aspens, Arizona Snowbowl is the top leaf-peeping destination in Flagstaff. Take the scenic Aspen Nature Loop near the base of Arizona Snowbowl ski resort, an easy 1.8 mi (2.8 km) hike. Bikers could enjoy a leisurely 7 mi (11 km) ride up Snowbowl Road, where yellow and green landscapes are created by aspens mixed with pines. At the end of Snowbowl Road, you can take the Scenic Chairlift to enjoy panoramic views of the mountains.
Aspen Corner, located about 6.5 mi (10 km) up Snowbowl Road, is one of the most photographed places in Flagstaff. Bright yellow aspens in their full glory are a must-see in October.
San Francisco Peaks
The 3.4 mi (5.5 km) Inner Basin Trail is one of the most popular hikes near Flagstaff. Yellow aspens are very showy with evergreens in the background. The main highlight of the trail is Lockett Meadow. This aspen grove features campsites and picture-perfect picnic spots. However, make sure you arrive at the trailhead early due to heavy traffic during fall foliage season. Hart's Prairie Preserve, located at the base of the San Francisco Peaks, is another perfect fall biking destination, which can be reached by Hart Prairie Road. On your ride, you will pass beautiful aspens, radiant with fall colors.
Flagstaff Arboretum
Flagstaff Arboretum is a 200 ac (80 ha) botanical garden that is located at an elevation 7,150 feet. This vast park is home to over 2,500 species of mountainous flora. The trees transform the arboretum into a golden foliage oasis, which is perfect for a weekend family outing. The park features a pumpkin trail and many activities for kids.
Oak Creek Canyon
South of Flagstaff, Coconino National Forest is especially scenic in the fall due to lush foliage displays. In particular, Oak Creek Canyon is a perfect destination for a fall hike. Oak Creek Canyon shows off various shades of yellow, orange, and red—a leaf-peeping paradise perfect for fall-time photography. To appreciate the beauty of the area fully, you can take a scenic drive along Hwy 89A, connecting Flagstaff to Sedona.
Surrounded by beautiful nature, the city of Flagstaff is especially attractive throughout October. Vibrant colors transform the downtown Heritage Square, which is a perfect place to sit back and enjoy a warm fall day while getting ready for your next hiking adventure.
Find hotels and airbnbs near Fall Colors (Map)