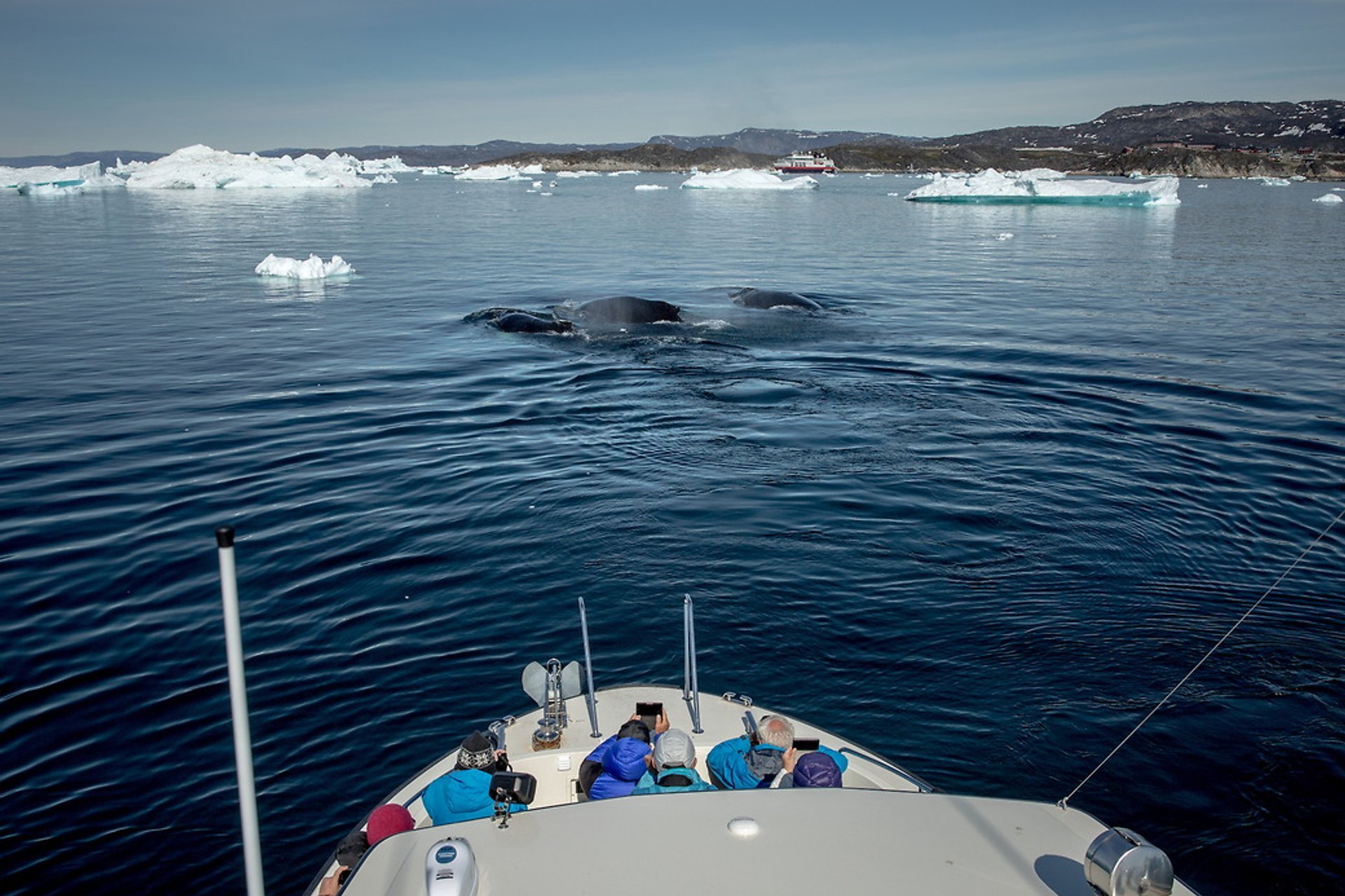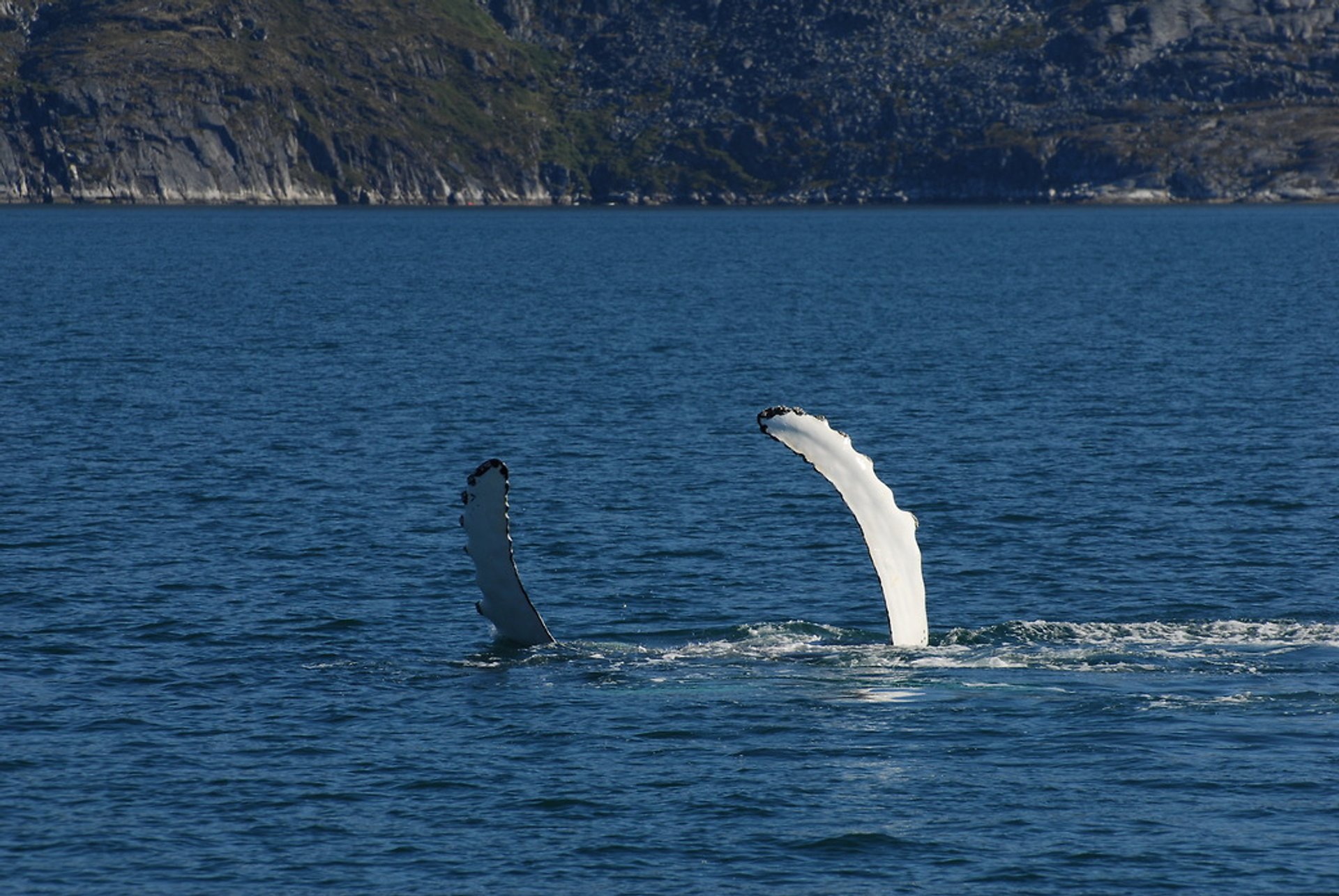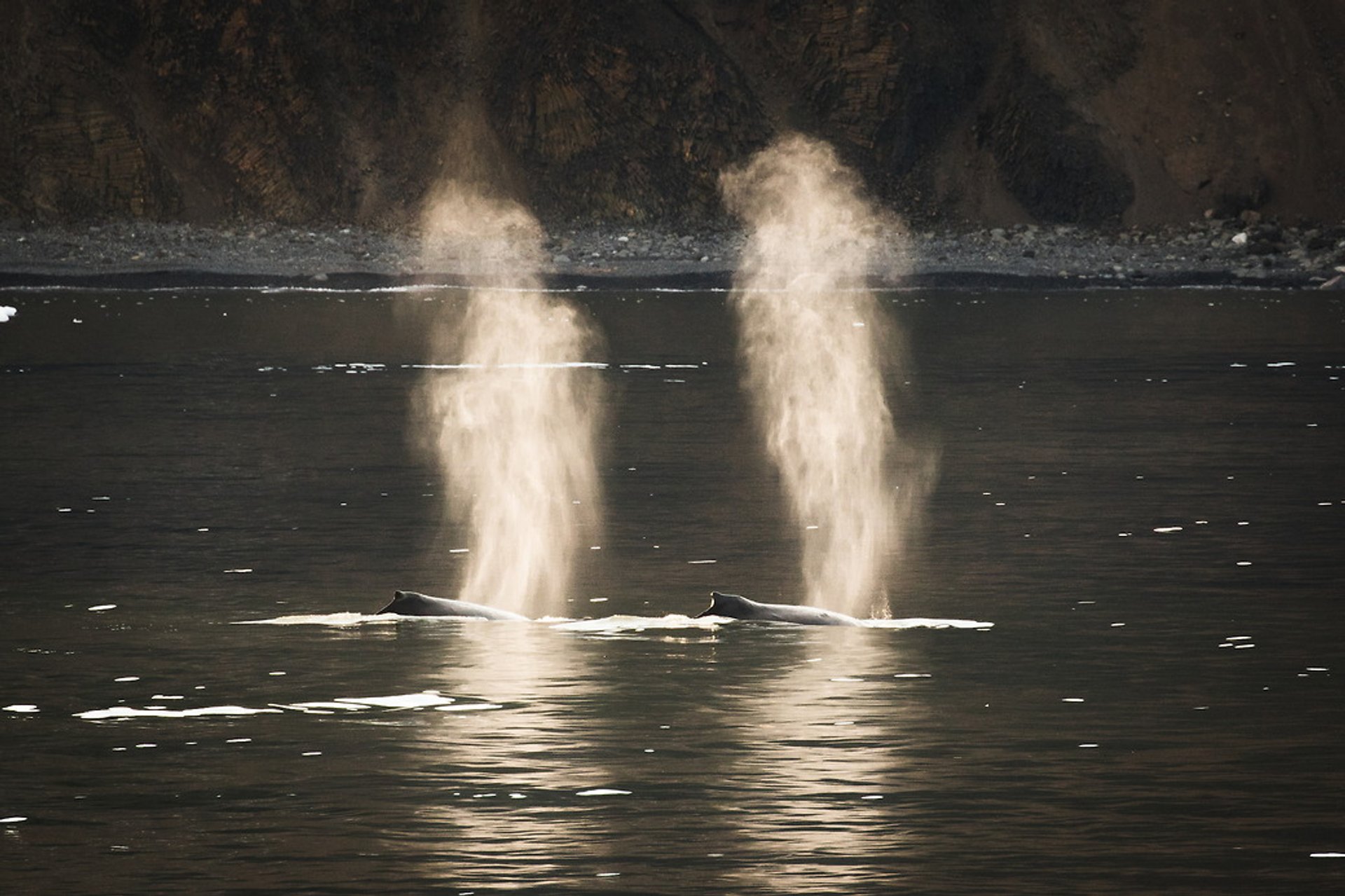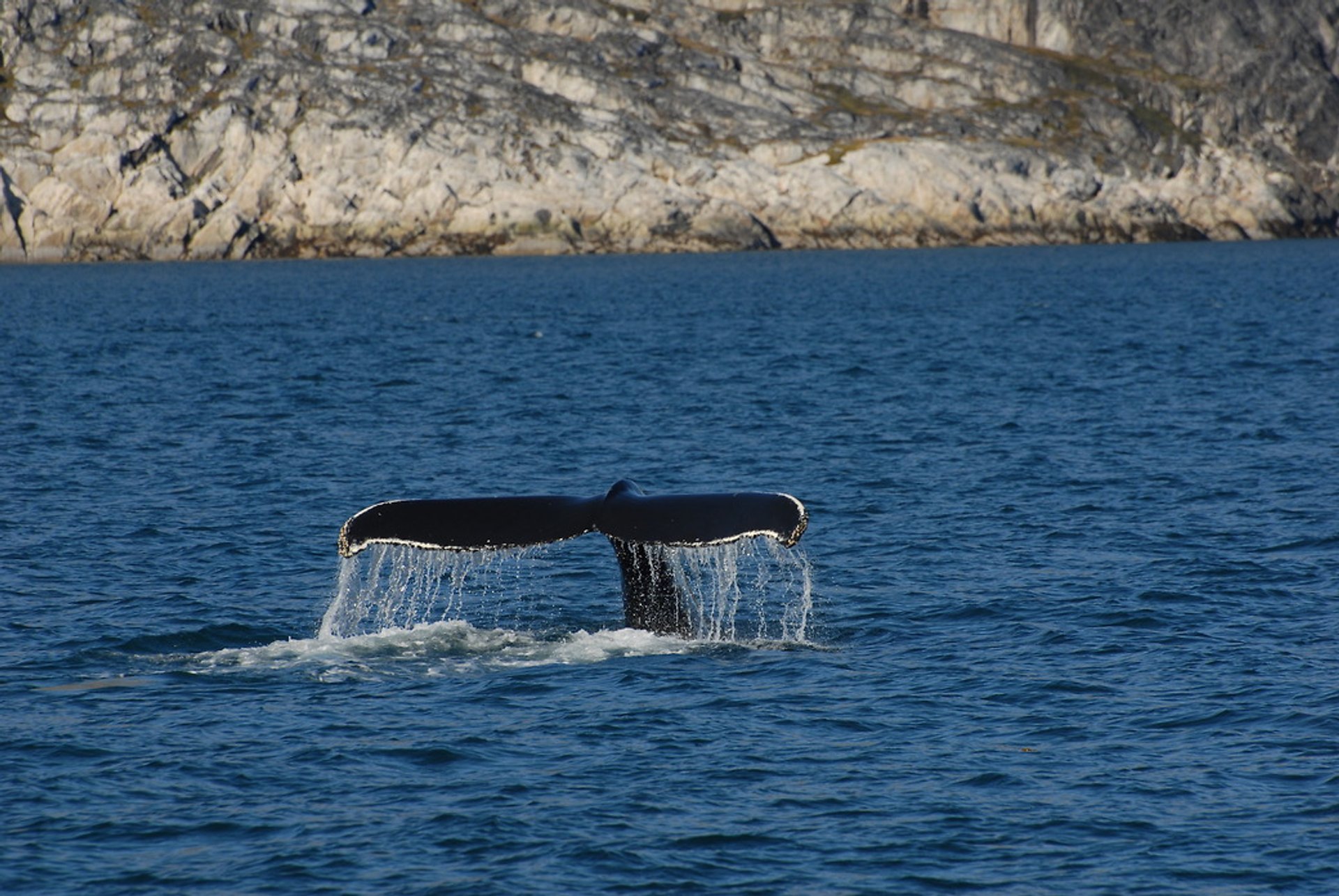 ©
Mads Pihl - Visit Greenland
Whales' arrival is a sure sign of the beginning of summer in Greenland. About 15 species of these magnificent mammals roam the waters around the world's largest island. Fin Whales, humpback whales, minke whales, and the extremely rare blue whales are seen quite often. Greenland is also one of the few places in the world where you can meet an unusually-looking narwhal whale. Any sea excursion could turn into a whale-watching adventure, especially when you are accompanied by a professional guide who will make sure you won't miss anything.
Best places for whale watching
The whole coastline of Greenland is suitable for whale watching. However, Disko Bay is a true whale paradise, especially in the summer. Humpback, minke, and fin whales flock here from their wintering sites in the Caribbean to feast on krill and small fish. Ilulissat, Aasiaat, and Sisimut in the west are among the best whale-watching spots. In the south-west, try Paamiut, Maniitsoq, and Nuuk Fjord, where whale sightings are almost guaranteed. In the north, Qaanaaq is a great location, but it's a bit hard to reach.
Whale-watching tours
Several operators offer whale-watching tours by boat in Greenland. There is also the coastal ferry Sarfaq Ittuk, which regularly travels along the west coast. One of the popular options is Guide to Greenland excursions that offer a whale-watching experience at Disko Bay, near Ilulissat, known as home of the most impressive icebergs of the northern hemisphere. Tickets and reservations are available online.
How long do whale-watching tours last
Whale watching tours last from one and a half hours to several days. Three- and four-hour tours are the most popular options. Multi-day tours usually include sailing, trekking, kayaking, and other activities. Private charters are also available.
Summer whale-watching season
Humpback whales (April-November)
Humpback whales are easy to spot due to their large size (about 18 m or 59 ft) and striking white belly. They are also quite amicable and have a habit to swim along with the boat, getting close to people. When you see this 30-ton animal jump out of the water, it's surely an amazing sight! Humpback whales are frequently spotted on the west coast of Greenland near Aasiaat and Ilulissat. Nuuk is one of the premier whale-watching locations where dozens of humpbacks come every year. They are also seen near Sisimiut and Paamiut.
Minke whales (May-October)
The minke whale is smaller than the humpback. Its length is about 32 ft (10 m). They prefer to spend time in fjords and are typically numerous in Disko Bay as well as along the western and southern coasts. The best time to look for them is from May into October, although it's possible to see them during other months as well. Minke whales are fast and when they swim they stick their head out of the water in a peculiar way. You can't see their tail when they dive.
Fin whales (May-October)
The fin whale is the second longest whale species with a length of about 88 ft (27 m). If you get lucky, you can see a fin whale diving with his giant tail and a mass of 100 tons. Fin whales are spotted during summer season all over Disko Bay, near Uummannaq, and around Qaqortoq.
Winter whale-watching season
Narwhal whales
Narwal's appearance is quite unique because of a large "tusk" growing from a protruding canine tooth. Some species may even have two tusks. Narwal's tusk is twisted counter-clockwise. Like belugas, narwhals can be light grey or even white. You can spot them year-round in the northeast as well as in Melville Bay near Qaanaaq. There's a theory that Inuit myths about narwhals became a basis for unicorn tales. This gorgeous sea mammal spends all its life in the Arctic and can only be spotted in Greenland or Canada.
Beluga whales
Beluga whale is easy to recognize due to its light grey, almost white body. Therefore it is sometimes called a white whale. Due to its loud high-pitched call it is also called a sea canary. Beluga has sharp teeth, and its head resembles a melon. Sometimes when it sticks head out of the water, it looks like the beluga is smiling. It's also believed that beluga can mimic humans. Beluga can be observed year-round in the northern northeastern parts of Greenland, as well as near Maniitsoq, Qaanaaq, and Upernavik.
Whale-watching tips
If you feel dizzy on boats, make sure you have something against seasickness and always check the weather forecast in advance.
What to wear
Even when it's summer in Greenland, being on the water for several hours might be rather chilly so make sure you have an insulated, wind-proof and waterproof jacket as well as a hat and gloves. Long pants is a must. Footwear for a boat excursion must be closed toes. Waterproof hiking shoes will do. Make sure to bring several layers as it may get cold quite fast.
What to bring
Since you are planning to spend several hours at sea, bring some water and a snack. Sunglasses and sunscreen are a good idea because sunlight gets really intense at midday. And of course, don't forget your camera to capture all the exciting whale encounters!
Where to stay
What can be better than relaxing in your hotel room after the whole day at sea? Luckily, most Greenland towns that operate whale watching tours, like Ilulissat or Sisimiut, have at least a couple of hotels. There are also hotels in Nuuk, Qaqortoq, and Maniitsoq. Some whale-watching tours may also include accommodation options.
If you visit Greenland in mid-summer, you're almost guaranteed to see whales at Disko Bay, Paamiut, Nuuk, Aasiaat, Uummannaq, and other locations. Experienced guides know the best places to find whales and help to spot them very quickly. When you see or hear a whale for the first time, you'll be amazed. Even though you'll see only a part of the whales' bodies, these gigantic creatures will make you understand just how fragile humans are.
Find hotels and airbnbs near Whale Watching (Map)