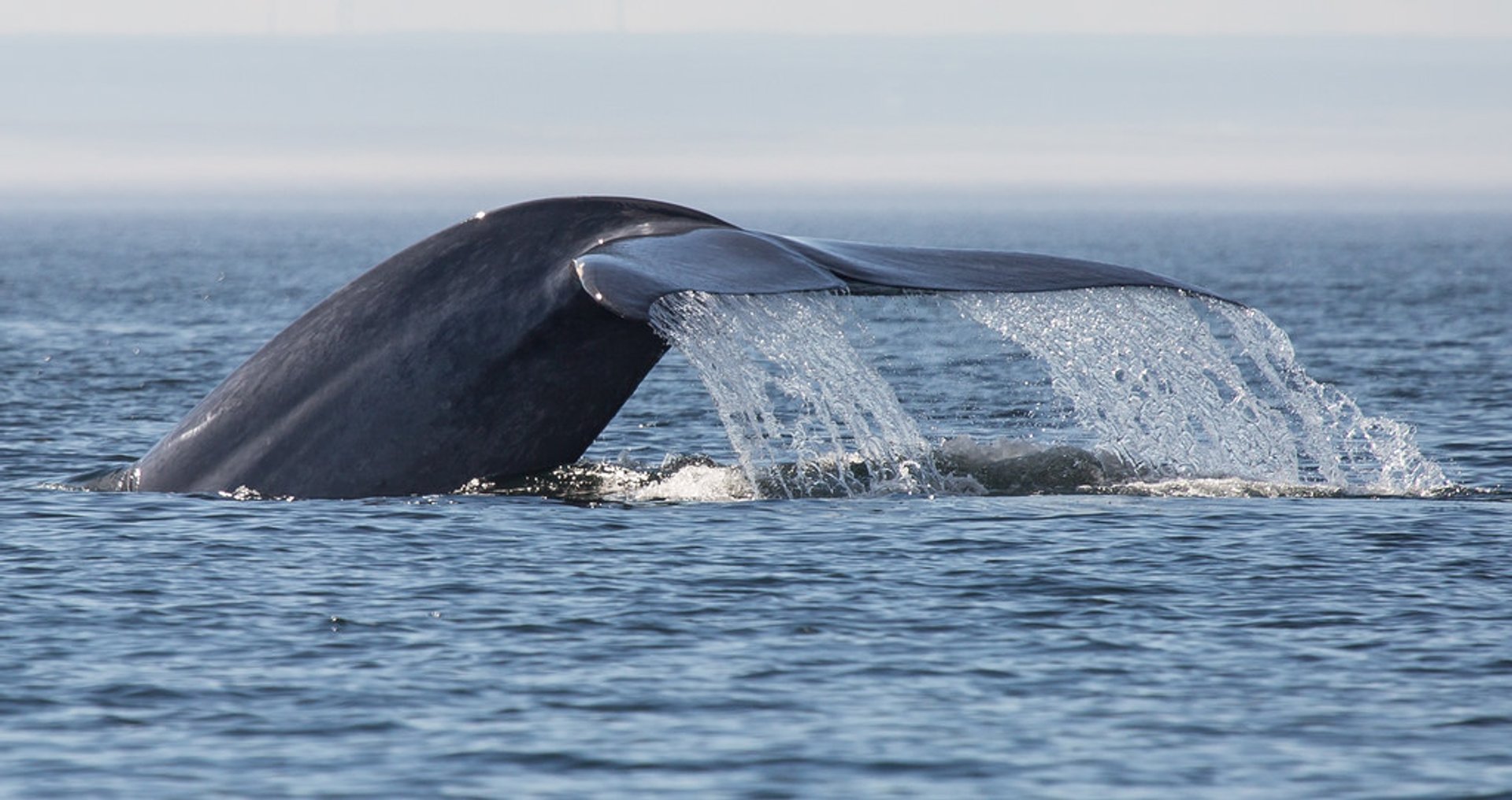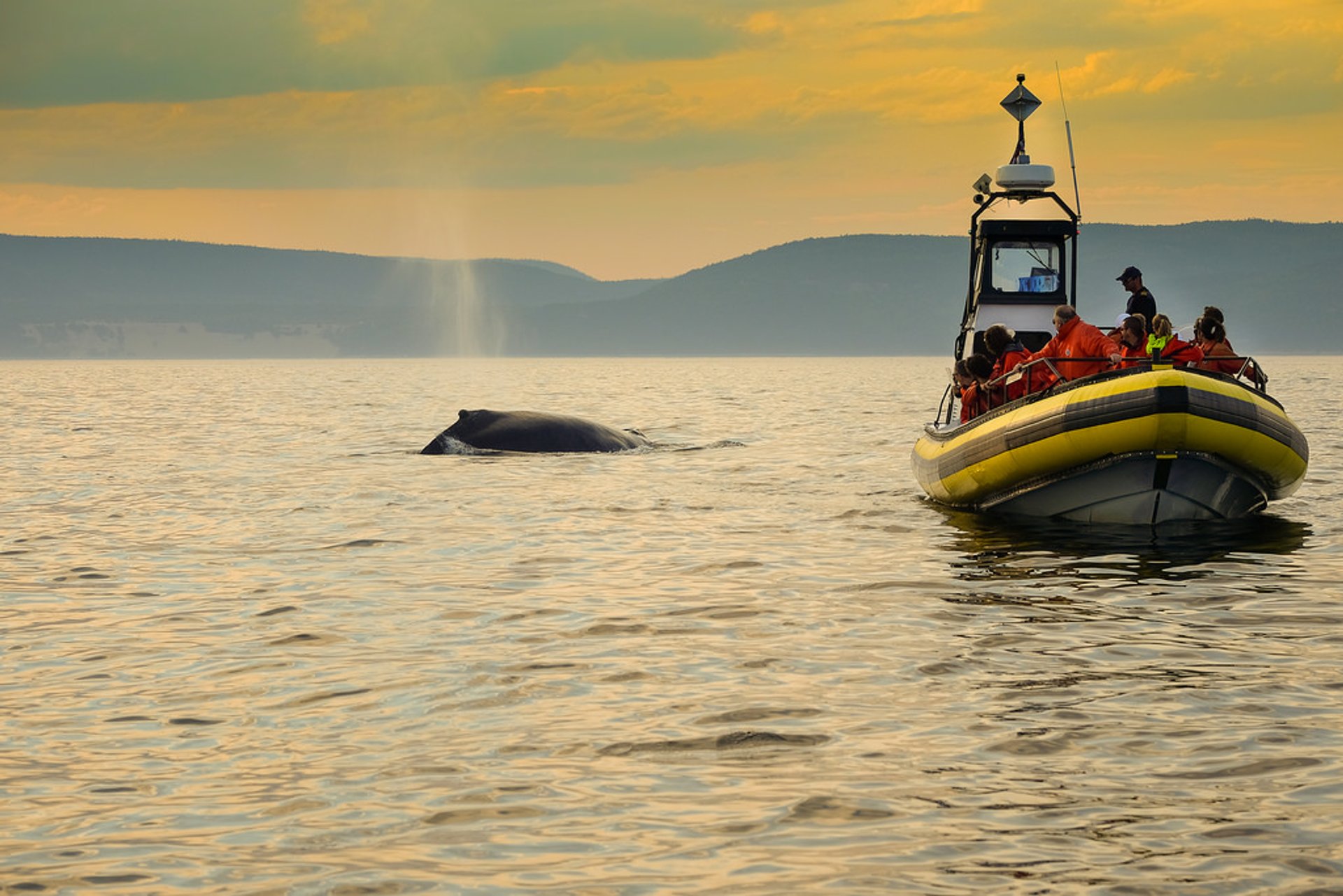 Maritime Quebec or Quebec by the Sea is one of the world's premier whale-watching destinations due to a large variety of cetaceans and an excellent tourist infrastructure. More than 13 whale species can be found in the Gulf of St. Lawrence during the summer. It's possible to spot the two largest animals on earth – fin whales and blue whales. Plenty of humpbacks flock to the mouth of the beautiful Saguenay Fjord near Tadoussac. White beluga whales can be spotted all year round.
Best places for whale watching
From June to early October, the waters of Côte-Nord, Saguenay–St. Lawrence Marine Park, Percé, Gaspé Bay, and the Gulf of St. Lawrence are full of whales and other sea mammals. You can observe them in the water or from the shore, taking the well-known route from Tadoussac to Blanc-Sablon also known as Quebec's Route 138 or Whale Route. The Cap-de-Bon-Désir Interpretation and Observation Centre is another excellent place to watch whales from land. An alternative location is Bas-Saint-Laurent. You can take a Rivière-du-Loup scenic drive and spot belugas from the marina or take a ferry along the south shore. Nearby Île aux Lièvres (Hare Island) also boasts excellent views of whales near its shores. You can get there by boat from the marina in Rivière-du-Loup.
Whale-watching tours
While there are plenty of different ways to meet the whales, kayaks and zodiac boats are probably the best options to see them up close. Zodiacs are also quite fast and easy to maneuver so suit up to your best for a whale-watching adventure. However, if you prefer to board a larger boat, there are plenty of options too. AML boats offer various amenities, a bar, a cafeteria, restrooms as well as both indoor and outdoor areas, which is more suitable for an all-day whale-watching cruise. Some companies even serve gourmet dinners and launch fireworks in the evening. Cruises leave from Quebec City, Tadoussac, and Rivière-du-Loup. There is also an option to experience whale watching from a a helicopter. It leaves from Québec City and flies passengers to Charlevoix and the marine park.
Since small children are not allowed on zodiac boats, the most comfortable option for families and those who want to stay in the sea for a longer time is an AML cruise or croisières AML. Tickets and timetables can be reserved online.
How long is a whale-watching tour
An average whale-watching sea cruise lasts from 2.5 to 3.5 hours. Zodiac boat cruises tend to be shorter, starting from 1.5 hours. Meanwhile, AML boat trips usually last over 3 hours. Kayaking trips can last for several days as well as package tours that combine whale watching with other activities and may include accommodation.
Whale-watching season
Several sea mammals, such as beluga, can be spotted in Quebec waters year round, however, the majority of whales are migratory and can be observed only from spring to late fall. The whale-watching season in Quebec usually starts in May and lasts into October. Early fall is the best time for a whale-watching adventure.
Humpback whales
Humpbacks are a real joy to watch, as they are known for their playful behavior. Seeing these creatures performing deep dives, splashing their tails and hearing them making a melodious call is incredible, especially, considering their large size. Humpbacks belong to larger cetaceans and reach 59 ft (18 m) long. Every year about 7,500 humpback whales travel 3,417 miles (5,500 km) to get to the St. Lawrence River estuary to feed on plankton and small fish. With a long dark gray body and a white belly, humpbacks also have tails that are so unique, that you can identify each individual.
Fin whales
One of the largest whales on earth, a fin whale can reach 88 ft (27 m) in length. About 400 of these gorgeous sea mammals spend their summer and fall in the Gulf of St. Lawrence Gulf, and are especially common between Tadoussac and Les Bergeronnes. Fin whales consume large amounts of water containing fish and krill, and then eject the access the water back. They can be recognized by a white jaw and a dark grey body.
Minke whales
A modest-sized minke whale can be spotted in Quebec from March to December. There are about 1,000 of them in the Gulf of St. Lawrence. The smallest of the whales has a body length of about 32 ft (10 m). It feeds on krill and small fish. It can be identified by its dark grey body, a white belly, and a white stripe on a pectoral fin.
Blue whales
An endangered blue whale is the largest animal on earth. These gentle giants can be spotted in the Gulf of St. Lawrence mostly in August and September. With a body length close to 31 m(101 ft), it seems like these mammals should be easy to spot, however, they are protected by law, and whale-watching boats can't get to them closer than 1,312 ft (400 m). They can be recognized by a blue tail.
Beluga whales
An endangered beluga can be observed only in a few northern countries. Luckily, about 900 belugas reside in Quebec waters all year round. Belugas can be spotted from the estuary to the Gulf of St. Lawrence through the Saguenay Fjord as well as at Mingan Archipelago National Park Reserve in Duplessis. These whales stand out due to their light grey, almost white body. The older beluga is, the lighter gets its skin. This cetacean feeds on fish and eels and is also famous for its high-pitched call. Due to it, beluga is sometimes called a sea canary.
Whale-watching tips
Since whales are constantly on the move, their location is hard to predict. Their behavior doesn't depend much on the time of the day, weather, wind, or tide. However, if you spend in the sea about two or three hours, there will be plenty of chances to see whales as they always get to the surface. Be patient and keep your camera ready. If you have a binocular or can borrow one, it will surely come in handy during the excursion. Also, make sure to take a waterproof bag or case to store your phone and a camera.
What to wear
The weather in the estuary and Gulf can be rather chilly even during the summer. Make sure you have a jacket or a windbreaker, long pants, and comfortable shoes with closed toes. If the weather is sunny, you might need sunglasses and a sunhat. Make sure to check a weather forecast in advance so you know what to expect. And be prepared for plenty of water splashes.
Where to stay
There are plenty of excellent lodging options in Quebec City and Tadoussac. It's best to stay in a waterfront hotel. Some accommodations are located right in mouth of the Saguenay Fjord, one of the most scenic bays in the world. Tadoussac also has a campground with 191 campsites featuring panoramic views of the St.Lawrence river.
Find hotels and airbnbs near Whale Watching (Map)