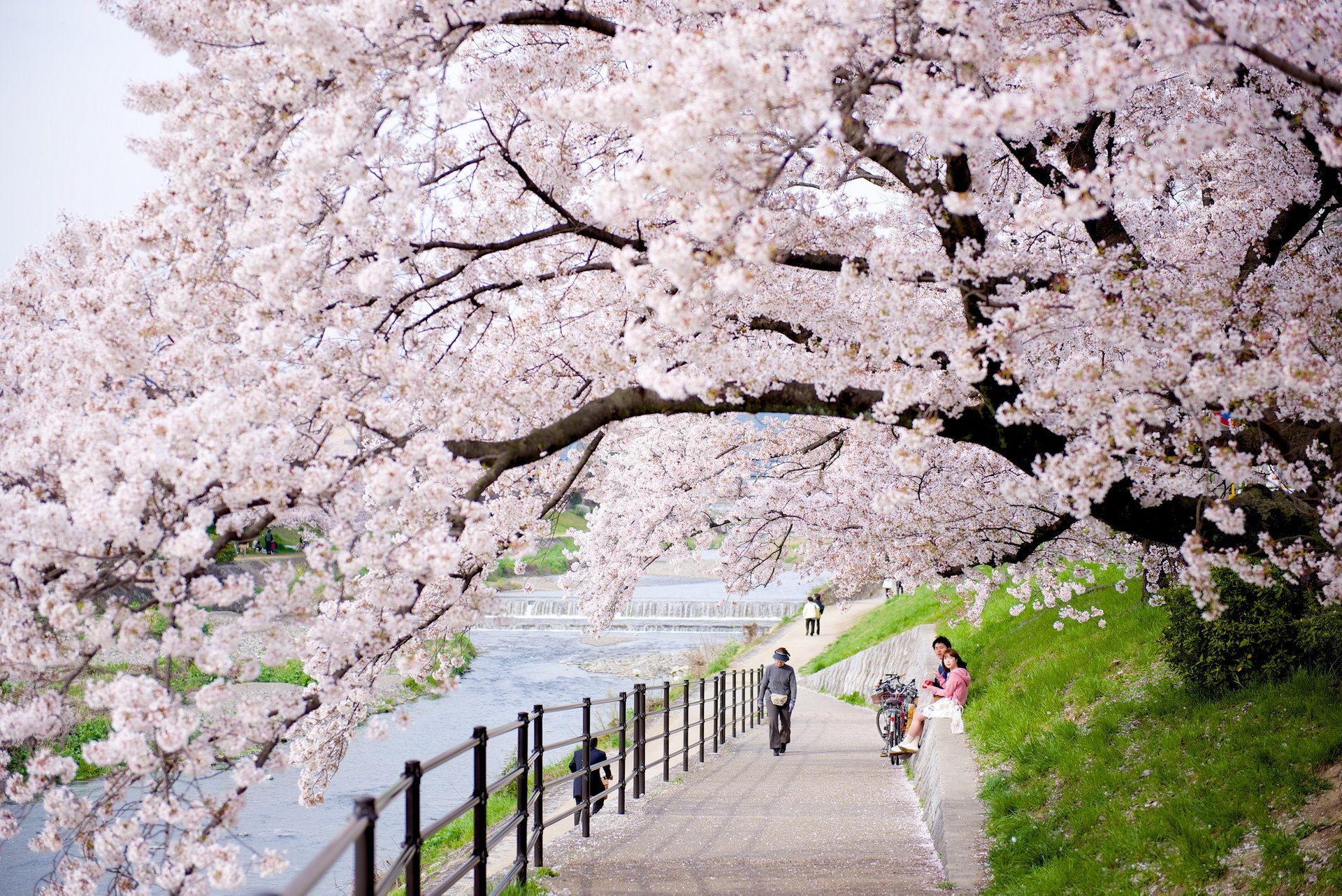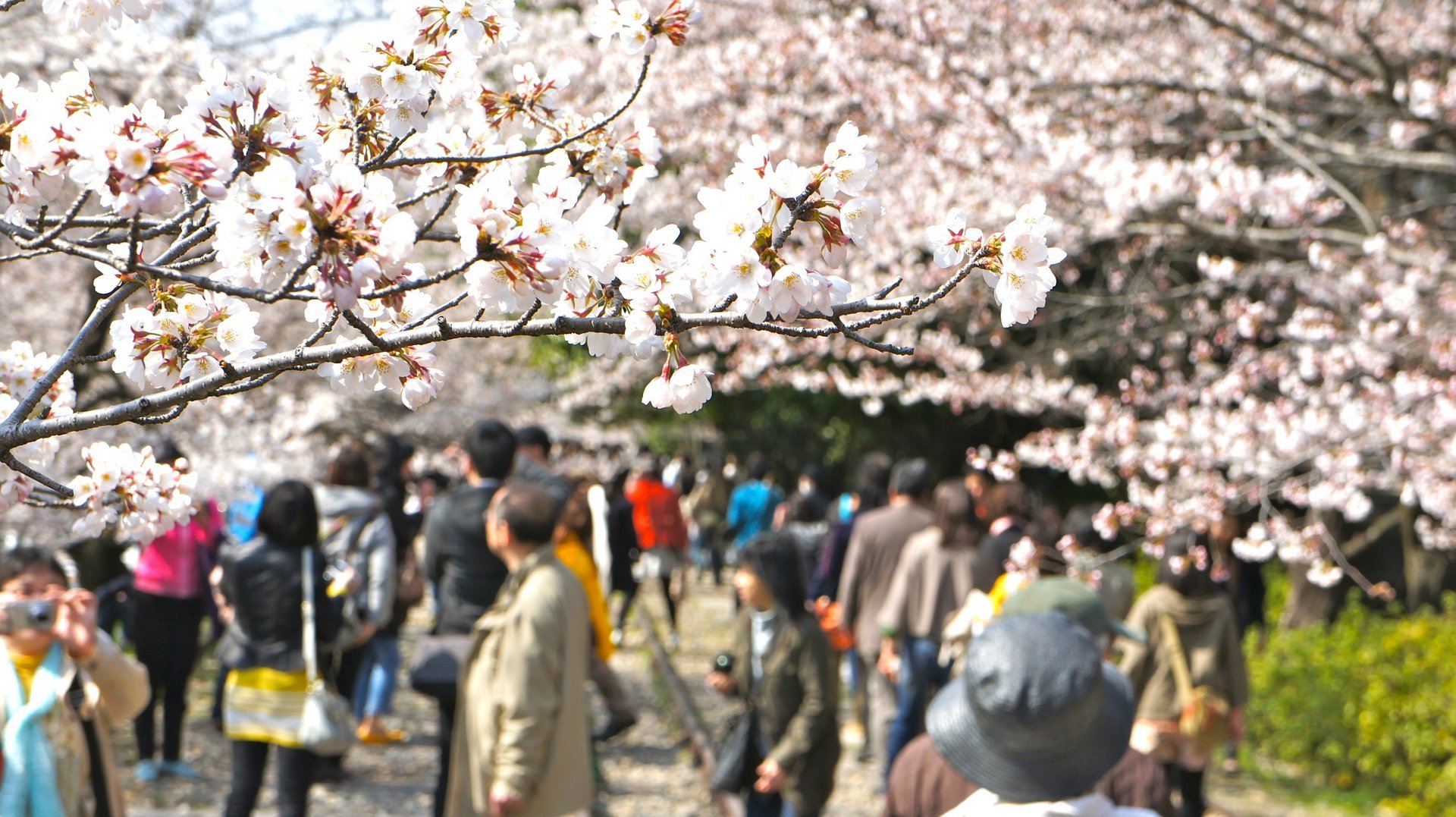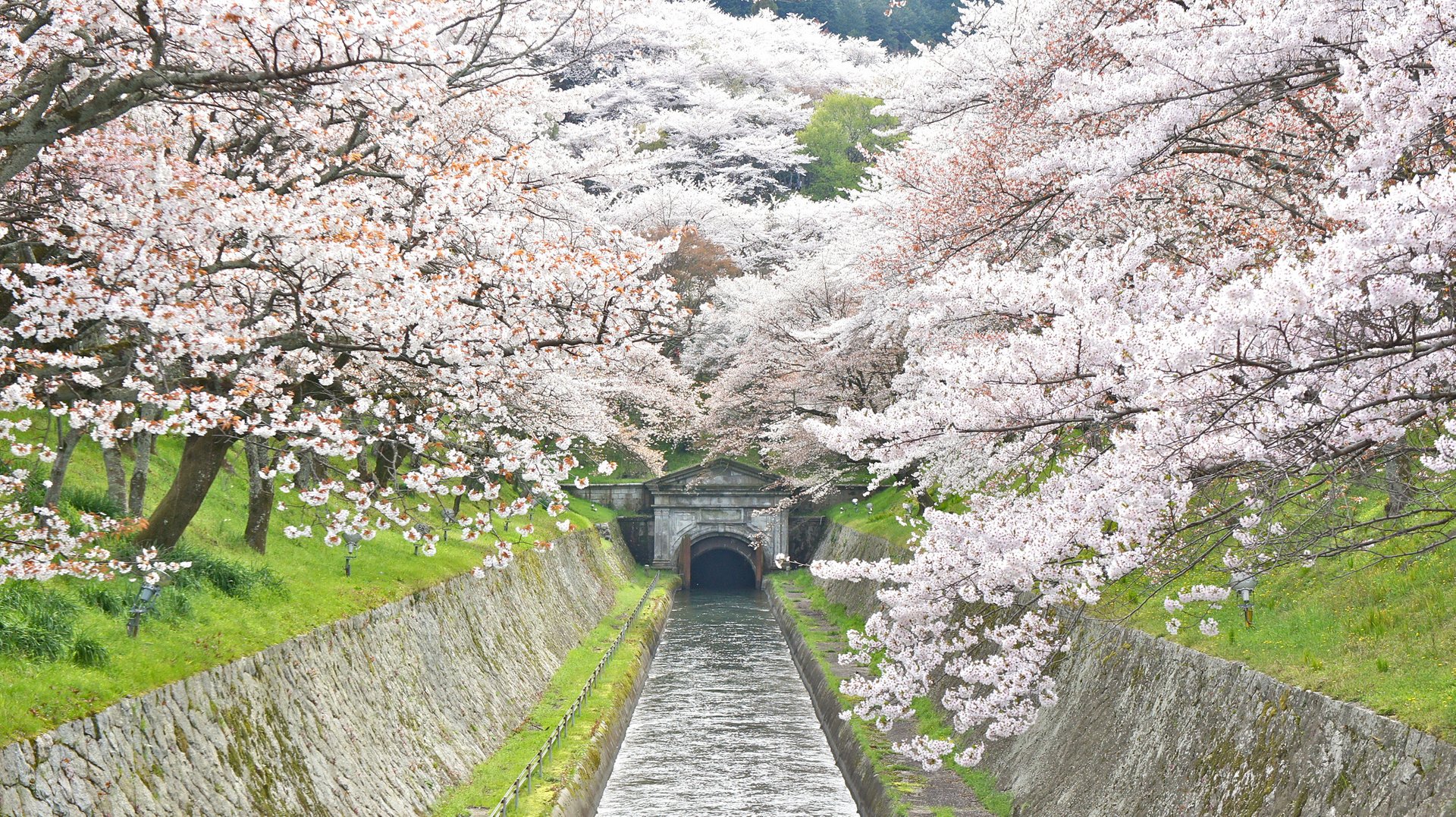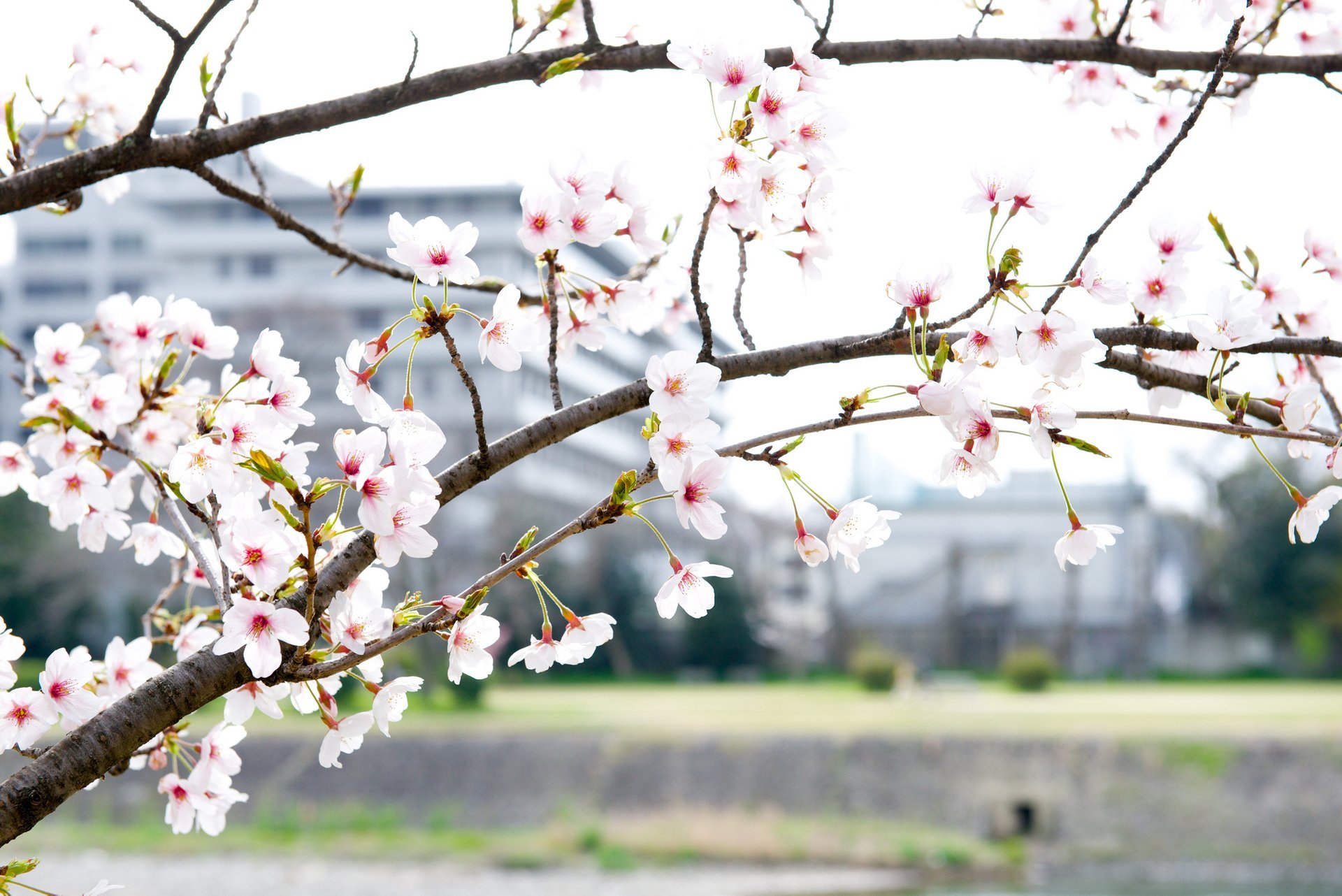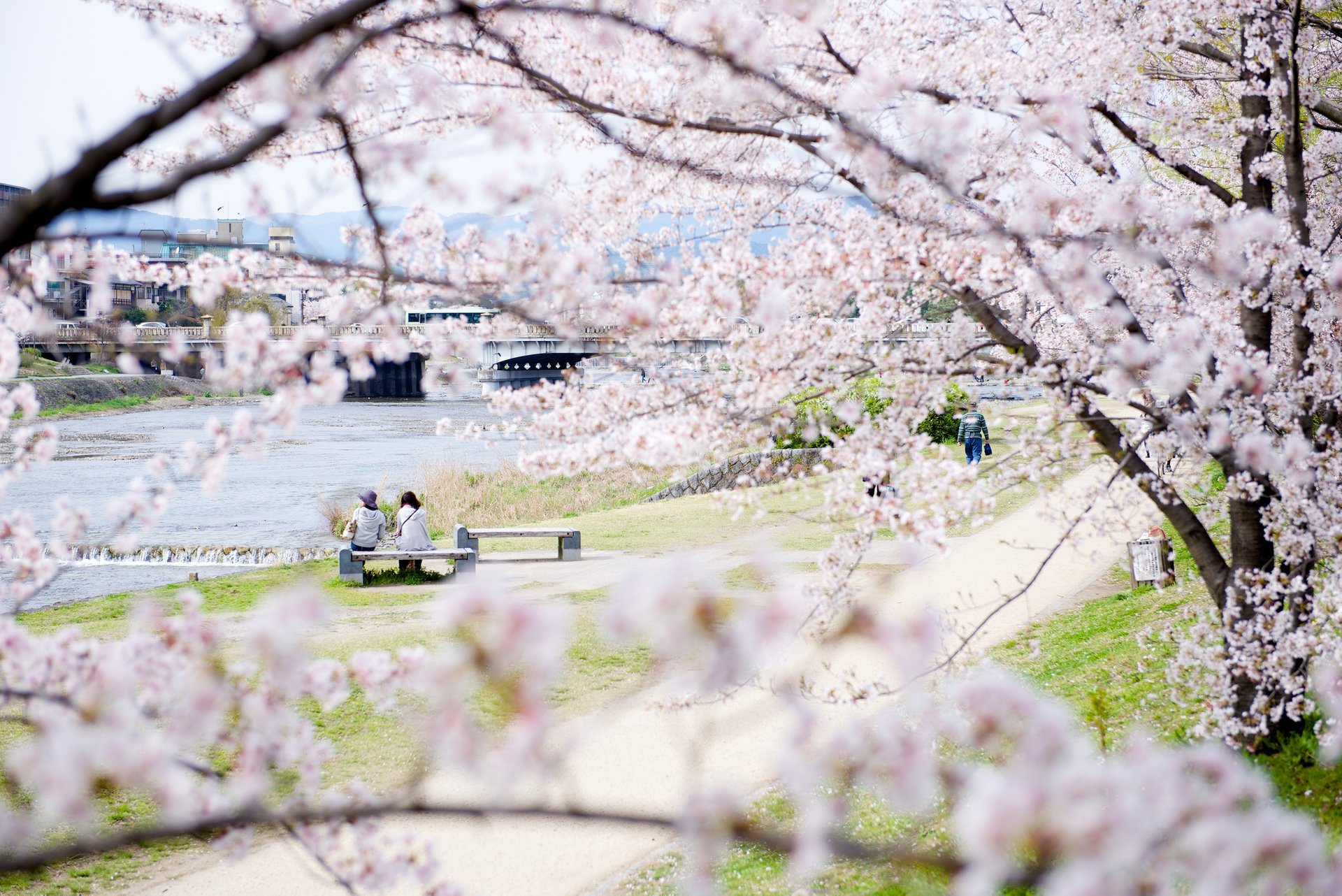 The cherry blossom season is a special time in Kyoto that dresses dozens of scenic parks, walks, and gardens with beautiful sakura trees flowering. The bloom reaches its peak between the last week of March and first two weeks of April. Full bloom called 'mankai' lasts up to one week. Luckily, different kinds of trees bloom at different times so while some trees start dropping petals others haven't peaked yet. The flowers are notoriously fragile, so when it rains a lot, unfortunately, the bloom lasts for a shorter period of time.
Cherry blossoms are plentiful at the historical areas of Gion, Togetsu-kyō Bridge, and Kōdaiji Temple. Toji Temple (Kyoogokokuji temple) is a picture-perfect World Heritage site. They all offer this particular dream-like experience that visitors are looking for while planning a trip to Kyoto. During the blooming season, many of these locations are beautifully illuminated at night.
Maruyama Park is perhaps one of the biggest relaxation areas in Kyoto that features about 700 cherry trees. People look especially for shidare-zakura or weeping cherry blossoms that bloom at the end of March. It has been a symbol of Maruyama Park.
Heian Jingu Shrine that dates back to 1895 has over 300 trees of 20 kinds, including the beni-shidare-zakura or red weeping sakura. You can also visit a concert among the cherry blossom at night at the Beni Shidare Concert. After exploring the shrine take the Philosopher's Path and check out Konkaikomyo-ji Temple located nearby.
Keep in mind that it's hard to predict 100% cherry blossom time, so timing a trip to coincide with the sakura blossoms is a somewhat tricky affair. If you plan only a couple of days in Kyoto, you might arrive right after the cherries have bloomed, or you might see the trees approaching the peak bloom just when you have to leave the city. To make sure you witness the cherries blossoms at their peak, you'd have to book about ten days or so in the city, but this would cost a fortune when the high-season rates are rocketing.
Find hotels and airbnbs near Cherry Blossom (Map)