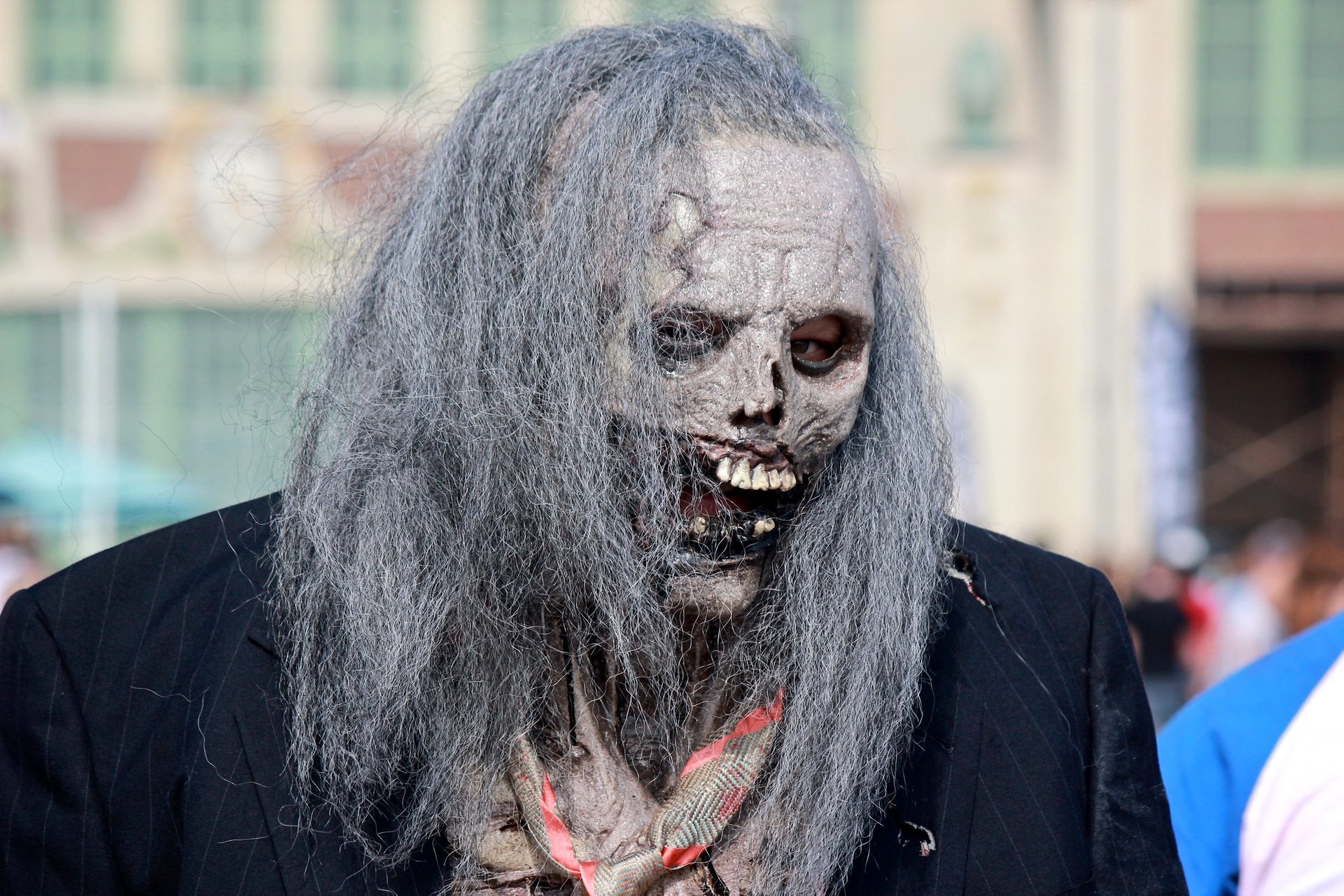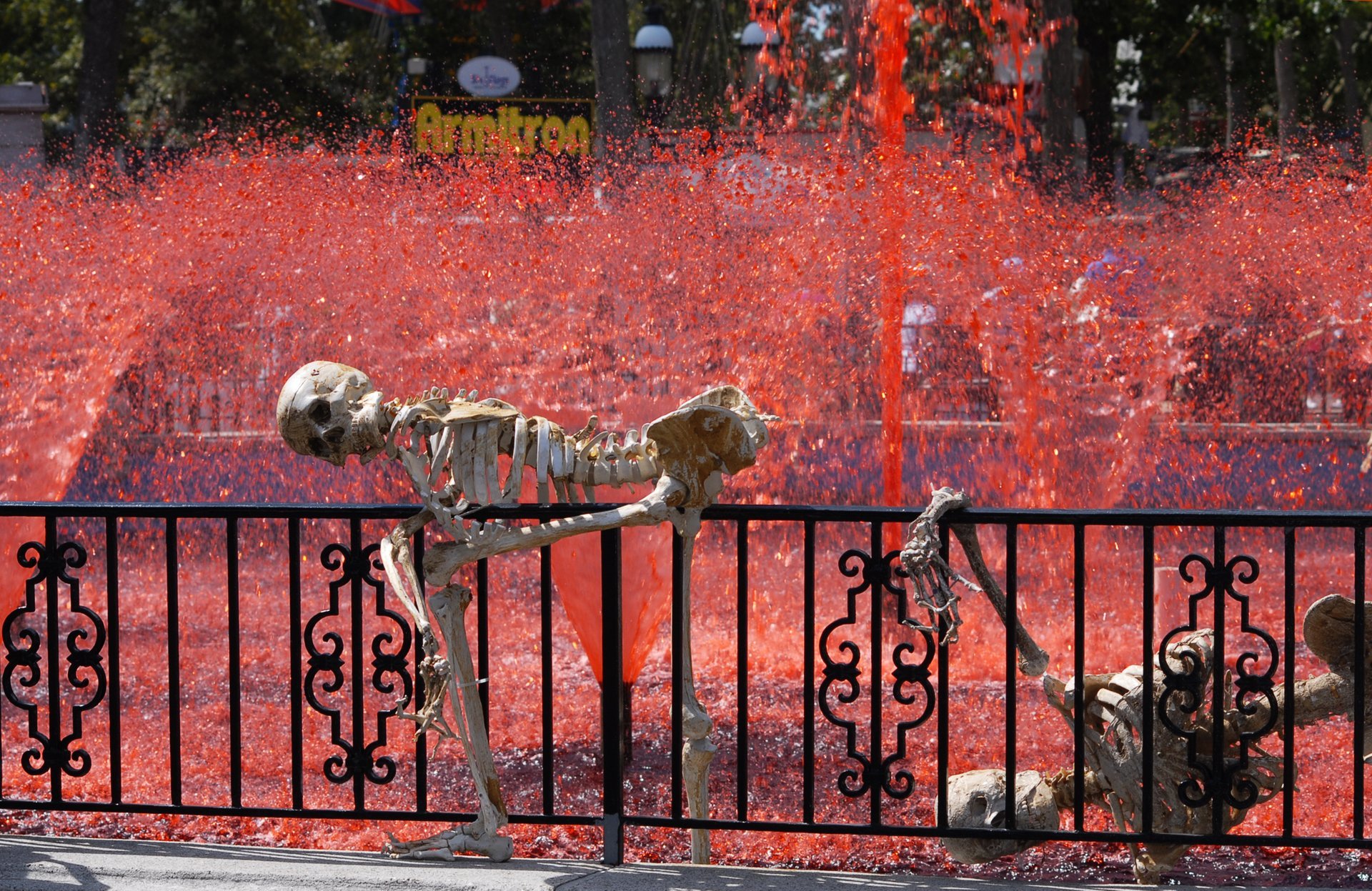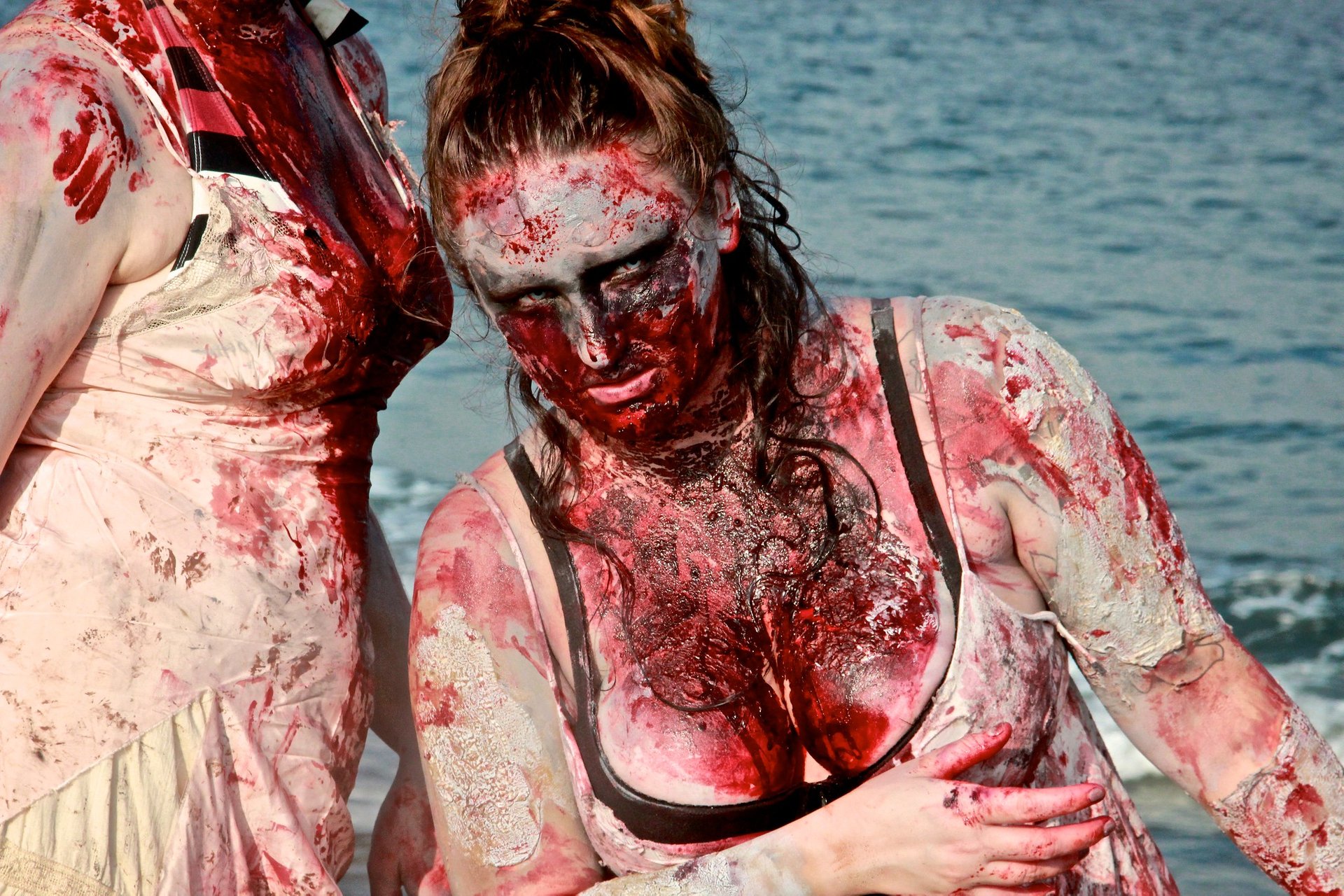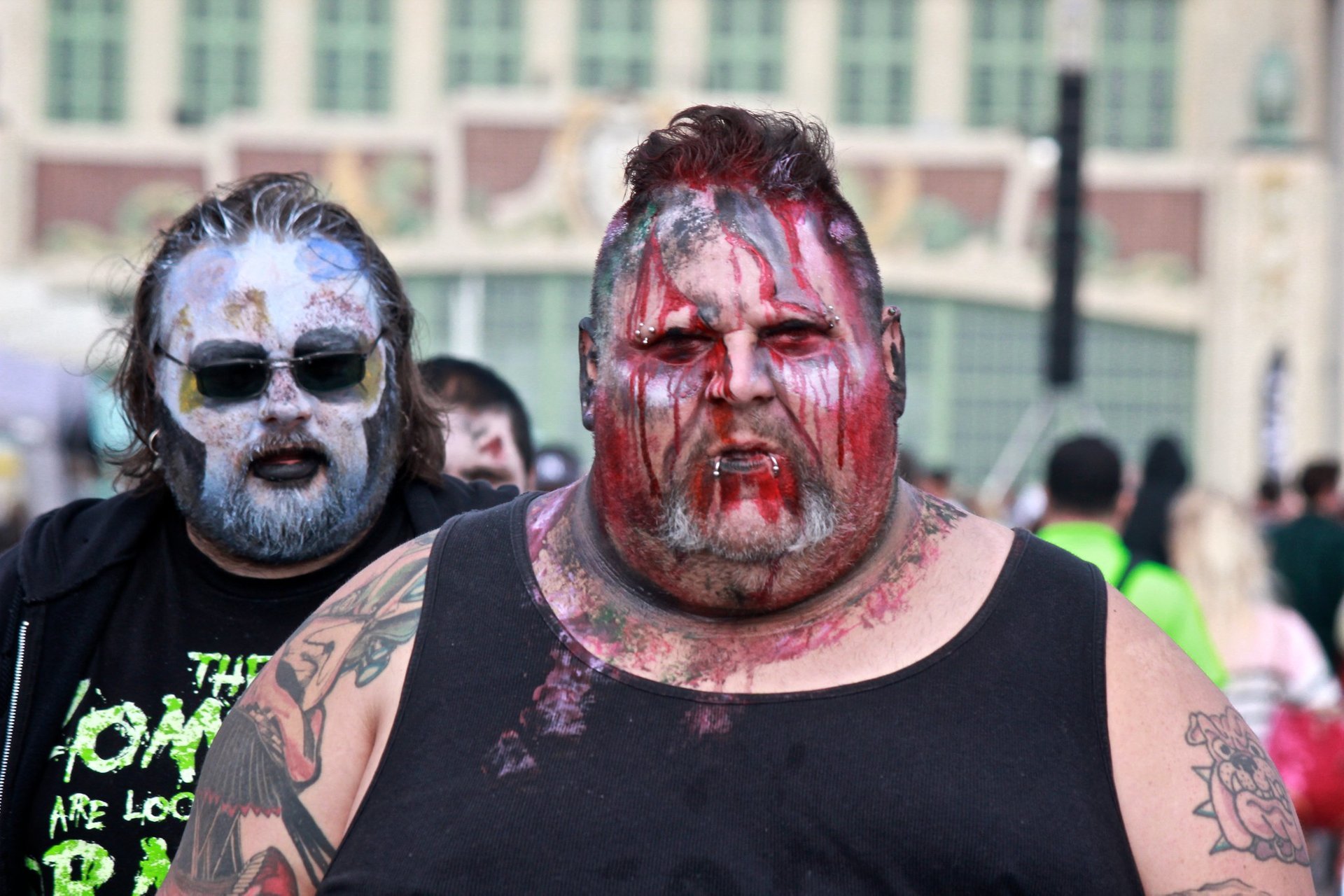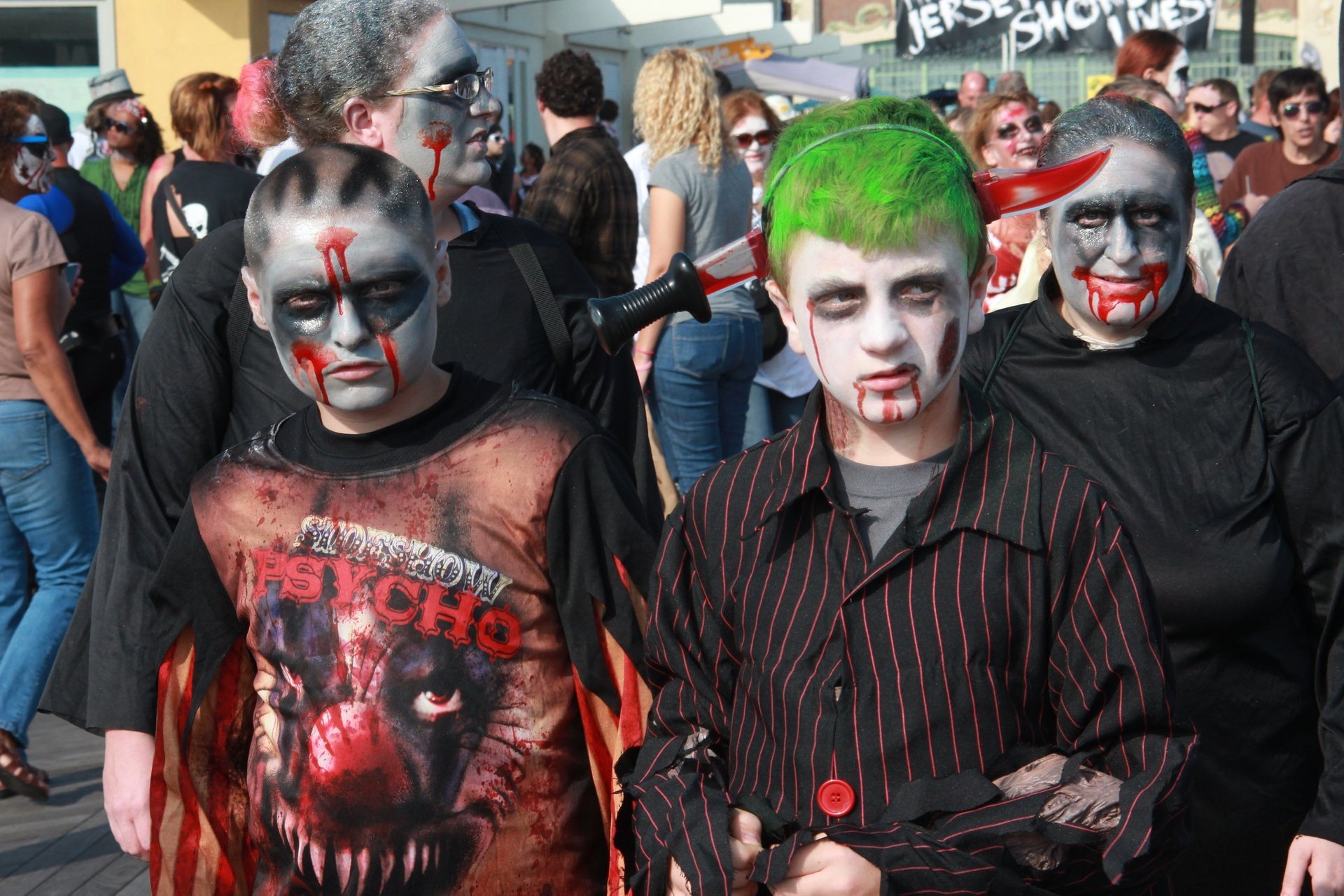 Asbury Park Zombie Walk 2013
When it comes to scary attractions and haunted houses, no other state can beat New Jersey. Halloween season is the most exciting time of the year here with plenty of fall festivals, costumed parties, fearsome exhibits and terrifying tours.
Great Pumpkin Festival, Vernon (September 17–November 6, 2022)
Great Pumpkin Festival takes place at Heaven Hill Farms every fall, being the largest and greatest pumpkin fair in Northern New Jersey occupying 110 acres (45 ha). The festival features over 40 fun-filled activities and rides for the whole family. Visitors can ride a Hay Wagon Tractor, find their favorite Jack-o'-lantern, wonder in "Down on the Farm" Corn-Maze, watch pigs race and see a petting zoo full of bunnies, cows, chicks, and goats. Other attractions include Spider Web Crawl, Monster Sling Shots, Boo Barn, Dancing Robot Show, Duck Racing, Vortex Tunnel, Obstacle course, and other fun things to try. Besides, Heaven Hill Farms host Trick Or Treat Trail And Costume Contest on October 31. Children aged 12 and under can take part in the competition for the best Halloween costume.
Fright Fest at Six Flags Great Adventure, Jackson (September 16–October 31, 2022)
Fright Fest is a seasonal Six Flags Great Adventure that celebrates Halloween. The park is filled with zombies, mummies, vampires, and ghouls. Special attractions include seven haunted mazes and five scare zones throughout the park. Visitors get frightened on every corner. Ghouls take over the park three times per day for their hunting rituals.
Asbury Park Zombie Walk (October 8, 2022)
The Asbury Park Zombie Walk is the beloved New Jersey Halloween procession. It was the largest zombie walk recognized by Guinness World Records. It usually gathers 4,000-10,000 participants wearing zombie costumes and make-up. Asbury Park Broadwalk is filled with walking zombies at dusk and also thousands of spectators who come to see this epic event. The zombie jamboree at the seaside town of Asbury Park was first organized in 2007. Participants usually gather at Convention Hall and start walking from 4 pm to 8 pm. The night ends with fireworks.
Woodbridge Ghost Walk (October 15, 2022)
Another popular attraction is Woodbridge Ghost Walk, a seasonal guided tour into the mistic history of New Jersey. Costumed guides tell scary stories about the first settlers, the Revolutionary War, and much more. There is a Vampire and Zombie parade, too!
Hoboken Halloween Pub Crawls (October 31, 2022)
When it comes to partying, it's hard to surpass Hoboken, NJ. The city is the state's favorite destination for bars, lounges, and clubs. On Halloween, Hoboken naturally features hundreds of special activities and primarily the Annual Halloween Bar Crawl. The most massive fall event in Hoboken is also one of the most anticipated in the whole state. So put on your scariest costume and demand your treats!
For the tickets and latest updates, please check with the official websites (see External Resources below.) Also, take a look at the map suggesting the best accommodations nearby.
Find hotels and airbnbs near Halloween (Map)