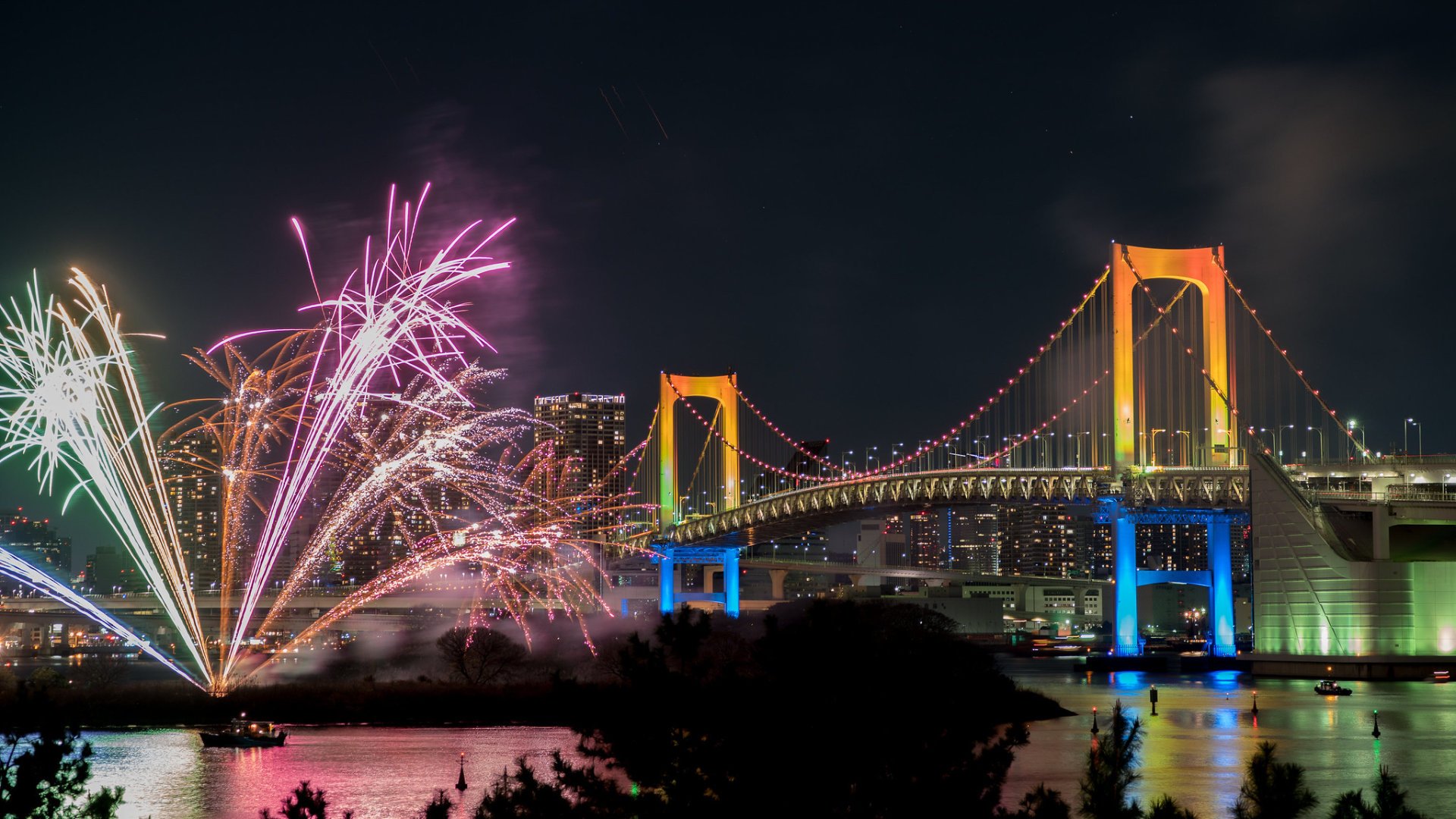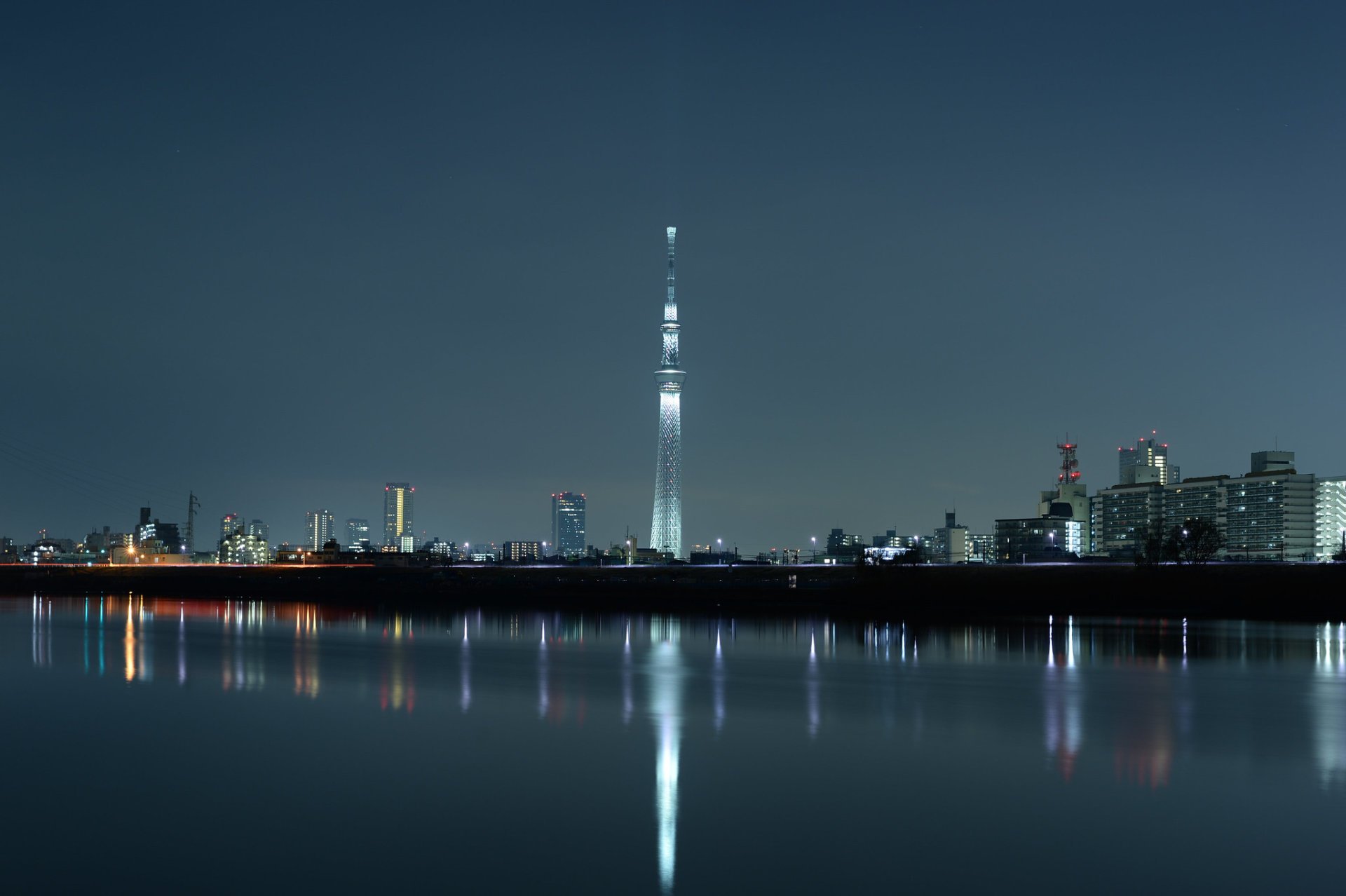 New Year fireworks in Odaiba
Japan celebrates New Year's Eve differently from the Western nations. It's more of a family holiday here, with people visiting their parents, going to temples, and performing rites to attract good luck in the upcoming year. On the last day of the old year, it's typical for the Japanese to visit shrines and bring the gods Kagami mochi as an offering.
Shrines and temples
Shrines and temples are usually open throughout the night for people to pray and fulfill their rites. Zojoji temple, located near Tokyo Tower, Gohyakurakanji Temple, and Hie Shrine are among the best places to see Japanese New Year traditions. Another interesting tradition to observe in temples is "Joya no Kane", or bell-ringing ceremony, which signifies the end of the old year and the beginning of the new one. Temple bells ring 108 times across Japan on New Year's Eve, finishing at midnight.
Tokyo also holds a variety of Western-type parties and countdown events, which attract lots of young people and feature live music, fireworks, and various entertainment.
Shibuya New Year Countdown
Shibuya Crossing is Tokyo's equivalent of Times Square, so naturally, it hosts the most massive NYE street party in the city. Entertainment starts at 9 pm with live music on the stage in front of Shibuya 109 shopping mall. After the party, many revelers go dancing to Shibuya and Roppongi nightclubs. Roppongi boasts many clubs with international DJs, cocktails, and an incredible atmosphere.
Tokyo Tower Countdown
Tokyo Tower features a smaller and less wild celebration, compared to Shibuya. During the Countdown to Midnight, lights on the tower change color while a new date is being displayed. People release balloons and exchange greetings, welcoming the New Year. Also, on New Year's Day, Tokyo Tower's observation deck opens to visitors at 6 am, so you can wintess the first sunrise of the year with a stunning backdrop of Tokyo Bay and the skyscrapers.
Kasai Rinkai Park Countdown
The main attraction of Kasai Rinkai Park in Edogawa is The Diamond and Flower Ferris Wheel, the tallest in Japan. From the height of 383 feet (117 m), it's possible to see the beautiful illumination on Tokyo's Rainbow Bridge, as well as Tokyo Tower and Tokyo Sky Tree. The amusement park is open all night. Just before midnight, it features various live performances, traditional Japanese mascots, and more.
Disney New Year Fireworks
Another park to check out in Edogawa is Tokyo Disney and DisneySea, famous for their spectacular New Year's Eve fireworks display. The 115 ac (47 ha) twin park is full of surprises and spectacular entertainment during the end-of-the-year festivities.
Hanayashiki Countdown
Hanayashiki theme park, unlike Disney, is quite authentic and old-school. On December 31, it hosts the annual NYE event with thrilling rides and various entertainment from 8 pm till 1 am. It typically includes some music and comedy shows. Japan's oldest amusement park is located in the central Asakusa neighborhood.
Amusement Park Yomiuri Land
Another great place to celebrate is Amusement Park Yomiuri Land, hosting the annual Jewel Illumination event. The park spans the border between Tokyo and Kanagawa Prefecture and lures romantic souls to ring in the New Year amidst sparkling lights and hot-spring baths. If you come at 3 pm or later, you'll be able to enjoy dozens of the park's attractions and holiday lights at a reduced price.
After you are done partying in Tokyo, don't rush to go to sleep. One of the most popular New Year traditions in Japan is watching the first sunrise of the New Year. Many Tokyo residents head to waterfront areas along Tokyo Bay for the most beautiful scenery. Watching the sunrise on New Year's Day is supposed to bring good luck for the whole year.
Find hotels and airbnbs near New Year's Eve in Tokyo (Map)