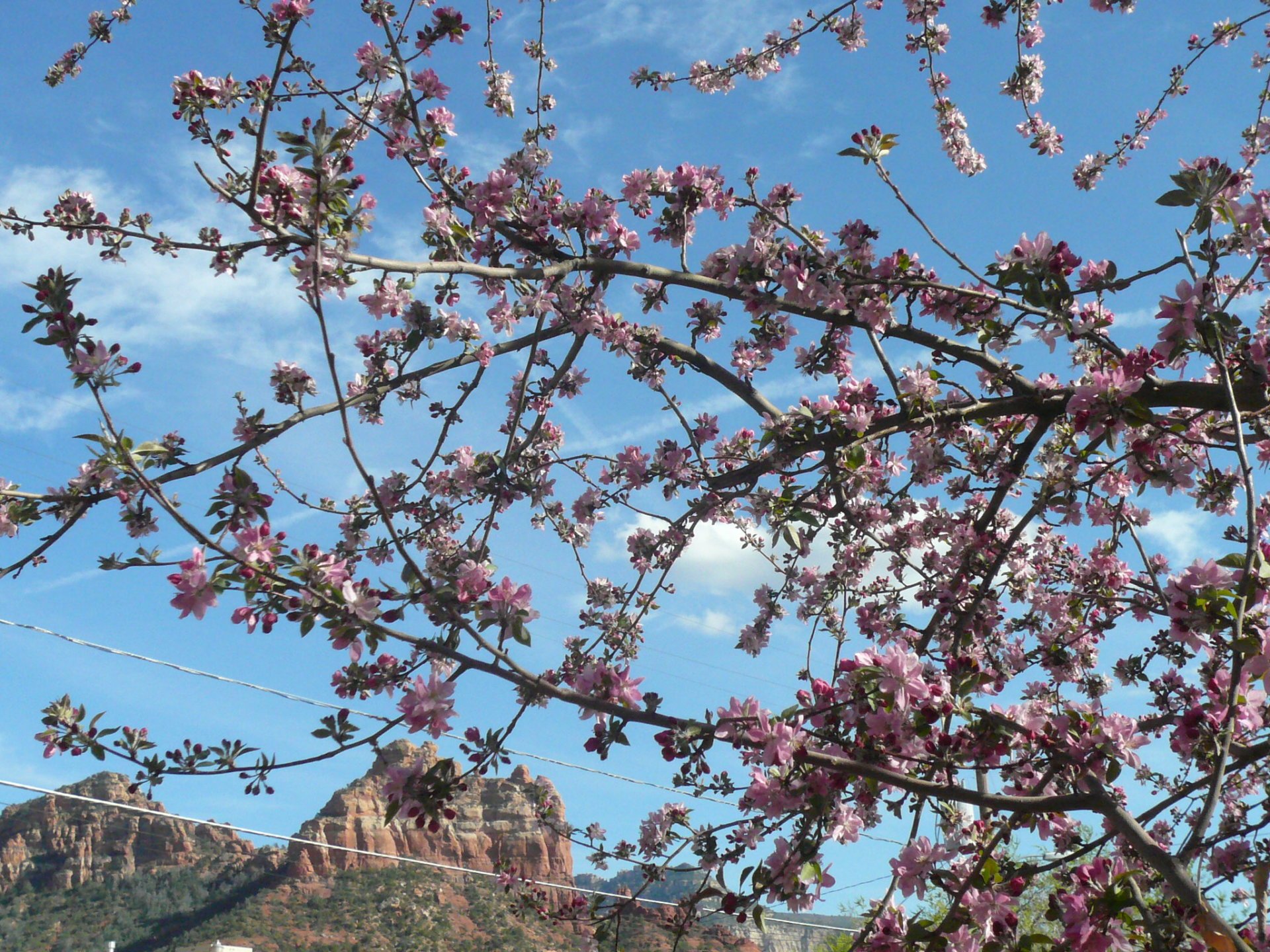 Arizona, with its arid climate, seems to be an unlikely place to see blossoming cherry trees. However, a few cherry species are actually native to Arizona: bitter cherry and two species of chokecherry. Cherries do grow here and bloom beautifully in Flagstaff, Sedona, and even Phoenix. In addition, Arizona has its own sakura matsuri festival, dedicated to the Japanese hanami traditions.
Flagstaff
Cherry trees are quite widespread in Flagstaff. They make spring especially beautiful in the city and even occasionally bear some fruit. Cherries are especially scenic on the corner of Milton and Butler streets and at the Northern Arizona University campus. Also, you can stop by Northern Arizona University Arboretum to enjoy some tree blossoms along the 0.5 mi (0.8 km) Wommack Tree Walk, which starts at the northeast corner of the Blome Building or the 0.5 mi (0.8 km) Littleman Tree Walk, which starts at the south entrance to North Union. Black cherry trees are the most common for the Arboretum. They usually bloom in the first half of April.
Phoenix
The Japanese Friendship Garden is the best place to see blooming cherry trees in Phoenix. This beautiful stroll garden encompasses 3.5 ac (1.4 ha) and features a tea garden and tea house. Cherry blossoms here usually peak in late March.
Arizona Matsuri (February 25–26, 2023)
Arizona Matsuri is the annual two-day festival in Phoenix dedicated to the culture of Japan. It is held on the last full weekend of February from 10 am to 5 pm, which unfortunately doesn't coincide in time with the cherry blossom season. Arizona Matsuri features martial arts demonstrations, taiko drummers, music, dance, origami, and food presentations. The festival offers free admission to the public.
Find hotels and airbnbs near Cherry Blossom (Map)