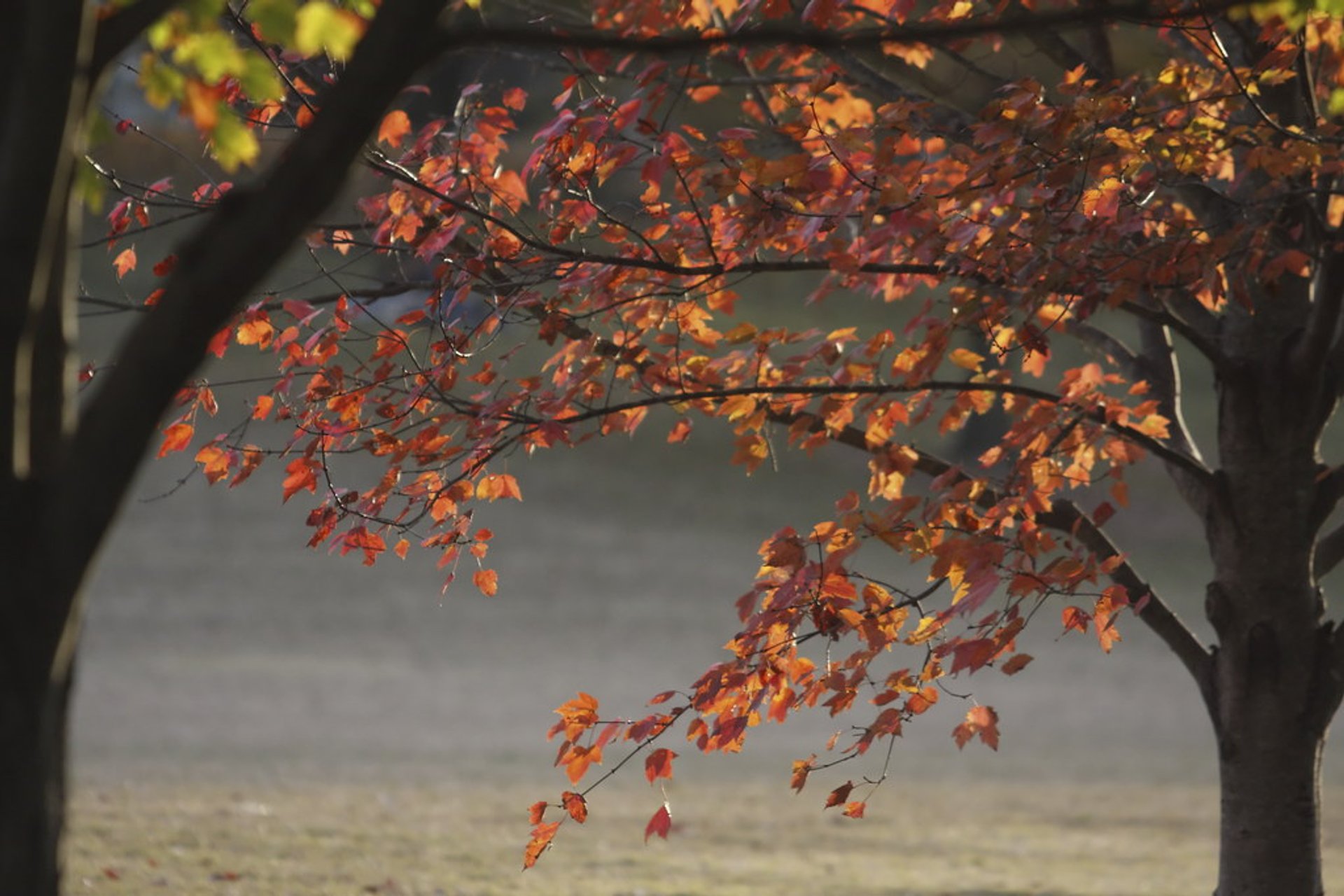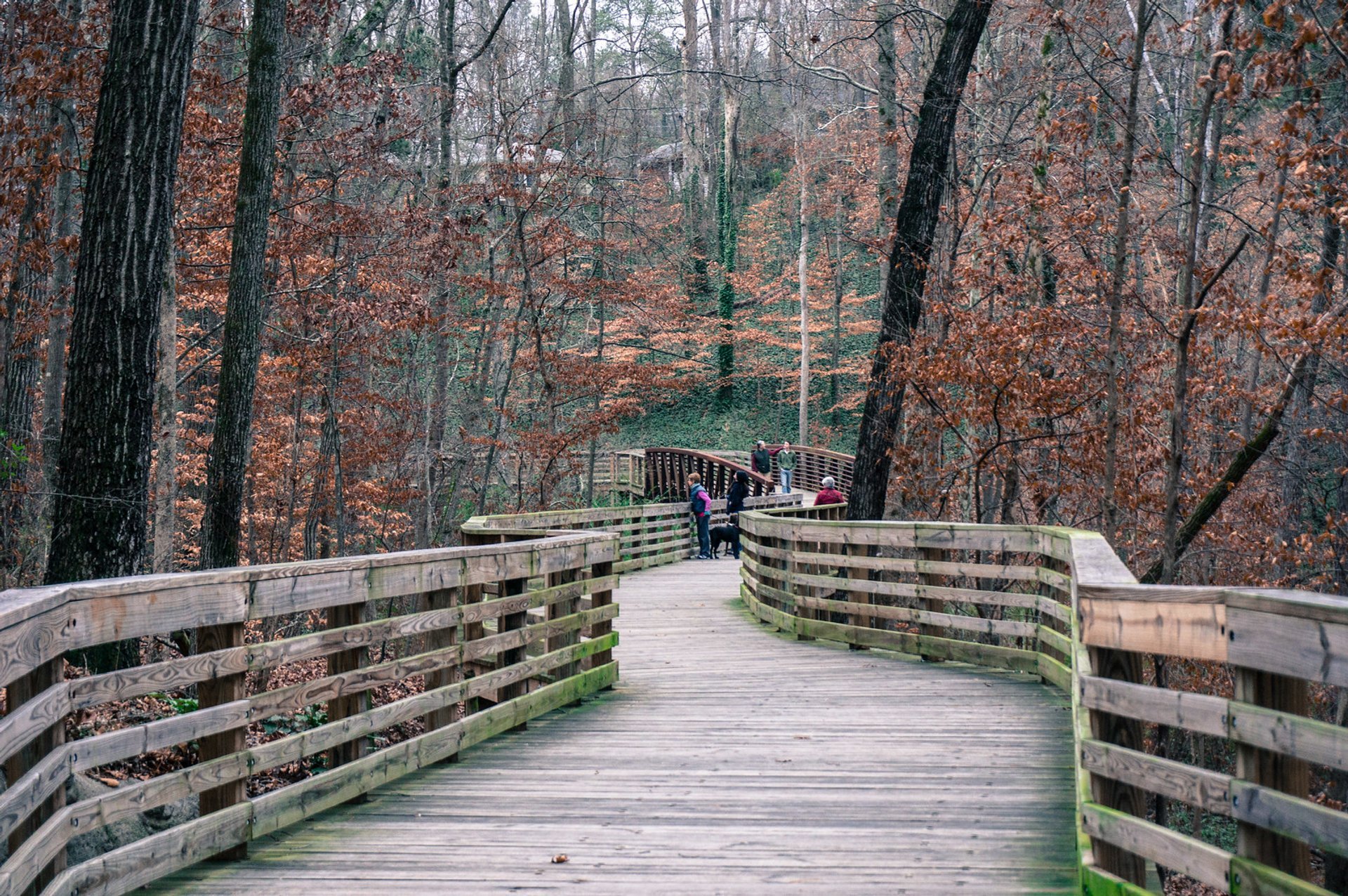 Fall foliage in Piedmont Park, Atlanta
While North Georgia offers some of the most scenic spots for leaf-peeping in the fall season, you don't have to leave the city to enjoy the beautiful fall foliage. Some of Atlanta's sites make for excellent places to soak up that fall air and view the changing leaves. Yet, if you want to see more extraordinary landscapes, you can find lots of nature spots with sweeping views within a two-hour drive from Atlanta.
When is the best time to see fall foliage in Atlanta
The fall foliage season in Atlanta usually runs from early October to mid-November, with a peak in late October or early November. Some areas see the change of color as early as late September, but you would want to aim for the peak season to get the most stunning views of fall colors in and around Atlanta.
Fall colors in Atlanta
You can find bits of fall color in metro Atlanta, as the city boasts some excellent parks. The days in October tend to be warm enough, so grab a blanket and your favorite food to enjoy a picnic in one of Atlanta's parks.
Piedmont Park fall colors
Piedmont Park is one of the most popular parks in Midtown Atlanta. Go for a stroll under a canopy of fall leaves. The park has it all, from playgrounds to dog parks. On a Saturday morning, go to Piedmont Park Green Market with dozens of vendors selling local produce, which can be pre-ordered or purchased on-site.
Sweetwater Creek State Park
Sweetwater Creek State Park is a few miles west of the city. The park is packed with trees and offers about a dozen miles of hiking trails through fields and forests. For an easy hike, go on the one-mile Red/History Trail that runs along Sweetwater Creek and ends at the New Manchester Mill ruins, a filming location for The Hunger Games. You can also kayak, canoe, or paddleboard the park's reservoir lake. To enjoy the fall season in the park fully, consider staying overnight in the park's yurt village and campground.
South Peachtree Creek Trail at Mason Mill Park
South Peachtree Creek Trail at Mason Mill Park explores a beautiful creek valley in Decatur along paved trails and raised wooden boardwalks beside a tumbling creek. The trail connects Mason Mill Park and Medlock Park and meanders northwards to North Druid Hills Road. South Peachtree Creek Trail is a popular running route with scenic treetop views and historic structures in the suburban landscape, so you can either walk or run the route.
Fall colors near Atlanta
Amicalola Falls Loop
Amicalola Falls is the tallest cascading waterfall in the Southeast at 729 ft (222 m), located near the southern terminus of the Appalachian Trail in Dawsonville, about 1.5 hours north of Atlanta. To see the splendid fall foliage views, hike the Amicalola Falls Loop, with several challenging miles through the woods, across bridges, and up and down a few flights of stairs. Stop at the bridge spanning the crest of the waterfall to get the most stunning view of the fall colors dotting the Blue Ridge Mountains. The flaming red foliage is a result of the mountains' dry soil. You can stay overnight at the Amicalola Falls Lodge that offers both rustic camping and plush hotel rooms. Extra services at the lodge include dining and all sorts of activities ranging from archery to zip-lining.
Brasstown Bald
If the tallest waterfall isn't enough, you can conquer the highest peak in Georgia—Brasstown Bald in Towns County, about 2 hours north of Atlanta. At the summit, you will find the visitor center and an observation deck with 360-degree views of the colorful trees on the slopes of the Blue Ridge Mountains. Thanks to its accessibility, Brasstown Bald is a popular spot for sunrise and sunset watching.
Cloudland Canyon State Park
In the northwestern corner of Georgia, about 2 hours from Atlanta, explore Cloudland Canyon State Park, which is particularly scenic in fall. You can hike or ride a mountain bike on numerous park trails. West Rim Loop, a moderately difficult 5 mi (8 km) hike, promises some truly sweeping views. For a glamping weekend amidst the fall foliage, you can stay overnight in one of the yurts in the state park.
You can read about more leaf-peeping locations in Georgia, USA here.
Find hotels and airbnbs near Atlanta Fall Colors (Map)