0
New England is famous for its kaleidoscope of fall colors, and Connecticut is no exception. The fall foliage season here starts in the last week of September and extends into early November. Abundant White oak and hickory trees create a sea of yellow and golden tones. Meanwhile, red maples add some burgundy and bright red accents. Connecticut towns look charming when framed with fall foliage, and there are many parks and forests across the state offering scenic autumnal trails.
Macedonia Brook State Park
Macedonia Brook State Park is a beautiful fall destination in Kent, Connecticut. The park mostly consists of wooded valleys with picturesque streams. Take a scenic Macedonia Ridge trail to get to the top of Cobble Mountain, which offers panoramic views stretching as far as Upstate New York. The 6-mi (10km) trail is quite short, but it has several challenging climbs.
The largest forest in the state, Pachaug, is located near Voluntown, on the border between Connecticut and Rhode Island. It's famous for the scenic Mt. Misery Overlook located in the Chapman area popular with hikers. The overlook can be reached by car or on foot. Pachaug State Forest offers many hiking trails. The shortest is 7-mi (11-km) Quinebaug Trail which runs from north to south. The Narragansett Trail crosses the border and leads into Yawgoog Scout Reservation in Rhode Island.
Mohawk State Forest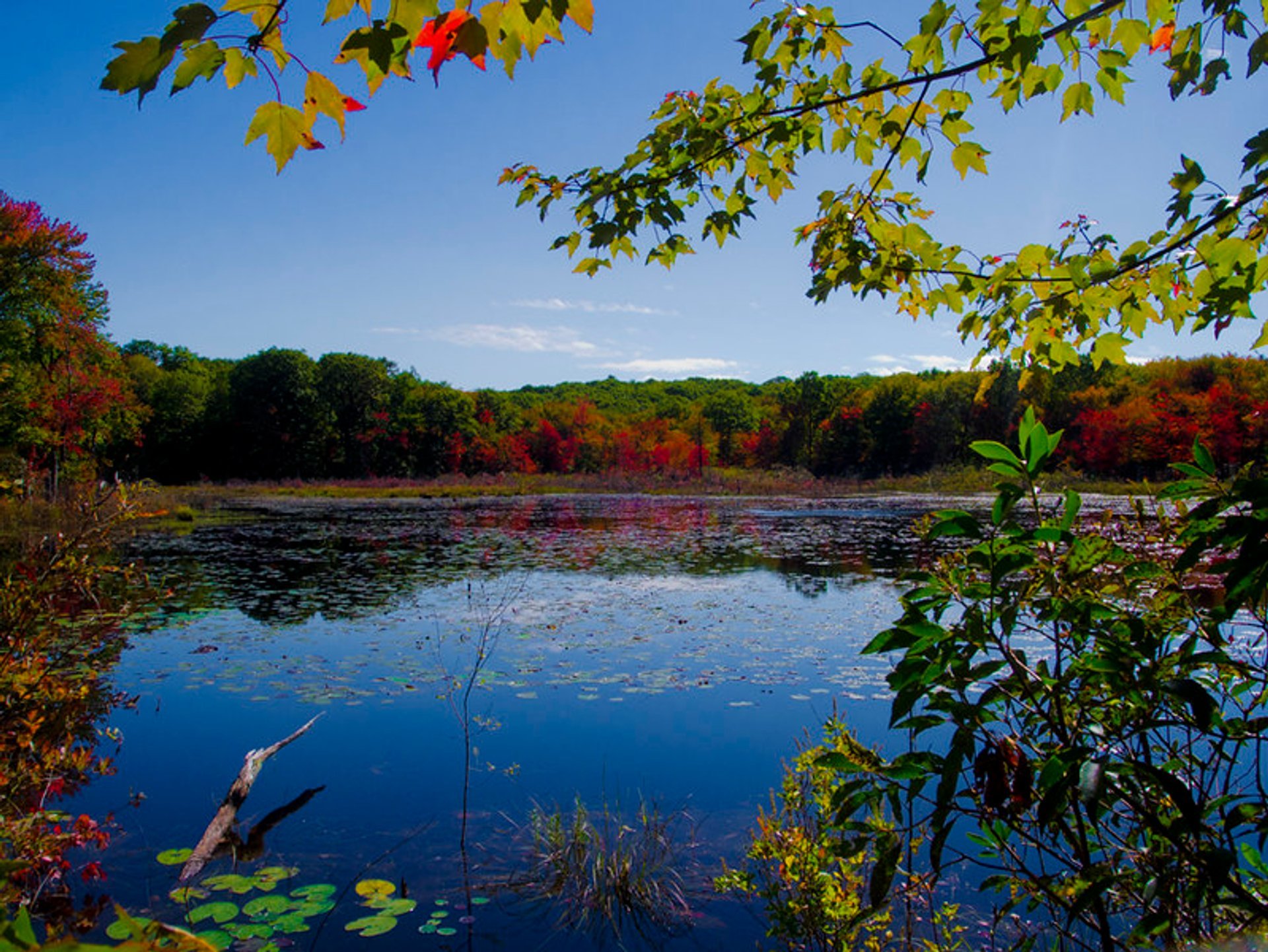 Mohawk State Forest near Cornwall is famous for its bogs and the Mohawk Mountain Outlook that can be reached via Mattatuck Trail. The summit, at an elevation of 1683 ft (513 m) offers 360-degree views which include the Catskill and Taconic Mountains as well as the Berkshire Range.
Talcott Mountain State Park
Talcott Mountain State Park, located near the towns of Avon, Bloomfield, and Simsbury, offers leaf peepers another opportunity to enjoy the panorama of the Northeast from above. The park's main highlight is Heublein Tower, 165 ft (50m). After a short hike to the ridge, visitors reach the tower and can access scenic views of the Farmington River Valley. The Heublein Tower is open Thursday through Monday during the summer months, from Memorial Day through Labor Day. After Labor Day and through November, the tower and museum are open Tuesday through Sunday, 10 am to 5 pm.
Peoples State Forest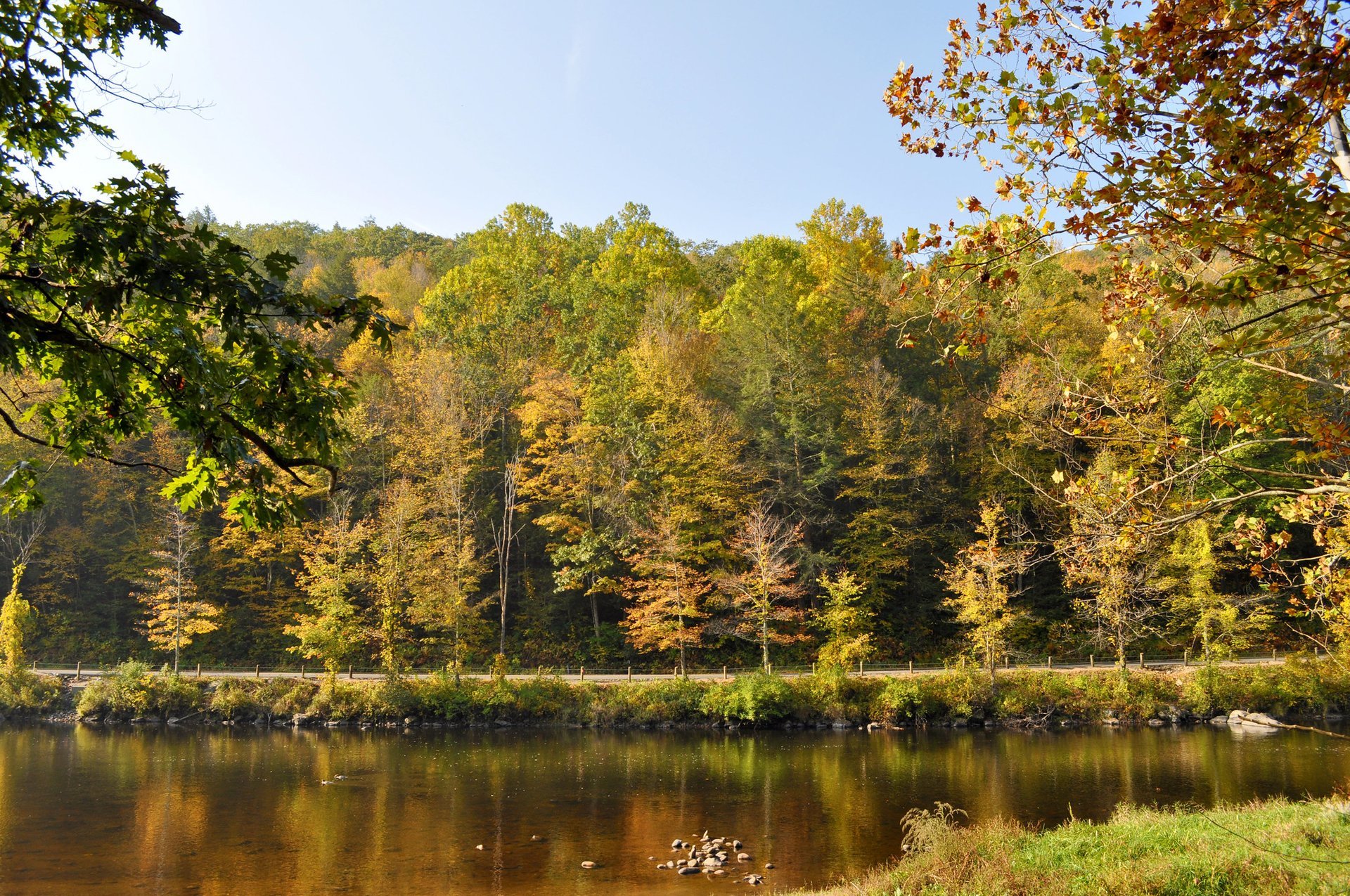 The Peoples State Forest located near Barkhamsted boasts amazing fall foliage displays. The most popular trails include the 7-mi (11 km) Peoples State Forest Loop and the 3-mi (5,5-km) Jessie Gerard Trail which ends with Chaugham Lookouts. At the fork, the right path leads you through the lighthouse sight to the lookouts offering some of the best vistas in Connecticut.
Where to stay
Look for historical mansions turned into bed and breakfasts, old farms turned into luxury hotels as well as cozy old-fashioned inns located in scenic spots. Hartford, Bridgeport, and New Haven offer the largest variety of hotels and lodging options. Pachaug and Mohawk State Forests also have campgrounds.
Find hotels and airbnbs near Connecticut Fall Foliage (Map)