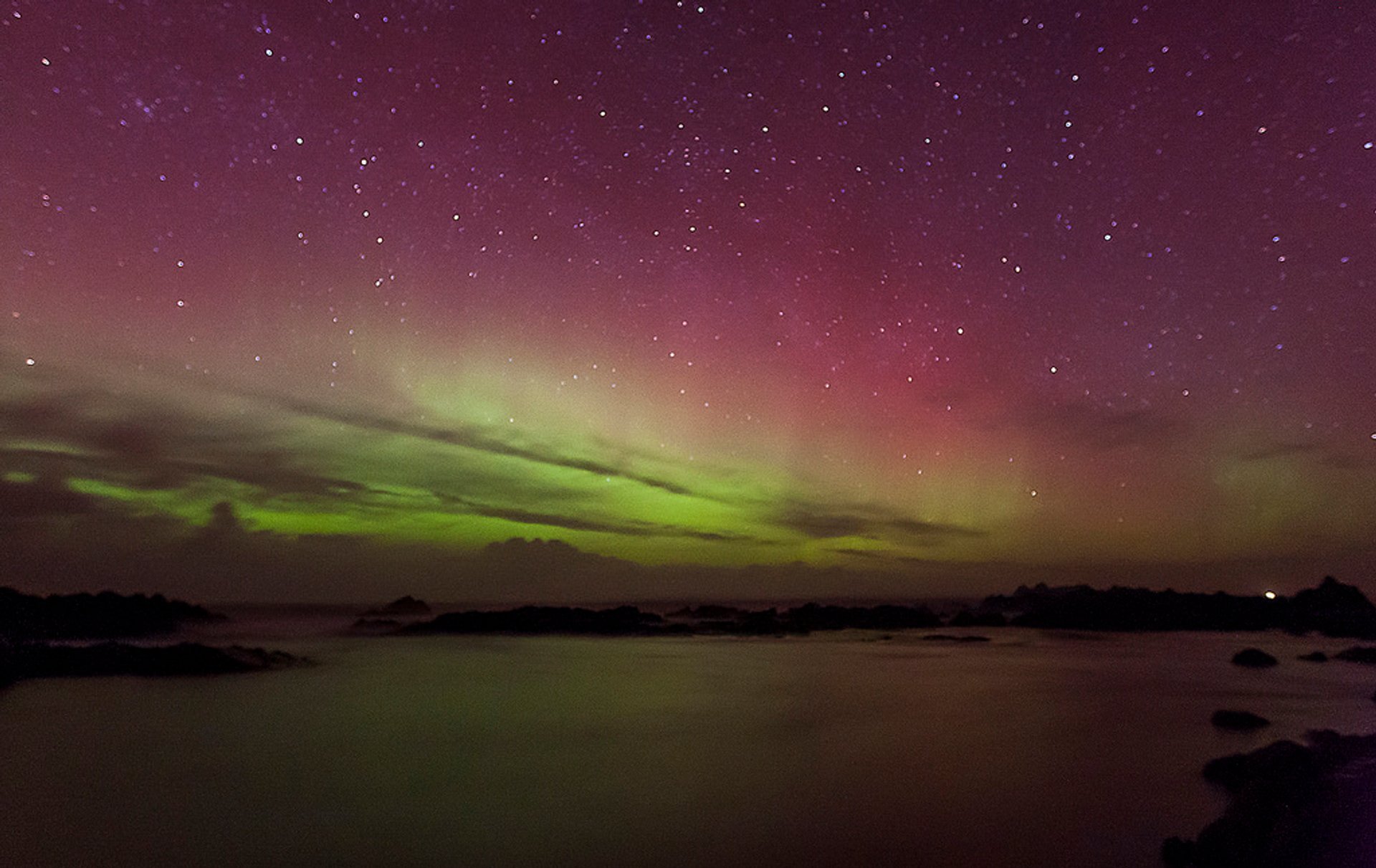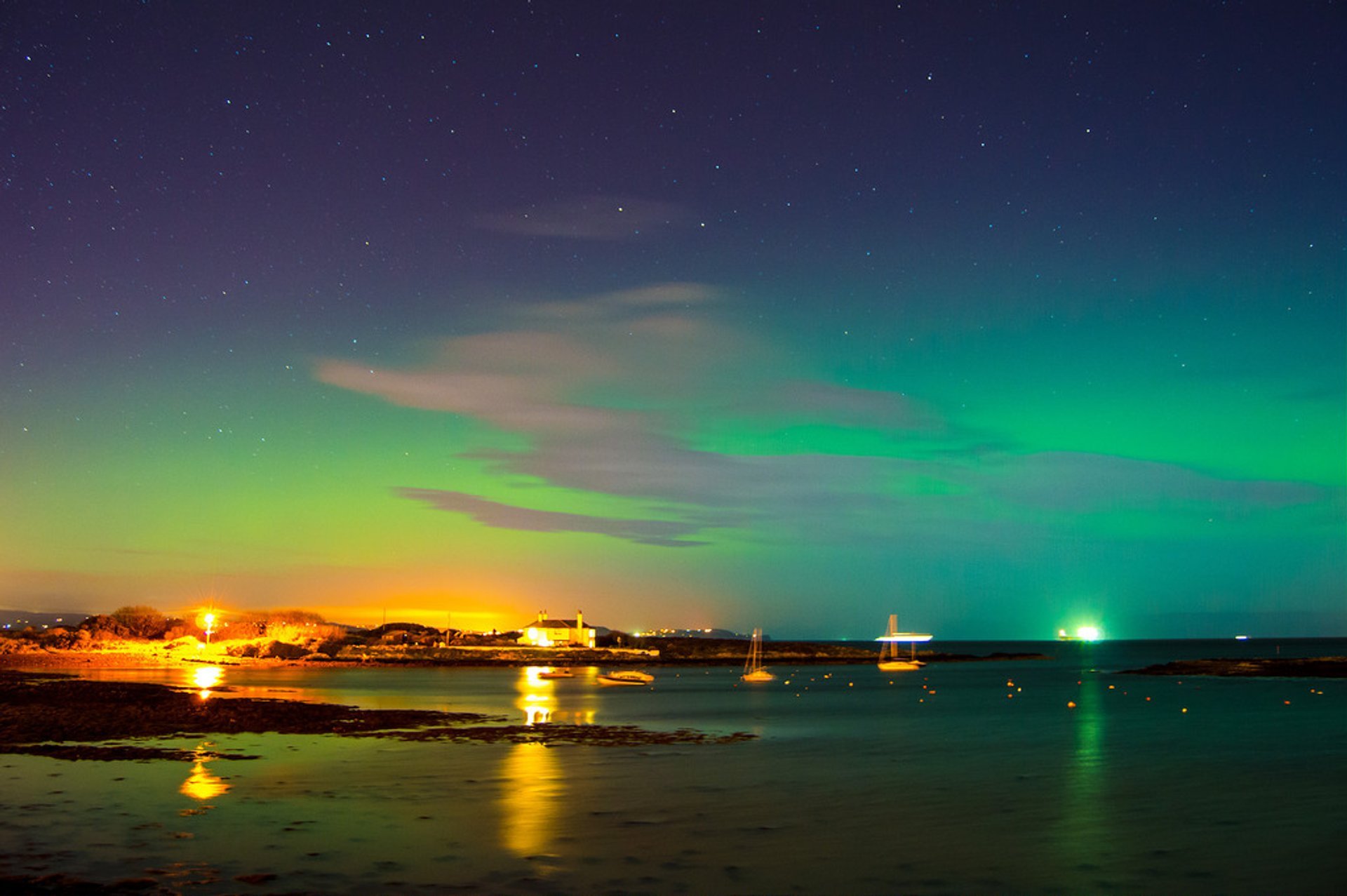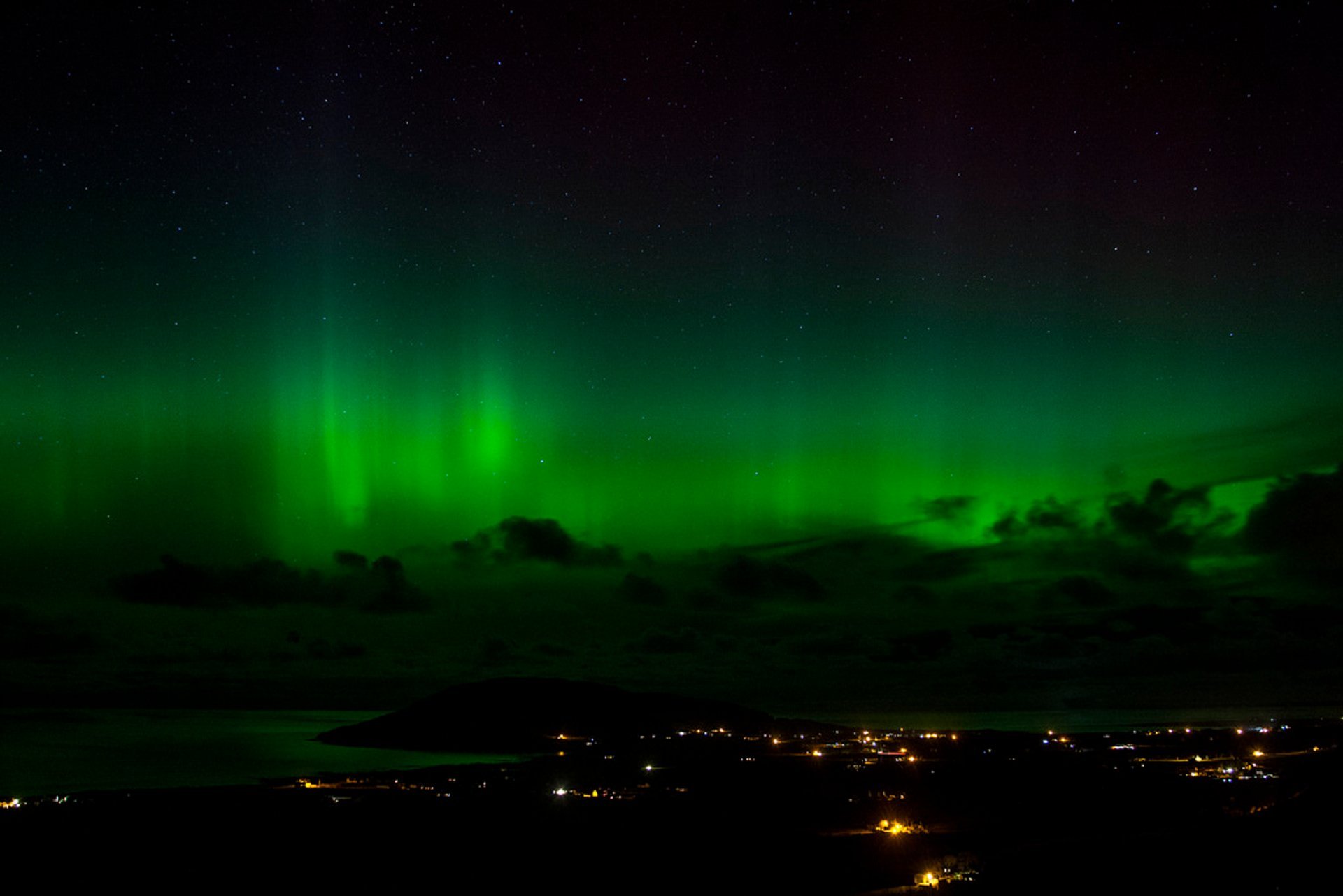 Ireland's latitude is roughly between the 52nd and 55th parallels, which is beyond the so-called Aurora zone around the magnetic poles. However, when the Kp index that measures the strength of geomagnetic activity is high enough, the whole country becomes a good place to see Northern Lights. However, there could be clouded skies, and big cities experience light pollution, so you'll need all the luck you can get to witness the beautiful phenomenon. To increase your chances, you'd want to go as far out of the city as possible and, of course, head in the northern direction.
When is the best time to see northern lights
Northern lights in Ireland are usually visible from 9 pm to 1 am during the period from September through March. The time of fall, winter, and spring equinoxes usually feature more frequent auroras due to increased geomagnetic activity. So check the websites for Kp index (you are looking for numbers over 5 to be able to see the aurora in Ireland) and wait for the sky to be clear of clouds.
Donegal
Donegal County in northwestern Ireland bordering the Atlantic Ocean has beautiful historical castles, rugged coastline, lakes and mountains that suit perfectly for an aurora hunt. Tra na Rossan Beach on the Rosguill Peninsula has a good location and little light pollution along the northern headlands. Inishowen Peninsula offers a few excellent spots for viewing northern lights. One of them is Malin Head, a great place to see aurora borealis thanks to its northernmost location in the country. Another one is Dunree Head that also offers the Dunree Fort as a shelter and a museum alongside several nature walks and a picturesque bay to be explored during the day. The Glencolumbkille on the Slieve League Peninsula is another location to experience the phenomenon.
Mullaghmore
Mullaghmore peninsula with its scenic views dominated by Ben Bulben mountain is a good spot to see northern lights, even though visibility here is not as good as in Donegal. The north-facing peninsula is located south of Donegal and is a popular vacation spot in the summer.
Mullet Peninsula
The Mullet Peninsula, also called the Erris Peninsula after its northernmost point Erris Head, is a popular destination for aurora chasers. The town of Belmullet with its two bays, Blacksod Bay and Broadhaven Bay, is a well-known local Northern Lights gazing spot. Downpatrick Head is another good location facing north. This small peninsula with a rugged coast and an isolated location is actually the northernmost point of the Mayo county,
Find hotels and airbnbs near Northern Lights (Map)