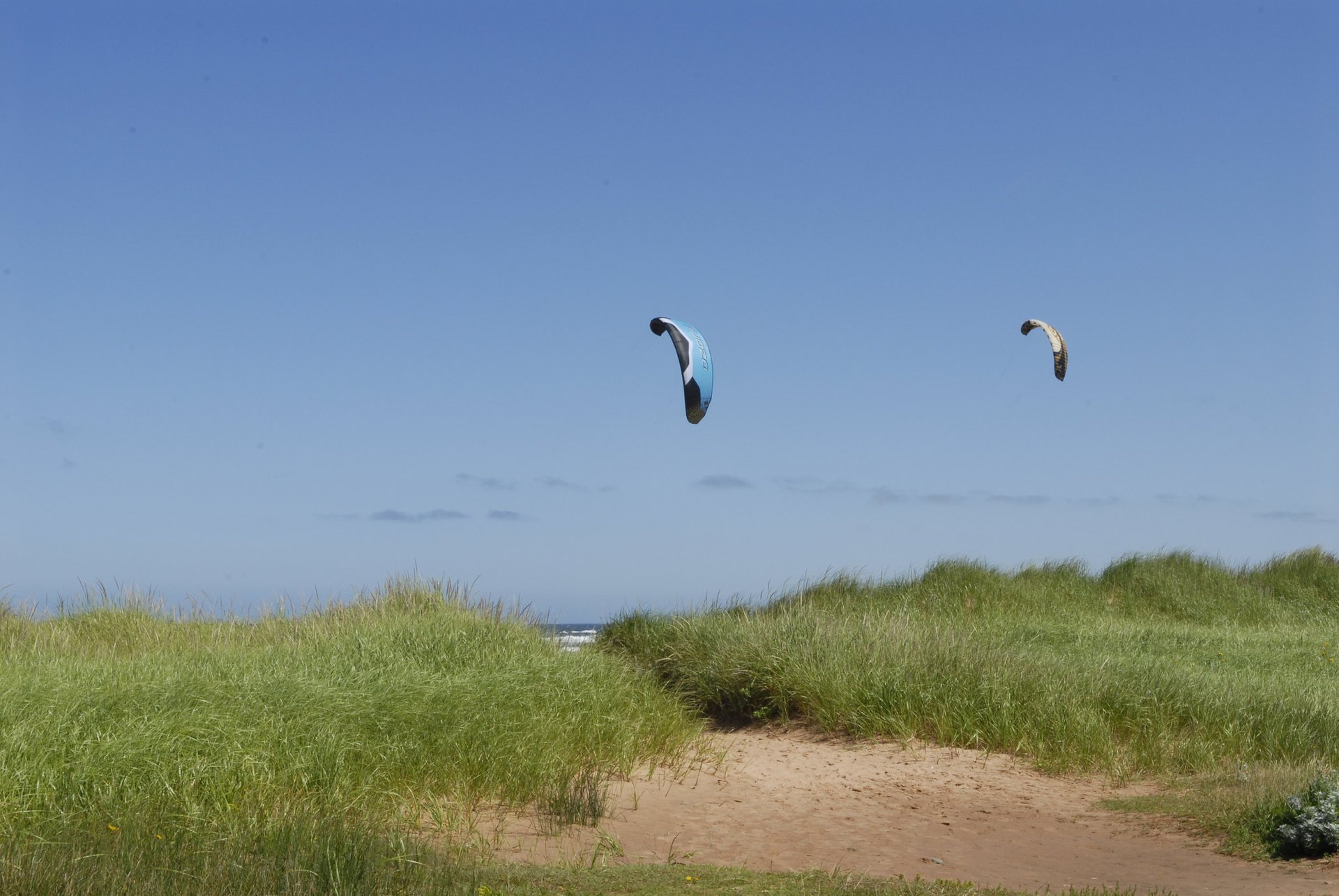 The popularity of kitesurfing and windsurfing is growing in Canada, and some fans have discovered that they don't have to go to exotic countries to practice their favorite sport. There is a perfect spot for it right at home. Iles de la Madeleine or the Magdalen Islands is a remote destination that was rarely visited even by Quebecois themselves. However, this archipelago in St. Lawrence boasts wide sandy beaches in every direction, picturesque red cliffs, dunes, and strong, steady winds that provide ideal conditions for kitesurfing and windsurfing.
The Magdalen chain consists of eight islands: Havre-Aubert, Grande Entrée, Grosse-Île, Havre aux Maisons, Cap aux Meules, Pointe-Aux-Loups, Brion, and Île d'Entrée. Kitesurfers can explore all of them, finding multiple spots with various conditions. There are very shallow and flat lagoons to learn and to practice, no jellyfish, and no sharks. Kitesurfing season on the islands lasts from late June through early September (July and August being the best months) when the wind is strong, and water is the warmest: around 18-20 ºC (64-68 ºF). The wind comes from the south-west with speed from 9 to 22 knots. Îles de la Madeleine have the airport and the ferry service.
At Havre Aux Basques Bay Kitesurfers usually stay in shallow water on the left and far left of the lagoon. It's an excellent area for beginners. There is a parking area and additional parking on Route 199.
The Magdalen Islands have a considerable windsurfers' community. At Havre Aux Basques Bay windsurfers stay on the right side, where the water is deeper. Other popular spots for windsurfing include Havre Aubert Beach and Sandy Hook Point, which suit only experienced riders due to strong currents and gusty south winds. Du Cap Beach has smooth rolling waves, NE winds, and suits all levels. De La Martinique Beach is good to practice riding in the ocean as well as Baie Sud Pedalo.
Find hotels and airbnbs near Kitesurfing & Windsurfing on Magdalen Islands (Map)