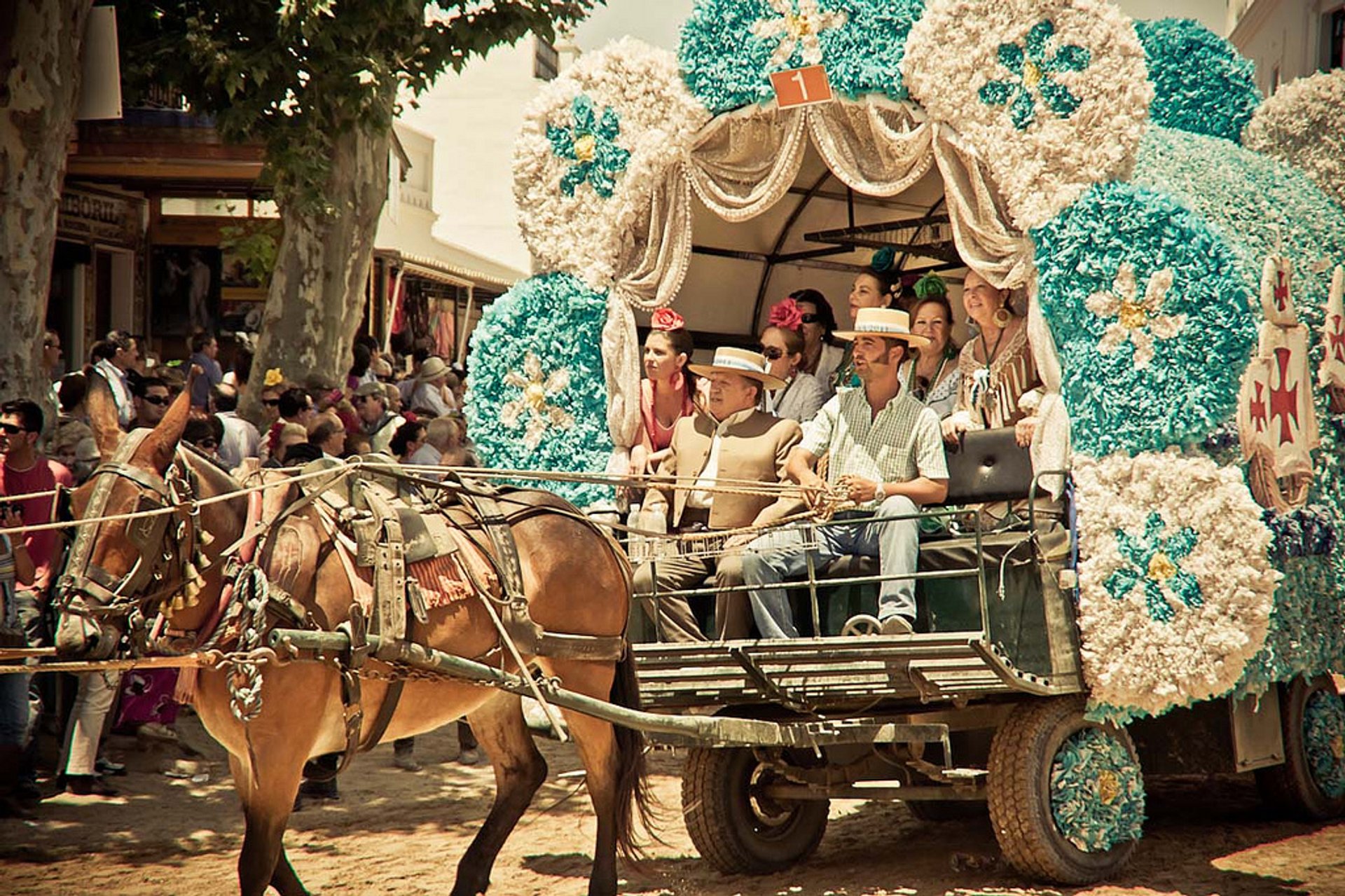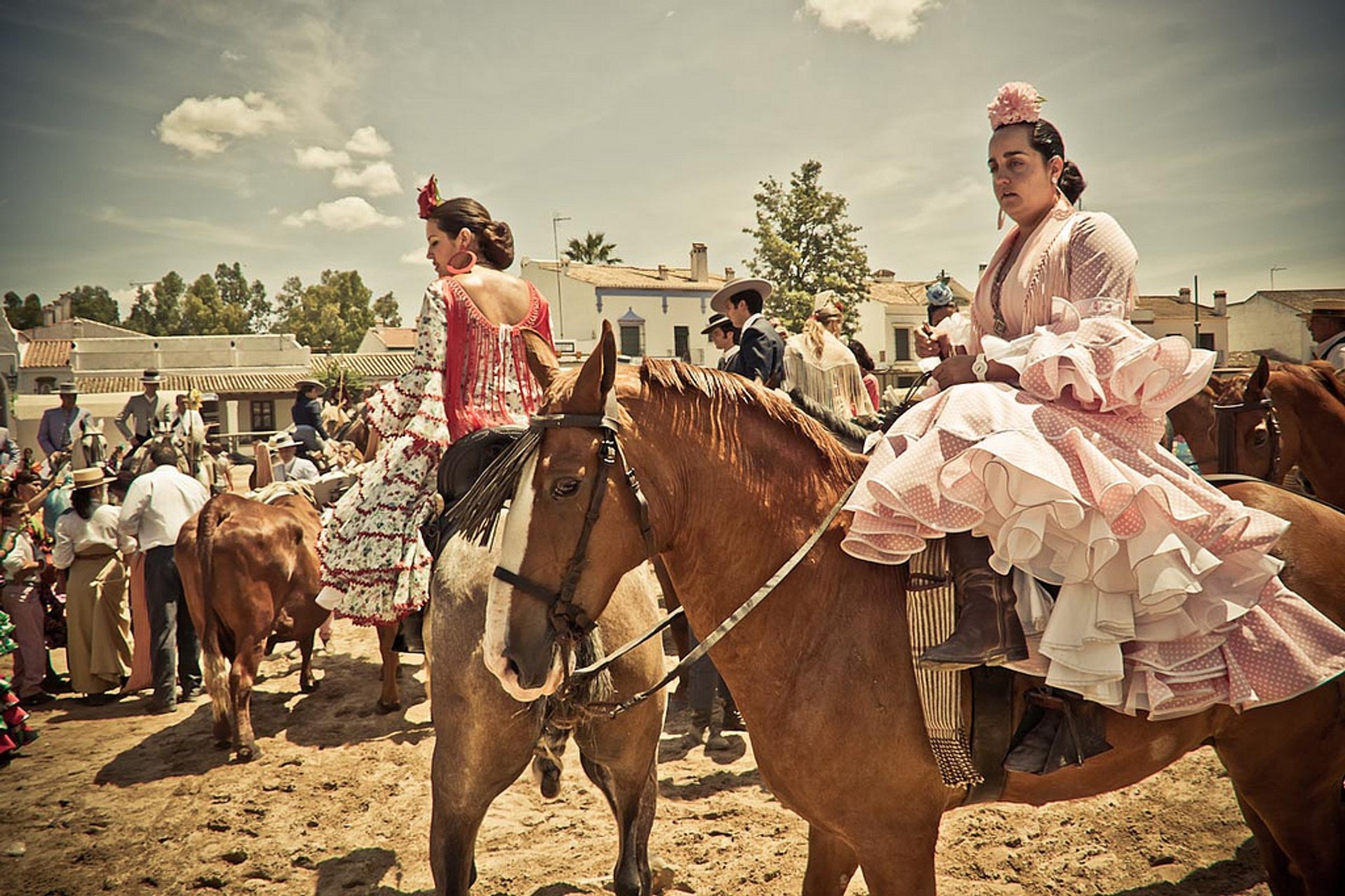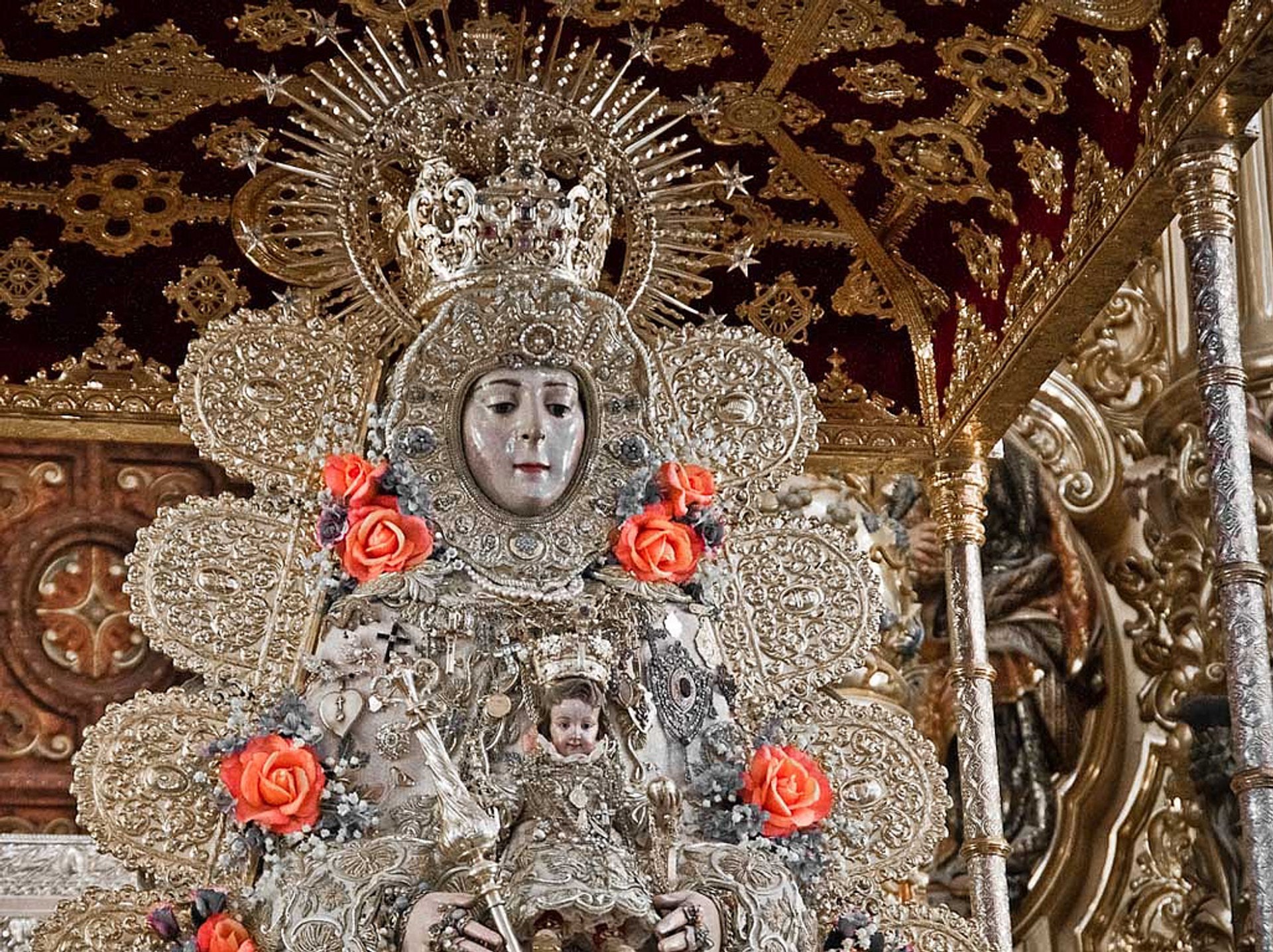 It seems like every town and village in Andalucia has some pilgrimage site, but no other is similar to El Rocío (about 80 km from Seville) known as Romería de El Rocío, also called El Rocio Festival. This small hamlet, not even a village, situated within the municipality of Almonte in the province of Huelva, around 80 km away from Seville, counts about 1000 permanent residents. Once a year on the weekend before Pentecost Monday, the 50th day after Easter Sunday, its normally deserted sandy streets get packed with a million of pilgrims from Europe and Asia who come for El Rocio pilgrimage. They come for the cult religious celebration of the Virgin of el Rocío.
This vibrant pilgrimage is definitely something unique to behold. Female pilgrims are wearing flamenco-styled dresses, males—wide-brimmed boleros, riding jackets and "traje corto". Many are riding horses, while others move on colourful carriages. Everybody is chanting, dancing, beating drums, playing the flutes, tambourines, and guitars, and shouting "Viva la Reina de la Marisima" which means "Long live the queen of the marshland". Fire-crackers complement the whole thing. Yet the climax of such a passionate procession is yet to come. Early Monday morning when the pilgrimage has finally reached the shrine of Sanctuario de Nuestra Señora de El Rocío or simply Ermita, the idol is brought out of the church to be paraded through the streets. It's essential that the representatives of all 95 brotherhoods carry the statue of the Virgin, so everyone is agitated to be the first, nearly fanatic.
That's a kind of a miracle that the statue has survived centuries. In fact, the legend says it was found in a tree trunk around the contemporary Doñana National Park back in 15th century by a local hunter from the village of Villamanrique. The figurine of the Virgin cured various diseases including infertility and mental disorders, and soon locals constructed the church nearby in honour of the Virgin. More and more people pilgrimed to the shrine, and the tradition of Pentecost Monday pilgrimages began in 1758. At first it was just local, but soon became widespread in other regions of Spain, and abroad.
The fiftieth day after Easter Sunday normally falls either on late May or early June. The most common start points of the pilgrimage are Seville, Almonte, Huelva and also Villamanrique de la Condesa.
Find hotels and airbnbs near El Rocio Pilgrimage or Romería de El Rocío (Map)