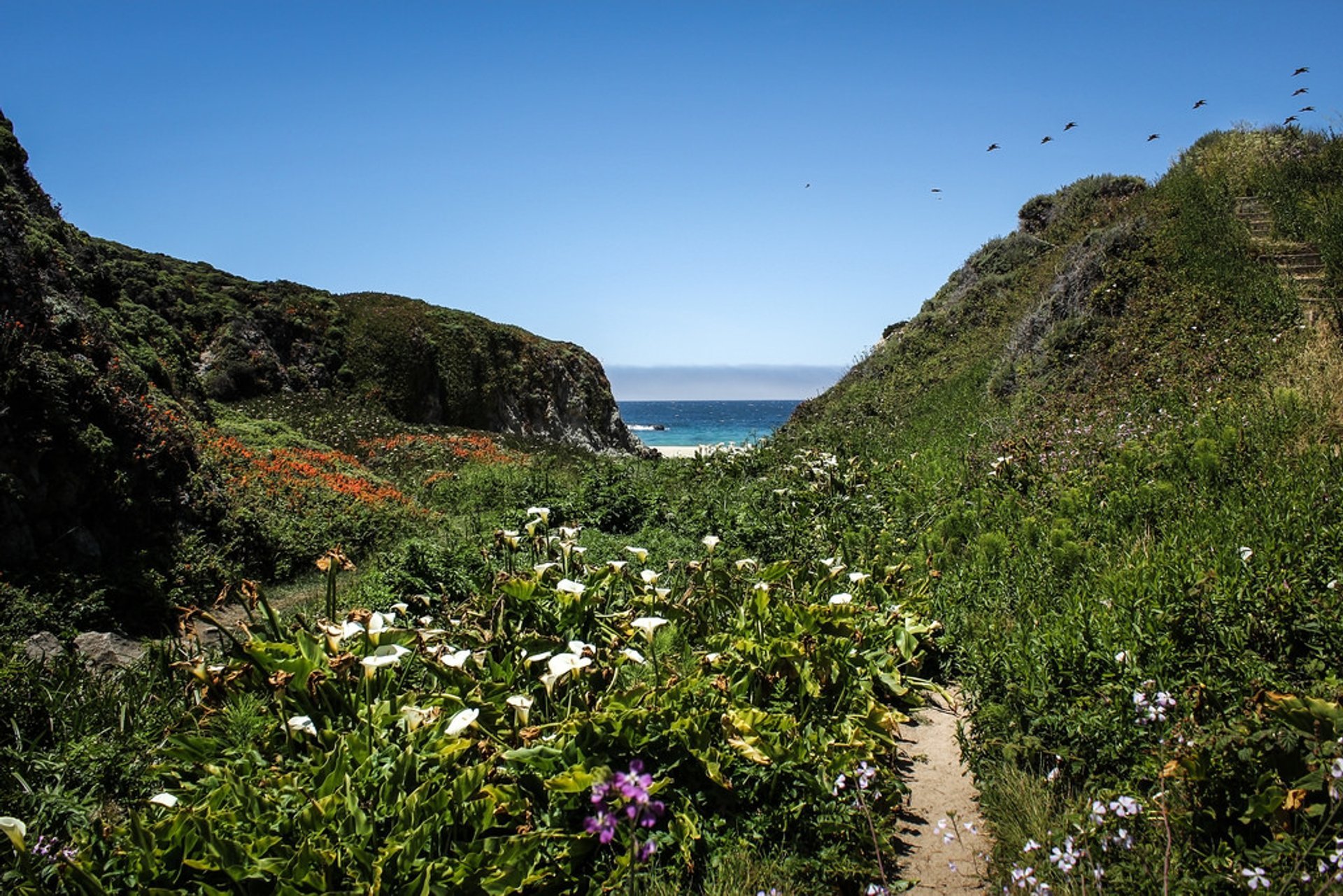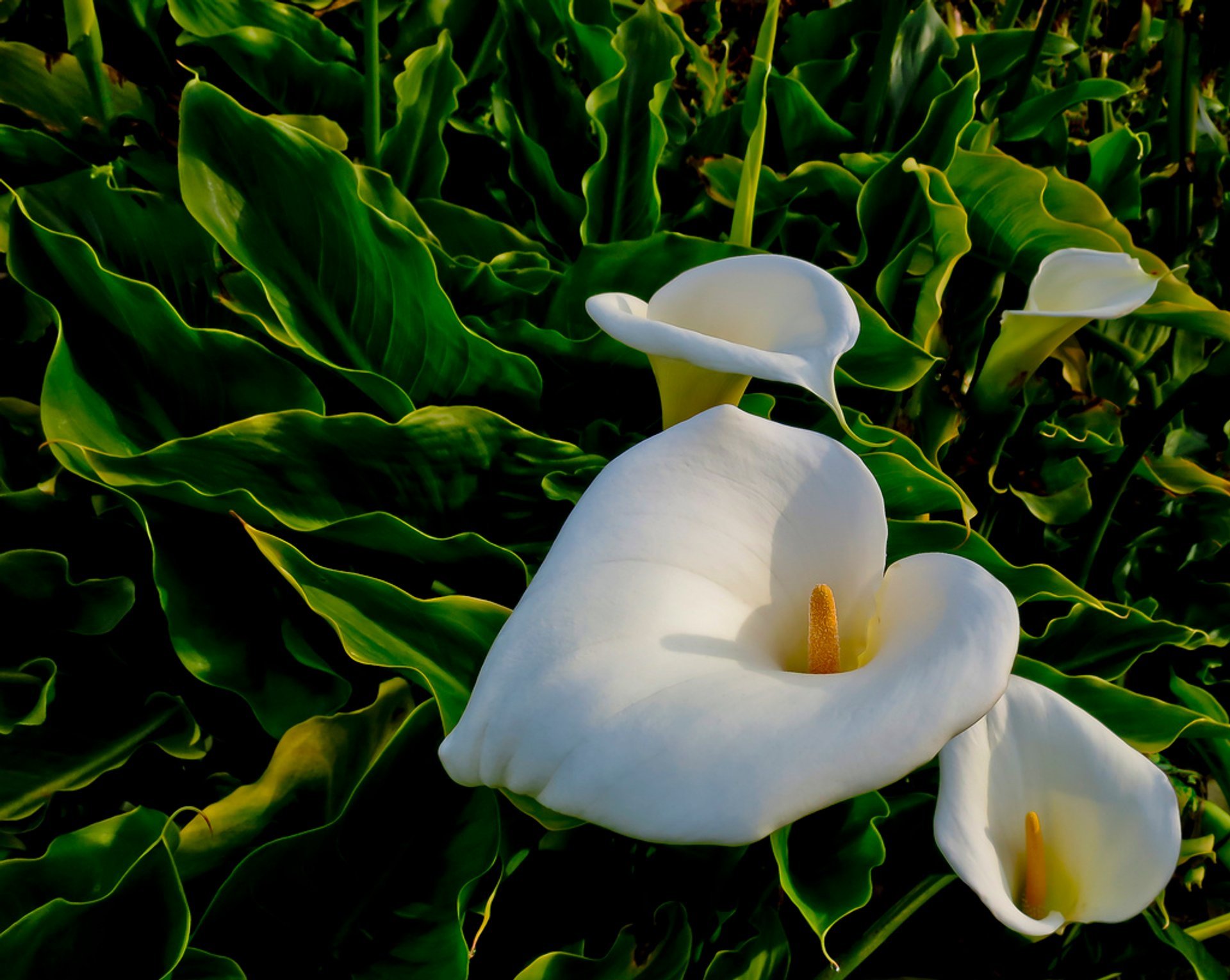 Calla Lily Valley & Garrapata Beach
Featured in
A wild calla lily beach oasis rich with succulents and stunning wildflowers is tucked near the Carmel-by-the-Sea, at Garrapata State Park, Big Sur. The area is just fabulous during the calla lilies blooming season that spans late winter and early spring. Uncover the beauty of local nature walking along the Calla Lily Valley Trail and finish the hike with a picnic at the delightful Garrapata Beach.
When do calla lilies bloom?
Calla lily valley season may start as early as the end of January. The blooming swells by mid-February and continues through mid-April and sometimes all way through the month. Note that some areas could be dangerous to navigate due to the poison oak which invades the valley after spring rains. Therefore, it is recommended to wear long pants and closed-toed shoes to avoid contact with the plants. Also, if you can't make it during calla lily season, visit any other time, as the valley is stunning year-round.
How do you get to Calla Lily Valley?
The beautiful Calla Lily Valley is located near Carmel-by-the-Sea, some 20 minutes from Monterey on Highway 1. Park your car at Gate 18 or 19 in Garrapata State Park and find Garrapata trailhead by mile marker 63. Walk for 5 minutes until you reach the set of stairs descending to Doud Creek that cradles Calla Lily Valley, the epicenter of the scenic bloom. The whole hike takes about half a mile (about 800 m) roundtrip.
Garrapata Beach
Take your time to enjoy the flowers and consider hiking further down to Garrapata State Beach, which is a perfect spot to relax after walking and have a picnic with your loved ones. However, wading around might be a bit treacherous due to slippery rocks. Similarly, swimming could be tempting, yet not that safe either, because of rough waves and rip tides.
What to do in Carmel-by-the-Sea?
While visiting Carmel-by-the-Sea, don't limit your agenda to the Garrapata Trail only. Check out what other treasured experiences you could live through here. On the condition that you plan your trip by mid-March, there's a chance to catch a glimpse of the mesmerizing monarch butterfly migration. For extreme lovers, the area has a number of surfing spots with the prime season lasting through March too. Lastly, there's so much more to see along the rugged Big Sur coast, and the best way to do so is on a road trip.
Where to stay in Carmel-by-the-Sea area?
If you study the map below, you'll see a range of accommodation options close to the Calla Lily Valley. Many hotels are scattered along Hwy 1. If you move north of the Garrapata Trail, stop somewhere in Carmel Highlands or search for better offers beyond. If you move south, you'll find great alternatives around Notley's Landing. Anyway, take your time to find what works best for you.
Find hotels and airbnbs near Calla Lily Valley & Garrapata Beach (Map)
Calla Lily Valley & Garrapata Beach
Featured in