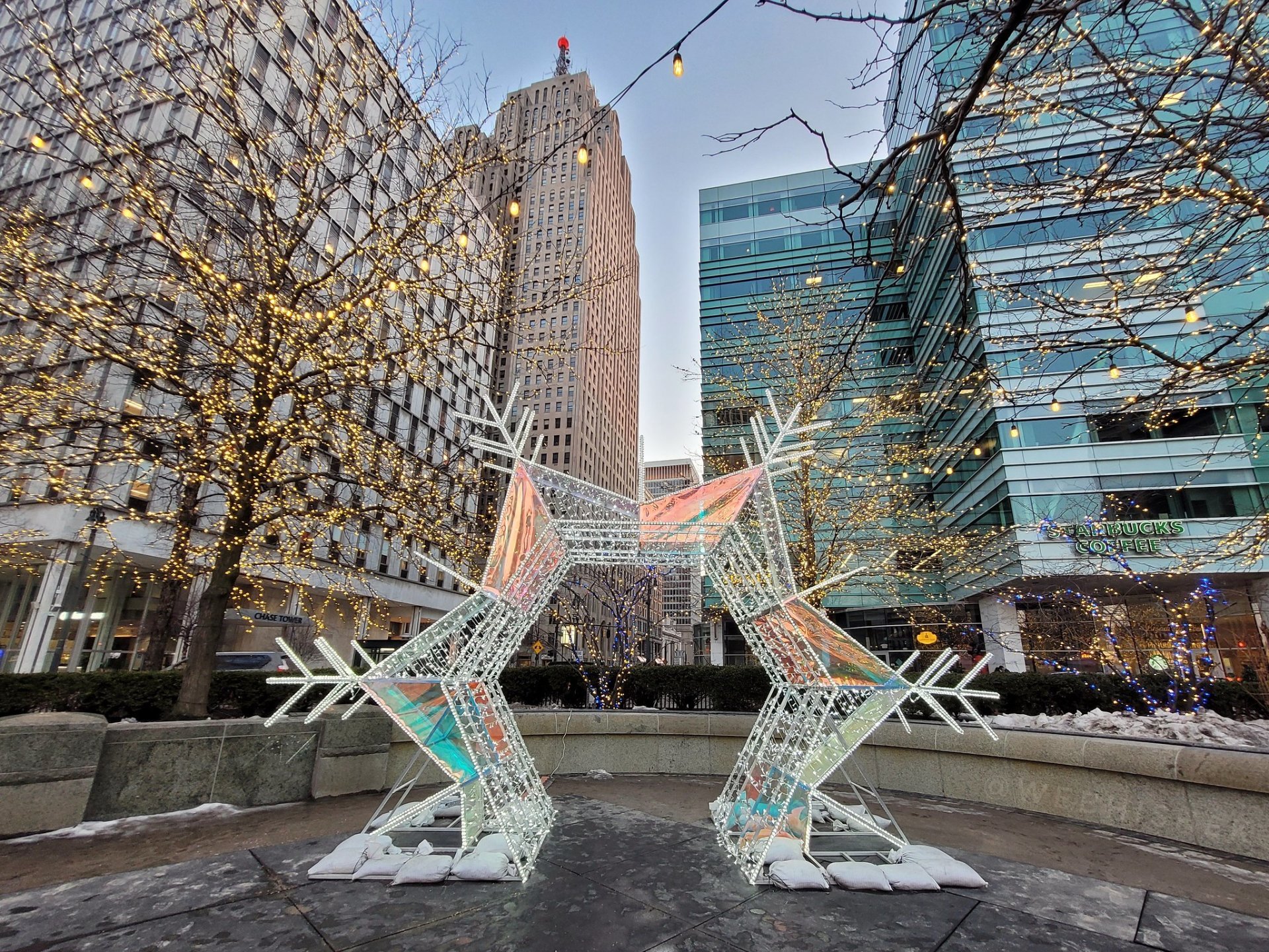 Detroit boasts some of the most beautiful public spaces in the Midwest, which look the best during the holiday season. Shimmering with millions of lights, Detroit parks and squares are perfect for a casual winter stroll. Or you can opt for a comfortable ride in a carriage or your own vehicle.
The Annual Detroit Tree Lighting (November 21, 2022)
Campus Martius Park is the premier gathering spot in Detroit, which looks especially attractive during Christmas. The holiday season in Detroit is kicked off with the annual Tree Lighting Ceremony at the end of November. The festivities last from 5 pm to midnight and include live entertainment, food trucks, and the opening of The Rink at Campus Martius Park. The main highlight is, of course, a 60-foot Norway Spruce adorned with more than 19,000 LED lights and ornaments. When the switch is flipped and the lights go on, the audience is in awe! The outdoor ice-skating rink is usually open for the public seven days per week until early March.
Wild Lights at Detroit Zoo (November 19, 2022–January 8, 2023)
Detroit Zoo looks magical during 40 festive nights in November, December, and January with skillfully designed festive displays, animal habitats, and tasty holiday treats. The zoo is lavishly decorated with more than five million lights and garlands, illuminating the trees and buildings. The main highlight is 280 animal light sculptures located throughout the zoo. Entertainment also includes holiday movies at the 4-D Theater, carousel rides, and skating.
The Big Bright Light Show in Rochester (November 21, 2022–January 15, 2023)
Brighten up your day in Downtown Rochester where buildings and trees are adorned with over one million shimmering Christmas lights. The display is on from 5 pm to midnight, starting from late November up to early January. The illumination is the brightest on Main Street from South Bridge to Romeo Road and Fourth Street from Walnut to Water streets. A perfect destination for holiday shopping or family dinner, Rochester is also known for its Christmas Parade and caroling.
The Wayne County Lightfest (November 17–December 24, 2022)
Wayne County Lightfest is located at Hines Park in Westland, Michigan, about 16 mi (25 km) west of downtown Detroit. A dazzling drive-through display, which is open from mid-November to New Year's Eve, features an infinite light tunnel, taking you through all the twists and turns of Hines Drive. You'll see glowing candy canes, snowflakes, Santa, reindeer, and rainbows. At the end of your trip, you can stop by Santa's workshop and grab a snack. Wayne County Lightfest is a favorite ​local tradition, a must-see for those who wish to get into a Christmas spirit before the holidays. A month-and-a-half-long Christmas fantasy is an absolute necessity for all kids in the area. A magical 6.5-km (4-mi) stretch of Hines Park features nearly 50 animated displays with over 100,000 lights. Drive or run, walk, and bike through one of the largest holiday displays of the Midwest!
Light Up Beacon Park (November 18, 2022)
Beacon Park is another area in Downtown Detroit with some serious Christmas vibes. The park hosts the 20-foot Children's Tree, decorated with ornaments by kids and families from community-based programs. The area transforms into a winter wonderland overnight after the annual Light Up Beacon Park ceremony in late November. The park features beautiful lighting installations and Christmas-themed displays. Food trucks, live holiday music, and fun activities will help everyone have a good time.
Find hotels and airbnbs near Detroit Christmas Lights (Map)