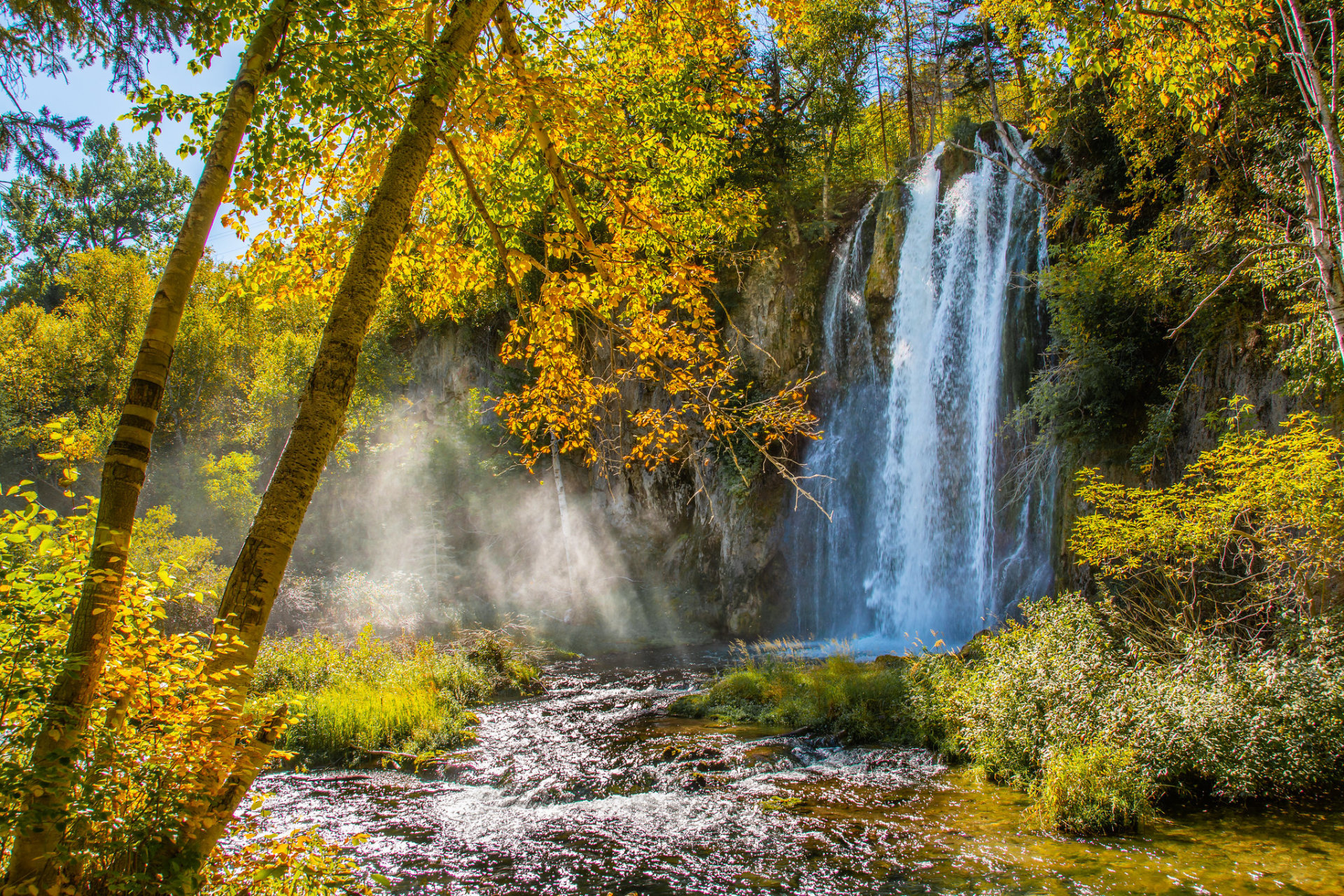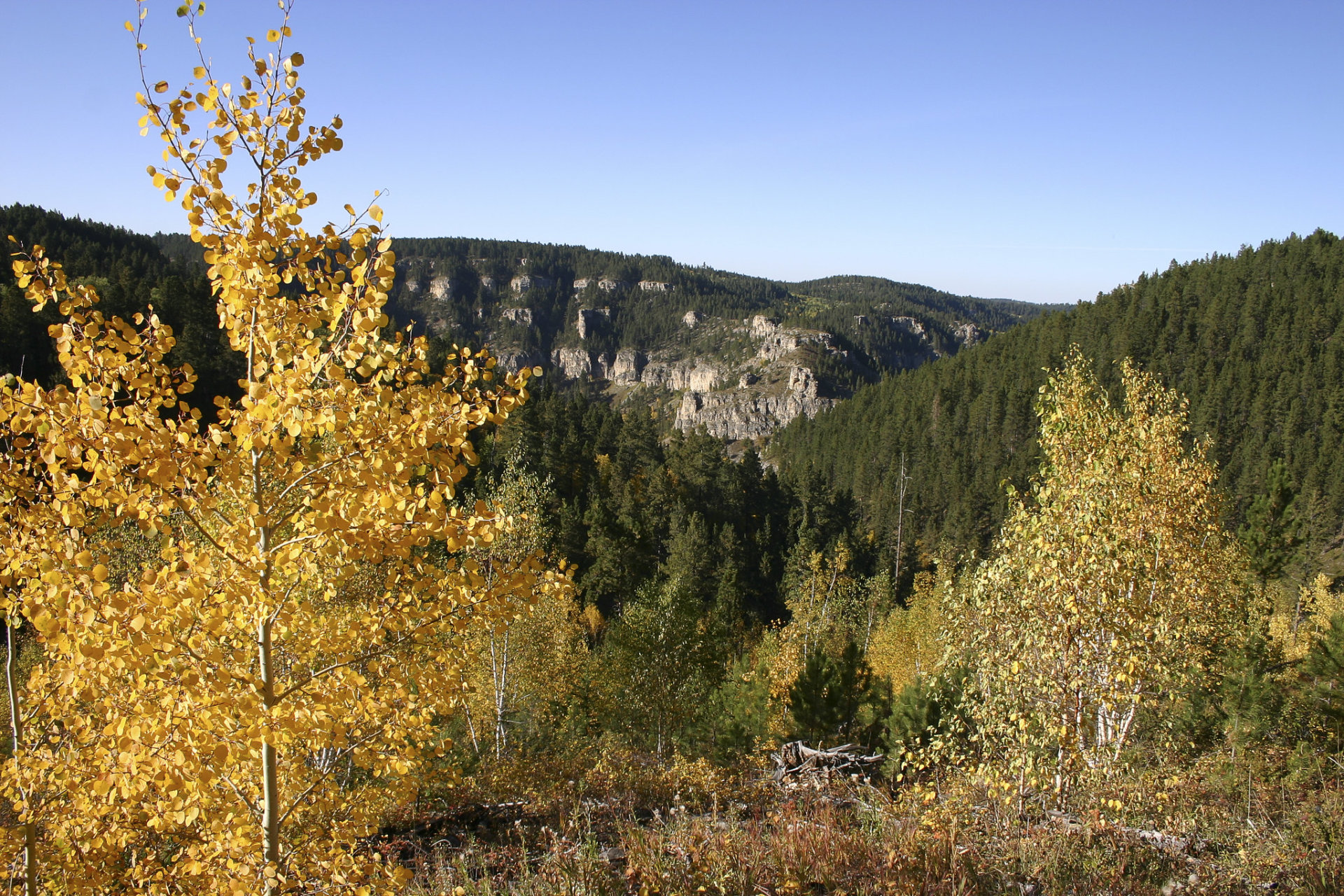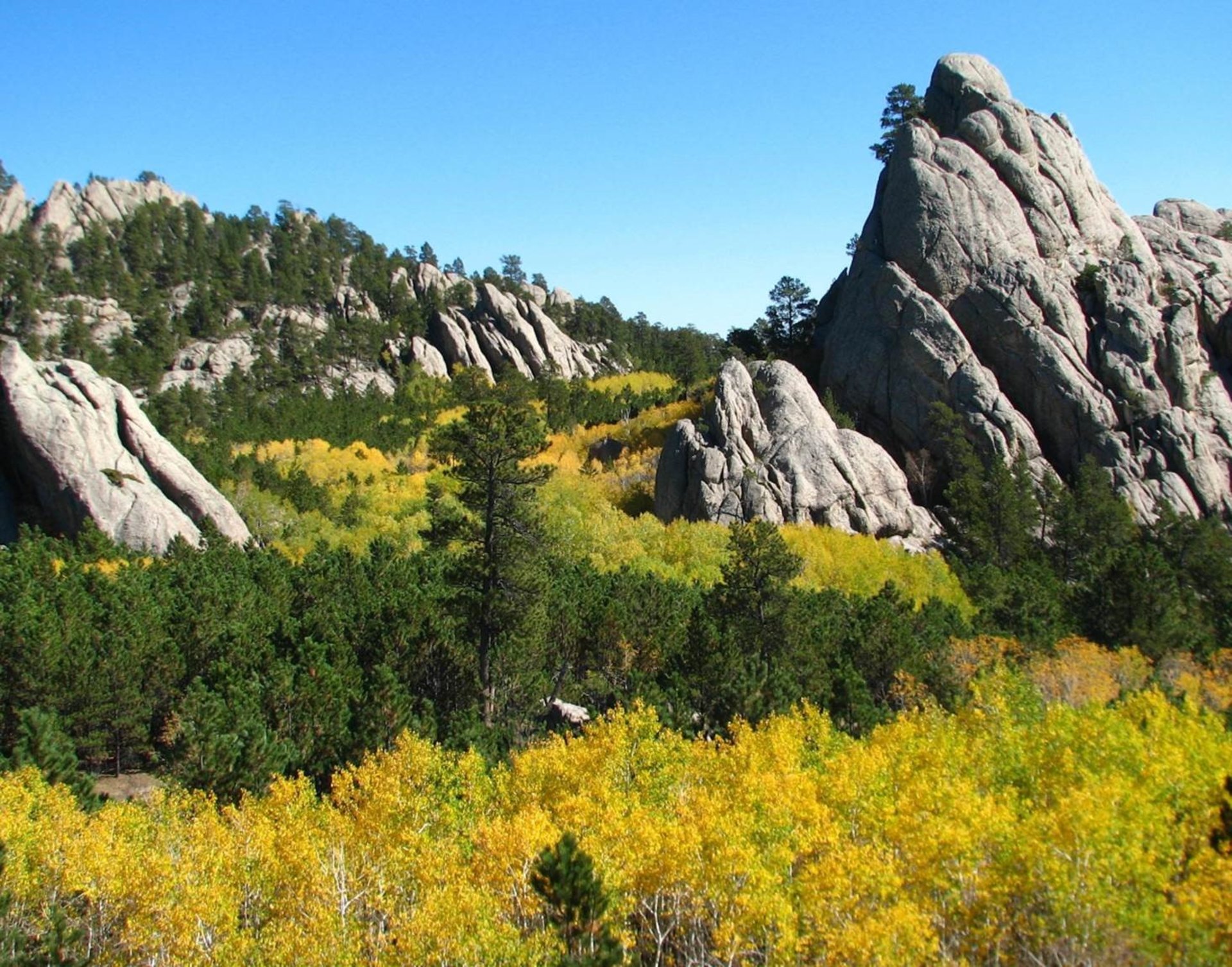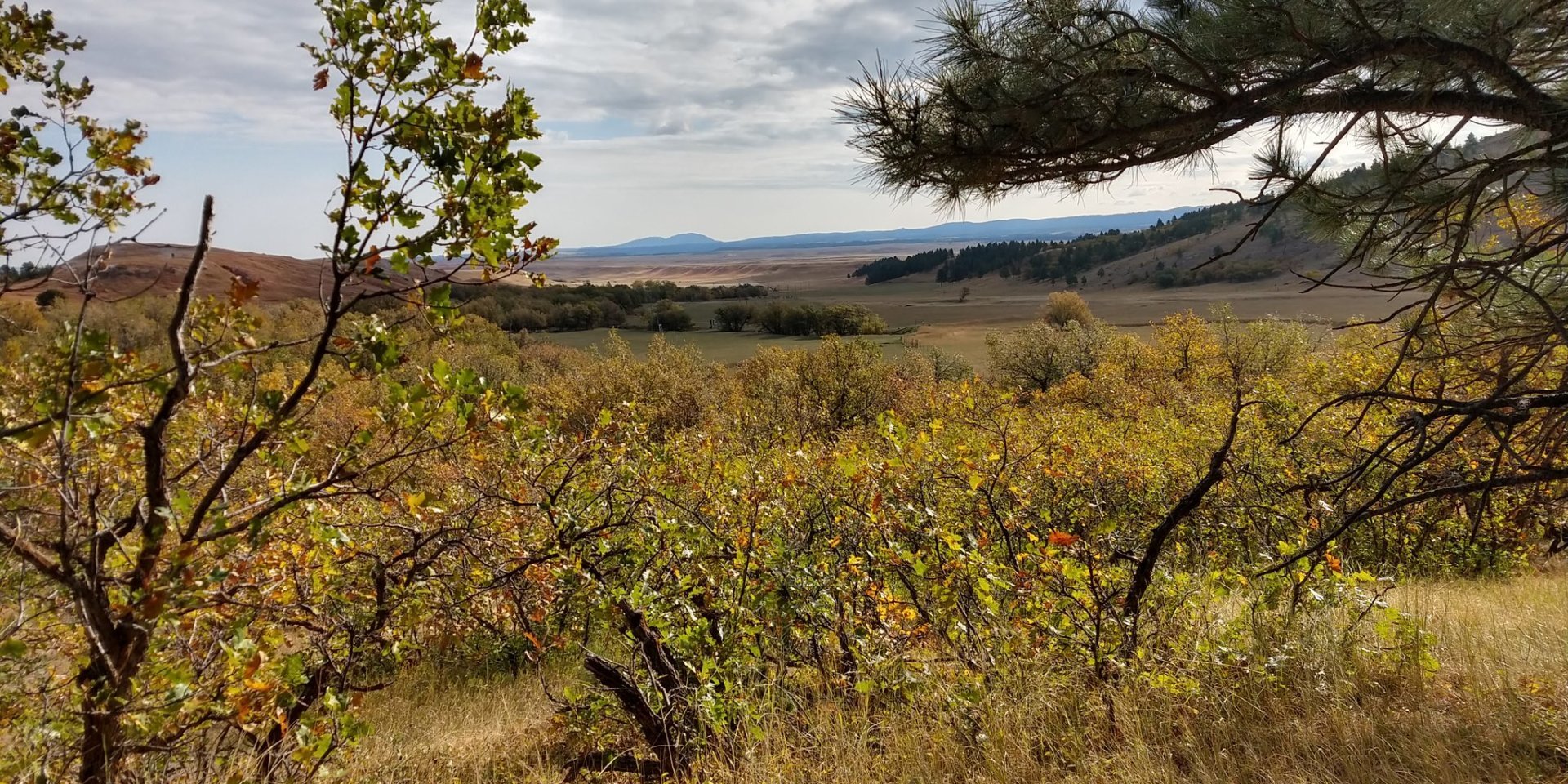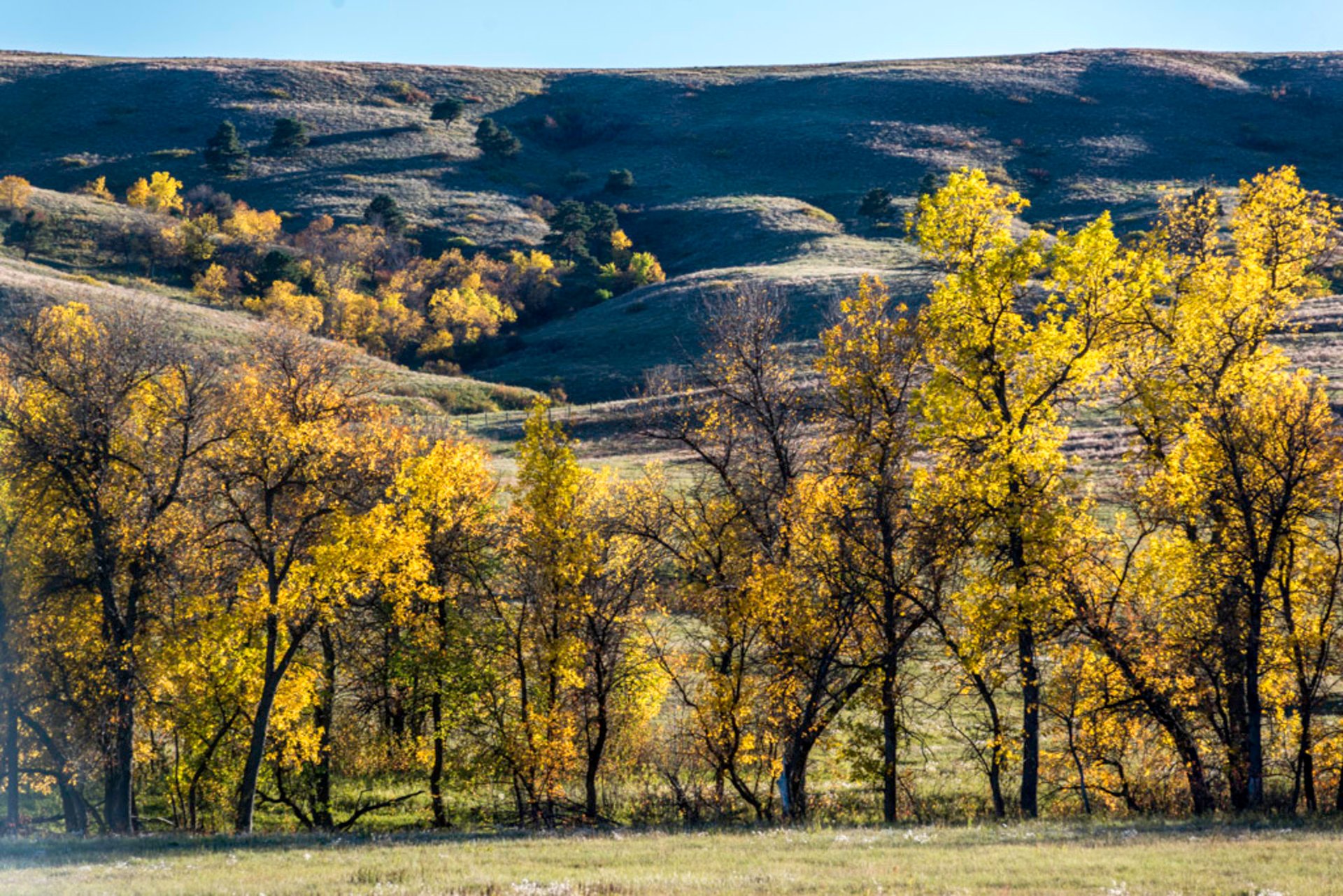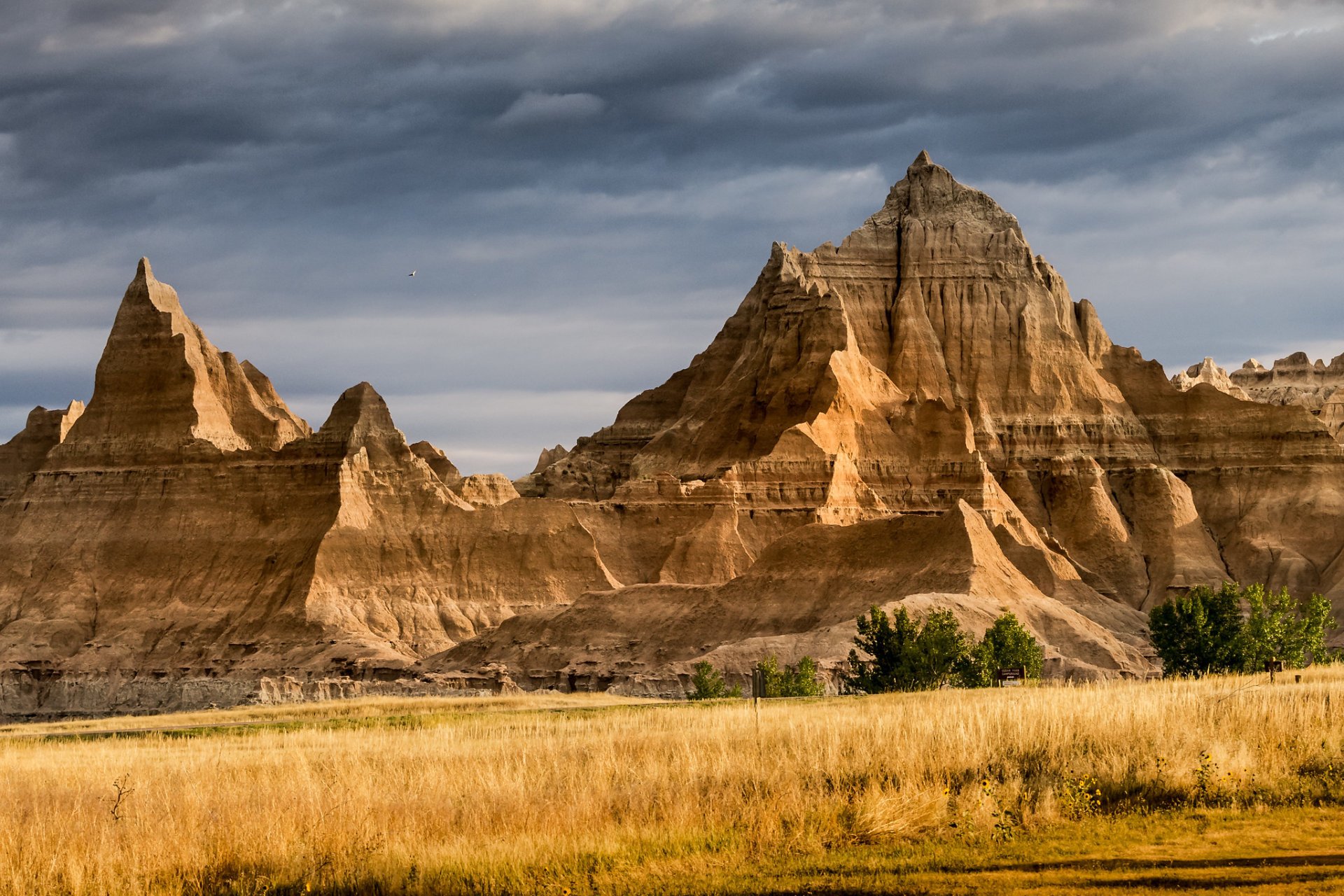 South Dakota boasts dramatic landscapes year-round: towering rock formations, steep canyons, and vast prairies. In the fall, the scenery of the Great Planes becomes especially beautiful as it acquires warm golden tones. Fall is an excellent time for hiking and observing wildlife: bison, bighorn sheep, mountain goats, coyotes, and prairie dogs. The Western part of the state is the most popular with visitors: from Badlands National Park to Black Hills National Forest, there are plenty of scenic routes to explore!
The best time to see fall foliage in South Dakota
The best time to see fall colors in South Dakota is usually the first week of October. The grass turns golden, and the first colorful leaves appear in early September. By mid-October, the fall foliage season reaches its peak. Stunning crimson and golden leaves typically last until Halloween. After that, leaves start to fall off the trees, and colors fade away.
Where to see the best fall colors in South Dakota
Black Hills National Forest
South Dakota mostly consists of plains, canyons, and flat-top hills. Black Hills National Forest is called the Island in the Plains. It adds plenty of bright colors to the rugged landscape of South Dakota. This hiking paradise boasts 13,000 acres (5,260 ha) of wilderness. It features over 350 miles (560 km) of trails.
Spearfish Canyon
Spearfish Canyon, located in the Northern part of Balck Hills, is one of the most scenic locations in the fall. Plenty of fall foliage with tall limestone cliffs in the background awaits visitors on the 19-mile (30-km) Spearfish Canyon Scenic Byway, also known as US Highway 14A, which starts at the town of Spearfish and follows Spearfish Creek at the bottom of the canyon. Don't forget to stop by scenic waterfalls: Spearfish Falls and Bridal Veil Falls are surrounded by fall foliage.
Custer State Park
Custer State Park is another gorgeous area known for its wildlife: buffalo, antelope, and deer. It's a perfect destination for a fall family weekend outing on a crisp sunny morning. However, keep in mind that most campsites and lodges at Balck Hills National Forest close in early September.
Sica Hollow State Park
Sica Hollow State Park is located in the northeastern part of South Dakota, 15 miles northwest of the town of Sisseton. The rugged scenery of the park gets especially dramatic due to the vibrant fall foliage in October. The park boasts great camping and horseback riding as well as plenty of Native American legends connected to its secret nooks.
Palisades State Park
Palisades State Park in the southeastern part of the state boasts a unique scenery of impressive cliffs, eroded out of pink Sioux Quartzite. The beautiful rock formations, which reach 50 feet (15 m) in height, make up a perfect contrast with fall foliage and golden grass. The park is popular with nature photographers, rock climbers, and hikers.
Newton Hills State Park
For more scenic views, visit nearby Newton Hills State Park, with several miles of forested trails, including horse and mountain bike trails. One of the main attractions in the park is Lake Lakota, which is open for fishing and boating. The park boasts rich wildlife: deer, wild turkeys, marmots, rabbits, and foxes. Over 200 species of birds can also be spotted in the park.
Find hotels and airbnbs near Fall Colors (Map)