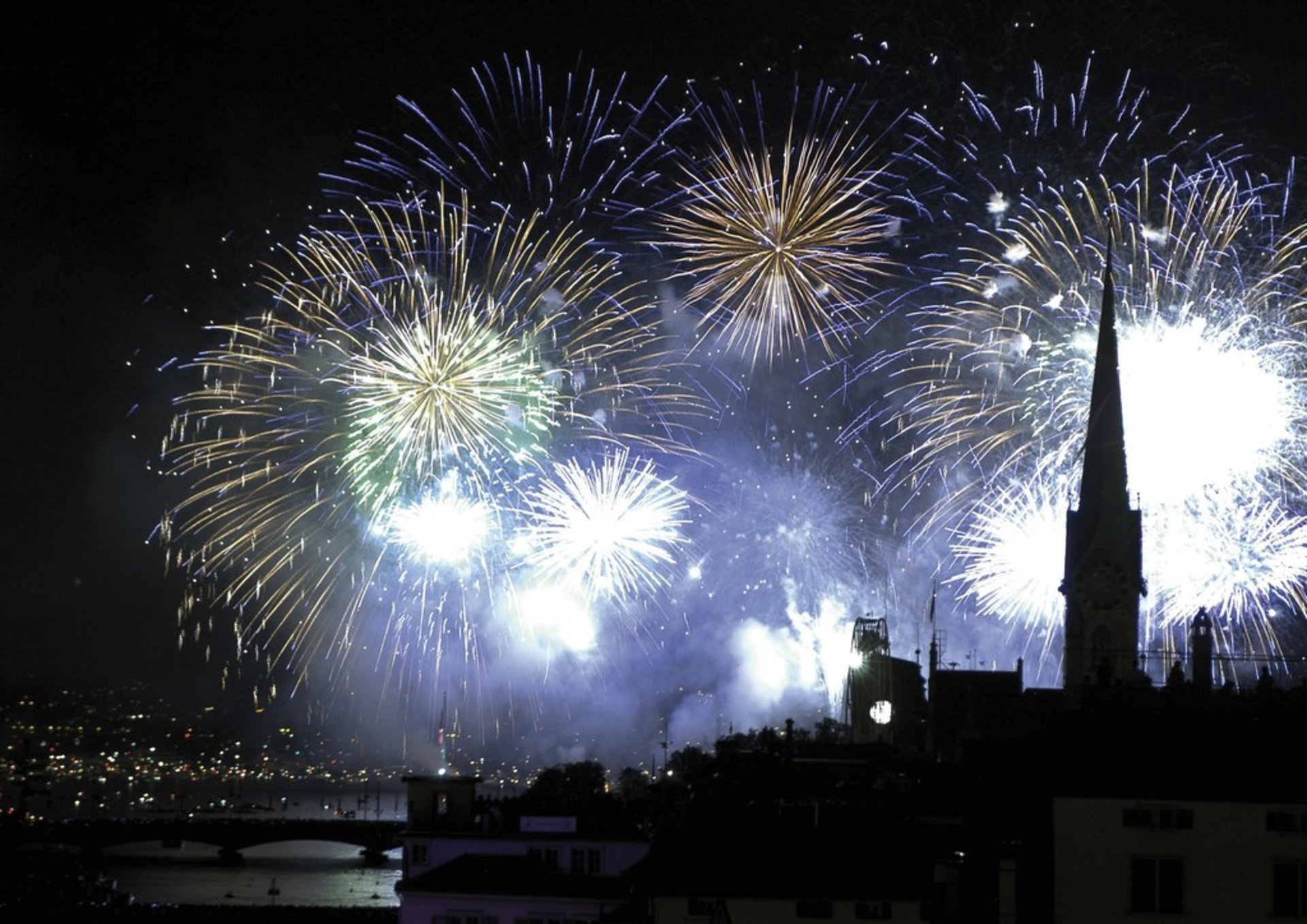 See accommodations nearby
Switzerland looks like a winter wonderland during the holidays, meaning you can dive into the authentic festive atmosphere by visiting it on New Year's Eve. Jaw-dropping fireworks, wild parties, unique music, and dance performances—this country is a game-changer when it comes to New Year's Eve celebrations. We've put together the biggest cities and the most wonderful ways to welcome the New Year in Switzerland. Let's whoop it up!
New Year in Zurich (Silvesterzauber)
The first city on our festive list is Zurich, which hosts the biggest New Year party in Switzerland called Silvesterzauber (New Year's Magic). The area around Zurich's lake shore (Bellevue and Bürkliplatz) turns into a huge open-air party with food stalls, bars, and tents. Over 200,000 people come together to have fun and hear the Grossmünster bells ringing to bid the old year farewell. Twenty minutes past midnight, numerous rockets take off from boats on the lake, welcoming the New Year. Also, Zurich offers impressive light shows by local artist Gerry Hofstetter on different buildings in the Limmatquai area and Zurich's city center on New Year's Eve. It starts at 5 pm and lasts up to 2 am.
New Year in Basel
Celebration on the Rhine is the city's biggest New Year's event that all the locals look forward to. Traditionally, Basel welcomes the New Year with a spellbinding fireworks display. The atmosphere is fascinating since all the church bells in the city ring in the New Year at the same time at midnight. This huge party draws enormous crowds of people, all ready to dance and revel in the last few moments of the year. In case you want something less crowded, head to Münsterplatz, which provides a more relaxed atmosphere. Along the banks of the Rhine, you can get free mulled wine from 11 pm to 1 am to warm your hands and heart.
New Year in Geneva
Geneva has a lot of spectacular things to see and do on New Year's Eve as well. For example, you can enjoy a New Year's Eve Dinner Cruise by CGN Cruises and enjoy the fireworks on Lake Geneva. The main event occupies Quai du Mont-Blanc, a lakeside promenade named after its incredible views of Mont Blanc. On New Year's Eve, it is filled with food and drink stalls. The music on the Rotunda starts at 7:30 pm and lasts till about 3 am, creating an unforgettable party atmosphere. Geneva also offers a wide range of luxury restaurants offering a mouth-watering menu. You can check Bayview, Restaurant Edelweiss, Les Armures, Manora, and Les Curiades.
New Year in Interlaken
Interlaken is a city where you can experience Switzerland's longest New Year's Eve celebrations. People start merrymaking on December 31 and have fun till January 2. On January 1, you can visit the first open-air concert of the new year named Touch the Mountains, featuring top Swiss performers, folklore groups, and a variety of refreshments marquees. It's located in Hohematte Park with picturesque mountain views. On January 2, you can dive deeper into the Swiss culture by watching how the Hardermannli haunts Interlaken with its traditional procession. The Hardermannli, the spirit of the Harder Kulm mountain, his wife, and kids put on masks and frolic through the streets of Interlaken. Generally, Interlaken hosts dozens of exciting parties, ringing in the festive atmosphere.
Find hotels and airbnbs near New Year's Eve in Switzerland (Map)