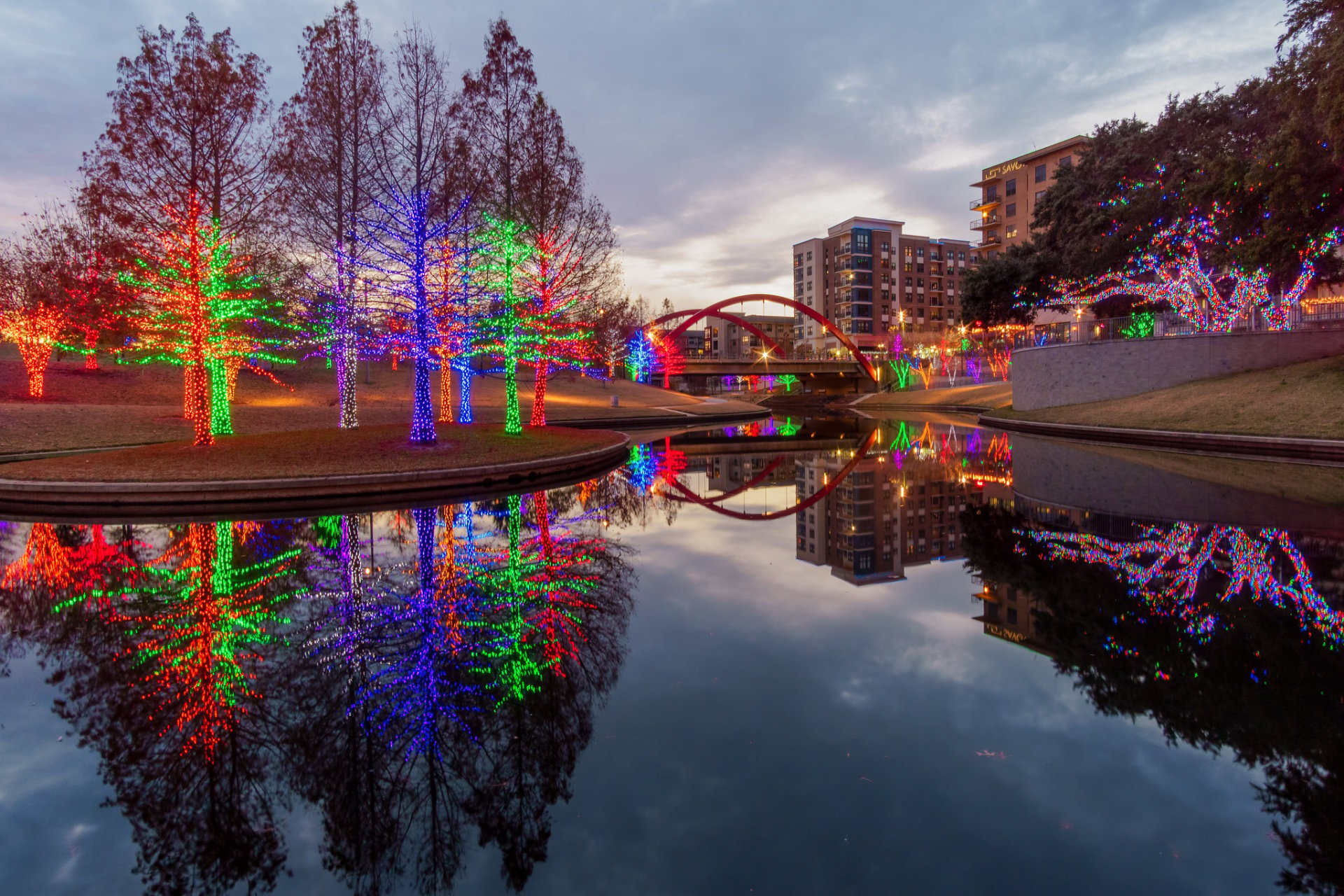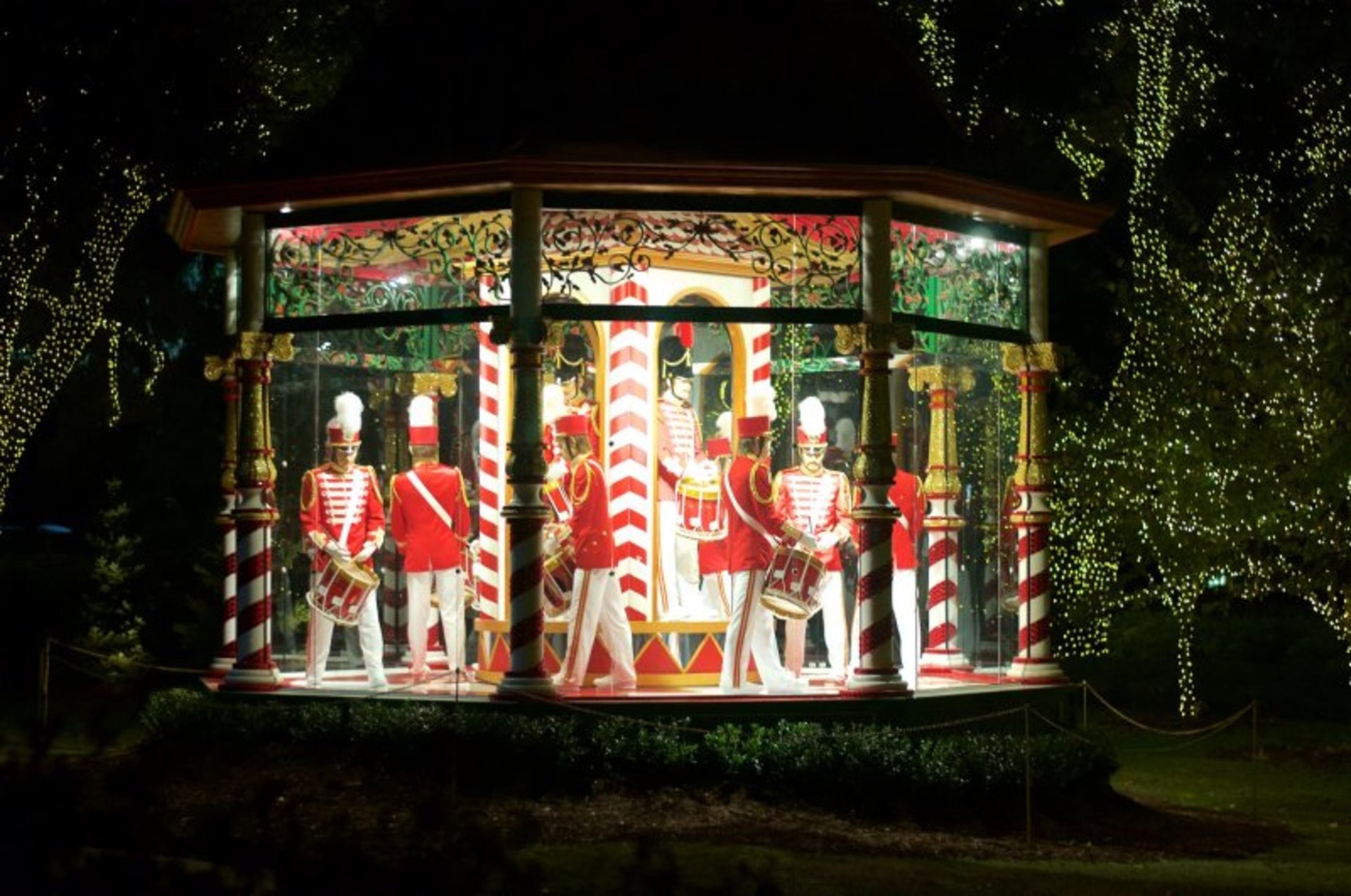 Dallas becomes dazzling with the arrival of the winter holidays season. Take a stroll through The Arts District and Klyde Warren Park, featuring a large Christmas tree and various festive activities. Fair Park is another must-see stop in South Dallas. It features the Christmas Light Maze, a Christmas market, and a fantastic lights display, which is left on after Thanksgiving up through the end of December. Another great way to appreciate the holiday lights in Dallas is to take a carriage ride through one of its best decorated residential neighborhoods. Highland Park will surely impress your imagination with its professional grade light displays on many streets. If you are ready to take it further, explore even more impressive light displays in the greater Dallas and Fort Worth area.
12 Days of Christmas and Christmas Village in Dallas Arboretum (early November–December 2022)
Every winter, Dallas Arboretum makes a Christmas carol come to life. Located on the southeastern shore of White Rock Lake, a spacious 66-acre garden hosts the holiday exhibit in November and December with 12 25-ft-tall Victorian-style gazebos, dedicated to the famous song 12 Days of Christmas. Each decorated gazebo is dedicated to one of the days from the Christmas carol. Costumed characters and animals are showcased inside lit-up gazebos, protected by glass. Meet 12 drummers, two turtle doves, three French hens, and many others!
Dallas Zoo Lights (mid-November 2022–early January 2023)
Dallas Zoo is totaly transformed by the magic of lights during winter nights. Take the mile-long drive-through route, featuring one million lights, dozens of elaborate holiday-themed displays, and 3-D lit sculptures. Larger-than-life animal lanterns surely look impressive as well as an ice palace for penguins and other fantastic installations. Visitors can park and explore the Reliant Holiday Village at the end of the route.
Vitruvian Park Lights in Addison (late November 2022–early January 2023)
The magical wonderland at Vitruvian Park is one of the favorite family destinations in North Dallas. Millions of sparkling LED lights decorate more than 550 trees. Vitruvian Lights usually begin in late November and last until early January, shining brightly from 6 to 11 pm. On select nights, visitors can also attend live music concerts and performances. In addition, there are food trucks, visits with Santa and other holiday characters as well various kids crafts and activities.
Grapevine Parade of Lights and Main Street Spectacular (December 1, 2022)
Grapevine, known for its restored 19th- and 20th-century architecture, is often called the Christmas Capital of Texas. The annual Grapevine Parade of Lights marches down the historic Main Street with its numerous restaurants, cafes, and galleries. More than 100 lit and brightly decorated floats and marching bands are welcomed and cheered by crowds of spectators. Santa Claus is the last to arrive in his sleigh. Even if you can't make it to the parade, Grapevine is still worth visiting for its Main Street Spectacular. Millions of lights cover Main Street in Grapevine from late November up to early January.
Prairie Lights at Lynn Creek Park (late November–December 2022)
Lynn Creek Park in Grand Prairie, Texas, boasts one of the world's largest light tunnels that can be explored by car. The Prairie Lights display is a two-mile drive-through, featuring over 4 million lights. Amazing arch displays line the road creating a dazzling experience. Prairie Lights also hosts a Christmas Village with food, warm drinks, gifts, and a lit-up walk-through forest.
The Light Park, Grand Prairie (early November 2022–early January 2023)
The Light Park is seasonal family entertainment, located at Lone Star Park in Grand Prarie, within 13 miles (20 km) from Dallas. The Best Christmas Light Show South of the North Pole features millions of twinkling lights synchronized to your favorite Christmas tunes and DJ mixes. The world's longest synchronized tunnel and a huge Santa Claus are the main highlights of the Light Park. The show is available 7 days a week from early November through early January.
The greater Dallas area hosts some of the biggest and brightest Christmas light displays in theU.S. so grab a cup of hot chocolate, tune your car radio to some Christmas carols and get ready to be smitten by lights extravaganza.
Find hotels and airbnbs near Christmas Lights in Dallas (Map)