From mid-November, holiday lights and Christmas trees make Dublin center a perfect place for a holiday stroll and shopping. Dublin hosts a few vibrant Christmas Markets to enjoy.
Ha'Penny Christmas Market at Grand Social (November 26th-December 23d)
One of the first stops where you can enjoy a glass of beer or a cup of warm mulled wine is the Grand Social, a large bar and shopping space just over the Ha'Penny bridge. Every Saturday starting from late November, Ha'Penny Christmas Market runs here from noon to 6 p.m. The market suits well for gift hunting. You can find here some unique items like vinyl records, handmade arts, retro furniture, jewelry, books, and vintage clothes. You can even find works by well-known Irish artists.
The Dún Laoghaire Christmas Market, (November 18-December 23)
If you want to move closer to the coast, check out The Dún Laoghaire Christmas Market, located in about 45 minutes by car from Dublin. The annual Christmas festival lasts here from late November till Christmas Eve, boasting the largest Christmas lights display in Dún Laoghaire, a spectacular Ferris Wheel, and a traditional German-style market. Dozens of vendors offer handmade gifts, crafts: metal art, photography, jewelry, and decorations. Great holiday food from all over the world fills the air with divine aroma: sausages, crepes, goulash, gluhwein, and much more. The market is only open on Friday, Saturday, and Sunday.
Dublin Flea Christmas Market (cancelled in 2019)
Perhaps the most well-known market in the Irish capital is the Dublin Flea Christmas Market at The Point Square with about 130 stalls selling things related and unrelated to holidays, such as collectibles, antiques, vintage clothes, furniture, and books. There are also design, fashion, and handmade goods. It can provide hundreds of unusual Christmas gift ideas. The Dublin Flea Christmas Market is sponsored by Dublin City Council. According to the official website, the 2019 has been cancelled due to the lack of funds.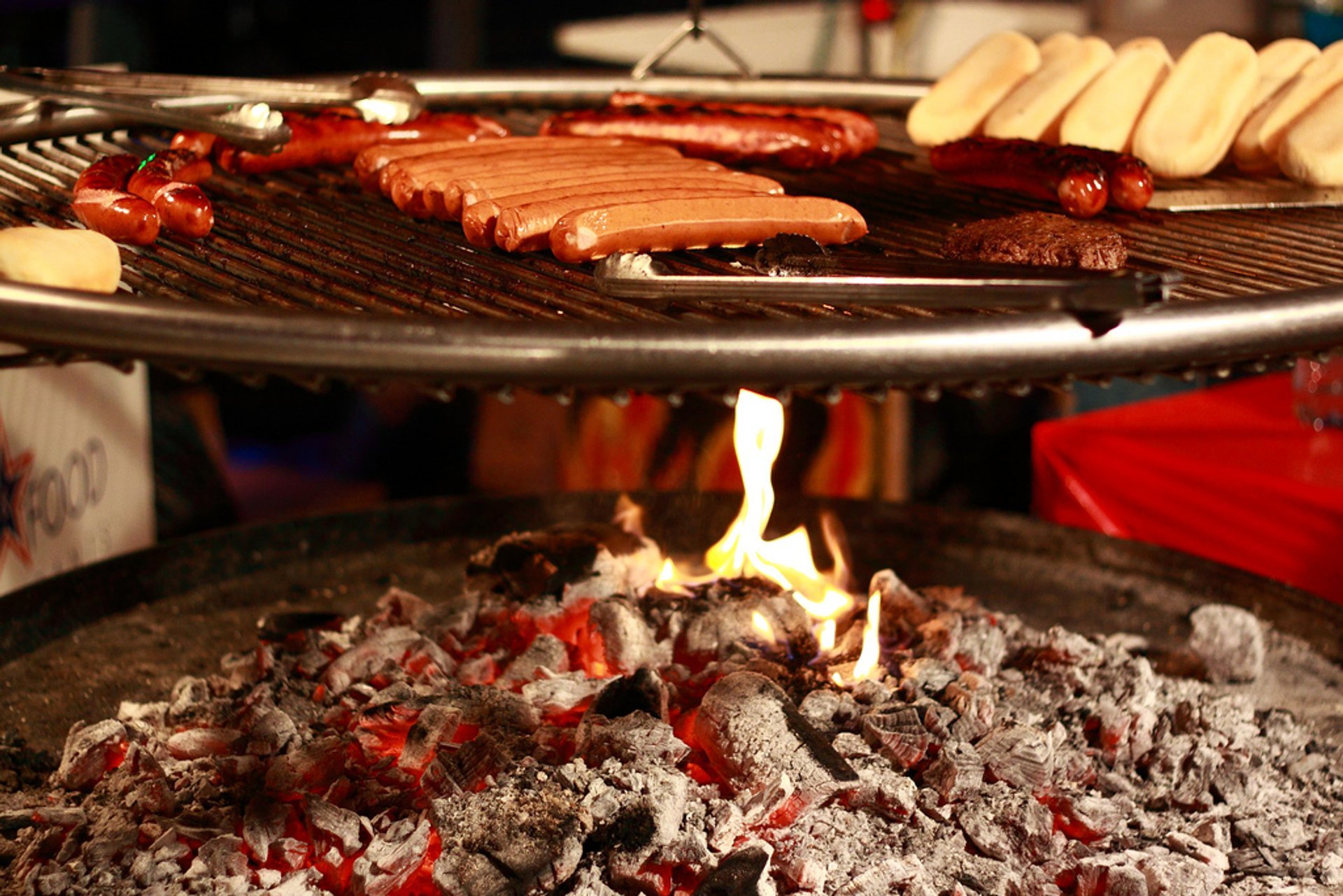 CHQ Christmas Market
Christmas Village at CHQ building (George's Dock) resembles a giant ski lodge. It offers all the best things about Christmas: mulled wine, handmade gifts and delicious foods. Kids will be entertained by magical Christmas shows, a Santa's Grotto, carousel rides, carol sing-alongs and other social activities. Docklands Christmas Market also runs DJs sets and live concerts in the evening for the adult audience. General information and updates can be found on the official website.
Christmas Markets Featured in